Sensilift
This company has claimed this profile, is getting alerted on any new customer reviews entering this page, and may engage in dialogue with its customers to address their matters.

Companies cannot pay money or provide goods in order to remove or alter customer reviews.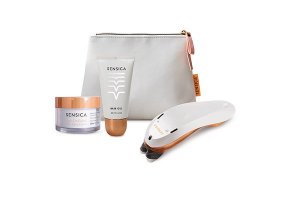 Summary
Sensilift is a Sensica skincare product designed to reduce the signs of aging by heating your skin's dermal layers in order to boost collagen production for a more youthful appearance.
Sensilift by Sensica Review: What You Should Know
For those yearning to look younger, the Sensica Sensilift device promises to help you shave five years off the age of your skin in just five minutes.
According to the company website, you only need to commit to one treatment once a week in order to start seeing noticeable wrinkle reduction after eight weeks of treatment.
Sensilift's parent company Sensica is a medical technology brand that purportedly focuses on developing professional-quality beauty treatments for home use.
They state on their website that the devices they supply rely on proprietary technologies like Dynamic RF™ (radio frequency) to stimulate collagen and elastin production to tighten the skin and produce a younger appearance.
Will five minutes of treatment a week really make a difference for your skin? Let's look at the details to learn more about what Sensilift can deliver.
How Does Sensilift Work?
Unlike costly fillers and lasers, the company states their wrinkle reduction tool is a pain-free, non-invasive way to restore your skin without requiring you to deal with recovery time.
The device accomplishes this through "dual acting massage and Radio Frequency" (RF) technology that stimulates circulation and allows heat waves to travel deep into your skin where collagen forms. This purportedly reduces the appearance of wrinkles and tightens your skin.
What Does the Research Say About Radio Frequency for Tightening Skin?
Sensica states that RF technology is used widely by top dermatologists as a safe and effective way to stimulate sub-dermal collagen production to improve the health and appearance of your skin tissue.
The American Board of Cosmetic Surgery (ABCS) confirmed that this technology has been available since 2001, though it's only gained popularity in the past few years, and only recently became available for home use.
Radio Frequency (RF) produces heat that warms the skin's deeper layers and induces new collagen and elastin production, which purportedly improves your skin's appearance.
Our research into the functioning of RF technology in Sensilift specifically gave little insight into the details, except for a study by EL Global Ltd. called, 'Sensilift Safety and Effectiveness Study'.
This study says that radio frequency is a form of electromagnetic energy that promotes efficient biological tissue heating. This seven-page paper suggests that the Sensilift successfully stimulated the skin of 37 test subjects to promote contractions of collagen fibers so that they achieved younger-looking, firmer skin.
How to Use Sensilift
If you're interested in similar results, the first step is learning how Sensilift works. The company website tells us that the best way to get results with Sensilift is to rely on their proven application method.
First, apply a thin, even layer of the product base to the parts of your skin you want to treat, and set the radio frequency (level 1, 2, or 3) and massage speed (1 or 2) to your desired levels or the levels suggested by the included preliminary test.
You don't need to stress too much about determining the correct setting, as the brand states that the device's built-in sensors will continuously adjust the device's temperature for maximum safety as you use it.
Next, place the device on your skin, ensuring you have full contact with the treatment area. You'll know you have the right level of skin contact when a green status light turns on.
You will then feel the warmth emanating within ten seconds, and when you do, you can move the device around the treatment area in slow, circular motions.
After approximately five minutes you can turn off the Sensilift and wipe off any remaining base from the treatment area. The frequency of use depends on your personal preference, but the brand suggests starting with one five-minute treatment each week.
Though the brand's promotional materials suggest Sensilift users can "lose five years in five minutes," the fine print told us you should see a gradual reduction in wrinkles over 6-8 weeks.
Once you achieve results you like, the product website states, you can maintain them through routine five-minute treatments every 4-6 weeks.
How Much Does Sensilift Cost?
Sensilift is available through the company website for $249.75 in the form of a direct payment or through five monthly payments of $49.95.
The product is also available on Amazon for $189.00. When you purchase through the company website, you'll also receive a free supply of base gel, anti-aging cream, and a deluxe travel bag.
The company states that all orders qualify for free shipping and that all customers can try out their orders risk-free for 30 days. Their return FAQ makes it clear that those who aren't happy with their Senslift can return it within the first month of purchase for a full refund.
Any further questions or concerns can be addressed through email (support@sensica.com), phone (1-855-Sensica) or through the company customer care page.
The Bottom Line
There isn't a lot of peer-reviewed published research about the effectiveness of RF technology for boosting collagen production to improve skin's appearance.
The ABCS states that RF technology is an FDA-approved non-surgical procedure that's been in use since 2001, though our research found little evidence at the time of writing that home-based treatments can deliver professional-quality results.
While we found one study about the device's effectiveness, this research wasn't comprehensive enough to draw concrete conclusions from, as the test group was smaller than forty people.
Likewise, the customer reviews we looked at were polarizing, with some users loving the results on their skin and others thinking it was a waste of time and money.
There's evidence that the technology it relies on can deliver results in professional settings, but RF's effectiveness, when used in personal devices, is harder to comment on.
If you choose to try this device for yourself, we recommend keeping the risk-free thirty-day guarantee in mind so that you can get your money back if it's not the right skincare solution for your needs.
Customer Reviews