SkinnyFit Detox Tea
Claimed This company has claimed this profile, is getting alerted on any new customer reviews entering this page, and may engage in dialogue with its customers to address their matters.

Companies cannot pay money or provide goods in order to remove or alter customer reviews.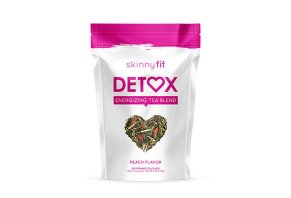 SkinnyFit Detox Tea allegedly provides a variety of detoxification benefits. Although mostly safe, long term use is not effective.
---
Thank you SkinnyFit!

By Julie Kang

,

San Diego, CA

,

Mar 16, 2018
Verified Reviewer

Overall Experience:

It's true that there's no magical, overnight solution to lose weight. But SkinnyFit is the perfect kick in the butt to get you going in the right direction.

I was living such a sedentary lifestyle due to my office job and gained a ton of weight last year. I needed something to motivate me to get back to living healthy. After a couple days of drinking SkinnyFit, I found that I had a boost of energy every morning without jitters (I'm super sensitive to caffeine). I also did not feel bloated and "heavy" anymore. I used my newfound energy to hit the gym for the first time in a year.

I've been drinking SkinnyFit for a month now and I've lost 6 pounds! Most importantly, my muffin top is GONE and my pants fit so much better. I'm so grateful for the jump start this tea has given me.

Bottom Line: Yes, I would recommend this to a friend

---

Pricey, but so worth it!

By Colleen H.

,

Lakeport, CA

,

Aug 29, 2018
Verified Reviewer

Overall Experience:

I bought this over a month ago, with some feeling of another product promising empty results. I am 47 and not overweight but really want to drop 10 pounds to feel slim again. In four and a half weeks. Having hot tea in the morning and cold after lunch, I've lost 5 lbs and one inch off my waist! That's with weighing myself every morning if that makes a difference.

I'd say the most noticeable things are that my bloating is a bit better, and I'm feeling more energy and less food cravings right after I started. Less cravings might be from drinking more water and tea though. I bought another month's worth. I have also been on a 1660 calorie/day diet with lots of healthy veggies. I'm convinced this tea, plus the diet is helping me achieve the results thus far.

A big bonus is that when I first started the tea, I honestly had no idea the best way to take it. I called their customer service, and it must be a question they get a lot because they're the ones who told me that it's good both hot and cold! I like to know I can get answers to questions from nice people!

Bottom Line: Yes, I would recommend this to a friend

Jan 10, 2019

Hi Colleen!

We love hearing that you enjoy your tea hot and cold! Have you tried SkinnyFit with fresh fruit, yet? I think you'll love it! We also have delicious recipes on our blog page. We update it weekly, so don't forget to check in every once in awhile! https://www.skinnyfit.com/blog/

Kevin

Customer Solutions Manager

---

Wait for it...

By Maria C.

,

Dallas, TX

,

Apr 13, 2019
Verified Reviewer

Overall Experience:

Doesn't seem to do anything. Don't think that you will lose weight or inches because you won't. Even combined with their ZZZTOX nightly tea, yep, nothing. I just have not seen anything the product claims to do, sorry.

I don't think I'm drinking it wrong; it's pretty straight forward.

Bottom Line: No, I would not recommend this to a friend

May 30, 2019

Hi Maria,

Thank you for your feedback.

We are truly sorry to hear that you have not seen the results you expected, but we greatly appreciate you giving SkinnyFit a try. As with all health supplements, individuals results may vary and some results take a bit more time to appear than others. Sometimes it is based on your diet and exercise too.

As always, we have our blog with great tips and tricks to help maximize results and most customers seem to find it helpful. It is free to access and can be found here: skinnyfit.com/blog.

Customer satisfaction is our number one priority, so if you are not 100% satisfied with your order, we would be more than happy to help you with finding another product that suits you a little better and we can also chat about our generous 90 day money back guarantee for the product you were not satisfied with. We will reach out to you shortly, but in case we miss you, you can reach us at 1-888-862-1758 and hello@skinnyfit.com.

Thank you again for trying SkinnyFit, and we look forward to assisting you.

Kevin

Customer Solutions Manager

---

Great product

By Tanya R.

,

Atlanta, GA

,

Sep 22, 2018
Verified Reviewer

Overall Experience:

I purchased my first bag of tea from Amazon mid-July. I am on my second bag now, and it's 9/21/18. I have lost to date approximately 10-15 lbs. I haven't been working out...my work schedule sucks. I have been drinking veggie/fruit smoothies, drinking tons of water, and cutting back on red meat, breads, carbs, etc. I had already changed my diet since April of this year. So I'm sure some of my weight loss is attributed to my diet change, but overall I'm happy with my results.

Bottom Line: Yes, I would recommend this to a friend

Jan 10, 2019

Hi Tanya!

We love that SkinnyFit is a part of your health journey! We understand that this journey is tough at times, so we are happy to hear that our Detox tea is right there with you!

Kevin

Customer Solutions Manager

---

Advertisement

---

Yay! No laxatives!

By Jean A.

,

New York City, NY

,

Oct 9, 2018
Verified Reviewer

Overall Experience:

I have been on SkinnyFit for a couple of months now and really enjoy it.

I've tried quite a few different brands - most of them cheaper, to be honest. But I don't like that they all contained laxatives. At first, I thought it was great and that's just how detoxes work until I started to read it, it's actually pretty bad to constantly have that in your system.

I still wanted something to help my diet during the summer though. I can't say for sure it's helped me shed extra pounds, but I was really surprised how much it helped with my daily bloating. I honestly didn't even realize it was an issue until it started to go away with this detox. I'll keep on SkinnyFit for a bit longer because of that reason, and I really like the taste (I'm an avid tea drinker).

Just keep in mind...it's a little pricey (cheaper if you subscribe though), but worth it for me!

Bottom Line: Yes, I would recommend this to a friend

Jan 10, 2019

Hi Jean!

We're so happy to hear that you have seen such great results with SkinnyFit. We pride ourselves on only using all natural ingredients in our Detox tea, and that does include staying away from laxatives!

Enjoy the rest of your Detox!

Kevin

Customer Solutions Manager

---

Yummy tea

By Adela R.

,

Florida

,

Nov 13, 2018
Verified Reviewer

Overall Experience:

The ZzzTox tea tastes delicious, however, I didn't buy it, my mom found a brand new unopened bag at her motel job, and I was shocked to know it was so expensive. If I had known, I would've left it sealed and sold it for cheaper. However, it tastes really good and I wanna lose around 10 pounds, and I hope it works out!

Bottom Line: Yes, I would recommend this to a friend

Dec 11, 2018

Hi Adela!

Thank you so much for your feedback! Glad that you and your Mom are enjoying the find. Here is a link to our blog with various tips and tricks on how to obtain the best results, https://www.skinnyfit.com/blog/.

Cheers!

Briana

Customer Success

---

It works!

By Cheryl J.

,

New York

,

Jul 1, 2019
Verified Reviewer

Overall Experience:

I have been using SkinnyFit Detox Tea (daytime only) for two months. I had been dieting using 1200 calorie diet and water only. I work full time so have not really been exercising as much as I should. I lost 7 pounds before the tea, since being on the tea I have lost a total of 14 with 6 pounds to go to meet my goal. This is not an overnight loss nor is it magic tea. I will say that it has helped my dieting as far as numbers on the scale but even more of a help with inches. It does help with bloating and energy but as the company states healthy eating is a key to it working. Thank you for this product. Is it pricey, yes, but so are many diet programs. A few of my fellow employees have started the tea and love it as well.

Bottom Line: Yes, I would recommend this to a friend

Jul 1, 2019

Hi Cheryl!

We truly love this feedback! We understand that this journey is tough at times and plateaus are hit, so we are glad to know that SkinnyFit Detox is right there with you helping you reach your goals!

Thank you again for sharing this wonderful feedback, and thank you for adding SkinnyFit to your daily routine!

Kevin

Customer Solutions Manager

---