SkinnyFit Detox Tea
Claimed This company has claimed this profile, is getting alerted on any new customer reviews entering this page, and may engage in dialogue with its customers to address their matters.

Companies cannot pay money or provide goods in order to remove or alter customer reviews.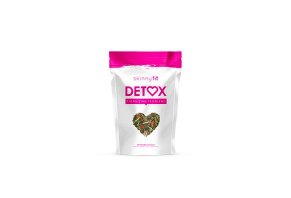 Using a blend of natural ingredients like green tea, lemongrass, and dandelion leaf, SkinnyFit's Detox Tea formula claims to support fat burning and health.
SkinnyFit Detox Tea Review: Effectiveness, Side Effects, Cost
Made with 13 whole, all-natural superfood ingredients, SkinnyFit Detox Tea promises to help boost your energy, immunity, and metabolism, burn fat, fight bloating, and release toxins, all in one simple step.
All you have to do is drink one eight-ounce cup every morning about 30 minutes before breakfast, which only takes five to seven minutes to make.
From there, we're told its blend of lemongrass, ginseng, Sencha green tea, and goji berries will start working to provide a variety of benefits, including supporting healthy digestion, promoting healthy skin, and using antioxidants to flush out cell-damaging substances.
If necessary, you can drink more than one cup of tea per day (such as later in the afternoon or before a workout) to maximize these results. However, the company also recommends eating more whole fruits and veggies while undergoing your detoxification.
Based on these claims, one of our biggest questions when researching SkinnyFit was: Outside of reducing calorie intake and exercising regularly, is there anything contained in this blend that can boost your weight loss results? What about cleansing the body of toxins?
We'll take a much closer look at Detox Tea's formulation in a moment. But before we get there, let's discuss the topic of detoxification.
What Is Detoxification and Is It Good for Your Health?
The exact purpose served by modern detoxes and cleanses is a little unclear. But in general, the idea is to alter the diet in order to clean out the digestive tract, thus eliminating toxins like:
Cigarette residue
Chemicals
Heavy metals
Environmental elements
Fecal matter
Parasites
Fungi
Potentially aggravating foods like dairy, eggs, soy, refined sugar, caffeine, and alcohol
According to The Gut Health Project, side effects of having too many of these toxins in the body include "fatigue, headaches, joint pain, food sensitivities, mood swings, anxiety or depression, high blood pressure, or constipation."
But here's the most important part: During our research for this article, we learned that most health professionals don't recommend detoxes or cleanses (whether teas like SkinnyFit, or otherwise). Why? Because healthy bodies are able to remove unwanted toxins with relative ease.
To this note, Dr. Morton Tavel, Clinical Professor Emeritus of Medicine, at Indiana University School of Medicine and author of "Snake Oil is Alive & Well: The Clash between Myths and Reality, Reflections of a Physician," who was interviewed for our article, was quoted as saying:
"The basic concept of detoxifying is blatantly flawed. Our natural processes, especially liver and kidney function, cleanse our bodies far better than any extrinsic activities or substances could possibly achieve."
In fact, he emphasized that by increasing the laxative effect commonly associated with cleanses and detoxes, they can actually do more harm than good. How? By weakening the body's ability to fight infections and inflammation, upsetting blood sugar, potassium, and sodium levels, and resulting in vitamin and mineral deprivation.
What Ingredients Does SkinnyFit Detox Tea Contain?
Based on the nutrition facts label posted on the SkinnyFit website, each bag of Detox Tea bag contains 1.7g of material (including 5 mg of potassium and 17.98 mg of caffeine), comes in at 10 calories, and contains the following raw ingredients:
Matcha green tea
Yerba mate
Sencha green tea
Oolong tea
Goji berries
Milk thistle
Ginseng
Lemongrass
Nettle leaf
Dandelion leaf
Guarana
Stevia leaf
Peach powder
According to their summarizations of the available clinical evidence, websites like Examine.com, the Natural Medicines Database, and WebMD report that consuming between 150 mg and three grams of green tea (no specific variety) can possibly address many health conditions, including high cholesterol, clogged arteries, osteoporosis, and Parkinson's disease.
It might deliver high levels of antioxidants that can help fight free radical damage (known as oxidative stress). And in some mice-focused studies, it's been shown to lower cholesterol and blood glucose levels.
However, its weight loss-related benefits in humans are reported to be unclear.
Regarding green tea in general, we've also learned from our past research that its caffeine content can slightly boost daily calorie burning (between three and four percent; or 60-80 calories per day).
Certainly, every little bit helps, but we include these details to help you maintain realistic expectations for detox teas, whether from SkinnyFit or other brands.
In other words, as far as pounds lost, the clinical evidence indicates green tea varieties will only deliver a small amount of assistance.
But because we learned earlier that the majority of health professionals don't recommend detoxification in general, there remains little clinical evidence support green tea's 'cleansing' ability.
Outside of these details, these same sites reported insufficient clinical evidence showing any of SkinnyFit Detox Tea's remaining ingredients can reliably boost energy, immunity, and metabolism, or increase fat burning in humans.
Could SkinnyFit Detox Tea Cause Side Effects?
If you're "pregnant, breastfeeding, have preexisting medical conditions, abstaining from food (fasting), or under the age of 18," SkinnyFit recommends consulting with a healthcare before undergoing a detox, whether using their Detox Tea or another product.
WebMD, the Natural Medicines Database, and Examine.com also report that the natural caffeine content found in Detox Tea's blend could lead to nervousness, jitteriness, and insomnia, especially for those sensitive to stimulants.
With this said, the SkinnyFit website emphasizes that their tea only contains approximately 17.98 mg of caffeine per tea bag, compared to 30-50 mg per cup for regular green or black tea, or 95 mg for a cup of regular coffee.
Finally, these same sites indicate nettle can cause sweating and milk thistle can have a laxative effect (no specific circumstances or dosages noted).
How Much Does SkinnyFit Detox Tea Cost?
You can order SkinnyFit Detox Tea online or over the phone. Their pricing for non-subscription purchases is as follows:
1 bag (28 individual tea bags): $69.95, plus $5.95 shipping
2 bags: $115.95 ($57.98 per bag), plus $7.95 shipping
3 bags: $149.95 ($49.98 per bag), plus $9.95 shipping
When checking out, customers can choose between a one-time order or an ongoing subscription. With the latter, you'll receive the same quantity each month at lower prices, which are listed below:
1 bag (28 individual tea bags): $59.95, plus $5.95 shipping
2 bags: $99.95 ($49.98 per bag), plus $7.95 shipping
3 bags: $135.95 ($45.32 per bag), plus $9.95 shipping
Regardless of how much you're looking to buy, all SkinnyFit orders come with a 30-day money-back guarantee, less the cost of shipping to send it back.
In order to request one, or to cancel your recurring shipments, you'll need to reach out to customer support at 888-862-1758, hello@skinnyfit.com, or via their site's contact form.
Can SkinnyFit Detox Tea Customer Reviews Provide Meaningful Insight?
At the time of publishing, SkinnyFit's detox tea had more than 370 customer reviews on Amazon. The product had an average review of 3.6 stars. Forty-six percent of the tea's reviews gave 5 stars, while 24% were 1 star.
The eight most recent reviews were largely positive, with reviewers saying they liked the flavor and that they were happy with the product. Of those eight reviews, there were two one-star reviews in which the customers said the product did not work.
SkinnyFit vs. Other Detox and Weight Loss Teas
We mentioned earlier that there are several other detoxification/ fat-burning teas competing for the same customers as SkinnyFit, including top search engine results (and options that we've researched in the past) like Bootea, Flat Tummy Tea, and SkinnyMint.
How does SkinnyFit's formula compare?
Taking a look at their individual ingredients, we found most contained one or more green tea varieties, ginger, nettle, dandelion, lemongrass, and nettle, along with a possible laxative like senna or psyllium husk.
If you're trying to wade through all these options and find the right one for you, it's always a wise idea to start by talking with your doctor, whether you're considering SkinnyFit or any other detox or weight loss product.
They'll be able to take your goals and health diagnosis into consideration when recommending options, and whether or not teas like this should play a part in your treatment.
From there, just like when shopping for any dietary supplement, it's important to look for companies that:
Support their claims with double-blind, placebo-controlled clinical evidence
Price their products competitively
Don't sign customers up for an autoship program
Provide plenty of time for you to try the product and return it if you're dissatisfied
Come with mostly positive online customer feedback, both for the product and the manufacturer
Our Bottom Line on SkinnyFit Detox Tea
During our past research on the topic, as well as after interviewing relevant professionals, we've learned that most medical professionals don't recommend detoxification (whether tea-based or otherwise).
This makes it difficult to see any value in products that promote this benefit.
Furthermore, websites like WebMD, Examine.com, and the Natural Medicines Database indicate that while green tea can provide a whole host of benefits, there's insufficient reported clinical evidence indicating it can deliver meaningful weight loss in humans.
On the upside, SkinnyFit stands behind their product with a 90-day money-back guarantee, so you might not lose more than a few dollars in return shipping if you're not satisfied with Detox Tea's performance.
Just keep in mind that although it claims to be laxative-free (if this is one of your main concerns), milk thistle is often used as a natural laxative, which could have a similar effect, especially for sensitive individuals.
---
Scam

Massachusetts

,

Jan 28, 2018
Verified Reviewer

This does not do what they say it does, and when you return your tea, they don't follow through with the refund they promise. It is a total scam. I am extremely disgusted with the poor customer service.

Bottom Line: No, I would not recommend this to a friend

---

Bad customer service

By Crystal L.

,

Washington DC

,

May 25, 2018
Verified Reviewer

I ordered a trial of the morning and night detox tea. With the trial it automatically enrolls you in auto ship, so I called to cancel it as soon as I received my tea because I wanted to try it first before I fully committed.

The first couple of days the tea was great. I could feel myself having more energy and I wasn't as sluggish. However, on about the fifth day it did absolutely nothing. I'm actually almost finished with my first cup of tea and I'm falling asleep while drinking it. I've been using it for almost three weeks and no changes at all. The night detox tea has me feeling like I haven't gotten much sleep when I wake up the next day. Not exactly sure why.

Now onto the customer service. When I called I asked to cancel my auto ship membership. I spoke to a gentleman and he assured me that it was canceled and I would receive no further packages unless I re-enroll. I even got an email confirming the cancellation.

However, three weeks after calling I got charged $60! When I called the lady on the phone stated that when I called initially the guy only canceled one of the items on the auto-ship, BUT the email that I received clearly states "We're sorry to see you go and that my SUBSCRIPTION has been cancelled." It also states "You will not receive any further products."

So now I have to wait 7-10 business days just to get my money back for something that I canceled almost a month ago. I should have stuck with what other people were saying about all of the issues they had cancelling their subscription. I will NEVER order this product again.

Bottom Line: No, I would not recommend this to a friend

Jan 11, 2019

Hi Crystal,

We truly appreciate this feedback from you. We will be using this as a training opportunity for all of our agents here at SkinnyFit. We hold all our agents to a high standard, so we will make sure something like this never happens again.

We are guaranteeing that your account is canceled, as well as refunded of the $59.95 charge. Once again, we sincerely apologize for any inconvenience this may have caused and we hope to have you a part of the SkinnyFit family again in the future.

Kevin

Customer Solutions Manager

---

False and misleading advertisement

By Le D.

,

Anchorage, AK

,

Jun 3, 2018
Verified Reviewer

I ordered the trial offer which you only pay for the shipping, and my order arrived almost two weeks later. I signed up for the trial but it turned out to be a subscription, and after a week that you received the product they will charge your credit card $109.62. The product is not really good, I got an upset stomach, and they said I could return those samples, but I have to pay for the return shipping fee. They said that they would only refund the $109.62 when they receive the samples that they sent me.

Bottom Line: No, I would not recommend this to a friend

Jan 11, 2019

Hi Le,

We are truly sorry for the miscommunication on our end. We pride ourselves on helping each and every one of our customers.

We want to give you a chance to try our products, so we would be happy to refund you the $109.62 charge without returning your trial order.

Unfortunately, we were unable to locate your order, so if you can reach out to us at hello@skinnyfit.com and title the email "HighYa Review" we would be more than happy to make this right.

Kevin

Customer Solutions Manager

---

Helpful product

By Lana

,

Illinois

,

Nov 20, 2017
Verified Reviewer

As a person who cannot have much caffeine, I find this tea to be a wonderful pick me up. It has also helped to increase my weight loss. I was at a stuck point in my weight loss, and after using this tea, I began to once again lose weight. I would not recommend drinking past early afternoon as it has a long time frame of wakefulness. It will keep you up all night if drank to late in the day. It does not have the comedown crash of coffee, however. To me, this is a good thing.

I would recommend it to those looking for a little extra help with their healthy dieting. I cannot say it causes rapid weight loss or instant health benefits, but I have found it to be a very helpful, added bonus to my weight loss.

Bottom Line: Yes, I would recommend this to a friend

---

Advertisement

---

Hasn't worked

By Corinne G.

,

Merrimac, MA

,

Jul 30, 2018
Verified Reviewer

I have been drinking SkinnyFit for two months now with no results. I have also been drinking the Zzztox at night with no results.

I watch what I eat, exercise five days a week and have seen no results. So I would not recommend this to anyone who is looking to lose weight. I have lost nothing. So please let me know where I can send the empty bags to get my money refunded.

Thank you for your quick response to this message.

Bottom Line: No, I would not recommend this to a friend

Jan 11, 2019

Hi Corinne,

We take customer feedback very seriously here at SkinnyFit, so we are so sorry to hear that you were not happy with your results.

We see that we were able to reach out to you via email, in which we sent you instructions on how to return your orders for a full refund.

If you have any questions or concerns about the return, please don't hesitate to reach out to us.

Once again, we truly appreciate you giving SkinnyFit a try.

Kevin

Customer Solutions Manager

---

Not for me

By Judith Q.

,

Florida

,

Dec 7, 2018
Verified Reviewer

I signed up for SkinnyFit, I receive the product, but didn't work for me, so I canceled and returned the product. They kept my money of $119.90. I disputed the charge through my bank, but they lied to them, telling them that I never cancel the account. So my bank paid them money back. After that, I call them asking for my money and they told me to email the letter from my bank showing that the dispute was canceled, and I did that.

I call them today (12/5/2018). Now they don't want to refund my money. This company stole my money. I return the product on August 30th and I dispute the charge September 10th. One of the managers was telling me today that I disputed this charge on August 28th, so I put them in a three-way with my bank and my bank tells them that I disputed the charge on September 10th. These people lied to much. My advice to you people, be very careful with this company.

I don't have my order number but have this email:

Danielle P (SkinnyFit)

Nov 28, 17:38 PST

Hi Judith,

Thank you for reaching out to us.

I did attempt to refund you, as I see the dispute is now closed, but I was not quite able to:

11/28/2018 08:31pm By CRM - Refund Failed by Payment Gateway (PayPal Refund Transaction with an Open Case Not Allowed)

I do want to assure you that we are going to refund your $119.90, but there may be a slight delay in doing so.

I will work with my supervisor to ensure we can refund you in a timely manner, even if it means sending a money order.

We will remain in contact and I look forward to getting you the refund as soon as possible.

Sincerely,

Danielle P

Customer Support

Office: 1-888-862-1758

Email: hello@skinnyfit.com

Bottom Line: No, I would not recommend this to a friend

Dec 11, 2018

Hi Judith,

Thank you for contacting us and bringing this to our attention. I am happy that were able to get on the phone to clear up any confusion. Customer satisfaction is extremely important to us, so we thank you for your patience and working with us on the best solution!

We were able to successfully refund you via PayPal, and that transaction should show in your account in the next one to two business days. If you have any other questions or if we can help in any way please feel free to reach out to us directly, we are always happy to help!

Thank you,

Briana

Customer Success

hello@skinnyfit.com

---

My experience

By Corinne F.

,

Brooklyn, NY

,

Jan 17, 2019
Verified Reviewer

I have to tell you I loved this tea. The flavor and the energy I got from it...until I became terribly ill and was rushed to the hospital. They called my problem initially Diverticulitis, then saw extreme intestinal inflammation and irritation. I was on medication for a week and wasn't able to eat solids for two weeks. For some reason, my daughter decided to take it and right now as we speak (or write), we are on the way to the hospital to see her. She's 200 miles from home in school. I'm a mess. So I not only don't recommend it, I urge you to take it off the shelf.

Bottom Line: No, I would not recommend this to a friend

Jan 18, 2019

Hi Corinne,

We are glad that we were able to talk to you and learn more about the situation. We are looking into this and we will follow up via email for any updates. Please let us know if you have any other questions we can answer.

Kevin

Customer Solutions Manager

---

Delicious tea

By Dan

,

Wilbraham, MA

,

Mar 19, 2018
Verified Reviewer

This tea tastes great and has been a healthy substitute for coffee for me in the mornings. It has a refreshing peach flavor and helped me shed a few pounds. I got some for my mom and sister, and they're hooked. I recommend it for sure.

Bottom Line: Yes, I would recommend this to a friend

Jan 11, 2019

Hi Dan!

We love hearing that you have been enjoying your Detox! We're glad you and your family have seen great results! If you haven't heard yet, we came out with a caffeine free detox tea called Zzztox! I know you'll love it just as much as our morning tea, so I highly recommend it!

Kevin

Customer Solutions Manager

---

Bad for migraines or headaches

By Emily R.

,

Los Angeles, CA

,

Sep 24, 2018
Verified Reviewer

I thought this was inoffensive for me since it claims it's all natural ingredients, but I have migraines, and this tea made them WORST! It has something in it, that gave me three horrible migraine days, I had to take really strong medication because of it, so, it is NOT RECOMMENDED for people with headaches or migraines. Be aware!

Bottom Line: No, I would not recommend this to a friend

Jan 11, 2019

Hi Emily,

We are so sorry to hear that you were having trouble with your Detox tea. Customer satisfaction is our number one priority here at SkinnyFit. This is why we happily offer a 90-day money back guarantee.

We wouldn't want you to have a product that you cannot take, so feel free to reach out to us at 1-888-862-1758. Our telephone support is available 24/7.

We look forward to speaking with you and we can't wait to help you out with your refund.

Kevin

Customer Solutions Manager

---

Dissatisfaction

By K K.

,

Columbus, OH

,

Feb 27, 2019
Verified Reviewer

I ordered SkinnyFit from the site. It said "one-time trial." It was about $25 for the detox and bedtime tea. When I checked my credit card statements the next month, they charged me $99. When I called, I was told that I had to send back the unused tea to get my entire refund back ($99). Remind you, I paid $26 for the promotion they were having. Because I didn't want to go through the hassle of sending it back they only refunded me $49 of the extra $99 charges to my card. I am very disappointed! The tea was actually ok, but not for $99!

Bottom Line: No, I would not recommend this to a friend

Feb 28, 2019

Hi Karla!

Thank you so much for your honest feedback and we do sincerely apologize for any misunderstanding.

The way our trials work is you are given a full month supply of the product of your choice for an 18-day trial period. This trial period is meant to allow you to try the product and see how it works for you without committing to the retail price of the products just yet. After your trial ends, on the 18th day, you are billed for the product(s) in hand as they are a full-month supply of the product and because we assume that you are loving your product and have decided to continue using it. We do make sure to list these trial terms on our check out page, as well, to ensure our customers know what to expect and to make sure there is no confusion when purchasing.

During your trial period you are more than welcome to reach out to us and customize your trial, extend it, or cancel it altogether. In fact, we encourage our customers to keep us posted and let us know how they are liking their products. We try to be as generous as possible with our trials since we know not every person sees the same results with each product and that everyone's body is different.

Additionally, we have a great 90 day return policy. If for any reason you are unsatisfied we have the option to return your product for a refund.

Again, we sincerely apologize for any misunderstanding. We do our best to help each and every one of our lovely customers as we know everyone's health journey is different and not everyone sees the results they intend to. As always, we value your experience and only want to deliver the highest degree of service to you. If there is anything we can do for you at this time, please let us know and we would be more than happy to help! We will also follow up via email to ensure that you are as satisfied as possible.

We thank you for giving SkinnyFit a try and look forward to assisting you in the future.

Thanks,

Briana

Customer Success

---

Pleasantly surprised, taste is amazing and I feel great.

I found a great deal on Facebook for the Detox and bought it for me and my mom. We've been using it for two months and love it. I am finally fitting into my old jeans and have way more energy. I am down 7 lbs so far!

Bottom Line: Yes, I would recommend this to a friend

Jan 15, 2019

Hi Briana!

We are so happy to hear that you and your mom have been loving SkinnyFit! We truly appreciate your feedback and we can't wait to hear more about your great results!

Kevin

Customer Solutions Manager

---