Glow Apple Cider Gummies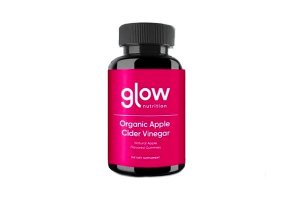 Summary
Glow Nutrition's Apple Cider Vinegar Gummies claim to offer a number of health benefits such as managing weight loss and supporting normal digestion.
Glow Apple Cider Gummies Reviews: Do They Work?
What Are Glow Apple Cider Vinegar Gummies?
Glow Nutrition promises that their gummies offer all the health benefits of apple cider vinegar (ACV) while still tasting like a treat.
Their product is vegan, gluten-free, organic, and packed with 250mg of ACV and 1mg of ginger in every gummy.
Glow Nutrition states that the ACV in their product will offer:
Weight-management assistance
Blood sugar control
Appetite suppression
Improved digestion
Ginger is included in each gummy to:
Aid Digestion
Convert carbohydrates to energy
"For best results," Glow Nutrition recommends consuming just 1 serving (2 gummies) each day. But do they work?
Read below to find out if their gummies are a safe and effective way of increasing your overall health.
Glow Gummies' Ingredients: Are They Effective?
The proposed benefits of this supplement are allegedly made possible through the combination of their 2 active ingredients. In this section, we review what the research tells us.
ACV - 500mg per serving
ACV's relation to the glycemic index of the food you consume has been well studied over the years.
One gram of ACV significantly lowered blood glucose levels in 5 healthy subjects that consumed white bread. A review of 11 trials that included ACV doses ranging from 2-50g offered similar results; they found that ACV reduced both glucose and insulin levels after meals, in healthy subjects, as well as those with difficulty regulating glucose levels.
In obese Japanese subjects, daily intake of 750 or 1500mg of ACV significantly reduced bodyweight, BMI, body fat, waist circumference and triglycerides over 12-weeks when compared to placebo, though 750mg was sufficient to offer these benefits.
When combined with a calorie-restricted diet, 1500mg of ACV daily for 12-weeks was associated with reduced body weight, BMI, and appetite. Appetite was similarly reduced with 25g of white wine vinegar in healthy subjects without dietary restrictions.
Ginger - 2mg per serving
While a review of 8 randomized trials concluded that 1600-4000mg of ginger did not affect fasting blood glucose (a more immediate indicator for the regulation of glucose on an empty stomach), it did significantly improve HbA1c - an indicator for glucose control over the course of 2-3 months.
Twenty grams of ginger did not affect energy metabolism, appetite, or food intake, in 25 healthy males.
A systematic review found that 1500mg of ginger could offer a safe and effective treatment for upset stomach, particularly in pregnant women. A randomized trial described 1g of ginger to be effective in relieving gas.
The Takeaway:
While ACV seems to be an effective means of reducing blood glucose after meals, as well as reducing body weight, BMI, and waist circumference, doses included in these studies are often 3x larger than the daily dose recommended by Glow Nutrition.
ACV's energy boosting effects are less clear. Its ability to alter blood glucose and insulin levels in the short-term may be one explanation.
Ginger also seems to be an effective means of controlling blood sugar. In contrast to ACV, it appears to affect the more long-term indicators of glucose regulation.
Again, with Glow Nutrition, the issue may be related to dosing; the 2mg offered in a single serving of their ACV gummies is a fraction of the 1500-4000mg doses often tested in research studies.
Safety and Side Effects
ACV at 90mL each day, the equivalent to 4500mg, was safe over 4 weeks. This dose is much larger than the 500mg offered in a single serving of Glow Nutrition, though they do suggest not exceeding 8 gummies in 24-hours.
Some of the healthy subjects that consumed 25g of vinegar in a beverage reported nausea. This dose is 5x larger than a single serving of Glow Nutrition; this adverse effect is more likely at much higher doses and when consuming ACV in liquid form.
Daily doses of 100 mg to 2 g of ginger were safe in healthy subjects; the reported adverse effects included minor gastrointestinal upset.
What Does It Cost?
You can purchase gummies directly from Glow Nutrition on their website. While they don't offer a subscription service, shipping is always free, and you can save further by buying more bottles.
1 Bottle (1-Month Supply): $19.00
2 Bottles: $36.00 (Save $1/bottle)
4 Bottles: $60.00 (Save $4/bottle)
Glow Nutrition Apple Cider Vinegar Gummies are not available from other vendors at this time.
Are There Any Alternatives to Glow Nutrition?
As ACV supplementation is gaining popularity, similar products are available from a wide variety of vendors.
Goli offers a supplement that packs in 500mg of ACV per gummy. Though the amount of ACV per gummy is twice as much compared to what Glow Nutrition offers, you'll miss out on the ginger extract.
Nonetheless, Goli does include beetroot, pomegranate, and B vitamins. Purchasing options include one ($19), three ($57), or five ($95) bottles - each of which contains 60 gummies.
ACV supplements are also commonly offered in tablet or capsule form.
You can find fitfactor for $19.99/bottle at The Vitamin Shoppe's site. Each bottle contains 60 tablets that offer 500mg of ACV each, as well as other extracts like black currant, bilberry, artichoke, and ginger.
Obtaining ACV naturally is another obvious choice. Every 10ml of ACV is approximately 500mg, or one serving of Glow Nutrition. Keep in mind that you're more likely to experience the reported side effects if consumed in this form.
The Bottom Line
ACV and ginger may aid digestion, blood sugar control, and even weight loss in both healthy individuals, as well as those with trouble regulating glucose. Glow Nutrition offers a dietary supplement, in gummy form, that packs in 500mg of ACV per 2 gummy serving.
Results may be underwhelming if you follow Glow Nutrition's recommended use. However, as this 500mg dose is a fraction of those often researched (750-1500mg).
The safety of both ACV and ginger has been demonstrated at doses far beyond what is offered in the recommended serving for Glow Nutrition. Even at larger doses, an upset stomach is less likely than if these ingredients were consumed in their natural form.
Glow Nutrition does mention that up to 8 gummies can be safely consumed each day. In fact, not only is this likely safe, but it's also likely to be more effective when considering the doses that have been included in most research studies.
Increasing the likelihood of the desired results would negatively affect your pocketbook, however. Doubling the recommended dose of Glow Nutrition would serve to cut your 1-month supply in half. You would then require 2 bottles (and $36) to get you through the month.
With a favorable safety profile and potential benefit at higher doses, these gummies are not an unreasonable addition to your diet. The proposed benefits are much more likely with a comprehensive plan that includes a healthy diet and regular exercise, however.
Nonetheless, if you feel you are in need of weight loss, controlling blood sugar, or regulating digestion, speak with a physician. Identifying the sources of these issues is an important part of management.
Customer Reviews
Posted on Apr 19, 2021
Best of all the others
I really enjoyed taking this Glow product. Really felt the weight coming off. I ran out and within a month I felt myself gaining again.
Length of Use: 3–6 months
Bottom Line: Yes, I would recommend this to a friend
Pros and Cons
The taste
No "cons" were specified in this review
Posted on Jun 23, 2020
It is a scam and they will delete bad reviews
Very unprofessional company with mental children in charge - if you have a problem they will not issue a proper refund and they still owe me money.
Length of Use: 3–6 months
Bottom Line: No, I would not recommend this to a friend
Pros and Cons
No "pros" were specified in this review
It is a fad and a scam
Posted on Mar 30, 2020
Any downside to taking supplements
Since this is my first bottle of Glow Gummies, and don't get me wrong, I like them, it's just too soon to tell how I'm doing. My huge concern is something I came across while doing research on apple cider vinegar. I read that it kills the good bacteria in our gut. Can you give me some feedback on this? I know antibiotics do the same thing, which can't be good from my experience.
Bottom Line: Yes, I would recommend this to a friend
Our Promise to You
In order to safeguard you and ensure helpfulness and relevance, our compliance team manually assess every customer review before it goes live.
We have a zero-tolerance policy for fake reviews, and companies cannot control or alter any reviews at any time.