SkinnyMint Teatox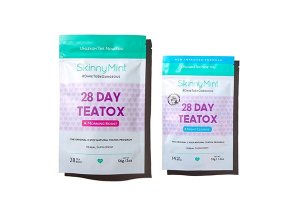 Summary
SkinnyMint Teatox promises to help you lose weight and reduce bloating by boosting your metabolism and increasing the efficiency of your digestive system.
Pros
Most Ingredients show clinical evidence of health benefits
Positive customer reviews
Cons
Proprietary blends make it challenging to determine ingredient concentration
Possible negative side effects associated with longterm use
Don't expect benefits unless you are following a healthy lifestyle
SkinnyMint Teatox Review: Does It Really Work? A Detailed Look
Diet teas are a booming industry on social media, but many are skeptical about whether they will work to help you shed pounds and belly bloat.
SkinnyMint Teatox is sold as a two-step detox program that utilizes herbs and other natural ingredients to boost your energy levels and cleanse your body. These teas are designed to be drunk at the beginning and end of your day as a kickstart for a healthier lifestyle.
Will this tea work as described to help you lose weight? Our analysis will help you make the right decision for your health needs.
How to Use SkinnyMint TeaTox
The TeaTox program offers a two-step program that's designed to reduce bloat and boost your energy levels. Regardless of which size you purchase, you'll receive two vacuum-sealed packets, one containing Morning Boost tea bags and the other with Night Cleanse tea.
The Morning Boost tea is a fruity flavored green tea and yerba mate blend designed to give you a caffeine boost at the beginning of the day. You're meant to drink one cup a day as a replacement for coffee.
The Night Cleanse tea contains senna leaves, ginger root, lemongrass, and other ingredients designed to cleanse out your system and reduce bloating. Starting on day one, you should drink one cup of this tea every other day, either after your last meal or right before bed.
Analysis of Ingredients
SkinnyMint lists the full ingredients online for both its Morning Boost and Night Cleanse tea:
TeaTox Morning Boost
Green Tea (1,230mg)
Green tea is a natural source of caffeine and antioxidants. Numerous studies show that it can boost the rate at which you burn calories, which can lead to moderate weight loss over time.
For example, one ten-person study found that taking one cup of green tea increased energy expenditure by 4%, and another study found that taking the equivalent of 3.5 cups of green tea before moderate exercise may increase fat burning by 17%.
Proprietary Blend of Herbs (770mg)
Yerba mate is an herbal tea made from an evergreen shrub of the same name. It's rich in antioxidants and known for boosting mental focus, even though it contains less caffeine than coffee.
Research shows yerba mate might boost metabolism by decreasing your total fat cell count and the amount of fat they contain. One 12-week study found that participants given three grams of powdered yerba mate a day lost an average of 1.5 pounds, while a placebo group gained 6.2 pounds.
Nettle leaves come from a Northern European shrub and have long been used for herbal medicine. There's some evidence that taking 500mg capsules of nettles every eight hours for three months can have positive effects on blood glucose levels for people with diabetes, especially when used with traditional blood sugar medications.
Dandelion plants are highly nutritious, and their dried roots and leaves are often added to teas. There's evidence that the plant's chicoric acid can reduce blood sugar levels by improving how well muscles can absorb glucose. Initial research also indicates dandelion might support weight loss, but there's no consensus on this yet.
Guarana fruit comes from a Brazilian plant and contains a range of stimulants like caffeine and theobromine. These compounds may contribute to more efficient metabolism and subsequent weight loss.
Night Cleanse
Senna leaves (500mg)
Senna leaves thrive in tropical climates, and they are used to make a sweet tea that's often marketed for constipation relief. It also has anti-inflammatory benefits, though the American Herbal Products Association recommends against taking the tea long term.
Proprietary Blend of Herbs (2,000mg)
Ginger root is loaded with nutrients and bioactive compounds that promote health. It's often taken to treat nausea, reduce muscle pain, and eradicate chronic indigestion by speeding up the stomach emptying process.
One study revealed that taking 1.2 grams of ginger powder with a meal helped participants empty their stomachs' 50% faster.
Lemongrass leaves are often used in detox teas, though their purported benefits are based on anecdotal evidence. The leaves are naturally diuretic, which means they will dehydrate you over time.
Peppermint leaves are added to tea to relieve digestive problems like gas and bloating. An analysis of nine studies found that peppermint oil reduced irritable bowel syndrome symptoms better than a placebo. There's also some evidence that the oil can reduce your appetite, consequently leading to weight loss.
Dandelion root: see the previous section
Marshmallow root is a natural diuretic that has long been used for a source of relief from constipation. In large doses, it can cause an upset stomach. Healthline recommends you take between 2-5ml of liquid marshmallow extract three times a day to treat constipation.
Hawthorn berries have a tangy taste and tradition of use in natural remedies for digestive problems. They contain plenty of fiber, which acts as a prebiotic to support healthy gut bacteria. One study with rats found that hawthorn extract sped up the transit time for food in the digestive system.
Cardamom seed makes for a desirable spice, though the plant has long been used medicinally. It's often mixed with other herbs to treat stomach ulcers, though most existing studies on these benefits were conducted on rats, not humans.
Cinnamon bark is known for its anti-diabetic effects, and taking between 5-20 mg per kg of body weight can lower your blood sugar by decreasing the amount of glucose absorbed into your bloodstream after a meal.
Burdock root is considered an antioxidant powerhouse that works to remove toxins from the blood. We couldn't find any benefits specifically related to weight loss or digestion.
Key Takeaways:
Almost every ingredient in SkinnyMint tea shows some scientific evidence for being beneficial for weight loss or digestive issues.
However, most of the available research involved participants who took the compounds as powders or in capsules rather than steeped in tea. This significantly changed the amounts you ingest per serving and may cancel out these stated health benefits.
As the bulk of these ingredients are listed as a proprietary blend, it's not clear how much of each you'll take in per serving.
So, while the ingredients in these teas have the potential to speed up your metabolism, reduce bloating, lower your blood sugar levels, and even help you lose weight, there's minimal evidence to support they will do so at the dose provided by SkinnyMint.
Precautions and Possible Side Effects
As with many detox tea drinks, SkinnyMint tea works by triggering a mild laxative effect to keep your system regular. This can lead to some unintended side effects, including dehydration, bloating, gas, nausea, and diarrhea.
Senna leaves are the most notorious cause of this side effect, and we mentioned above that regular use isn't recommended.
Likewise, the caffeine in the Morning Boost tea might leave you feeling jumpy and having difficulty concentrating. Drunk too late in the day, it might impact your sleep.
SkinnyMint tea is not recommended for pregnant women or anyone under 15 because these people shouldn't intentionally be suppressing their appetites. It also shouldn't be taken by anyone with a history of cardiac problems, high blood pressure or diabetes.
There's also some concern that this tea can affect your birth control, so it's best to talk to your doctor before taking it.
Pricing and Refund Information
A 28-Day Day Ultimate Teatox Program Costs
Single Pack Serving: $54.90
Two-Pack Deal: $89.90
The Bundles Include:
28 Bags for Morning Cleans
14 Bags for Night Cleanse
All SkinnyMint products can be sent back to the company within 30-days of purchase, so long as they are in unopened, like-new condition.
If accepted, you will receive store credit for the full purchase value, minus shipping costs. Returns aren't permitted for any opened packages.
Analysis of Customer Reviews
Eleven customers have left reviews for SkinnyMint Teatox on our website, averaging 4.1-stars overall. Here's a snapshot of their comments, also taking into account the feedback on Amazon, where this brand averages 3.7-stars after more than 200 reviews.
Common Compliments:
Great Taste, Energy Boost: Many shared that the morning tea gave them as much energy as coffee and tasted great mixed with honey and lemon.

Reduces Bloating: Customers loved that this tea kept their stomachs looking flat when they paired it with a healthy diet. Many attributed this to its mildly laxative effect.
Common Complaints:
More Purchasing Options Preferred: Some users shared that they wished they could purchase just the morning or the evening tea without the other type.

Didn't Work as Described: Many complained that they didn't look or feel different after following this tea cleanse. A few reported that they gained weight while taking it.

Unhappy with Flavor: Some reported that they hated the tea's taste, even though they were regular tea drinkers.
The Bottom Line
SkinnyMint tea promises to give you more energy and clean out your digestive system so that you look less bloated. Customer reviews indicate that many people find this tea works as described and were happy to take it for the long term.
However, the evidence is scant that a detox tea cleanse will really offer long-term health benefits or help you lose weight. While these drinks contain natural ingredients credited with boosting the metabolism and reducing bloat, they come in a proprietary blend that makes it impossible to know precisely how much you're taking in.
Likewise, any benefits associated with a tea detox will be temporary and negligible unless you pair them with a healthy diet and lifestyle. While you might lose weight with detox drinks, this is likely to be water weight, not from shedding fat.
And while the ingredients themselves have proven benefits at high concentrations, there isn't any evidence that they work the same way when taken as a tea.
SkinnyMint Tea doesn't seem dangerous when taken as described. We recommend against signing up for a subscription, so you don't feel obligated to drink it for more than a few weeks at a time.
Customer Reviews
Our Promise to You
In order to safeguard you and ensure helpfulness and relevance, our compliance team manually assess every customer review before it goes live.
We have a zero-tolerance policy for fake reviews, and companies cannot control or alter any reviews at any time.