Smarter Curcumin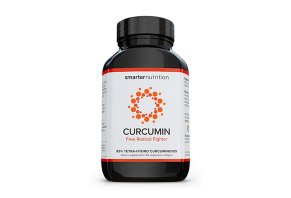 Dubbed a 'free radical fighter' by the manufacturer, Smarter Curcumin features a blend of six ingredients they advertise will reduce discomfort, balance immune function, and fight inflammation.
Smarter Curcumin Review - Effective For Your Health?
Smarter Curcumin is a supplement that promises to help you experience relief from aches and discomforts as well as address joint mobility and better your brain, immune, and digestive health. This supplement uses a compound of turmeric root.
The supplement contains a combination of 95% tetra-hydro curcuminoids, black cumin seed oil, and four additional herbal ingredients promises to fight whole-body inflammation and oxidative stress synergistically.
The company states that you can experience the claimed benefits by taking two highly bioavailable softgels per day
They say this could deliver a wide range of benefits, including promoting cardio, liver, joint, and brain health; improving digestion, reducing aches and discomfort, promoting comfort and flexibility, providing healthy immune balance, and aiding in cognitive function. The website even advertises that the formulation could help you experience "age-reducing beauty for the skin, hair, and body."
Taking these advertising claims at face value, it might be easy to believe that this supplement has the potential to change your life. Before handing over your money for Smarter Curcumin, though, keep yourself fully informed by taking a few moments to read this review sharing what we had learned during our research.
Turmeric and Curcumin 101
When exploring options for a supplement like Smarter Curcumin, it's important to get a better understanding of what Turmeric and Curcumin are. Turmeric is a spice in the ginger family that's native to India and South East Asia. Inside of which is its active ingredient, known as curcumin.
Based on preliminary clinical studies (many of which occurred using mice), it appears that curcumin's anti-inflammatory and antioxidant properties may help "prevent clogged arteries and heart disease," while some studies are indicating its supplementation may also benefit cognition.
It could also "help in the management of oxidative and inflammatory conditions, metabolic syndrome, arthritis, anxiety, and hyperlipidemia," in addition to "the management of exercise-induced inflammation and muscle soreness."
Pam Braun, the author of The Ultimate Anti-Cancer Cookbook, which contains several recipes that incorporate the spice, makes sure to balance these details by emphasizing:
"According to the American Cancer Society, there is not yet a definitive answer on whether or not turmeric lives up to its hype. More human research is needed to truly find out its potential. Studies have been done on rats, but that may or may not translate into the same results for humans."
Perhaps a more significant potential problem is that—as mentioned on the Smarter website—curcumin is "less than 1% bioavailable, and its half-life under physiological conditions is measured in minutes," reports Derek Lowe for Science Translational Medicine. This means that if you take a 100 mg capsule of the ingredient, only 1 mg will make it into your bloodstream where it can deliver potential benefits.
Smarter Curcumin Ingredients
According to the supplement facts label listed on their website, the supplement contains:
Curcumin C3 Reduct 400 mg
Black Cumin Seed Oil 400 mg
Ginger 100 mg
AstraGin (extract of Panax notoginseng & Astragalus membranaceous) 50 mg
C3 Reduct is a proprietary ingredient manufactured by Sabinsa that uses "95% Tetrahydrocurcuminoids (the major active metabolites of curcumin) extract obtained from natural curcuminoid mixture, [which is] obtained from turmeric rhizomes."
Together, they advertise this maximizes bioavailability, efficiency, and activity, although they provide no clinical evidence for these claims in humans, nor that these differences deliver real-world benefits.
On its own, WebMD and the Natural Medicines Database report that black cumin seed oil is possibly effective for a range of conditions, including improving blood sugar and reducing cholesterol in those with diabetes (2 g daily for 12 weeks), decreasing blood pressure by a small amount (100 mg to 2 g per day), and even improve asthma symptoms (500 mg to 2 g per day) for a very specific segment of sufferers.
However, nothing is mentioned related to black cumin seed oil's ability to boost curcumin's (or any other ingredient's) bioavailability, as advertised on the company's website.
On the other hand, these sites indicate that ginger is possibly useful for—among other things—slightly reducing pain in those with osteoarthritis; sometimes as well as ibuprofen for those with hip and knee osteoarthritis. Dosing in clinical trials ranged between 340 mg and 1,000 mg.
Finally, AstraGin is a proprietary ingredient manufactured by NuLiv Science, which involves a combination of Panax notoginseng and Astragalus membranaceous.
While WebMD and the Natural Medicines Database indicate there's insufficient clinical support that Panax notoginseng has any inflammation or antioxidant-related benefits, they report that astragalus (no dosage noted) could help control blood sugar and insulin levels in those with type 2 diabetes.
Are There Any Potential Side Effects?
For the most part, these same sites indicate that Smarter Curcumin's ingredients—if they cause anything—won't lead to side effects worse than mild, temporary nausea and digestive upset.
However, they also emphasize that black seed oil can lead to constipation and even "increase the risk of seizures in some people" (no dosages or other specifics provided).
Panax notoginseng can cause (again, no dosages or specifics) dry mouth, flushed skin, rash, nervousness, and sleep problems, while taking astragalus can also uncommonly result in a rash, itchy skin, and nasal symptoms.
To minimize the chances of experiencing side effects or medication interactions with Smarter Curcumin or any other dietary supplement, make sure you have an in-depth discussion with your doctor beforehand.
How Much Does Smarter Curcumin Cost?
If purchased directly from the manufacturer, the supplement will cost you:
1 Bottle (60 softgels): $40
3 Bottles: $85 ($28.33 per bottle)
6 Bottles: $160 ($26.67 per bottle)
We also found the supplement sold via Amazon for the same prices, although customers could save an additional 15% by subscribing to automatic monthly shipments.
All direct orders come with a 60-day money back guarantee, less S&H, which you can request by calling customer service at 800-976-6118 or sending an email to support@smarternutrition.com.
What We Learned About Smarter Curcumin From Online Customer Reviews
On Amazon, more than 1,400 customers had given the supplement an average rating of 4.6 stars.
Compliments typically referenced ease of use and effective results (often reduced back and joint pain, whether related to injury or other conditions like arthritis and fibromyalgia), while complaints—what few there were—often cited no results and high price.
Smarter Curcumin vs. the Competition: How to Choose a Turmeric Supplement
Just to give you an example of how many curcumin and turmeric supplements are out there competing for your money, hundreds of results pulled up on popular search engines as of this writing.
And like Smarter, many of them claimed to boost bioavailability, whether through the addition of other ingredients, or delivery via a liquid extract or softgel. Here's just a handful of the top listings:
| | | |
| --- | --- | --- |
| Brand | Price Per Bottle | Ingredients |
| Smarter Curcumin | $26.67+ | Curcumin C3 Reduct (400 mg), Black Cumin Seed Oil (400mg), Ginger (100 mg), AstraGin (50 mg) |
| Advanced Turmeric Curcumin x285 by 1MD | $38.33+ | Longvida Optimized Curcumin Extract (400 mg), WokVel Boswellia Serrata (666 mg) |
| Doctor's Best Curcumin C3 Complex w/ Bioperine | $32+ | Turmeric root (500 mg), Black pepper fruit extract (3 mg) |
| NaturalFactors CurcuminRich Theracurmin | $21+ | Theracurmin curcumin extract f/ turmeric (30 mg) |
| Terry Natural Curamed | $25.50+ | BCM-95 Curcumin (750 mg) |
| Thorne Research Meriva-SF Curcumin Phytosome | $43+ | Curcumin Phytosome (500 mg) |
How can you decide which is the best formulation?
First, talk with your doctor about what they recommend based on your specific diagnosis, as well as any other medications you're taking. This would also represent an ideal time to discuss with them the kinds of results you might expect from a curcumin supplement, if paying more for one will deliver meaningfully better value, and how one might compare to prescription medications or other treatments.
Stepping away from the opinion provided by your medical provider, you'll also want to look online customer feedback for the product and the manufacturer, as well as ensure any companies you do business that offer at least a 30-day refund policy (with no restocking fees).
The Bottom Line
Smarter Curcumin currently comes with almost wholly positive reviews among more than 1,400 Amazon customers, a very competitive price, and the company stands behind it with a 30-day satisfaction guarantee.
Furthermore, many of the ingredients found in the supplement may deliver potential benefits like improving blood sugar and reducing cholesterol in those with diabetes (black cumin seed oil and astragalus), and slightly reducing pain in those with osteoarthritis (ginger).
However, it might make sense to maintain reasonable expectations about the supplement's bioavailability-related claims, based on the limited clinical evidence reported.
Smarter Curcumin Supplements

By Kathy K.

,

Hagerstown, MD

,

Dec 17, 2019
Verified Reviewer

I have been taking the Smarter Curcumin for almost 3 months and I have felt much less pain and swelling in my hands. It doesn't take all my pain completely away, but if I don't overdue at work or home, I really feel a difference. Especially after about 6 weeks. I know surgery is inevitable one day, but I can bare then pain here and there until then! I would highly recommend this product as it's helped me to continue working!

Bottom Line: Yes, I would recommend this to a friend

---

Amazingly true!

I've been taking Smarter Nutrition Curcumin. I have also started taking their vitamin D3 but until I get my blood work I can't say much about the vitamin. What I can say is, I have had back joint muscles issues for the last 2 years. I was diagnosed with osteoarthritis, stenosis of the spine, 4 herniated disk, as well as bursitis on my hips. I had 10 steroid injections in 5 months, I was given abrasions for the pain in my spine. I was told that I needed surgery and it would be a double fusion yet the pain just didn't seem to match. I was all over the place with doctors, many specialists, and even the Mayo Clinic. Finally, I came to a website of their products and was reading all of their reviews, with 99 percent being positive. I've been on them for almost a month and the pain has gone down about 70% from where it was. I'm not pain-free but it's tolerable. Mornings are the worst but I am starting to feel amazing, truly amazing. I would recommend this product to anyone. I'm only 46 years old, living with back pain is horrible, this is a safe and cheap way to help with the pain.

Bottom Line: Yes, I would recommend this to a friend

---

Advertisement

---