Squatty Potty Reviews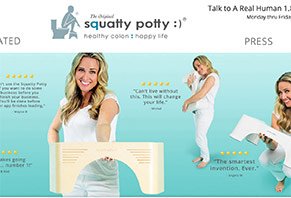 Squatty Potty is a newly designed toilet stool that's claimed to relax the puborectalis muscle in order to provide easier, more comfortable elimination.
About Squatty Potty
Originally developed by Robert Edwards, a 37-year-old contractor and designer in St. George, Utah, the Squatty Potty toilet stool is claimed to be a safe, simple, and doctor recommended way of achieving a healthy toilet posture.
According to the Squatty Potty website, the stool fits any toilet and is engineered to mirror the angle and efficiency of natural squatting, while allowing for the luxury and comfort of using your own toilet. As a result, the Squatty Potty claims to fully relax the puborectalis muscle for easier and more effective elimination.
And when it's not in use, the Squatty Potty conveniently stores under your toilet.
As silly as it might be talking about pooping, what's the truth behind (no pun intended) Squatty Potty? Is it the real deal, or just an overhyped gimmick? Consider the following:
What Does Science Say about the Squatty Potty?
When reading through the Squatty Potty website, based on many of the claims made, we had a lot of questions come to mind, including: Is there really a "healthy toilet posture?" Can your colon really become "kinked?" Does the modern toilet really cause health concerns?
To address these questions, according to the Medical Case Studies page on the Squatty Potty website, 4 references are made:
Ultimately, where does this lead us? With the exception of the manufacturer's study, the other 3 citations only referenced the fact that a squatting posture can reduce the amount of force required for defecation. However, none referenced that squatting is necessarily healthier than the standard seated position.
But what does the rest of the medical community have to say?
Is Squatting While Pooping Healthier than Sitting?
As it turns out, this largely depends on what you consider "healthier."
This is because, as this 2012 NPR article noted, "[colorectal surgeon] Rebekah Kim says one of the first things she tells patients who struggle on the john is get a stack of telephone books or a stool to rest their feet on – an option not unlike the Squatty Potty. But she says many of the claims Squatty Potty makes haven't been well tested.
"Squatting on a stool can reduce the amount of straining on the toilet, which may mean less hemorrhoids, but there are no clinical studies proving that," she says. "For most people, the modern toilet doesn't cause any problems."
In other words, as we noted in the previous section, toilet stools like the Squatty Potty can make pooping easier (and perhaps save you some time in the restroom, and can potentially reduce hemorrhoids). Outside of this however, there is insufficient clinical evidence showing that squatting while pooping can provide any other health benefits.
Other Toilet Stool Options
Finally, keep in mind that there are many similar options out there, several of which are priced lower than the Squatty Potty, and may even be available at a local retailer.
In fact, these options don't even have to be specifically designed as a toilet stool, and could be a standard plastic toddler stool, or even a stack of phone books (who uses those nowadays anyway?).
Customer Feedback for Squatty Potty
There were a total of 868 Amazon customer reviews for Squatty Potty at the time of our research, with an average rating of 4.1 stars. There, some of the most common compliments cited an easier time pooping, constipation relief, and that it even works as a potty training tool.
On the other hand, some of the most common complaints revolved around the fact that you have to completely remove your pants in order to use it, that when it's not in use it can get in the way a force a "wide stance" when urinating, and getting used to the new sensation to squatting while you poop.
From a company perspective, Squatty Potty LLC is based out of West Jordan, UT and held an A- rating with the Better Business Bureau (as of 5/29/15), with no closed complaints.
Squatty Potty Pricing & Refund Policy
The Squatty Potty is available in 4 different models:
Ecco – A molded plastic stool: $25
On the Go – A packable and inflatable stool: $30
Slim – A sculpted plywood stool: $60
Tao Bamboo – An adjustable bamboo stool: $80
In addition, there are also several accessories available:
Good Move! Constipation Relief – A supplement containing organic herbs, live enzymes, and probiotics: $28
Refresh-It – A non-electric, adjustable bidet that attaches to your existing toilet: $38
Sweet Loo Potty Spray – Claimed to "lock bathroom odors beneath the water's surface" by spraying before you use the restroom: $10 to $14
All Squatty Potty orders under $45 ship at a flat rate of $10, while orders over $45 come with free shipping.
Squatty Potty toilet stools come with a 60-day refund policy, less S&H charges. In order to request a refund, you'll need to contact customer service at 855-628-1099.
Can Squatty Potty Help You Poop Better?
Squatty Potty first entered America's consciousness after appearing on Season 6, episode 8 of ABC's Shark Tank, where Shark Lori Greiner's offered $300K for a 10% stake in the company.
Since then, Squatty Potty has taken off like wildfire and has sparked a nationwide discussion about the pros and cons of squatting to poop.
As we noted above though, other than perhaps making elimination easier (and avoided related conditions such as hemorrhoids), there is insufficient clinical evidence showing the squatting posture can provide any other kinds of health benefits.
With this in mind, ultimately you're the only one who can decide if Squatty Potty's relatively high price is worthwhile.
Have you recently used the Squatty Potty? Tell us about it by writing a quick review below.
8 out 10 people found this review helpful

Excellent product - I highly recommend!

I can only tell you that from my personal experience with this product, that it really does improve your potty experience, in both time and effort. We also are now using a lot less toilet paper. The money I save on toilet paper alone should pay for the Squatty Potty in less than a year.

Bottom Line: Yes, I would recommend this to a friend

---

7 out 39 people found this review helpful

Junk

By Terry

,

Cleveland, OH

,

Nov 18, 2015

This piece of junk doesn't work it doesn't do anything he claims to do. It's a total waste of money and nothing but a big scam.

Bottom Line: No, I would not recommend this to a friend

---

Advertisement

---