Squatty Potty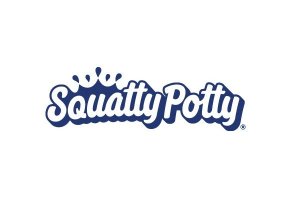 Squatty Potty is a newly designed toilet stool that's claimed to relax the puborectalis muscle in order to provide easier, more comfortable elimination.
Squatty Potty Review: Is It Beneficial or Just a Fad?
Do you feel like you're spending more time straining on the toilet than you should? Then it's likely a viral ad campaign with a prince, a rainbow unicorn, and "soft serve" ice cream has caught your eye.
The product in question? A toilet stool called the Squatty Potty that's designed to make it easier to poop. Squatty Potty sells a variety of products designed to elevate your feet when you sit on the toilet so that you assume a natural squat.
Using a Squatty Potty, the company claims, puts your colon in an ideal position for bathroom activities so that you avoid constipation and straining and instead experience a smoother, more comfortable bowel movement.
Though the stools are targeted towards people with constipation issues, the company claims that almost everyone can benefit from adopting a squatting stance in the bathroom.
Is the Squatty Potty all hype and gimmick, or is there a real benefit to using a toilet stool when you need to relieve yourself? Here, we'll explore the facts behind Squatty Potty's marketing claims so you can decide if they stand up to scientific scrutiny.
Pros:
Cons:

Scientific evidence shows that it works to relieve constipation and speed up bowel movements

Lots of styles to choose from to match your bathroom décor

Isn't necessary for those who don't struggle to relieve themselves

Takes up space in the bathroom

You might need a different size for adults and kids
Is Using a Squatty Potty Better for You?
The original Squatty Potty is a u-shaped plastic stool that surrounds the base of your toilet. It provides a platform for you to prop up your feet instead of placing them on the ground like normal.
According to Squatty Potty, your body relies on a bend in the colon to keep excrement in place until you're ready to relieve yourself. This works great in regular life, but it poses problems when you sit on a western-style toilet because you create a kink in your colon that forms a roadblock. Emptying out in this position takes time and potentially painful straining.
Adopting a squatting stance, in contrast, will undo this colon kink so that your waste has a clear pathway out of your body. In this way, the Squatty Potty props your feet up so that you sit in a squat even when on a regular toilet so that you get the full benefits of this posture.
This premise makes sense, but do clinical studies back it up?
A 2003 study compared the straining forces necessary for three different defecation positions: sitting on a standard toilet, sitting on a lower toilet, and squatting. The results found that those who sat on a regular toilet had to use more effort to empty their bowels than the participants that squatted.
These claims are validated in a 2002 study that found that using an Iranian style toilet—which puts you in a squatting position—was a more comfortable and efficient method of defecating for participants than European-style toilets.
There's further evidence that squatting benefits those with constipation problems.
For instance, a small 2019 study with 52 participants with chronic constipation found that using a "defecation postural modification device" helped them better empty their bowels and led to reduced straining while they did so.
One thing to note about these studies is that they relied on small sample sizes, which means it's dangerous to use them to draw conclusions for a general audience. However, both scientific and anecdotal evidence from customer reviews of the Squatty Potty seems to indicate that many people have a more pleasant bathroom experience when they use it.
Will everyone benefit from using a Squatty Potty? While available evidence shows that the squatting stance does create a better angle for having bowel movements for many people, plenty do just as well with a regular sitting stance.
In fact, other lifestyle factors, such as your diet, exercise habits, and how well hydrated you are may have a more significant impact on your bathroom experience than whether you sit or squat.
Key Takeaway: Squatting while going to the bathroom reduces strain and helps you fully empty your bowels if that's something you struggle with. However, there's less evidence that it will do much for you if you already go to the bathroom easily.
Product Line
The Squatty Potty website currently sells several models of toilet stools with different features and at different price points:
Original: Squatty Potty's bestselling toilet seat, $24.99

Bamboo Flip: Made from bamboo and can be flipped to 7" or 9" in height, $39.99

Adjustable 2.0: Includes a 2" topper to change the height from 7" to 9", $29.99

SpongeBob SquarePants: Themed on the cartoon character, $29.99

Curve: Similar to the Original, but in a sleeker, minimalist design, $24.99

Porta-Squatty Travel Stool: Designed to fold flat, comes with a discreet carrying bag, $29.99

Fold-N-Stow: Folds into compact form for easy stowing, $24.99

Moonlight/ Eclipse: Includes a motion-activated light for easy night use, $29.99

2.0 Base: Compact design fits under the bowl of the toilet seat, $24.99

Slim Teak: Sculpted teak plywood design for sophisticated bathrooms, $59.99

Ghost Acrylic 7": Sculpted acrylic glass for an understated accessory, $79.99
The Squatty Potty website sells both seven-inch and nine-inch toilet stools. To decide which will work best for your bathroom, you should measure your toilet from the base to the top of the toilet lip with the seat lifted.
If the measurement is less than 16 inches, you have a standard-sized toilet and should get a seven-inch stool. Those with toilets 16.5 or higher should go with the nine-inch stool. If you have both kids and adults in your household, an adjustable height stool may be best.
You can purchase Squatty Potties online or from retailers like Bed Bath & Beyond, Target, Kroger, and more.
All purchases made from the company's official website qualify for a 60-day return or exchange policy. You will receive a full refund on your purchase, minus return shipping costs. To contact the company for return specifics (or to answer any other questions), call at (855) 628-1099 or send customer service a message.
Analysis of Customer Reviews
There are close to 20,000 reviews on Amazon for the Original Squatty Potty, averaging 4.5 stars. Here's a summary of some of the main points these reviewers make.
Common Compliments:
Significantly speeds up the defecation process
Many models are easily adjustable for different heights
Makes it easier to completely empty the bowels
Common Complaints:
Not comfortable for those with anal fissures
Some considered it "junky" and low quality
Relatively cheap to make a DIY substitute
Squatting posture takes some getting used to
Bulky in the bathroom
The Bottom Line: Is the Squatty Potty Worth It?
The facts are in, and our verdict is that the Squatty Potty really can accomplish what it promises. If you struggle to relieve yourself, there's a good chance that this simple toilet stool can ease the process without making you resort to laxatives or prescription medications.
However, the company may be somewhat overstating the risks associated with using a regular toilet. Millions of people go without problem with the western-style toilet in their homes, so for them, a Squatty Potty may be little more than a bulky bathroom accessory.
There are other ways to relieve constipation beyond changing your bathroom posture. Consider making other lifestyle changes like increasing your water intake, filling up on fiber-rich fruits and vegetables, and staying active. These measures might be just as effective for relieving your bowels as this unicorn-endorsed squatting stool.
---
Excellent product - I highly recommend!

I can only tell you that from my personal experience with this product, that it really does improve your potty experience, in both time and effort. We also are now using a lot less toilet paper. The money I save on toilet paper alone should pay for the Squatty Potty in less than a year.

Bottom Line: Yes, I would recommend this to a friend

---

Junk

By Terry

,

Cleveland, OH

,

Nov 18, 2015

This piece of junk doesn't work it doesn't do anything he claims to do. It's a total waste of money and nothing but a big scam.

Bottom Line: No, I would not recommend this to a friend

---

Advertisement

---