Tradesy Reviews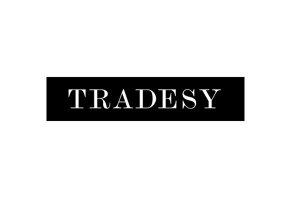 Tradesy is a "peer-to-peer" marketplace that claims to empower users to easily buy or sell fashionable women's clothing and accessories. Although the idea is appealing, there are some drawbacks to this model.
About Tradesy
Keeping on point with new trends and fluctuating post-holiday waistlines can be a pricey endeavor. There's also the ubiquitous New Year's closet overhaul that often sees a cringe-inducing amount of "never-worns" pile up for donation.
But what if you don't want to shell out for brand new digs or feel like eating the cost of one too many purchases that didn't work out?
Tradesy aims to take the hassle and guesswork out of both clearing out your closet, and acquiring new items, with a streamlined sales process, shipping assistance, and a Tradesy promise.
What's a Peer-to-Peer Marketplace?
Where an online search might typically bring you to a shop, business, or professional seller, peer-to-peer marketplaces connect regular folks like you and me, to buy and sell stuff!
The marketplace may sound revolutionary, but really these sites are a lot like a tiny Ebay – of course, there's no bidding – but the benefit of Tradesy is that it connects shoppers and sellers of a particular market: gently-used and high-quality women's fashion.
Unlike online consignment shops that buy your items directly, Tradesy's service keeps your items at home and without hassle until a shopper has purchased something you offer.
How Tradesy Works
Tradesy.com appeals to both buyers and sellers.
For buyers, it's quite easy: Visit www.tradesy.com and peruse the hundreds of items. There's no shortage of categories to look at, and an Editor's Picks section is available for those who want a little extra on-trend inspiration.
The site also offers some extensive filters to help you pinpoint exactly what you're looking for in their extensive inventory. You can filter your search by:
Color, size & brand
Tags from luxury to "cheap & chic"
Discount percentage
Availability (that seems like a given)
and Condition
Because buyers might be cautious about the unorthodox approach to shopping second hand, Tradesy offers a few benefits:
Free shipping & returns
Secure Paypal payments
Free shipping insurance & verification
Protection from designer knock-offs (and the promise of a full refund if something is found to be fake.)
For sellers, the Tradesy process is made to sound equally appealing. Anyone who's ever tried to make cash off a few items on Ebay could wax begrudgingly about the process of uploading pictures, writing descriptions, answering questions, and then schlepping it all to the post office.
Instead, Tradesy streamlines selling into a few steps:
Pick items to sell
Take a few photos (they clean up the pics to make them sell-worthy)
Price items (with the help of their suggestions) and list!
All the hard work is taken care of by Tradesy, who in return takes a 9% commission off of each sale. What does that 9% buy you?
Simplified Paypal payment processing (there is a 2.9% fee) that allows you to withdraw the cash straight to your bank account or debit card
Pre-paid shipping kits that include all the wrapping. You just drop the item in, and off it goes.
Hands-off returns assistance: Tradesy accepts any unwanted items back from the buyer and evaluates them to ensure no additional damage (excluding wedding dresses.)
Tradesy also offers Help & Support and a Tradesy Promise to make sure every transaction is smooth.
Gee, That Sounds Great!
Until you read some reviews, that is.
Common complaints were as follows:
Unfair treatment of sellers: This ranges from sellers being subjected to ongoing questioning from prospective buyers and accusations that their items are fake, to several tales of accounts being shut down with no warning from Tradesy:
"I'm still receiving emails from buyer wanting to know where there items are and why i'm not responding. They haven't bothered to respond to me or refund customers! I'm out several hundred dollars in shipped out product they have not reimbursed me for and they refuse to answer any of my emails." (Source)
Terrible customer service is another common complaint in the negative reviews. While the original reason for trouble may vary, reading comments of unanswered emails and locked-accounts makes you very wary of signing up for Tradesy:
"I wrote several emails and they still haven't responded for over a week. I asked when my account would be reinstated and no response. It is unacceptable to shut someone's account down without notifying them and without a good and legal reason." (Source)
Finally, sellers who have been shut out of their accounts without a warning or response from customer service, appear to be at risk of losing all of the funds accumulated in their account from sales:
"This website is a SCAM!I was on there for a year buying and selling.
I logged into my account and it all my info was gone. All my sales cancelled. The money in my account gone. No email, no explanation, no ethics. Account suspended. Completely unprofessional. I will never do business with this company again. It is a ripoff.
Thieves. I will be sure to spread the word and do magazine reviews of how horrible of a company you are. Unprofessional. They stole my money and kept their percentage as well." (Source)
Another concern is inflated shipping costs: One seller remarked that after listing her high-end bag for upwards of $1700, Tradesy added a shipping cost of $132 – which is remarkable high. An additional concern is that no where on their site do they explain shipping costs. (Source)
As I dug deeper to try and find positive reviews for Tradesy, something else became evident: The online business used to go by another name. What was once a bridal-reselling shop called the Recycled Bride has now been rebranded into the all-encompassing clothing-reseller site Tradesy.
I also found that Tradesy has 21 complaints with the Better Business Bureau.
Final Thoughts on Tradesy
With my own over-flowing closet to consider, I've kept an eye on peer-to-peer retailers for some time to find one that might be the right fit for my items.
And while I can always understand a few unhappy remarks about customer service, I find the idea that accounts in with funds earned from selling items were locked down without warning or checks issued, to be absolutely off-putting. There may be two sides to that story (or the several stories), but it doesn't seem to be worth the risk.
Additionally, being currently in the market for some spiffed-up activewear, I decided to cost-compare, and wow! Not sure if it's their inflated shipping or simply delusional prices set by independent sellers, but there was no difference in cost between buying Tradesy and shopping brand new for the brands I checked out.
If you're searching for something that's been sold out and only available on Tradesy, it might be worth the chance; but with many negative reviews, I'd likely look elsewhere.
---
Stay away

By Dee A.

,

Modesto, CA

,

Jul 6, 2020
Verified Reviewer

Overall Experience:

This site has gone downhill. I used to buy and sell here regularly until their percentage started to increase...from 9% to 12%, to 17% to 19.8?! They want 20% of MY earnings from MY designer goods just to post my handbags on their website.

They also changed their return policy. Before, if your item was returned, you still received your pay and Tradesy would keep and sell the item on their website. However, now if you sell an item, the buyer can return it, YOU LOSE THE SALE and the item is returned back to you. I don't feel comfortable sending my designer goods to people and then having them returned without knowing if the item was used or switched out with another item. Tradesy claims to inspect the item, but other users have noticed their items are not being returned to them in the condition it was sold. All of this is why I will no longer buy or sell on Tradesy and neither should you.

Bottom Line: No, I would not recommend this to a friend

---

This company is knowingly selling fake bags from a company that sells thousands of bags on their site!

By Lisa S.

,

New Jersey

,

Nov 22, 2019
Verified Reviewer

Overall Experience:

This company is a farce. I believe the owner began the company with the greatest of intentions. Now, they are knowingly selling fake bags from China. Stay away from Luxtradesy and Coco-luxury sellers. These sellers are from a larger umbrella company in China. The Gucci gg supreme mini bag with cherries has been unavailable for over a year. Suddenly, these two companies have plenty! They lured me into buying and didn't answer when I asked where it would ship from. Once I paid for it, they IMMEDIATELY me a DHL tracking number! Straight from China! When I told them that I'd take it straight to Gucci, the seller sent me a response that was COPIED AND PASTED! How do I know? Because when describing how to authenticate my bag, she forgot to change the name of the designer from Chanel to Gucci! She never assured me that it was authentic. Rather, she stated, "please don't be so frustrated and calm down, so we can work this out with you." WHO SAYS THAT?! A CON ARTIST! And I have the messages to prove it.

The worse part about this is that when it came, I immediately said I wanted to return it and mailed it right away to Tradesy, as instructed. I called Tradesy customer service and they said that this seller was a "verified seller" and that they would examine the bag for authenticity. I already knew that they were going to say it was fine. The fake bag looked BRAND SPANKING NEW - and yet - it came in a tiny cardboard box with no dustbag, etc. If it was THAT new, a seller would mostly likely still have all of the authenticity cards, dustbag, and box. It was a DARN good copy! This was straight from a factory in China. And TRADESY COULD CARE LESS! Here's the kicker: Tradesy said they verified its authenticity, but would "offer me a one-time credit on their site as a COURTESY"!

I hit the roof and told them they better give me back my money and stop knowingly selling FAKE bags by the thousands. Don't fall for it! I have sold 100% AUTHENTIC designer bag on this site, and expected the same from ALL sellers. I made such a stink that they gave me my money back.

Bottom line: Tradesy DOES NOT CARE. They only care about making money, which they are making by selling FAKE BAGS...and I have the message to prove it! GOOD LUCK! I am never buying or selling another bag on Tradesy ever again!

Bottom Line: No, I would not recommend this to a friend

---

Advertisement

---

Do not sell on Tradesy! They will rip you off!

By L L.

,

Los Angeles, CA

,

Nov 1, 2019
Verified Reviewer

Overall Experience:

I've been a seller on Tradesy for years now, this site used to be great until they started encouraging buyers to return if unhappy with the purchase. They issue site credit to the buyer and totally screw the seller. I noticed they recently have been refunding my sales and sending my items back, saying it was sold above Fair Market Price. Where Tradesy "can only accept returned items for which we can validate that the selling price is at or below Fair Market Price"... which is completely unfair. My item was sold below retail and now they want to reverse my funds and send back my item after I had to wait more than 21 days for it to get transferred to my bank. Also, they have even returned my items damaged and missing pieces! Completely unacceptable. I've also had my funds say they went through on Tradesy but checked my bank account and no money was ever transferred. I called my bank and they had no trace of such funds from Tradesy. I called Tradesy customer service and they gave me the runaround and couldn't locate my funds.

After a month and contacting Tradesy four times, the funds finally appeared out of nowhere, over two months after the initial sale date. Remember to check to see if your money actually gets transferred! If this went unnoticed I would be out nearly $500. Tradesy will rip you off. This company is going under soon, it is incredibly mismanaged. Do not sell on Tradesy!

Bottom Line: No, I would not recommend this to a friend

---

They steal your money and time. THIS IS A SCAM.

By Mei Lian C.

,

Florida

,

Jul 29, 2019
Verified Reviewer

Overall Experience:

If you value your money and your time, STAY AWAY FROM Tradesy.

If you value your money and your time, DON'T BUY HERE.

I bought a Furla bag past Monday and they said it was supposed to be delivered by Wednesday, the tracking code said it was delivered but it WAS NOT.

They play with your time and money! They think you are a CLOWN.

They don't respect their costumers. They said they are not making a refund for a lost order. I mean? WHAT? They already charged a large amount of money on my credit card and they plan to remain this claim like this.

I don't recommend this company. If you want to buy good brands for less go to www.6pm.com.

Bottom Line: No, I would not recommend this to a friend

---

Advertisement

---

Worst site ever

By Ratou T.

,

Phoenix, AZ

,

Jul 29, 2019
Verified Reviewer

Overall Experience:

Don't waste your time and/or energy, not to mention your hard-earned cash on this site. Buy anywhere else but here if you don't want heartbreak.

I spent money on this site about 1 year ago and had very misrepresented items and was told is was authentic and given a site credit, then since going back and forth with them trying to get something worth getting, and so far heartbreaks and NEVER can get my money back.

Bottom Line: No, I would not recommend this to a friend

---

HORRIBLE SELLING EXPERIENCE

By Loretta B.

,

Georgia

,

Jul 22, 2019
Verified Reviewer

Overall Experience:

I have had the worst selling experience on Tradesy than anywhere else, and I sell on multiple platforms. It is really unfortunate because they did really well in the beginning. But then they increased the selling fees from 9% to more than double at over 19%.

As if that was not bad enough, they increased the time it takes for your shipping kit to be sent out, they increased the time for your buyers to decide if they want to keep the item or not, the time for your funds to be available for withdrawal, and even after your funds are made available, they take up to 7 whole days to process the transfer.

I have to call EVERY TIME I make a sale because I once waited two weeks for my funds to be made available and the associated I spoke with had no explanation other than they must have forgotten to release the funds.

I spoke with both an associate and a supervisor who told me my funds will be in my bank account either yesterday or today, only for me to call after my funds were not available and be told the funds were just released yesterday and so I will PROBABLY not receive my funds for another two days.

I find this very deceitful and the fact that they need to devise so many different ways to hold on to peoples' funds is not reassuring at all.

If they do not change their business practices, I don't have much hope of them doing well in the future. I am not surprised items don't sell as quickly as they used to. I definitely will not recommend buying or selling with Tradesy and once I finally receive my funds, I will be deleting my account.

Bottom Line: No, I would not recommend this to a friend

---

Worst resell site out here!

By MC W.

,

New York City, NY

,

May 6, 2019
Verified Reviewer

Overall Experience:

Tradesy started out as a sweet small startup...cute idea/ take off of eBay. But in the past decade, they have gotten worse and worse and now we all just need to stop using them! Especially with ALL the other reputable sites out there! I mean there's everything from old faithful eBay, to endless amounts of apps to post, sell, trade your stuff instantly - without some thieves trying steel 20% of it - for nothing! I mean, as if it wasn't bad enough when they changed their fees to 20% plus the 3% if you actually want to withdraw your money and not spend it on Tradesy! But they supposedly tried to justify this by saying they take care of all returns for the sellers and authenticate for the buyer...but they have apparently changed that too!

I just read some fellow seller reviews and I almost couldn't believe what I was reading, but then, it is the next logical step for someone trying to kill their company. But seriously, they actually do encourage people to returns items (because it's nothing to Tradesy - they only refund in site credits), but if they are going to encourage returns and then force sellers to accept - what is the point of posting anything for sale on their site!? They are working against all sellers! No other site encourages returns like they do. Every other site it's an "in case of emergency" clause - if the buyer doesn't receive what they ordered for instance. But not just for fun! Tradesy is done! We all, especially sellers need to move back to eBay, or Poshmark, or any of the trading/selling apps in our phones- there's a ton, take a look! And get the word out and let's move on and put this piece of crap company out of business completely!

Bottom Line: No, I would not recommend this to a friend

---

SCAM - no seller protection, avoid for anything over $40

Overall Experience:

Avoid Tradesy at all cost! It has gotten worse than Craigslist (and that says something). Some of you know, I am a bit obsessed with collecting wristwatches, and have been buying/selling them for fun on Tradesy for a few years (as well as other websites). The main reason I chose to use their service was because they promise seller protection. After two years of using them, I was scammed by somebody (still not sure if Tradesy messed up or the buyer), but long story short, the buyer returned the watch to Tradesy, who then promptly decided to withdraw substantial money from my bank account, without informing me. Reason sited: your listing was not properly described. The person (or Tradesy) clearly, took the watch bracelets, and sent back the watch to me in non-working order. Tradesy then explained that they have no proof of what I sent, or how accurately I described it, and there is a discrepancy between the heading, text, and pictures. After taking 19% commission for two years plus 3% for convenience fee and making at least $3k of me, when it comes to protecting the sellers (based on who your whole business is based), you choose to just cop out? They offered to send me "40 dollars" after somebody had broken the watch and stole the bracelet...

If you are ever looking to sell something that costs more than $40 on their platform, don't. They don't care about their customers and offer no real protection. Even when I send the VIDEO/PICTURES of what I provided, they still don't care? I am not sure how a business like this can survive, but at least don't risk getting scammed and avoid at all cost. This is the first time since Facebook was created, I post a message like this to warn people, but please, be careful and tell your friends. Don't buy/sell on there, since there is NO actual protection. PLEASE SHARE with your network - companies should NOT be allowed to miss treat the customers who keep them in business.

Bottom Line: No, I would not recommend this to a friend

---

Worst company ever

By Kim V.

,

New York

,

Apr 7, 2019
Verified Reviewer

Overall Experience:

I sold a coat on 2/17/19. It was in like in new condition with multiple photos in the listing showing it's a con, I only wore it twice previously. It was delivered on 2/23/19 and per Tradesy policy, the buyer has four days to request a return. My funds were released to me on 3/8/19, ten business days after the completed transaction. So today, 4/3/19, I receive an email that my coat was being returned to me due to stains that were disclosed. So they violated their own policies and took money from my account, basically allowing a scammer to damage my item and they took the return more than a month later. I've sold about $6k in merchandise previously but never again. All my listings are pulled and I'll give my stuff away before I use Tradesy again.

Bottom Line: No, I would not recommend this to a friend

---

Tradesy is a complete scam. Sellers and buyers should stay away.

By Morgan L.

,

Boston, MA

,

Feb 19, 2019
Verified Reviewer

Overall Experience:

I have sold around 20 items on Tradesy over a period of two years. I was very loyal to Tradesy until I sold my most recent item, a bag I paid over $1000 for a few years back, and listed it on Tradesy for $380. The buyer requested a return the next day, stating the bag was misrepresented, and I got the bag back from Tradesy completely destroyed. The hardware was ripped out, seams were ripped apart, and I complained to Tradesy saying I did not inflict this additional damage to the bag. They told me they can't do anything about it, so at the end of the day, I was left with the bag (completely worthless) and no pay, no compensation, no credit, no remorse, nothing. I was essentially robbed of the $380 from Tradesy.

Don't use Tradesy unless you don't mind having your items destroyed by buyers to trigger a return and having an incompetent returns team look the other way whenever it's convenient for them. Real classy company.

Bottom Line: No, I would not recommend this to a friend

---

Fast, trustworthy site

By Amy B.

,

New York, NY

,

Feb 12, 2019
Verified Reviewer

Overall Experience:

I love Tradesy! I've purchased two Chanel handbags, a gorgeous authentic pearl necklace, Louis Vuitton wallet, Tory Burch shoes, the list goes on. I have never had a problem. All items have been authentic and beautiful! Keep up the good work Tradesy!

Bottom Line: Yes, I would recommend this to a friend

---