Tria Hair Removal Laser 4X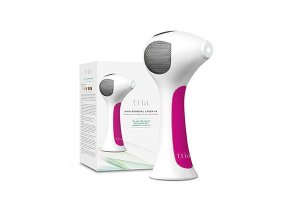 The Tria Hair Removal Laser 4X works to remove unwanted body hair on light skin for a permanent solution to shaving.
Tria Hair Removal Laser 4X Review: Is It Worth It?
Dealing with unwanted body hair is a constant concern for millions. Many have grown sick of shaving and are considering a permanent solution like laser therapy, but aren't ready to pay the cost for professional treatment.
The Tria Hair Removal Laser 4X offers an affordable, at-home option for those who want to get rid of unwanted body hair for good. The device claims to be powered by the same in-office Diode Laser technology that dermatologists user for in-patient treatments, and the company website states that it is the first and only FDA-approved treatment for at-home laser hair removal.
The device promises to deliver over three times more "hair-eliminating energy" than other at-home hair removal devices to give you professional-quality results without the price. With consistent use, it claims to disable hair follicles to stop all hair growth permanently.
Can it deliver? Let's explore the facts.
Can be used at home
Cheaper than professional laser hair removal
It's possible to control the intensity to manage pain levels
Can be used on smaller skin areas
Can be slow to use over large areas
Takes multiple treatments for permanent results
Many users found it painful
Doesn't work for darker skin tones
How to Use the Tria Hair Removal Laser 4X?
Before purchase, you will need to determine whether your skin is light enough to use this device. People with large amounts of melanin in their skin are at risk of getting burned and scarred while using it, meaning that it's not safe for those with dark skin or lots of freckles and moles.
Likewise, the device works best for those with black or dark blond hair. It's less likely to be effective if you plan to treat light blonde, red, or grey hair.
The company website includes a skin tone chart you can use as a reference point to see whether the device should work for you before ordering.
Once you receive the device, you can test yourself by putting the skin sensor on your skin and turning it on. A green light means you are good to go, and a red light means your skin tone isn't compatible.
To use the Tria, you'll want to carefully shave the treatment area before starting, as less hair will lead to less stinging, and shorter hair makes it possible for the laser light to get better absorbed into the hair follicle under your skin.
You'll then turn on the device and choose your intensity level. Higher levels are more effective, but they can be painful for some people.
Next, press it onto your skin at a 90-degree angle until you hear beeping and then lift it and reposition it to a new spot. The goal is to cover your skin with overlapping circles until you've covered the full treatment area. As the device heats, you might hear its cooling fan turning on to regulate the temperature.
Expect the built-in battery to last for thirty minutes before needing a recharge. You should get a minimum of 300 battery charges per device, and the company suggests that it takes up to 12 sessions per treatment area to see permanent results for your hair growth rates.
Is Tria Hair Removal Laser 4X Effective?
According to the Tria user manual, the device was part of a clinical study of 79 subjects who used it for three treatments. The results showed that participants found that it reduced up to 70% of their unwanted body hair after three months.
Another study from 2012 that involved 13 adults with naturally dark hair found that the device led to statistically significant hair count reductions after a year of monthly treatment.
Do these studies match real-world experiences? Many online bloggers and reviewers have weighed in on this device, and a number shared that the device cut down on their hair growth and left it looking sparser after several months of twice-weekly use.
Others wrote that they still needed to perform occasional maintenance, but that using the device cut down on their shaving needs significantly. However, some users thought the device took too long to use, and they didn't want to commit to using it over their whole bodies.
Those that seemed happiest were the users who wanted to remove hair only over small areas, such as their underarms and bikini lines. These smaller areas were easier to maintain and they were consequently able to achieve permanent results.
Possible Side Effects
According to customer reviews, some users experienced adverse side effects from using the Tria Hair Removal Laser. These include momentary pain and prickling sensations, skin redness that doesn't fade after several days, skin swelling and discoloration, and blisters on areas of lighter skin.
If you experience any of these side effects, stop using the device immediately and considering making an appointment with your dermatologist if they don't clear up within a few days.
Pricing and Warranty
The Tria Hair Removal Laser 4X sells for $449 on the company website, which includes free shipping. It is also available for the same price on Amazon.
The company offers a 60-day money-back guarantee on all purchases made directly through the website. If you aren't happy with your results during that time, you can request a full refund.
Beyond this policy, each device is covered by a one-year limited warranty against manufacturing defects.
Get in touch with further questions at (877) 321-8742.
Analysis of Customer Reviews
Common Compliments:
Really works to remove unwanted hair
Users have to shave less often after regular use
Common Complaints:
Hurts while working unless you numb the skin with ice cubes first
Not every user saw results
Time-consuming to use because the laser area is small
Too expensive for the benefits
Limited battery capacity
Can't be used on areas with tattoos
The Bottom Line
The evidence shows that the Tria Hair Removal Laser 4X will work as described to remove your unwanted body hair permanently. However, to have success, you need to possess lighter skin, darker body hair, a high pain tolerance, and endless patience for long treatment sessions.
Paired with a relatively high price tag, these facts may dissuade many people from seriously considering this home hair removal system.
However, the American Society of Plastic Surgeons reports that the average cost for laser hair removal in the United States is about $285, which accounts for just one session and one treatment area. Most people will need to commit to between 5–10 treatments for permanent results, which brings the costs up significantly.
If you plan to purchase the Tria device, be willing to commit to consistent use for several months. If you do so, there's a good chance you will end up with results you are happy with.
---
Works for men as well

By Rakesh Singh

,

Kathmandu, Nepal

,

Apr 12, 2018
Verified Reviewer

Overall Experience:

Well, I bought this device for my wife but she was very scared to use it so I decided to use it to see how it works. So I used it on my arms and hand and guys, it was just wonderful, all the hairs on my hand were falling every second week, and now I am completely hair free, and I have Asian skin, type 4 dark hair, and male. It hurts on the highest setting, but it definitely works, trust me. By the way, one great tip I am going to give you is to rub some ice cube just before you laser and there is no pain and risk of burning.

Bottom Line: Yes, I would recommend this to a friend

---

Overall Experience:

I bought Tria Laser 4X over a month ago. I followed the directions. I saw no results. I know your hair grows at different stages, so I used it every other day for two weeks. I so wanted this product to be true, but I still have no results, and this was on the highest level (no pain, no gain as they say), and I can promise you I had no results, so please don't waste your money. I can't even believe they're able to sell this product. I used this product on different hair types thinking that would help and it still didn't work. The only other thing I can think of is I got a defective product.

Bottom Line: No, I would not recommend this to a friend

---

Advertisement

---

Very painful and time consuming

By Lauren

,

Philadelphia, PA

,

Nov 24, 2016
Verified Reviewer

Overall Experience:

I'm going to start by saying I have a high threshold for pain but the Tria laser is very painful. They say a slight sting on the site but they're completely downplaying that.

To get the results you have to use the laser on the highest setting which is 5. It's impossible because the actual laser is so small that you're supposed to overlap and the pain is too intense.

I could not go over a 2 to fully complete a body part and even that brought tears to my eyes with every press of the trigger. And it's so small and time-consuming and you have to retreat every area every 2 weeks.

It was just too much and I wasn't getting results on the 1 and 2 setting.

A big waste of time and money. Save your money and go to a professional.

Bottom Line: No, I would not recommend this to a friend

---

Overall Experience:

I purchased my Tria Laser because I was always in a hurry and didn't always have time to shave in the shower. Besides that, I wear glasses and that makes it hard to see my hair in the shower. So I thought this would be perfect, get rid of the hair once and for all. However, the Laser area is far too small, so it takes forever to do one leg. And that's just not realistic to spend an hour on one leg and to have to repeat the process so many times before "supposedly" having no more hair growth. On top of that, it is very painful, that is if you want it to actually work. I tried it on a lower setting, but that seemed to get me nowhere. So the frustration alone cause me to just give up after about 2 months. Unfortunately I never did get the opportunity to return it within the return time frame. So I'm stuck with this product that I've spent about $600 for. I was thinking to resell it but I realized there's no way I'm going to get a substantial amount of my money back in doing so. So I decided to hold onto it to try again in the future when I have more time on my hands.

Bottom Line: No, I would not recommend this to a friend

---

Advertisement

---

Product does work.

By Regina Abbott

,

Jonesborough, TN

,

Jul 8, 2015

Overall Experience:

I have had the Triangle for almost a year now. I have thick, dark hair and h a day to shave every other day. I don't have permanent hair removal but find I can shave once a week now. I still use it once a month. If able to use on full strength you may have sooner, better results but full power was too much especially on sensitive areas like underarms. Downsides, no battery does not last full treatment that I do. I just recharge and finish treatment same day. Also laser area is small, must have patience to do all areas. Will feel like stinging if used on too high setting (each persons personal preference or pain tolerance). Otherwise I am very happy with this product.

Bottom Line: Yes, I would recommend this to a friend

---

Love it!

By Terri

,

Albertville, AL

,

Jun 5, 2015
Verified Reviewer

Overall Experience:

I love this product. I have Caucasian skin and brown and grey hair. Although it is difficult to get that large item in my feeble hands to do my bikini and armpit areas, the results are awesome! Even after using it for only a few weeks, I can't believe how much the hair on my legs has decreased. I have tender skin and can only go to level 3, but the battery does last long enough to do both legs on one charge. I try to do different body parts in different sittings so the battery doesn't leave me hanging halfway through. All of the warnings about "this will NOT WORK if..." Is repeated several times in all the literature BEFORE a you purchase the item! I haven't had to deal with customer Service because the product works great for me.

Bottom Line: Yes, I would recommend this to a friend

---

Advertisement

---