Uptime Energy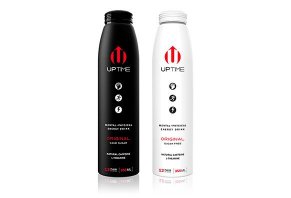 UPTIME claims that their energy drinks use the perfect amount of ingredients to offer an energy boost for people on the go, increase focus and provide nutrition.
About Uptime Energy
What is UPTIME Energy?
UPTIME Energy is a line of energy drinks that are proposed to maximize your performance while providing the focus you need for success.
Uptime Energy Drinks contain an amount of caffeine comparable to a single cup of coffee and allegedly a fraction of the ingredients offered in other energy drinks.
The company claims that each bottle:
Provides refreshing all-natural flavors
Promotes clarity and focus
Delivers a balanced energy boost
But does UPTIME's blend of ingredients pack enough punch to accomplish these goals?
In this article, we'll review any scientific support for the ingredients that are behind the proposed benefits of UPTIME Energy.
The UPTIME Ingredients: Do They Work?
UPTIME offers 3 flavors: Original Citrus, Blood Orange, and White Peach lemonade. Each comes in a sugar-free and can sugar option.
The list of ingredients remains the same for each option, though the calorie and sugar content varies:
Filtered Carbonated Water
Cane Sugar
Natural Flavors
Citric Acid, Calcium Citrate
Natural Caffeine
Potassium Benzoate (Preservative)
Potassium Sorbate (Preservative)
L-Theanine
Ascorbic Acid
Panax Ginseng Root Extract
Angelica Root Extract
Coenzyme Q10
So far, at least one of UPTIME's claims seems to hold up. The ingredient list is simple and includes little more than natural flavoring and sweeteners, preservatives, and some extracts.
The ascorbic acid accounts for the vitamin C content, while the sugar cane is responsible for the extra calorie and sugar. The remaining ingredients may contribute to the mental clarity and energy-boosting effects of UPTIME Energy.
Mental Clarity and Focus
Panax Ginseng Root Extract & L-Theanine
Ginseng comes from the roots of plants that grow in mountainous regions of Eastern Asia. Used in natural medicine for centuries, these ingredients may offer a wide range of health benefits.
The mental benefits were demonstrated in a randomized trial; those that consumed 400mg improved calmness and math skills.
L-theanine is an amino acid with a suspected ability to improve mental focus. It is found in black and green teas.
Not as extensively studied as ginseng, the effects of L-Theanine related to mental function have been demonstrated when combined with caffeine. Specifically, 97mg of L-Theanine improved alertness.
While these ingredients may support alertness, UPTIME does not provide the quantity.
The lack of quantity disclosure makes it challenging to determine if the contents of their energy drinks are comparable to doses found beneficial in research studies.
Energy
Coenzyme Q10 & Natural Caffeine - 142mg
Coenzyme Q10 is a component of your body's cellular environment that plays a vital role in generating energy. When supplemented, it may improve energy and athletic performance.
In a recent review, coenzyme Q10 supplementation improved fatigue in 10 of 16 studies. These results were demonstrated in both healthy individuals, as well as those with chronic medical conditions.
Also, time to exhaustion on a treadmill improved in those that consumed 200mg daily for 8-weeks.
Caffeine is a stimulant that offers both mental and energy-boosting benefits.
Those that consumed 2mg/kg body weight of caffeine reported fewer lapses of attention, decreased anxiety, and an elevated sense of alertness.
A later review confirmed these findings; 40mg-300mg doses improved alertness, attention, and reaction time.
The energy-related effects of caffeine are also well documented. A recent review of 34 studies detailed many of the benefits of use in athletics.
Caffeine consumption at doses ranging from 3 to 6mg/kg body weight improved vertical jump, sprinting speed, and performance during agility tests.
While coenzyme Q10 consumption may improve fatigue and athletic performance, UPTIME does not detail the quantity of this ingredient. The company does provide the amount of caffeine included, however. The caffeine dose seems to fall within a safe and effective range.
Is UPTIME Safe?
Unfortunately, UPTIME only shares the quantity of caffeine. The few ingredients included in their energy drinks are generally safe to consume, however.
As caffeine is a stimulant, you are most likely to experience side effects with this ingredient.
UPTIME offers much less than the 400mg daily limit that is considered to be safe, but adding their energy drinks to your coffee, tea, and soda intake may place you at risk.
Consuming more can result in nervousness, anxiety, irritability, nausea, tremors, sweating, restlessness, dizziness, irregular heartbeats, and elevated blood pressure.
In fact, the rapid consumption of 1,200mg of caffeine can cause seizures.
For these reasons, be sure to speak with your physician about using this product. Never consume energy drinks other than as recommended.
What Does UPTIME Energy Cost?
You won't be able to purchase UPTIME Energy Drinks on their site, though they do link you to Amazon.
All 3 flavors are available in both sugar-free and cane sugar options at Amazon; a 12 pack is $29.99. The drinks are prime eligible and there is currently an additional 20% promotion.
Though the company does not seem to back purchases with any guarantee, Amazon prime does offer free returns.
Are There Any Alternatives?
A quick internet search is likely to reveal many energy drinks, all with varying ingredient labels.
While many contain artificial ingredients, processed sugars, and highly concentrated forms of caffeine, many companies claim to boost energy naturally.
Energy Bomb Mix is a good example.
Each scoop of this powdered mix offers an amount of caffeine comparable to one cup of coffee. Similar to UPTIME, this product offers a few extracts and avoids added sugars.
You may also save on this product as it costs $29.90 for 40 servings.
The Bottom Line
Available scientific research seems to support the claims made by UPTIME. While caffeine likely accounts for much of the mental and energy-boosting effects, they do not provide enough details for the other ingredients to allow a comparison.
Nonetheless, these drinks remain popular among users; a whopping 81% of 332 customers offered a 5-star rating. Those that are pleased mention enjoying the flavors and a gentle energy boost that seems to last much of the day.
While this product is likely safe, you should mention any interest to add a stimulant-containing energy drink to your doctor, especially if you have an existing heart condition.
---
Works great.

By Kendall M.

,

Portland, OR

,

Jun 12, 2018
Verified Reviewer

Overall Experience:

I've found the Uptime Energy drink to be much more effective than anything else you'd find in the energy drink section. Improved mental clarity, alertness, and tastes great too. I haven't experienced any negative side effect from this product.

Bottom Line: Yes, I would recommend this to a friend

---

Overall Experience:

I love this product. I usually buy it at 7-Eleven in the morning, however, today I finally bought a bottle. It helps at work, working out, and just gives me the extra needed energy. No side effects so far at all. A little concerned about caffeine as a woman, but it is still worth taking so far.

Bottom Line: Yes, I would recommend this to a friend

---

Advertisement

---

It's ok...

By Jayce Bolt

,

Sulphur, LA

,

Dec 14, 2017
Verified Reviewer

Overall Experience:

When you look at their Uptime Power Base, it's not the best. Taurine (which is an extremely cheap amino), COQ10 (which is good), and some herbs. The problem is, it's all 178 mg of this, so it's what? 30-50mg per ingredient? That won't give you much energy. When I drank it, it gave me lots of energy, just not as much as I'd like. I'd recommend GFuel, Guru or something else, but not this.

Bottom Line: No, I would not recommend this to a friend

---

Way better then all the other energy drinks

Overall Experience:

I love this product; it doesn't have all the crap that Monster and RedBull have. If the company could give it a little more kick, I would rate it five stars, but overall I'm impressed. Good job Uptime!

Bottom Line: Yes, I would recommend this to a friend

---

Advertisement

---

Contrary to this review's opinion

Dixon, CA

,

Jun 30, 2017
Verified Reviewer

Overall Experience:

I read the review of this so called expert and find him to be way off base. I have been taking Uptime for years since 1996 and have found it to be all it claims and more. I am not affiliated with the company and find him to be totally insulting to think he considers all of these reviews to be fake and only written by the employees.

I worked in the medical field and had been exposed to all sorts of infections from patients and not once did I get sick but had the energy to not only thrive at work but never missed a day of work in three years, until I moved and lost the ability to purchase it on a regular basis. Again I have been taking this for years, and if you take it in the morning with food, you won't have any problems going to sleep or have issues with your stomach.

Like any supplements, you should not take them on an empty stomach unless directed to do so. This is my honest review, and if you listen to this quack of a reviewer you would be missing out on the needed energy you could be having and the benefit of extra CoQ10. How many companies offer exact amounts of each product included in their supplements? None that I know of !

So if you try it and it doesn't work for you, find something that does, not everything works for everyone, you have to listen to your body and go from there. Thank you for taking the time to read this accurate review.

Christine from Dixon.

Bottom Line: Yes, I would recommend this to a friend

---

Must Buy

By Auzzie

,

Sacramento, CA

,

Nov 25, 2016
Verified Reviewer

Overall Experience:

To be completely honest, I think uptime is probably best seller and should be nominated for the year as best seller energy drink sugar-free.

This drink is not only healthy as it clearly states on the side of the bottle as refreshing and sparkling blend of orange, lemon, and lime flavors.

It does help you perform at your best. I bought it today on 11/14/16, and I believe that everyone should be intrigued by buying this new energy drink seeing that in California it was just put into our stores, and I think the best thing about this energy drink is that it's gluten free and it's non-GMO.

Take it from someone who's very judgemental on energy drinks and hates drinking them this new product makes me have a whole new perspective on energy drinks and especially uptime.

Bottom Line: Yes, I would recommend this to a friend

---

Uptime works excellent for me!

By Lisa

,

California

,

Aug 23, 2016
Verified Reviewer

Overall Experience:

I used to drink Red Bull or Monster energy drinks to get me through my work day. 6 months ago I got into a head on collision and unfortunately developed anxiety. I reluctantly started taking anxiety pills and had to stop drinking energy drinks, since it would make my heart race making it worse. Then I found Uptime and thought to try it. Within one week, I was not only 'off' of my anxiety medication, I've gained back my energy and focus at work. May I also add, the design of the bottles are the best on the market. People whom need a warning label to drink this are probably the same people whom need that warning label that reads "no diving" in a 3 ft. blow up pool. Thank you Uptime.

Bottom Line: Yes, I would recommend this to a friend

---

Amazingness

By Peter B

,

Troy, Michigan

,

Mar 28, 2016
Verified Reviewer

Overall Experience:

Picked one up today for the first time today. Very impressed. So impressed, that I'm writing this review.

Bottom Line: Yes, I would recommend this to a friend

---

It works

By Perry

,

Ephrata, WA

,

Jan 11, 2016

Overall Experience:

I'll start with that more flavors are needed (but it's not really a negative). I've never had an instance of choking on the rubber cap piece. It generally works as well as AMP. Especially when I'm tired. If you're willing to drink energy drinks, try this.

Bottom Line: Yes, I would recommend this to a friend

---

Bad product for consumer's

By Jeremy Longoria

,

Alhambra, CA

,

Oct 16, 2015

Overall Experience:

Just recently drank Uptime until I choked on the rubber lining that came off from inside the cap. I tried myself to contact the company to raise and hear my concerns. Talked to a (Shawn) supervisor. Then I got a call from a legal underwriter by the name of Erik. I told him about my choking incident. He got very upset, I explained my case to him and he did not want to hear it. I basically could of lost my life by swallowing a plastic seal inside the cap. No warning on label. Be careful drinking this product.

Bottom Line: No, I would not recommend this to a friend

---

It got me through college

By Geo Michaels

,

Berkeley, CA

,

Aug 3, 2015

Overall Experience:

Yes, this stuff HAS been around since 1985 and was the main thing that helped me survive college! It does work, may be the same as two cups of coffee but has an alertness zap that seems greater than coffee sipping. Seems like it could be healthy too.

Bottom Line: Yes, I would recommend this to a friend

---