Uptime Energy Reviews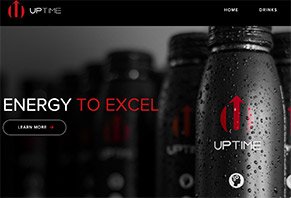 Uptime Energy's energy drinks and tablets are claimed to feature a variety of natural ingredients that can boost energy, increase focus, and provide nutrition.
About Uptime Energy
In business for more than 30 years, Uptime Energy manufactures a line of nutritional supplements that are claimed to feature a blend of high-quality, carefully selected, naturally sustainable energy-producing ingredients that provide mental clarity and focus, without side effects. Because of this, Uptime Energy supplements are claimed to give you the "energy to excel."
And because Uptime Energy's supplements are infused with premium vitamins, herbs, and minerals—including ginseng, ginkgo biloba, guarana, and coenzyme Q10 (CoQ10)—the manufacturer claims it can will provide you with a heightened boost, along with the nutritional benefits of a vitamin.
So what's the deal with Uptime Energy? Is it worth your time, or just a carefully marketed, thinly disguised caffeine pill? Consider the following:
Uptime Energy Products
According to the Uptime Energy website, the company makes two different types of supplements:
Uptime Energy Drinks
Available in 12oz resealable bottles, Uptime Energy comes in Original and Sugar Free liquid versions, which are claimed to provide a balanced energy boost with a "crisp, refreshing, sparkling" citrus flavor.
Uptime Energy Tablets
Uptime Energy's tablets are available in Original and Maximum Energy blends, and are claimed to dissolve gradually and to deliver a "balanced, sustainable" energy boost.
Will Uptime's Ingredients Boost Your Energy?
Since there's no product label or full ingredients list provided, the only ingredients we're informed about in Uptime Energy are ginseng (although there's no indication if it's Panax or American), ginkgo biloba, guarana, coenzyme Q10 (CoQ10), and perhaps caffeine, as we'll discuss shortly.
With this said, Panax ginseng and ginkgo biloba are both listed as "possibly effective" for improving mental function, and caffeine is widely known to temporarily increase energy and focus.
For all of Uptime Energy's other ingredients though, there is insufficient clinical evidence showing that they can provide any of the benefits claimed by the manufacturer.
Regardless, there's no label provided, so there's no way to know how much of each ingredient the supplements contain, or whether or not this is enough to be effective.
Will Uptime Energy Cause Side Effects?
As long as Uptime Energy doesn't contain an excessive amount of each ingredient (remember, there's no label provided), most should be well tolerated, with the most common side effect being digestive upset.
With Panax ginseng, however, the most common side effect is insomnia, although it's "possibly unsafe when taken by mouth, long-term (more than 6 months). Researchers think it may have some hormone-like effects that could be harmful with prolonged use."
Also, guarana contains caffeine, so "when taken by mouth in high doses for a long time [e.g. more than 250-300mg daily]" it can cause insomnia, nausea, stomach irritation, and more, as will non-guarana based caffeine. In fact, if taken in high enough doses, caffeine can cause death, so you won't want to take a lot of Uptime Energy at once.
Does Uptime Energy Contain Caffeine?
On Amazon.com (more about this next), Matthew F noted, "I would describe these as vitamin-caffeine pills but they really advertise them as being 'natural' energy from vitamins, minerals, etc... After doing a little more research, I discovered that each pill has about 66mg of caffeine and taking 3 pills is equivalent to more than 2 cups of coffee."
This is important because if both guarana and caffeine are contained in Uptime Energy's supplements, this could cause unpleasant (and in some instances, severe) side effects for those sensitive to caffeine or other stimulants.
What Are Uptime Energy's Customers Saying?
At the time of our research, there were 42 Amazon customer reviews for Uptime Energy's Original Blend tablets, with an average rating of 4.3 stars (as of 5/30/15). Common compliments referenced that Uptime Energy provides increased energy and focus, speedy delivery, no side effects, and that it can even be used as a pre-workout supplement.
However, it's important to note that several of the 5-star reviews were posted from accounts where this was their only review, or where all of their reviews were posted in a span of 1-2 days, both of which are generally signs that they may be fake.
On the other hand, some of the most common Uptime Energy complaints on Amazon appeared to revolve around failure to work, side effects (upset stomach, jitteriness), poor customer service, and high price.
There were also 5 customer reviews for Uptime Energy's Sugar-Free Drinks on Amazon, with an average rating of 3.8 stars. Again, many of these matched common signs of fake reviews.
From a company perspective, Uptime Energy Inc. is based out of Canoga Park, CA, although they weren't listed with the Better Business Bureau.
Uptime Energy Pricing and Refund Policy
Uptime's energy drinks are priced at $59.99 for 24 12oz bottles.
On the other hand, Uptime Energy's tablets are priced as follows:
Original (60 tablets): $17.95
Maximum (60 tablets): $24.95
Original (24 tablets): $17.95
Maximum (24 tablets): $27.95
Regardless of which option you choose, you'll also need to pay sales tax and actual shipping charges, which can vary depending on your location.
There wasn't a return policy listed on the Uptime Energy website, so we contacted customer service at (800) 441-5656 to clarify. However, the line rang dozens of times, without a representative ever picking up or the ability to leave a message.
The Botton Line
As we mentioned in our Nutritional Supplements Buyer's Guide, supplement manufacturers aren't required to provide any proof to back up their claims or to even let you know exactly what you're putting in your body.
As such, there's no way to know if Uptime Energy's supplements will work as claimed (or at all), or what kinds of side effects you might encounter.
If you absolutely must purchase an energy supplement, you might want to do so at your local pharmacy, in order to ensure that you're fully informed about the product you're taking. Otherwise, you'll be "flying blind" by placing an online order for Uptime Energy.
5 out 6 people found this review helpful

Works great.

By Kendall M.

,

Portland, OR

,

Jun 12, 2018
Verified Reviewer

I've found the Uptime Energy drink to be much more effective than anything else you'd find in the energy drink section. Improved mental clarity, alertness, and tastes great too. I haven't experienced any negative side effect from this product.

Bottom Line: Yes, I would recommend this to a friend

---

3 out 4 people found this review helpful

Such a great supplement!

I love this product. I usually buy it at 7-Eleven in the morning, however, today I finally bought a bottle. It helps at work, working out, and just gives me the extra needed energy. No side effects so far at all. A little concerned about caffeine as a woman, but it is still worth taking so far.

Bottom Line: Yes, I would recommend this to a friend

---

Advertisement

---

0 out 2 people found this review helpful

It's ok...

By Jayce Bolt

,

Sulphur, LA

,

Dec 14, 2017
Verified Reviewer

When you look at their Uptime Power Base, it's not the best. Taurine (which is an extremely cheap amino), COQ10 (which is good), and some herbs. The problem is, it's all 178 mg of this, so it's what? 30-50mg per ingredient? That won't give you much energy. When I drank it, it gave me lots of energy, just not as much as I'd like. I'd recommend GFuel, Guru or something else, but not this.

Bottom Line: No, I would not recommend this to a friend

---

6 out 7 people found this review helpful

Way better then all the other energy drinks

I love this product; it doesn't have all the crap that Monster and RedBull have. If the company could give it a little more kick, I would rate it five stars, but overall I'm impressed. Good job Uptime!

Bottom Line: Yes, I would recommend this to a friend

---

Advertisement

---

18 out 19 people found this review helpful

Contrary to this review's opinion

Dixon, CA

,

Jun 30, 2017
Verified Reviewer

I read the review of this so called expert and find him to be way off base. I have been taking Uptime for years since 1996 and have found it to be all it claims and more. I am not affiliated with the company and find him to be totally insulting to think he considers all of these reviews to be fake and only written by the employees.

I worked in the medical field and had been exposed to all sorts of infections from patients and not once did I get sick but had the energy to not only thrive at work but never missed a day of work in three years, until I moved and lost the ability to purchase it on a regular basis. Again I have been taking this for years, and if you take it in the morning with food, you won't have any problems going to sleep or have issues with your stomach.

Like any supplements, you should not take them on an empty stomach unless directed to do so. This is my honest review, and if you listen to this quack of a reviewer you would be missing out on the needed energy you could be having and the benefit of extra CoQ10. How many companies offer exact amounts of each product included in their supplements? None that I know of !

So if you try it and it doesn't work for you, find something that does, not everything works for everyone, you have to listen to your body and go from there. Thank you for taking the time to read this accurate review.

Christine from Dixon.

Bottom Line: Yes, I would recommend this to a friend

---

4 out 12 people found this review helpful

Must Buy

By Auzzie

,

Sacramento, CA

,

Nov 25, 2016
Verified Reviewer

To be completely honest, I think uptime is probably best seller and should be nominated for the year as best seller energy drink sugar-free.

This drink is not only healthy as it clearly states on the side of the bottle as refreshing and sparkling blend of orange, lemon, and lime flavors.

It does help you perform at your best. I bought it today on 11/14/16, and I believe that everyone should be intrigued by buying this new energy drink seeing that in California it was just put into our stores, and I think the best thing about this energy drink is that it's gluten free and it's non-GMO.

Take it from someone who's very judgemental on energy drinks and hates drinking them this new product makes me have a whole new perspective on energy drinks and especially uptime.

Bottom Line: Yes, I would recommend this to a friend

---

7 out 12 people found this review helpful

Uptime works excellent for me!

By Lisa

,

California

,

Aug 23, 2016
Verified Reviewer

I used to drink Red Bull or Monster energy drinks to get me through my work day. 6 months ago I got into a head on collision and unfortunately developed anxiety. I reluctantly started taking anxiety pills and had to stop drinking energy drinks, since it would make my heart race making it worse. Then I found Uptime and thought to try it. Within one week, I was not only 'off' of my anxiety medication, I've gained back my energy and focus at work. May I also add, the design of the bottles are the best on the market. People whom need a warning label to drink this are probably the same people whom need that warning label that reads "no diving" in a 3 ft. blow up pool. Thank you Uptime.

Bottom Line: Yes, I would recommend this to a friend

---

4 out 7 people found this review helpful

Amazingness

By Peter B

,

Troy, Michigan

,

Mar 28, 2016
Verified Reviewer

Picked one up today for the first time today. Very impressed. So impressed, that I'm writing this review.

Bottom Line: Yes, I would recommend this to a friend

---

6 out 9 people found this review helpful

It works

By Perry

,

Ephrata, WA

,

Jan 11, 2016

I'll start with that more flavors are needed (but it's not really a negative). I've never had an instance of choking on the rubber cap piece. It generally works as well as AMP. Especially when I'm tired. If you're willing to drink energy drinks, try this.

Bottom Line: Yes, I would recommend this to a friend

---

5 out 44 people found this review helpful

Bad product for consumer's

By Jeremy Longoria

,

Alhambra, CA

,

Oct 16, 2015

Just recently drank Uptime until I choked on the rubber lining that came off from inside the cap. I tried myself to contact the company to raise and hear my concerns. Talked to a (Shawn) supervisor. Then I got a call from a legal underwriter by the name of Erik. I told him about my choking incident. He got very upset, I explained my case to him and he did not want to hear it. I basically could of lost my life by swallowing a plastic seal inside the cap. No warning on label. Be careful drinking this product.

Bottom Line: No, I would not recommend this to a friend

---

7 out 10 people found this review helpful

It got me through college

By Geo Michaels

,

Berkeley, CA

,

Aug 3, 2015

Yes, this stuff HAS been around since 1985 and was the main thing that helped me survive college! It does work, may be the same as two cups of coffee but has an alertness zap that seems greater than coffee sipping. Seems like it could be healthy too.

Bottom Line: Yes, I would recommend this to a friend

---