Vital Reds
Claimed This company has claimed this profile, is getting alerted on any new customer reviews entering this page, and may engage in dialogue with its customers to address their matters.

Companies cannot pay money or provide goods in order to remove or alter customer reviews.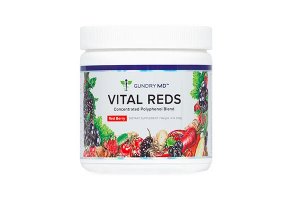 Vital Reds by Gundry MD features a blend of 50+ ingredients the manufacturer promises will deliver improved health, digestion, energy levels, and skin appearance.
---
This company is actively collecting reviews from its customers. All reviews submitted are subject to moderation and approval to ensure they meet our

Review Guidelines

.

Best vitamin ever

By Luis S.

,

Staten Island, NY

,

Jun 30, 2018
Verified Reviewer

If you want to feel good I'll recommend this vitamin, just try it.

The best vitamin I've ever tried, made feel good, gives you a lot of energy, everywhere (wink), I hope you understand what I mean.

Bottom Line: Yes, I would recommend this to a friend

---

Great products

By Charmagne P.

,

Los Angeles, CA

,

Jun 29, 2018
Verified Reviewer

I started taking Vital Reds, Prebiothrive, and Primal Plants on June 1, 2018. I have a lot more energy. I've only lost 3 lbs, but I'm hopeful I'll lose more. I'm much more regular, which is great. Overall, I feel good. Not being tired first thing in the morning is awesome!

Bottom Line: Yes, I would recommend this to a friend

---

Vital Reds review

By Dean K.

,

Marysville, WA

,

Jun 29, 2018
Verified Reviewer

I read the development background on Vital Reds and the promise of energy and renewal. The flavor isn't bad for pink dried vegetable powder. I do sense a little energy boost after drinking, and there is no energy crash. Honestly, the claims and marketing somewhat lead efficacy. Dr. Grundy is a smooth talker, and the claims make sense as presented. If there was a huge instant boost, I would be suspicious of a bunch of stimulants. I bought three more bottles. I will give it a chance for longer-term results.

Bottom Line: Yes, I would recommend this to a friend

Jul 3, 2018

Hi Dean, my name is Aria with Gundry MD. Thank you for taking the time to leave a review! I'm happy to hear that you have experienced improvements in taking Vital Reds. Keep us updated on your experience and don't hesitate to reach out to me at aria@gundrymd.com with any further questions or comments.

---

Vital Reds

By Anice L W.

,

Arvada, CO

,

Jun 29, 2018
Verified Reviewer

Since I have been taking this I noticed right away I had more energy. And I feel healthier every day. I look forward to drinking it every day. And if for some reason I do forget, I know within a couple of hours after I have left home. So thank you very much for your research and time.

Bottom Line: Yes, I would recommend this to a friend

---

Advertisement

---

Outstanding

By Lukus S.

,

Colorado

,

Jun 28, 2018
Verified Reviewer

I felt great after the first dose, better than I have in years. It has been 10 days so far and every day increases just a little bit more. I really hope it helps with cholesterol levels. I should have an answer to that in a few months. Thank you so much Dr. Gundry.

Bottom Line: Yes, I would recommend this to a friend

---

Reds rule

By Jo M.

,

Australia

,

Jun 28, 2018
Verified Reviewer

I am feeling better. I have more energy and feel awake.

Bottom Line: Yes, I would recommend this to a friend

---

I am pleased

By Lenora H.

,

Abiene, TX

,

Jun 28, 2018
Verified Reviewer

I've been using this Vital Reds for about three weeks. It seems that I have more energy and my stomach is not as bloated as it was before I started. However, what I like the most is that I am not craving sugar anymore and I've also lost a few pounds.

What I had hoped, and the verdict is still out, is that it would help my authorities and the eczema on my foot.

Overall, I am well pleased with the product, and I plan to continue using it.

Bottom Line: Yes, I would recommend this to a friend

---

Thank you!

By Sue C.

,

Charlotte, NC

,

Jun 27, 2018
Verified Reviewer

My husband and I have been using Vital Reds each day. We have finished one jar and are enjoying the second one. Both agree it is making us feel better. The drink tastes great in just water with ice (especially here in the south with hot summer weather). We are planning to continue to use it each day for our health. My husband is on blood pressure med and tends towards higher than normal blood sugar, so this product caught my attention to help regulate these concerns.

I did tell my girlfriend about the product, and she was going to investigate the product and order it!

Bottom Line: Yes, I would recommend this to a friend

---

Vital Reds

By Irene F.

,

Texas

,

Jun 27, 2018
Verified Reviewer

I'm pleasantly surprised. I'm always tired and getting worse due to menopause. I just got my order, and it's laundry day. Not a fan of powders but I gave in or laundry wasn't gonna get done. I need energy so gave in. Wow, the taste was actually good and started feeling energetic after 10 minutes. I guess my housework will get done today. First day and I'm a fan. I'll keep you posted.

Bottom Line: Yes, I would recommend this to a friend

---

Extra energy!

By Letty G.

,

Texas

,

Jun 27, 2018
Verified Reviewer

Not only is Vital Reds a refreshing drink, it's a great energy booster. I love it in the morning! I love it so much, I shared it with my son and he agrees. And I'm seeing it on the scale; there's a more consistent weight loss.

Bottom Line: Yes, I would recommend this to a friend

---

Vital Reds

By Warren L.

,

Tauranga, New Zealand

,

Jun 27, 2018
Verified Reviewer

So far it has been a great product, tastes great, and I am starting to have some positive benefits. I am starting to have more energy, and my digestive system is working better.

The only problem I have is it is a little hard to mix in thoroughly with water.

Bottom Line: Yes, I would recommend this to a friend

---