Volaire Reviews
Claimed This company has claimed this profile, is getting alerted on any new customer reviews entering this page, and may engage in dialogue with its customers to address their matters.

Companies cannot pay money or provide goods in order to remove or alter customer reviews.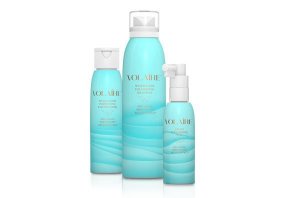 The Volaire Volume Essentials Collection uses shampoo, conditioner, mist, and texturing spray to provide volume, enhanced shine, and boosted hair health.
What Is Volaire?
Using Airweight Technology, Volaire's four-product hair system promises to deliver twice the effortless volume after just one use, while enhancing shine and color, without the use of sulfates or parabens.
Volaire's Airweight Technology utilizes a triple action complex that infuses positively charged oxygen microspheres into hair, which creates space between strands without adding weight or over-stripping. This approach also delivers essential fatty acids and vitamins for added health and strength.
The manufacturer tells us that Volaire is suitable for all hair types, whether long or short, curly or straight, fine or frizzy, thinning, or color or chemically-treated.
According to the system's website, 95 percent of women who used Volaire during a 21-person company-sponsored study reported that their hair had more volume.
Can you expect to experience the same with their Airweight Technology, and for it to perform better than the competition?
Regular Shampoo vs. Volumizing Shampoo
On their website, Volaire's primary 'claim to fame' is that their system can provide "touchable, weightless, long-lasting volume instantly." Functionally, how does this work?
According to Shannon Romanowski, writing for Self.com, normal shampoos work by leaving a residue on hair. This is great if you're in need of conditioning, but not if you're looking for volume, since it can weigh hair down and leave it flat and unappealing. Instead, volumizing shampoos simply leave less of this residue behind, which can naturally improve the ability of hair to retain volume.
In addition to less residue, Volaire claims their proprietary Airweight Technology will deliver positively charged oxygen microspheres to hair, thereby creating maximum space between strands, without weighing them down.
We're also told this technology can infuse hair with essential fatty acids and vitamins for added health and strength, resulting in enhanced shine and color, long-lasting style, and touchable softness.
We'll talk more about Volaire's ingredients in a moment. But in the meantime, in addition to their volumizing ability, the company places a lot of emphasis on the fact that their products are sulfate and paraben-free. Why?
What's Wrong With Sulfates & Parabens?
Common sulfates like sodium lauryl sulfate (SLS), sodium lauryl ether sulfate (SLES), and ammonium lauryl sulfate work as effective surfactants to help dislodge dirt and other debris from the scalp and hair strands. They're also great at creating a sudsy lather. A such, they're found in a wide range of beauty products, including shampoos.
Depending on your hair type and biological makeup, though, washing your hair daily with sulfate-based surfactants can be overly harsh and strip it of natural oils, leaving it dry, frizzy, and more prone to breakage. Some individuals also experience scalp irritation.
Despite these potential downsides, Essence notes that sulfates are generally safe for use, unless your hair has been treated with color or keratin, since these chemicals can cause the color to fade prematurely.
Comparatively, parabens are a group of synthetic preservatives that have been around since the 1950s that help prevent bacteria, fungus, and microbe growth. Common examples include methylparaben, ethylparaben, propylparaben, butylparaben, and isobutyl paraben.
Despite these benefits, Scientific American reports that some studies have indicated a link between cumulative paraben exposure and disruption in hormone function, along with increased instances of breast cancer and reproductive toxicity.
With these core concepts in mind, let's take a closer look at each product in Volaire's system.
What Products & Ingredients Are Found in the Volaire Hair System?
To use Volaire's Volume Essentials Collection, the website indicates you'll simply shampoo and condition your hair as normal, which will provide volume themselves. Then, you can add the secondary products for extra texture, body, and lift.
The company tells us the system is gentle enough to use every day, although you may have to undergo some trial and error for optimal results, depending on your hair's thickness and condition.
According to Paula Begoun, author of Beautypedia.com, who was interviewed for a 2009 Newsweek article:
"All shampoo is essentially a cleanser. Only the first five or six ingredients impact the formula's effectiveness. Most often, the ingredients lower down on the list aren't present in high enough concentrations to have any impact on the shampoo's performance."
In light of this information, we've only listed the first eight (for good measure) ingredients found in each of Volaire's formulations below.
Weightless Volumizing Shampoo
A sulfate-free shampoo that delivers satisfying lather, without stripping away moisture or color. Just massage lather into wet hair, from roots to ends, rinse thoroughly, and repeat as needed.
Ingredients: Water (Aqua), Sodium Cocoyl Isethionate, Sodium Lauroamphoacetate, Isopentane, Fragrance (Parfum), Acrylates Copolymer, Panthenol, and Tocopherol.
Remember the sulfates we discussed earlier? Instead of sulfate-based surfactants, this shampoo features a naturally derived coconut surfactant (specifically, sodium cocoyl isethionate) that promises to cleanse without over-stripping hair.
Despite the presence of these coconut-based options, keep in mind that Volaire's Shampoo also features sodium lauroamphoacetate, which is a more traditional—albeit mild—surfactant.
Weightless Fortifying Conditioner
After you've shampooed, Volaire's conditioner leaves behind hydration, full body softness, manageability, and shine, without weighing hair down. Just apply to the bottom half of your hair and rinse thoroughly with cool water.
The manufacturer tells us that the conditioner can also be used as a weekly mask.
Ingredients include: Water (Aqua), Cetearyl Alcohol, Cetyl Alcohol, Caprylic/Capric Triglyceride, Behentrimonium Chloride, Cetrimonium Chloride, Glycerin, and Cyclopentasiloxane.
Uplift Volumizing Mist
After showering, towel drying, and combing your hair, this mist can be sprayed onto the roots in sections, and then worked through to the ends, in order to protect against heat damage when styling. Volaire claims it will always leave your hair touchable and tossy; never stiff or tacky.
Ingredients: Water (Aqua), Sucrose, PEG-40 Hydrogenated Castor Oil, Glycerin, PEG-12 Dimethicone, Hydrolyzed Wheat Protein/PVP Crosspolymer, Guar Hydroxypropyltrimonium Chloride, and Panthenol.
Air Magic Texturing Spray
As the final step in Volaire's system, the Texturing Spray thickens and texturizes hair while providing a lightweight, invisible hold that doesn't leave behind buildup. We're told it can also extend the time between washings.
Ingredients: Hydrofluorocarbon 152A, Dimethyl Ether, Alcohol Denat., VP/VA Copolymer, Triticum Vulgare Flour Lipids, Persea Gratissima Oil, Corallina Officinalis Extract, and Hypnea Musciformis Extract.
How Much Does the Volaire Volume Essentials Collection Cost?
Volaire's TV Offer is priced at $29.95, plus free S&H. This includes a 30-day supply of the Weightless Volumizing Shampoo, Weightless Fortifying Conditioner, Uplift Volumizing Mist, and Air Magic Texturing Spray.
Important note: After placing your order, you'll automatically be enrolled in Volaire's MVP Subscription Program. This means that four weeks after your initial order, you'll be sent a new 90-day supply of the system and charged $29.95 per installment, plus $3.33 per installment for S&H, plus any applicable sales tax (a total of $99.84 every three months).
You can cancel your enrollment or customize future shipments by contacting customer service at 800-201-6539 or customercare@volaire.com.
All Volaire orders come with a 30-day money back guarantee, less S&H.
What Do We Know About Volaire's Manufacturer & Customer Feedback?
There were 26 customer reviews on the Volaire website at the time of our research, who had given the system an average rating of five stars. Most compliments referenced increased volume and fullness, boosted texture and shine, and lack of heaviness.
Outside of these, we didn't encounter any consumer feedback about Volaire.
We also learned that the system is manufactured by Junee Brands LLC, based out of El Segundo, CA, who also manufactures other beauty-related systems like Specific Beauty and Dr. Denese SkinScience.
The company held a B+ rating with the Better Business Bureau based on one closed complaint (as of 6/28/17). No additional details were available.
Are There Other Hair Volumizing Sulfate-Free Systems Like Volaire?
While the lather and foam provided by sulfate-based surfactants might improve the sensory aspect of bathing, Healthline tells us that they're not crucial for cleansing.
Given this, as well as some of the potential side effects reported by authoritative sites above, sulfate-free systems have become increasingly popular over the last several years. Are any of these competing directly with Volaire?
In a word; yes. Typing the phrase "sulfate-free volume shampoo" into Google returned dozens of results at the time of our research, from popular brands like Pureology, Oribe, L'Oreal, and OGX. Prices ranged between $8 and $30+ for bottles between eight and 20 fl oz in size.
As far as whole systems, prices ranged between $25 and neared $100, which tended to include anywhere from two to four individual products. Popular brands included L'Oreal.
How Do Their Ingredients Compare?
Based on the sheer breadth of sulfate-free volumizing shampoos, which extend well beyond the products chosen at random above, we think it's important to consider the following:
As beauty expert Paula Begoun emphasized earlier, the first few ingredients in any shampoo largely consist of water, surfactants, foaming agents, acidic ingredients (e.g. sodium citrate or citric acid), polymers for smoothness and shine, additives that moisturize and improve skin feel, and preservatives. As we can see, Volaire's shampoo aligns with this general guideline.
This means that the major differences between Volaire and competing shampoos and systems often only relate to ingredients found farther down the list. But (not to sound like a broken record), Paula's quote reinforces the fact that—outside of color and scent—there often isn't enough of them to deliver meaningful benefits.
In lieu of sulfates, each of the formulas mentioned above featured coconut-based surfactants likes sodium cocoyl isethionate, cocamidopropyl betaine, cocamidopropyl hydroxysultaine, and/or cocamide MIPA.
We didn't encounter any comparisons on authoritative sites (like those mentioned earlier) that any of these coconut-based surfactants work better than others.
Your Sulfate-Free Volumizing Shampoo Buyer's Guide
Earlier, we learned that sulfates are generally safe for use by most of the population. Women's Health echoes this sentiment, adding that, "They help your hair feel squeaky clean, and many people can tolerate them well." On the other hand, they go on to note that sulfate-free formulations might be ideal if:
Your hair is naturally coarse or dry, as sulfates can cause further drying.
Your hair is colored, since they can impact the keratin bonds that hold color inside individual strands.
You have sensitive skin (especially eczema), since it can also cause dryness and itchiness.
If you fall into one or more of these groups, should you focus on cost during your search? In the Newsweek article cited earlier, Paula Begoun notes that price is rarely an indicator of performance and that "There's no reason at all to pay more than $7 for a bottle of shampoo."
Instead, she emphasizes that the right sulfate-free shampoo for you depends largely on the specific needs of your scalp, since this is where shampoos have the most impact. So, if your scalp is oily, flaky, dry, or irritated, you might want to focus on formulas marketed at addressing those conditions.
Outside of these criteria, it largely comes down to giving it a try, as Paula points out that, "Nothing on the bottle, including the price tag, can tell you if you're really going to like the results."
Pro tip: It's positive that Kristin Davis claims to personally use Volaire's system (she does, after all, have great looking hair). As a consumer website, though, based on our opinion, we advise readers to also judge the merit of the product itself. This is because whether it's a celebrity endorsement or any other successful case-study shown on Volaire's website, the company specifically states that "individual results may vary."
We've certainly covered a lot of territory here, so let's go ahead and wrap everything up.
Our Bottom Line About Volaire
Did you know that coloring your hair can be an effective method of adding volume, since it causes the hair shaft to swell? Other traditional methods include:
Blow-drying (works by lifting hairs off the scalp and drying them in an ideal position)
Back-brushing or "teasing" (lifts hair cuticles),
Hot rollers (breaks the keratin bonds and locks hair into big curls)
Crimping roots (roughs under-layers, thereby adding volume to upper layers)
While these can be effective, they can also damage hair if used too often, since they steal moisture and weaken bonds. This is where sulfate-free volumizing shampoos and systems like Volaire come in by delivering volume, without the subsequent damage.
Related: How to Save Your Dry, Damaged Hair
From a pure numbers perspective, you'll pay a little more than $1 per day to use Volaire. While this might be considered a competitive price, based on our research outlined above, it seems you can purchase competing sulfate-free shampoos for as little as $0.26 per use.
Obviously, most of these lower-priced shampoos won't include the additional products found in Volaire. So, if you're looking for a complete system that might help you add even more volume, it seems like it could provide a solid overall value.
But if you're only looking for a shampoo, based on what we learned from Beautypedia.com's founder Paula Begoun, you likely won't necessarily achieve greater value by paying more. Outside of this, it largely comes down to giving different options a try and finding out which one best meets your specific needs.
To this extent, if you're ultimately not satisfied with Volaire's performance, the manufacturer seems to stand behind the system with a 30-day refund policy. Just keep in mind you'll lose your return shipping charges.
Not happy with the corporation!

By Karen W.

,

Colorado

,

Nov 19, 2019
Verified Reviewer

I can't even tell you what I thought about the product, as I don't have it! Three days ago I ordered the whole system, of course with my credit card! I decided after thinking about it, that was a lot of money to pay. I called that afternoon, spoke with Courtney who couldn't find my order! Called back yesterday and got once again Courtney in customer service, very nice but still couldn't find. Asked for a supervisor, was on hold for about 5 minutes, no super as "they were in a meeting!" May well have been, but said someone would call me as soon as they were done...obviously no call!

Now I called and spoke with Alex, very nice as well! He should be the dang manager! Still couldn't find, said I need a supervisor again, on hold 3-4 minutes, comes back and I could hear his manager Brian, telling him what to say!

First of all, I WILL NEVER EVER use this product! My bank shows it's a held amount, but I don't even want it run!

Bottom Line: No, I would not recommend this to a friend

---

They lie and deduct money when not owed

By Connie C.

,

Green Cove Springs, FL

,

Aug 27, 2019
Verified Reviewer

Several months ago I requested I only receive shipments every 4 instead of 3. I was told the price being debited from my account would be lowered to match the new shipment schedule. Guess what...they lied, sure they changed my shipments to once every 4 months, but never changed the amount of money they deducted from my bank account! I figured they were expensive before at almost $100.00 per shipment, but now I get even less product and pay more...over $130.00! I canceled all further shipments, I am a disabled widow and it was very hard to pay what I was, but to them be lied to stolen from, I cannot afford that! I have requested all overpayments be refunded to me but we all know that will not happen! So everyone watch your bank statements and figure out what you are really paying per shipment!

Bottom Line: No, I would not recommend this to a friend

---

Advertisement

---

Fraud

By Leigh R.

,

Roseburg, OR

,

Dec 28, 2018
Verified Reviewer

Volaire bottles were open.

One was missing. The box filled with a sickening sweet, gooey mess - spilled over onto my carpet, lap, clothes, desk, keyboard, and shoes. I wrote them to "never charge another order to my card." Next, my credit card was canceled due to a long list of fraudulent charges. Now, on my new card bill, I see Volaire has placed another bogus fee (!) to my card.

I'm filing complaints with BBB and regulatory agency. They are creepy and dishonest!

Bottom Line: No, I would not recommend this to a friend

---

Mediocre at best

By Kathy T.

,

Palm Desert, CA

,

Jun 29, 2018
Verified Reviewer

Firstly, let me just say that I have used many products over the years and this isn't anything that is that great. It isn't bad, it is just not what it is cracked up to be. My sister bought me this for my birthday, so I tried it. My hair no longer had shine, and although it was slightly fuller, it looked better prior to use. Although Richard Ward, the founder or advocate for the product, had done Kate Middleton's hair, I was never impressed with her hair OR Kristin Davis as the hair color is very "muddy" on both. Their hair looks "okay" but definitely looks colored and definitely lacks shine and beauty. Like I said it is an okay product but pales in comparison with other products I have used that are not specifically for volume.

Bottom Line: No, I would not recommend this to a friend

Jun 29, 2018

Thanks for giving us a try Theresa! We're sorry to hear you haven't seen any results. We are happy to connect you with one of our experts that can provide you with product usage recommendations. This will ensure you get the best results possible while using Volaire and will help achieve the look you want! Our expert team is also happy to answer any questions about Volaire and can be reached at 1-800-201-6539 (6am-6pm PST M-F; 7am-1pm PST Sat).

Have a great hair day!

---

Advertisement

---

Ordering online was a breeze

May 6, 2018
Verified Reviewer

I had no problems ordering the entire set for the 30-day supply at $29.95 on the website. And the author of the article is incorrect. There IS an option for auto ship AND one-time order. I chose one-time order. So my order has been shipped out, and I only ordered it last night. I'll use for a week or so and report back.

Bottom Line: Yes, I would recommend this to a friend

May 9, 2018

We are so happy to hear you are enjoying your VOLAIRE™ products! For a chance to be featured, you can share your before and after photos in the comment below, via PM or on Instagram with the tag #styledbyme. We can't wait to see how great you look!

---

Volaire product review

By S Stasey

,

Texas

,

Apr 24, 2018
Verified Reviewer

Shocking how this product left my hair completely weighted down and flat! I called to get return information, and they said that you have to use it for at least five shampoos before you see the volume. I have used the products for a couple of weeks but decided to go ahead and return leftover products for a refund. For me, it did not work.

Bottom Line: No, I would not recommend this to a friend

Apr 24, 2018

Thanks for giving us a try Stasey! We're sorry to hear you haven't seen any results. We are happy to connect you with one of our experts, that can provide you with product usage, recommendations, and help achieve the look you want.

---

Could not order

By Carol Roith

,

Maplewood, MN

,

Apr 10, 2018
Verified Reviewer

I tried for over a half hour to order online. First, it said I put in an incorrect email. Then it said I put in an incorrect address. I put in a correct email, which I have had for 15 years, and correct address, which I have had for over 20 years. Then I tried calling the telephone number. Good luck with that. Customer service number, nope. I could not even get a ring on either number. I was able to review the product that I could not order or recieve. UNBELIEVABLE! Oh yea, and on TV says you have 6 minutes to order. I hope someone from the company reads this.

Bottom Line: No, I would not recommend this to a friend

Apr 24, 2018

Thank you for your interest in Volaire Carol!! We are so sorry that you experienced this while trying to order. We aren't aware of any issues for ordering online but we will check this immediately. Here is our customer support number that you can try to call. Just keep in mind we are on the West coast, as you need to adjust to the time difference to contact us, if you are still unable to order and are interested in trying Volaire.

Thank you,

Customer Support

Volaire

1-800-201-6539

---

Billing

By Lisa Miller

,

Kansas City, MO

,

Mar 23, 2018
Verified Reviewer

I ordered Volaire and within a couple of weeks after I ordered, the card I used had to be canceled due to fraud. It was supposed to be changed. I have now gotten three more calls saying I have not paid my balance, so I'm very very unhappy that this could go against my credit, even though I thought this was resolved during one of my three calls. I've canceled any further shipments or contact with this company. Thanks.

Bottom Line: No, I would not recommend this to a friend

Mar 23, 2018

Thanks for giving us a try Lisa. We are so sorry for the experience you had with your credit card. Volaire will not hit your credit. We understand things happen and life gets in the way sometimes. We would love to make this right for you, and for you to enjoy the wonderful benefits of Volaire. Our expert team is happy to answer any questions about Volaire and can be reached at 1-800-201-6539 (6am-6pm PST M-F; 7am-1pm PST Sat).

Have a great hair day!

---

Doesn't do a thing for volume

I was so excited to try this on my thin, fine hair. It is the worst product I've used for that. I use a thickener and a volume foam that works much better. Actually, this stuff actually made my hair more thin and more fine than usual. Don't buy it. I am sorry that I did. I followed the directions exactly, but it did nothing for my hair. I have a cowlick, and it didn't hide it. My hair is actually limp and lank, not full and lush like on the promo. Again, don't buy it.

Bottom Line: No, I would not recommend this to a friend

Feb 19, 2018

Thanks for giving us a try, Tara! We're sorry to hear you haven't seen any results. Volaire doesn't regrow hair but it does add volume to the hair you do have. We are happy to connect you with an expert that can assist with product usage. Our Volaire expert team is also happy to answer any questions about Voltaire and can be reached at 1-800-201-6539 (6am-6pm PST M-F; 7am-1pm PST Sat).

---

Not impressed

The product was left on the front step in single-digit weather. The package had no freeze warning on it. I used it twice and have seen no difference in more volume than other products I have used. I wrote to the company twice and got no response. I won't be reordering.

Bottom Line: No, I would not recommend this to a friend

Feb 19, 2018

Thanks for giving us a try! We're sorry to hear you haven't seen any results. We are happy to connect you with one of our experts, they can provide you with product usage, recommendations, and help achieve the look you want. Also, please let us know if your product was damaged in transit. We'd like to take care of this for you!

---

Scam

By Dawn Truax

,

Austin, TX

,

Jan 7, 2018
Verified Reviewer

I ordered the 3-month supply to be billed monthly at $30+ a month. I received what I thought to be a 1-month supply and thought maybe I would receive another shipment the following month after my payment was deducted from my account. I never received another shipment and had to purchase hair care products elsewhere, which unfortunately for Voltaire, I ended up purchasing a product I like better, so I called to cancel and explained what happened and was informed that I received the 3-month supply in the first shipment. I don't know how anyone can get a 3 months supply out of 8 and 10 oz, but more power to them.

Bottom Line: No, I would not recommend this to a friend

Jan 23, 2018

Hi Dawn!

Thanks for giving us a try. We are so sorry to hear your supply didn't last 3 months. Volaire uses AirWeight Technology to avoid weighing down your hair. A little bit really does go a long way. There are four easy steps to achieve results with Volaire:

Start with a small amount of shampoo and rub it in your hands – this will actually emulsify it and you'll see it fluff up like mousse. This is the air weight technology at work!

Add a quarter size amount of conditioner from the bottom half of the hair and work it down to the tips first distributing product evenly and let it sit on your hair for a few minutes while you finish the rest of your shower routine

After you've rinsed and towel dried your hairspray the Uplift Volumizing Mist in sections at the root of your hair, and comb through.

We recommend styling with a blow dryer, and aiming the nozzle at your roots to supercharge the Uplift Volumizing Mist and create even more volume

Finish off with a light spray of Air Magic Texturizing Spray at the roots, or wherever you'd like a bit of control to hold volume inside the structure of your style, for the biggest, volume ever.

Our Volaire expert team is also happy to answer any questions about Volaire and can be reached at 1-800-201-6539 (6am-6pm PST M-F; 7am-1pm PST Sat).

---