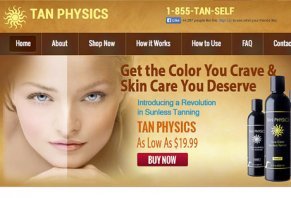 About Tan Physics
Tan Physics bills itself as a revolutionary sunless tanning cream for women that also includes skin care ingredients they say reduce the appearance of fine lines and wrinkles. They state it's formulated for all skin types and tones, adjusts to your individual complexion, and never looks orange or streaky. They tout their product has not been tested on animals and is proudly made in the USA.
There is no specific company information about Tan Physics on either its website or the Better Business Bureau. As such, it is neither accredited nor rated by the BBB.
How Tan Physics Works
Tan Physics comes in gel form in an 8 oz. bottle, which they call True-Color Formula 12. They claim its tanning ingredients are of the highest-quality and FDA-approved. They state their sugar-based formula is designed to give you an even, long-lasting (artificial) tan. They add it includes what they say are tan-enhancing peptides, amino acids, caramel and fruit extracts to further deepen and enhance the lustre. They emphatically state their products contain no parabens, sulfates, petrochemicals, phthalates, or triclosan, which are (presumably) bad for your skin.
Ingredients Used in Tan Physics
The actual listing of ingredients of True-Color Formula 12 on the website include argan oil, which they say reduces wrinkles and crow's feet as well as soothes skin; matrixyl, which they claim activates your skin's natural production of collagen, refilling wrinkles; coconut oil, which they say is easily absorbed; organic aloe vera, which they state allows retention of moisture; and hydrolyzed collagen, which they say will make you appear more youthful.
(They caution their product does not contain sunscreen, that statements made on the website have not been evaluated by the FDA, and are not intended to diagnose, prevent, treat, or cure any disease.)
How to Use
To use Tan Physics True-Color Formula 12, they say to thoroughly clean and exfoliate your skin using a washcloth (they suggest using Tan Physics Pre-Tan Exfoliant for the job.) They add to avoid using a loofah or nylon scrubber and to not shave, wax, or tweeze 24 hours before use.
They say to make sure your skin is completely dry and that steam from the bath or shower has completely dissipated. They add to remove any rings or jewelry and put your hair up; they tell you to not put on any perfumes, deodorants, or lotions before using their product.
They say to stand naked in front of a full-length mirror, put a quarter-sized portion of Formula 12 in the palm of your hand, and start at the center of your shin. (Sexy music in the background is optional.) They instruct you to apply lightly and evenly at first and in sections, working from the bottom to the top: calves and feet; thighs; abs and back; chest and shoulders; face and neck (they say to apply sparingly here.) They encourage you to use both fingers and palms to spread the gel.
They claim Tan Physics contains a caramel color guide that will show you where it has been applied and where it hasn't. They add that if you see any dark spots after application to rub them in. When done, they say to wash your hands very well and scrub your fingernails. They boast that it is smooth and gentle, "like food" for your skin, and has a "captivating" botanical scent.
They ask you allow 15-20 minutes for the "sun" to soak in and for your skin to absorb all the oils, vitamins, tanners, and skin-enriching products. They claim your tan will begin to develop in 3-6 hours, but will be "fully developed" in 6-24; they add to avoid showering or excess sweating for 6 hours after application.
More Claims Tan Physics Makes
They claim any dark spots can be "buffed" away with a washcloth and state Tan Physics' tan is "highly buildable", meaning if you want a darker tan, add more True Color Formula 12 the following day (no need to exfoliate.) They claim your "tan" will last 4-7 days, but they suggest you can use their Tan Extender to make it last longer.
They claim that having tan-looking skin makes you look and feel younger, thinner, and more beautiful. They state than a tan can reduce appearance of cellulite and stretch marks, mask wrinkles or skin imperfections, and hide varicose and spider veins.
They say Tan Physics is much better and safer than exposing your skin to the sun or going to a tanning salon. They state that UV exposure can cause wrinkles, premature aging, brown spots, sagging, and loose skin. They list some frightening statistics on their website: 90% of both skin cancers and facial wrinkles come from sun exposure or tanning beds, skin cancer is the most common cancer in the US, the #2 killer of women, and that a person dies every 57 minutes from it. In addition they state the WHO has included UV radiation from tanning beds on their list of most dangerous cancer-causing radiations, and many states and countries have outlawed them altogether.
An avatar of Gretchen Jensen, who claims to be a former Miss USA, ESPN analyst, and ABC correspondent pops up on the Tan Physics website, extolling the virtues of the product, saying you will look like you spent a day at the beach to get your beautiful tan.
EachTan Physics Order Includes:
One month supply (8 oz) Tan Physics
Tan Physics Pricing, Shipping, and Returns
Tan Physics has several different options for you: a one-month supply for $29.95, 2 months for $49.95, 3 months for $69.95, or 5 months for $99.95. Shipping and handling is listed as $9.95, but it appears to be very easy to qualify for free shipping - just by leaving the order page a pop-up will give you a "one time" offer to ship Tan Physics True Color Formula 12 free. Once you receive it, they claim you have 100 days to try it and if it doesn't give you a golden glow, return it for a full refund (you pay to ship it back.)
Bottom Line: Is Tan Physics a Scam?
A natural, seamless tanning cream/anti-aging lotion is something many women dream about. We like its guarantee and the free shipping option, but we don't like that you have to provide your email just to see what the product actually costs. (Tan Physics claims to have a low price guarantee, saying they will beat any other online price.) They have many quotes on the website from established entities such as the Mayo Clinic and WebMD, but they are touting the benefits of sunless tanning creams, not Tan Physics' Formula 12 specifically. One quote about their product turns out to be from a website they own or run (skinsafe.org). As to actual testimonials from people who have tried it, many seem to like the product, saying that it dries quickly and evenly and has a healthy golden glow. There are complaints, however, that it smells like household cleaner. If you really do feel you need/want to make your skin a shade or two darker, we do suggest a tanning cream rather than UV exposure, but you may want to look around for a product that has more proven results.
10 out 12 people found this review helpful

I thought it wasn't bad

by Anonymous

,

Feb 20, 2015

I personally don't really have any issues with this product other than you must wash your hands immediately after use or you're stuck with dark palms and weird half and half coloring through your fingers. I saw my tan within 3 hours from my first time. I have a nice glow and skin is soft.

I only bought the tanning bottles, 5 to be exact, pretty silly of me. Try to put less on the face and really work it in carefully.

Bottom Line: Yes, I would recommend this to a friend

---

26 out 29 people found this review helpful

Best Self Tanner I have found!

by Karla

,

Midwest

,

Aug 22, 2014

I am in my mid-50's and have tried every self tanner out there. I am very sensitive to smells and could not wear a lot of self tanners for that reason. Tan Physics doesn't bother me in that regard and it gives me a very even and natural glow. I get a lot of compliments on my 'tan.' This product drys faster than any tanner I have tried and does not come off on my clothes or sheets. I use latex gloves when applying as it will stain my palms. My knees and elbows do not get dark with repeated applications like the others would. I'm not afraid to apply this to my face either. I usually apply every 3 or 4 days. I really can't say anything bad about this product. I would recommend this to anyone!

Bottom Line: Yes, I would recommend this to a friend

---

---

20 out 22 people found this review helpful

Tan Physics Stinks and made my skin DRY

by Cindy Stone

,

Jul 20, 2014

I got this product based off reviews from the website (now I understand fake reviews apparently), well I was very disappointed. It smelled like a mix between PineSol and Orange Glow. It stained my bed sheets, and when I woke up and took a shower, I didn't see any difference. I applied the next day and I had streaks all over and my skin was DRY! I called for a refund and they told me they would only refund if i did not open the bottle, JUST MY LUCK... Do not buy!

Bottom Line: No, I would not recommend this to a friend

---

15 out 18 people found this review helpful

Surprised at the negative reviews

by Lynch

,

Chicago, IL

,

Jul 11, 2014

Must admit that the day after using for the first time I was extremely disappointed, hardly any color change at all especially on my legs. But I decided to give it another try and proceeded with a second application and then the following day a third. At last, I have a tan and a very natural one at that.

This product smells great, dries within 15 minutes so you can wear your clothes, does not leave you feeling sticky and for me, moisturizes and leaves my skin feeling soft. It also does not come off on you clothes or sheets as much as other self tanners.

I'm about to buy another bottle. I do however think it should be darker, you need to apply every couple of days so the bottle certainly does not last long and is therefore expensive.

Bottom Line: Yes, I would recommend this to a friend

---

---

15 out 16 people found this review helpful

I think this product works well.

I cannot believe all the negative comments. I think this product works well. I don't think purchasing the exfoliator is necessary as long as you exfoliate with a washcloth. I was surprised that the tan extender was tinted as well; but I still like it. The one negative is that without using a body lotion after, my skin looks and feels dry. And if you wash your hands after applying ... like all self-tanners ... you will not see any stains.

Bottom Line: Yes, I would recommend this to a friend

---

10 out 12 people found this review helpful

Amazing Product

by Kayla Hunter

,

Houston, TX

,

Jun 21, 2014

I wonder about all the negative reviews on this site. I just started using Tan Physics and I could not be more pleased. It tans evenly and naturally. It would not be as popular as it is if it were not a good product.

Bottom Line: Yes, I would recommend this to a friend

---

21 out 21 people found this review helpful

Was not happy

by Anita

,

Almo, Idaho

,

Jun 12, 2014

I have read all the reviews from real people as well as all the reviews on the web-page... I too was not satisfied with any of the three products that I purchased.. I followed the instructions to the T and did not see the results as promised. Although I have found that using rubber gloves helps with the orange hands. I still did not like the results of the products. I kept applying like it says and did not color my legs in the least. I was very disappointed and I still have a lot of product left and want to return all three bottles.

Bottom Line: No, I would not recommend this to a friend

---

---

22 out 22 people found this review helpful

Not what they had promised

by Loretta

,

Murrieta, CA

,

May 23, 2014

Like so many other I am very disappointed with this product. The plus is that it doesn't smell bad and I didn't have any trouble with it drying my skin. The minus, and a big minus, is that it does not work very well at all. I too will go back to using what I was previously.

Bottom Line: No, I would not recommend this to a friend

---

17 out 17 people found this review helpful

Not satisfied

The product left me orange and streaky. I am completely not satisfied.

Bottom Line: No, I would not recommend this to a friend

---

19 out 19 people found this review helpful

A waste of money!

by Lorrie

,

Cookville, Texas

,

May 21, 2014

I bought the 8 oz. size of Tan Physics based on, what I now realize, were excellent reviews....by the company itself.

The product smells great, and the color is good, however I couldn't wash it off my palms. I've used a pumice stone, and even a bleach cleanser, but there's still permanent staining. After the second day my skin became horribly dry...something I rarely have a problem with. While putting on moisturizer, much of the color came off onto my hands.

I will absolutely go back to the previous brand I used.

Bottom Line: No, I would not recommend this to a friend

---

---

13 out 15 people found this review helpful

Wonderful product

by Linda

,

Springfield, Ohio

,

May 13, 2014

I started using this product and get lots of compliments. Yes, it did stain my palms but came off with a pumice stone. You can fill in missed spots with ease and become dark as you want. I love it.

Bottom Line: Yes, I would recommend this to a friend

---