Angel Sleeper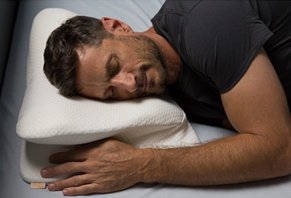 Summary
The Angel Sleeper pillow is specially formulated to support the sleep styles of both side and back sleepers for less pain in the morning. However, the design doesn't seem practical for most people, and we question the advantage of incorporating copper into bedding products.
Pros
Clinical evidence supports the antimicrobial effects of copper
Shipping discounts for larger orders
30-day return policy
Cons
Minimal evidence of copper's benefits in pillows
Most people don't need a pillow that works for both back and side sleeping
No online reputation
Angel Sleeper Pillow Review: Is It Worth It?
Produced and sold by Copper Fit, the Angel Sleeper Pillow is a sleeping accessory that's custom-designed to reduce pain and stiffness in the shoulders, neck, and back for both back and side sleepers.
This versatile pillow is made with adaptive memory foam and will purportedly give you a cooler, more comfortable night's sleep. The direction you orient the pillow depends on your sleep style, but the company claims it's uniquely crafted to suit multiple positions.
Should you commit to buying a pillow off an infomercial? In this analysis, we'll strive to give you the necessary facts to determine whether this pillow is indeed better than other options.
How Does Angel Sleeper Work?
The Angel Sleeper pillow comes with a removable cover made from copper-infused polyester textiles that the company claims will wick away moisture and reduce unwanted smells.
According to Business Insider, natural antimicrobial materials are often added to some personal care products to kill microbes. This metal has long been used to stave off dust mites and thermally conduct heat so that you enjoy cleaner, cooler sleep.
Angel Sleeper goes further, stating that copper works with the natural copper in your skin to boost your collagen and elastin levels to restore your skin and even reverse the signs of aging like fine lines and wrinkles.
However, most of the benefits attributed to copper in pillows seem to be anecdotal. We couldn't track down any clinical studies on the topic, and most websites that tote its benefits are in the business of selling copper-infused pillows.
So, while there's scientific evidence that copper is an effective antimicrobial agent and may even offer skincare advantages, the benefits seem unproven in the context of bedding.
Beyond the copper infusion, what differentiates this pillow is that it can be adjusted to accommodate both back and side sleepers. It's formed so that one end is wider than the other so that it forms a subtle wedge shape.
Side sleepers should sleep with the more substantial part facing the head of the bed so that their head is supported upright, and there is a natural space for their arm to go on the pillow to keep things comfortable, not cramped. For back sleepers, it's better to flip the pillow so that the taller side faces your feet. This purportedly adds extra cradling and support to your neck to stop it from cramping.
For best results, the company states it might take 5–10 nights of use before it forms to your head. This means you should keep trying it out even if your first night of sleep isn't ideal. You may initially want to tuck a pillow behind your knees to help your spine stay in a neutral alignment and take some strain off your back.
Pricing
The Angel Sleeper pillow is available on the Copper Fit website in two sizes:
Standard (20"): $39.99
King (25"): $59.99
Shipping is $6.99 or free if you order two or more pillows. Copper Fit states that most orders should ship within 30 days of ordering.
All purchases qualify for a 30-day money-back guarantee, minus shipping expenses. The best way to initiate this process or get any further questions answered is to call directly at (866) 304-4261 or through email at ideavillage@customerstatus.com.
Alternatives to Angel Sleeper
Other brands sell pillows targeted towards side or back sleepers, or that claim to be infused with copper. However, we weren't able to track down any that combined these features into one design like the Angel Sleeper.
If you're a natural side sleeper, there are various pillow designs meant to add extra support for maximum comfort. Many are u-shaped and offer either cutout for your arms like the Angel Sleeper or an additional part of pillow you can wrap your body around. These will vary significantly in price depending on the brand, pillow size, and a myriad of other factors.
If it's the copper angle that most interests you, it's possible to shop many brands on Amazon, Walmart, and other retailers. We found copper pillows ranging from $12.95 to over $85, and most had multiple customer reviews to browse before buying.
Alternatively, you can also go a simpler route and merely buy a copper-infused pillowcase as sold on the same shopping platforms.
The Bottom Line
The Angel Sleeper pillow makes a lot of promises about the ways it will transform your sleep, but there's minimal evidence that it does what it claims. Not only are the references to copper's benefits vague, but the company doesn't give us any good idea about how much copper these pillows contain.
We also think that there is a fundamental flaw in the design of this pillow. Most people don't need a pillow that works for sleeping both on their back and on their side, and if they do, the odds are good that they will be rolling over in the middle of the night and not aware enough of what's going on enough to flip the pillow for another position.
Buying a pillow that claims to satisfy both positions but only accommodates one at a time seems like an unnecessary hassle when there are dozens of brands selling both dual-purpose pillows and ones dedicated to one style or the other.
Customer Reviews
Our Promise to You
In order to safeguard you and ensure helpfulness and relevance, our compliance team manually assess every customer review before it goes live.
We have a zero-tolerance policy for fake reviews, and companies cannot control or alter any reviews at any time.