AngelLift Reviews
Claimed This company has claimed this profile, is getting alerted on any new customer reviews entering this page, and may engage in dialogue with its customers to address their matters.

Companies cannot pay money or provide goods in order to remove or alter customer reviews.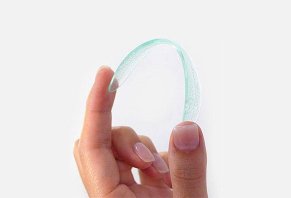 AngelLift is a set of over the counter facial lifting strips that claims to be clinically proven to reduce the signs of facial aging.
About AngelLift
If you're a big fan of Shark Tank, you may have seen AngelLift on the May 2, 2014 episode. These prosthetic strips feature a subdermal technology that adds volume to facial lines and lips lost as a result of aging, thereby effectively reducing the look of wrinkles.
But can AngelLift really help accomplish this, while making your lips look fuller? Let's fill in the gaps and find out.
How AngelLift Works
AngelLift's motto is "correction without injection," which means that unlike injections, the product claims to add volume under the skin, instead of in the skin. The company tells us that their hypoallergenic, flexible, reversible, and reusable strips replace pressure lost through the natural recession of teeth and gums, thereby reducing aging lines around the mouth, as well as lifting and reshaping your lips. In fact, the company reports that AngelLift strips are safer than surgery, last longer than injections, and are more effective than serums.
AngelLift claims that their technological breakthrough was discovered through nerve damage research, and is supported by measurable results through third-party clinical research (which we verified). The company claims that after 30 days of regular use, you'll begin to see noticeable change.
According to the AngelLift website, their DermaStrips are applied via a three-step process:
Insert one DermaStrip under your upper or lower lip, treating only one area at a time.
Keep your mouth closed and relax for 30 minutes, while refraining from talking, eating, drinking, or sleeping.
After 30 days (or achieving your desired look), reduce DermaStrip application to once per week. In addition to these devices, AngelLift provides an oil-free moisturizing serum (DermaSome) and a lip enhancing serum (DermaLips).
AngelLift Pricing & Refund Policy
AngelLift DermaStrips are available in three different versions, which are priced as follows:
Basic Version – $72, which includes:
2 surgical grade DermaStrips
1 Anodized, Mirrored Case
DermaLips (Lip enhancing serum)
Use & care instructions
Essentials Kit - $119.00, which includes:
2 surgical grade DermaStrips
1 Anodized, Mirrored Case
16 Microfibre pH Facial Towelettes
1 DermaSome (oil-free lifting serum)
1 DermaLips (lip enhancing serum)
Solution pH Kit - $89, which includes:
2 Reversible, Reusable, Removable, DermaStrips
1 Travel Tube
1 Solution pH Cleanser and Infusion Chamber
1 Microfibre pH Towelettes (16) for use with Solution pH
AngelLift offers a 30-day, no questions asked refund policy and a lifetime warranty against injections, if used as recommended. Customer support can be reached at 1-800-793-9322 or support@angellift.com.
What Do Other Consumers Have to Say About AngelLift?
AngelLift is listed with the Better Business Bureau and holds an A+ rating.
Based on a press release we encountered during our research, it appears that AngelLift has been available to medical professionals since 2004, although only available to the public over the past couple years. Here on HighYa, as well as on popular marketplaces like Amazon, online customer reviews appear to be fairly strong, with an average of about four stars.
In general, most customers report being pleased with ease of use, effective results (increased lip fullness, reduced fine lines and wrinkles, etc.), and helpful support. Frequent complaints (what few there were, and the majority of which were posted a year or more ago) cited less-than-expected results and difficulty keeping in place.
What's the Bottom Line About AngelLift?
With all this in mind, can AngelLift really reduce the appearance of wrinkles, while also making your lips look fuller? While everyone's body is different, the evidence appears favorable. Here's why:
First, AngelLift's potential benefits were discovered through nerve damage research, since the device is owned by an Italian company that produces removable facial nerve and trauma implants.
Next, the company emphasizes that DermaStrips have been clinically tested and proven by third party laboratories on more than one occasion (again, we received copies of these studies from the company, and can confirm their results). Their product has also been tested and approved on live television through Rachael Ray's 'Human Labs' segment.
During their appearance on Shark Tank, although all Sharks had questions about why AngelLift stopped selling on Amazon, Lori Grenier decided to invest in the company. After the episode aired, it was revealed that AngelLift had struck a deal with Amazon to allow customers to use their accounts directly on AngelLift's website, so that AngelLift could better control their shipping and customer service.
After Shark Tank, AngelLift appeared on other popular TV programs like the Ellen show, Extra, The Doctors, Kris Jenner, Rachael Ray, and several news channels.
Bottom line: AngelLift comes from a company with a strong scientific background, as well as a competitive price (especially compared to in-office procedures). The device has also garnered a four-star average online rating from customers, and comes with a 60-day money back guarantee, which should be more than enough time to decide if it's right for you.
---
No improvement AT ALL

By Betty M.

,

San Diego, CA

,

Feb 4, 2020
Verified Reviewer

Overall Experience:

I've been using these faithfully every day for 30 days and haven't noticed a difference AT ALL. I took a before pic four weeks ago and today I took an after pic and I honestly feel as though my marionette lines are deeper. I'll keep using them for another two weeks hoping for results but so far I'm more disappointed than anything.

Bottom Line: No, I would not recommend this to a friend

---

It's a God sent

By Debbie H.

,

Texas

,

Dec 9, 2019
Verified Reviewer

Overall Experience:

I have (had) thin lips. I've been using this product for a month. But I actually noticed results within a week. Wore them an hour a day, cut down to 30 minutes after the first week. I love this product. The lip gloss, moisturizer, just everything. If you're having a hard time keeping then in place, lay down and watch your favorite show, meditate, or pray. Good luck to all.

Bottom Line: Yes, I would recommend this to a friend

---

Advertisement

---

Worked for me with consistent use

By R D.

,

Washington DC

,

May 18, 2019
Verified Reviewer

Overall Experience:

I have used the AngelLift for several months and I am now ordering my second pair (I lost the first pair during a move!). The product worked for me when I used it consistently. It's a bit pricey but I liked that it's noninvasive. It's easy to use and the product material is not uncomfortable and can be washed after each use. If you are serious about skincare, I believe this is a good addition to the age-fighting toolkit.

Bottom Line: Yes, I would recommend this to a friend

---

Waiting 47 days and have not received

By Helen C.

,

West Barnstable, MA

,

Apr 4, 2019
Verified Reviewer

Overall Experience:

I ordered on February 15, 2019 and was charged on my credit card. Today is April 2, 2019 and I have not received. They keep telling me it's on its way. I will be notifying BBB soon if not resolved immediately.

Bottom Line: No, I would not recommend this to a friend

---

Advertisement

---

Disappointed

By Lucy D.

,

Los Angeles, CA

,

Mar 29, 2019
Verified Reviewer

Overall Experience:

I have been using these strips FAITHFULLY every day for 30 minutes, first the upper and then the lower. It's been about six weeks and I can say I've seen absolutely no change in the appearance of the lines above my upper lip or anywhere around my mouth. I keep using them hoping that one day I'll see some kind of improvement. I'm not going to reorder and won't recommend them.

Bottom Line: No, I would not recommend this to a friend

---

Takes your money but doesn't deliver

By Lee Ann F.

,

Vancouver, British Columbia, Canada

,

Mar 22, 2019
Verified Reviewer

Overall Experience:

I ordered these strips and paid with my credit card, but no product was delivered. When I called to check the status of my order, I was told they would send it out right away. When I didn't get any delivery info I called and emailed and Facebook messaged the company and they just continue to ignore me. I am now trying to get my money back from Amazon Pay. Don't buy from this dishonest company!

Bottom Line: No, I would not recommend this to a friend

---

Like a time machine for my face!

By Tierra L.

,

Atascadero, CA

,

Mar 4, 2019
Verified Reviewer

Overall Experience:

To say I was skeptical is an understatement. However, here I sit four weeks later, writing this, looking 10 years younger! I went with my husband to see his barber, who I have personally known for 7 years, and she didn't recognize me! All sorts of friends I have run into keep saying I look so good, but can't put their finger on why. My marionette lines are almost completely gone, and the moisturizer has helped get rid of enlarged pores that have plagued me for over 10 years. I use my derma strips faithfully, every morning, and every evening. It isn't hard to do, while I am just watching TV or cooking dinner. It stops me from snacking on food while cooking too! I highly recommend this amazing product!

Bottom Line: Yes, I would recommend this to a friend

---

Delighted

By Dirothy M.

,

Sandwich, MA

,

Mar 1, 2019
Verified Reviewer

Overall Experience:

I have been using AngelLift for approximately 6 weeks. Honestly, I was not expecting much. Much to my surprise, the lines above my lip have improved by 50%. I insert once a day for 30 minutes while watching TV. I find moisturizing the area well prior is a good idea. The lip balm that comes with the kit is wonderful. I will definitely repurchase.

Bottom Line: Yes, I would recommend this to a friend

---

Great product

By Janet C.

,

Camas, WA

,

Feb 28, 2019
Verified Reviewer

Overall Experience:

I've been a smoker for 45 years and decided to give these a try. They are very comfortable and easy to use.

I sometimes use them during the day (at home, haha).

I'd recommend you giving them a try for lines above and below your lips.

They have helped with some of my deep lines.

Bottom Line: Yes, I would recommend this to a friend

---

Great product - it works

By Fern T.

,

Toronto, Ontario, Canada

,

Feb 21, 2019
Verified Reviewer

Overall Experience:

I started noticing a loss of significant volume in the lower half of my face. It almost appeared as though the width of my face was narrowing. This was extremely distressing. I tried fillers but it seemed very unnatural and I still had the same narrowing face, except with defined cheeks. I came across this product on television. I bought it and I have been absolutely thrilled with the results! I actually put it under my lips for longer than what they suggest. I have noticed visible results and the lower half of my face has lifted. The cheeks appear lifted and plump. You do need patience though to see results as this is not an overnight miracle. I wish I could post before and after pics on this website, but that option is not available.

The customer service with this company is also excellent. They respond immediately to your concerns and prioritize your satisfaction. Great job guys!

Bottom Line: Yes, I would recommend this to a friend

---

Excellent customer service

By Terri U.

,

Nov 11, 2018
Verified Reviewer

Overall Experience:

Initially, I had a disappointing incident. When my kit arrived damaged during shipping, only a partial kit was actually delivered. I left a negative review regarding this occurrence.

Once customer service reviewed my complaint supported with photos, they were VERY SUPPORTIVE! They sent another kit which arrived today in perfect condition.

I am excited to put this product to use. I will post any noticeable improvements.

Bottom Line: Yes, I would recommend this to a friend

---