DermaSuction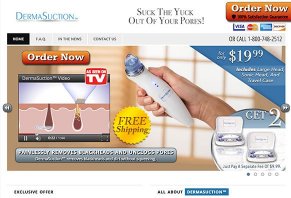 The DermaSuction is a device that claims to help you remove dirt and other impurities from the skin. We take a closer look to learn more about how it works.
DermaSuction Review: Is It Legit or Hype?
The DermaSuction is a facial care vacuum designed to pull out and remove impurities from the skin. It claims to painlessly remove blackheads and unclog pores without any squeezing whatsoever due to its focused-suction design.
Three different power settings are provided, letting you choose the one that feels most comfortable on your skin. All of the various attachment heads are washable, allowing for easy cleanup once you've completed your treatment.
The DermaSuction is wireless, including an internal battery that can be charged with the included charging cable. We tried reaching out to customer service to learn more, but after speaking with several agents, it was clear that they were not aware of this product's existence.
So, now we know what the device is but how does it actually work?
How DermaSuction Works
The DermaSuction comes with three attachments that are designed for different uses. The main tip is used for facial blackhead removal, while the larger probe is described as being for areas like the arms, chest, and legs. Finally, there is a sonic tip, which the manufacturer claims is ideal for reducing the appearance of fine lines on the face. We aren't given any additional info on this function, nor did customer service have any insight into it when we called.
To use the main functionality, it looks as though you only need to run the device along your facial area, specifically targeting blackheads and impurities along the way. The commercial illustrates the product sucking out and removing these unsightly elements with ease, but is that really how it works in practice?
Will the DermaSuction Really "Suck the Yuck Out of Your Pores"?
Based purely on the product's commercial, it would appear that the product is truly able to remove these impurities from your skin, but the reality of the situation, as usual, may be a bit more complicated.
Though it's clear that the DermaSuction is removing something from the skin, it turns out that it may not be the real impurities within your blackheads. Speaking to metro.co.uk, facialist and aesthetician Andy Millward says that when it comes to pore vacuums, "The majority of what is being removed are actually sebaceous filaments."
These filaments are needed by the skin for protection against the elements, and he made it clear that removing them would just cause your body to replace them. He also stated that this can actually do damage to the pores over time.
Dermatologist Joshua Zeichner, the director of cosmetic and clinical research at Mount Sinai Hospital in New York City, takes a slightly different approach, saying that while these sorts of products can work as described, they are "most effective if the blocked pores were pre-loosened with products like salicylic or glycolic acid or physical exfoliation like microdermabrasion."
He also goes on to warn against potential dangers to the skin, however, stating that "While the devices are safe to use, applying too much suction to the skin can lead to skin bruising and inflammation."
Dr. Sandra Lee, aka the famous Dr. Pimple Popper, has similar concerns about the power some of these devices exert:
"I think if the suction is too high, it's like giving yourself a hickey. You can get bruises from it," she explained, "It's called telangiectasia when you have superficial blood vessels that dilate because you have too much suction or too much pressure on the surface of the skin." The worst part? These can be permanent, requiring a laser treatment in order to get rid of them.
Obviously, the DermaSuction itself has three different power modes, potentially alleviating some of the concern over excessive force being applied to the skin, but with lower suction may come less effective results.
In fact, even with full-powered suction, Zeichner warns that pore vacuums like DermaSuction may not be effective at eliminating the type of blackheads most people tend to focus on; the deep, visible ones: "They provide modest benefits for true blackheads, since these are caused by deeply rooted oil clogs in the pore."
DermaSuction Pricing and Return Policy
As of this writing, DermaSuction was only available directly off of its main website online. It is currently sold in two main packages:
Single Offer: One DermaSuction, Extra Tips, Charger, and Travel Case - $39.99 + Free S&H
Double Offer: Two DermaSuctions, Extra Tips, Chargers, and Travel Cases - $39.99 + Free S&H + $19.99 Fee
In the terms and conditions spelled out on the checkout page, we're told that each order is covered by a 30-day money back guarantee, less shipping & handling fees (which are free in this case). You will, however, be responsible for paying return shipping on the order should you choose to return it.
Purchasing a Product Like DermaSuction
It looks as though a viral video kicked off the initial pore vacuum craze, so it didn't surprise us to find many different products available online that offer similar functionality to the DermaSuction.
Certain products, like the Comedo Suction Microdermabrasion Machine, were more expensive, running about $59.99, while others, like the Imbeang Blackhead Vacuum, could be had for as little as $12. Some devices have additional tips, while others offer just one. A few claim to improve circulation, while most stick to blackhead removal.
Despite these differences, we didn't encounter any pore vacuums during our research that were immune to the criticisms and shortcomings discussed above, from a design standpoint, at least. On Amazon, we also noticed that many products featured droves of reviews that were 100 percent 5-star rated.
Ultimately, if you still decide to give a pore vacuum a try, despite what experts are saying, finding the right product may come down to choosing one that is within your price range, has some positive (and real) reviews, and includes the features you are looking for (multiple power settings, additional attachments, battery life, etc).
Our Bottom Line on DermaSuction
Now that we know much more about the DermaSuction (and pore vacuums in general), can the product in question truly be expected to remove impurities from your skin effectively? In short, yes and no.
While it certainly seems as though the product may be able to remove looser bits of dirt and gunk from your pores, we learned that true blackheads are lodged deep into the skin, where the suction required to pull them out would be too damaging to the pores themselves to be a worthwhile option.
As for a viable alternative, there may be nothing like your own hands in most cases. Doctor Sandra Lee detailed her recommendation, saying that "I would wrap a little tissue paper around each finger because it helps provide traction. Make sure your nails are short too. And just try to squeeze and change directions. Squeeze from a different angle and if they don't come out all the way, they might not be able to come out all the way. It's knowing when to stop, knowing when to say, okay that's enough!"
When you try out the DermaSuction, just be sure to keep the 30-day return policy in mind. If you find that it doesn't provide what you're looking for, you'll be able to return it, as long as you don't mind paying a bit to ship it back in the process.
DermaSuction

By Mary S.

,

Evansville, IN

,

Feb 6, 2020
Verified Reviewer

Does not work, it just sucks to skin but takes out nothing. Very unsatisfied, will not recommend to others. I used it, my husband tried, and nothing with none of the heads at all. I was excited to purchase but very disappointed when I got it. Need to make adjustments or something to really make it work.

Bottom Line: No, I would not recommend this to a friend

---

Regarding customer service and returns

By Donna C.

,

Macon, GA

,

Dec 12, 2019
Verified Reviewer

I placed an order for the DermaSuction and called to check the status after 5 weeks. The customer service rep said there was no record of me ordering that item by my email address. I went ahead and placed the order taking his word that it was never ordered. Two days later I got my bank statement from my bank and saw that it had been charged to my account. I quickly called the company and asked them to cancel the second order since I evidently did place the order over a month ago. He told me it was too late that it had already been picked for shipping. I asked him for the status of my first order and he said he couldn't tell me because it hasn't shipped yet. He was very careful with the terms he was using. According to him, it is "picked" for shipping immediately and then after that it waits to be shipped and he had no information on when it would be shipped or what company does the shipping. He would not discuss canceling the order but offered $5.00 off instead and give the second one as a gift. This seems very shady and I am wondering if I will even get the first one. I did, however, call my credit card company and dispute the order for the second one in which the customer service rep told me I couldn't do. I would not recommend dealing with this company at all. My rating is actually a zero.

Bottom Line: No, I would not recommend this to a friend

---

Waste

By Melanie H.

,

Pittsburgh, PA

,

Nov 6, 2019
Verified Reviewer

This product was a waste of money and of time. It did nothing to help with removing any blackheads or pimple. It sounds as if it would; it looks as if it would but not worth the hype. Don't waste your time or money. Worthless.

Bottom Line: No, I would not recommend this to a friend

---

BLOTCHY RED NOSE!

By Nancy H.

,

Maine

,

Sep 19, 2019
Verified Reviewer

DO NOT BUY THIS PRODUCT! Unless of course, you want BIG RED BLOTCHES all over your face!

I followed the instructions and ended up with red blotches all over my nose and look like RUDOLPH. Not really funny. This product is too dangerous to be sold to consumers. I have been using an aloe moisturizer on my face for 3 days now, and the blotches are still there, a little less red, but STILL THERE. I don't want to go out in public they are so bad. Thinking I should call my lawyer.

DO NOT BUT THIS PRODUCT for your own safety!

By the way, I had to give it a one-star rating or it would not let me submit. ZERO STARS!

Bottom Line: No, I would not recommend this to a friend

---

Advertisement

---

Do not use the DermaSuction!

By Sherri E.

,

Florida

,

Sep 16, 2019
Verified Reviewer

I wish I would have read these reviews before using the DermaSuction. I used for the first time on the lowest setting, only placing on my skin for 1 to 2 seconds. My face is a red mess and I now have broken capillaries. I'm afraid the broken capillaries might be permanent! I would never recommend this product and feel the company should pay my Dermatologist expenses to hopefully reverse the damaged capillaries. This product should not be on the market.

Bottom Line: No, I would not recommend this to a friend

---

Walking Dead Halloween Kit!

By Kris K.

,

Dothan, AL

,

Aug 8, 2019
Verified Reviewer

I'm 38 years old and while I don't have acne, I do work outside and have clogged up pores daily. I thought this would be a great way to help with getting my pores clean without having to scrub so much. Hahaha.

Let me tell you. I spent 10 years doing MMA training and not once did my face look as beat up as it does after using this DermaSuction for 3 minutes. Unbelievable!

I wish I could have 3 minutes alone with the maker of this product. DO NOT BUY THIS! It did nothing except bruise my entire face. How the heck is anyone supposed to function in everyday life after using this. This should be a crime. I know it would be if I caused someone's face to look the same. Lol!

Bottom Line: No, I would not recommend this to a friend

---

Ear injury to my ear...I'm required to see plastic ear surgeon to correct.

By Vanessa P.

,

Arizona

,

Jul 1, 2019
Verified Reviewer

WARNING: I tried this product on my ears, on the outsides of my ears, and it detached my flesh from the cartilage...Acura hematoma...which is known as cauliflower ear...you know the same thing that boxers and fighters get from repetitive injuries to their ears!

Well, I'm just here to advise people, absolutely do no use this on your ears. The product works well on my boyfriend who has oily skin. I don't recommend it for normal or dry skin and DO NOT USE ON EARS! I wasn't sure how to rate it because it does work well on some people.

Bottom Line: No, I would not recommend this to a friend

---

Terrible product

By Meg D.

,

Ontario, Canada

,

Apr 10, 2019
Verified Reviewer

Do not buy this. I steamed my face before use, hoping for the best results. What it did end up doing was leave marks all over my face. It doesn't suction anything! I am returning this product. Would give it a zero!

Bottom Line: No, I would not recommend this to a friend

---

Beware of this product

By Fiona O.

,

Ballarat, Victoria, Australia

,

Apr 10, 2019
Verified Reviewer

I tried the DermaSuction with the small head, on low power, on my chin area. It promptly cased small broken blood vessels to to appear.

I was very shocked and must warn others of likely damage to their skin if they use this product.

My skin isn't sensitive. I didn't press hard.

The unit had only 2 settings apart from the off switch.

I would request a refund but the product is out of the 30-day refund period. A friend never used it and thought I would like it.

Beware.

Bottom Line: No, I would not recommend this to a friend

---

LEFT BRUISE

By Lor R.

,

Washington

,

Apr 3, 2019
Verified Reviewer

I pressed it on my skin at the maximum sucking and it left a giant purple mark. It's embarrassing because it's so noticeable. I still have it on my chin. There should at least be a warning about this happening. I guess I have sensitive skin because all it did was suck. I advise not to leave it on longer than 3 seconds at maximum sucking.

Bottom Line: No, I would not recommend this to a friend

---

Derma "SuckTion" - does it suck as advertised?

By John R.

,

Ohio

,

Mar 22, 2019
Verified Reviewer

DermaSuction pore cleaning device (aka The Mini Hickey Wand), like many others out there, I have a nose that seems to be mostly blackheads. Nowhere else really. Also, being lazy about most aging and beauty tasks, I'll try any quick fix. At first, I had my doubts about whether this could produce enough suction to pick up a grain of sand, yet alone enough to pull blackheads. After I adjusted the angle of the device...BOOM...it sucked. It didn't pull many blackheads, but did a great job of giving me some nice mini nose hickeys. Hard to explain for a 45-year-old man. Luckily, it was close enough to St. Patrick's Day that I explained it was a case of gin hives from too many green ales. Great for playing pranks on sleeping relatives or passed out friends.

CONCLUSION: It really sucked, AND it is a "poor" cleaning device.

Bottom Line: No, I would not recommend this to a friend

---