AngelLift Reviews
This company has claimed this profile, is getting alerted on any new customer reviews entering this page, and may engage in dialogue with its customers to address their matters.

Companies cannot pay money or provide goods in order to remove or alter customer reviews.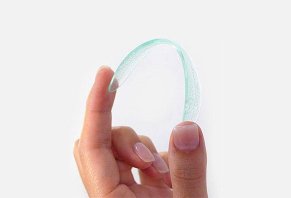 Summary
AngelLift is a set of over the counter facial lifting strips that claims to be clinically proven to reduce the signs of facial aging.
About AngelLift
If you're a big fan of Shark Tank, you may have seen AngelLift on the May 2, 2014 episode. These prosthetic strips feature a subdermal technology that adds volume to facial lines and lips lost as a result of aging, thereby effectively reducing the look of wrinkles.
But can AngelLift really help accomplish this, while making your lips look fuller? Let's fill in the gaps and find out.
How AngelLift Works
AngelLift's motto is "correction without injection," which means that unlike injections, the product claims to add volume under the skin, instead of in the skin. The company tells us that their hypoallergenic, flexible, reversible, and reusable strips replace pressure lost through the natural recession of teeth and gums, thereby reducing aging lines around the mouth, as well as lifting and reshaping your lips. In fact, the company reports that AngelLift strips are safer than surgery, last longer than injections, and are more effective than serums.
AngelLift claims that their technological breakthrough was discovered through nerve damage research, and is supported by measurable results through third-party clinical research (which we verified). The company claims that after 30 days of regular use, you'll begin to see noticeable change.
According to the AngelLift website, their DermaStrips are applied via a three-step process:
Insert one DermaStrip under your upper or lower lip, treating only one area at a time.
Keep your mouth closed and relax for 30 minutes, while refraining from talking, eating, drinking, or sleeping.
After 30 days (or achieving your desired look), reduce DermaStrip application to once per week. In addition to these devices, AngelLift provides an oil-free moisturizing serum (DermaSome) and a lip enhancing serum (DermaLips).
AngelLift Pricing & Refund Policy
AngelLift DermaStrips are available in three different versions, which are priced as follows:
Basic Version – $72, which includes:
2 surgical grade DermaStrips
1 Anodized, Mirrored Case
DermaLips (Lip enhancing serum)
Use & care instructions
Essentials Kit - $119.00, which includes:
2 surgical grade DermaStrips
1 Anodized, Mirrored Case
16 Microfibre pH Facial Towelettes
1 DermaSome (oil-free lifting serum)
1 DermaLips (lip enhancing serum)
Solution pH Kit - $89, which includes:
2 Reversible, Reusable, Removable, DermaStrips
1 Travel Tube
1 Solution pH Cleanser and Infusion Chamber
1 Microfibre pH Towelettes (16) for use with Solution pH
AngelLift offers a 30-day, no questions asked refund policy and a lifetime warranty against injections, if used as recommended. Customer support can be reached at 1-800-793-9322 or support@angellift.com.
What Do Other Consumers Have to Say About AngelLift?
AngelLift is listed with the Better Business Bureau and holds an A+ rating.
Based on a press release we encountered during our research, it appears that AngelLift has been available to medical professionals since 2004, although only available to the public over the past couple years. Here on HighYa, as well as on popular marketplaces like Amazon, online customer reviews appear to be fairly strong, with an average of about four stars.
In general, most customers report being pleased with ease of use, effective results (increased lip fullness, reduced fine lines and wrinkles, etc.), and helpful support. Frequent complaints (what few there were, and the majority of which were posted a year or more ago) cited less-than-expected results and difficulty keeping in place.
What's the Bottom Line About AngelLift?
With all this in mind, can AngelLift really reduce the appearance of wrinkles, while also making your lips look fuller? While everyone's body is different, the evidence appears favorable. Here's why:
First, AngelLift's potential benefits were discovered through nerve damage research, since the device is owned by an Italian company that produces removable facial nerve and trauma implants.
Next, the company emphasizes that DermaStrips have been clinically tested and proven by third party laboratories on more than one occasion (again, we received copies of these studies from the company, and can confirm their results). Their product has also been tested and approved on live television through Rachael Ray's 'Human Labs' segment.
During their appearance on Shark Tank, although all Sharks had questions about why AngelLift stopped selling on Amazon, Lori Grenier decided to invest in the company. After the episode aired, it was revealed that AngelLift had struck a deal with Amazon to allow customers to use their accounts directly on AngelLift's website, so that AngelLift could better control their shipping and customer service.
After Shark Tank, AngelLift appeared on other popular TV programs like the Ellen show, Extra, The Doctors, Kris Jenner, Rachael Ray, and several news channels.
Bottom line: AngelLift comes from a company with a strong scientific background, as well as a competitive price (especially compared to in-office procedures). The device has also garnered a four-star average online rating from customers, and comes with a 60-day money back guarantee, which should be more than enough time to decide if it's right for you.
Customer Reviews
Posted on Apr 13, 2016
Not worth it
Don't waste your money. The strips aren't meant for people with dentures EVEN AFTER I asked them if they could be used and they stated yes. They didn't stay in and kept slipping out of my mouth. The lip tube didn't have anything in it and the towels were just a waste. The return policy sucked too. You can only send back what you haven't used apparently, How do you find out if you like a product if you don't use it? It's been a waste of $100 that could have been used on something useful.
Bottom Line: No, I would not recommend this to a friend
Posted on Apr 27, 2016
Be Very, Very Careful
I decided to try this after seeing it on Shark Tank, since one of the members decided to invest in it. The product is very hard to keep in place on my upper & lower gums. They kept slipping down to my teeth. I contacted them & they said to use both strips, one on top of the other, to push out my lips further. The lip moisturizer & facial moisturizer didn't last out the first 30 days. After the 30 days I called to cancel & they said I was allowed to use it for 60 days & still get a refund.
At 60 days I emailed them again that I wanted to know where to send everything back & was given another 30 days. I declined. The biggest rip off on returning the items is that you can't send them through the mail as they are considered chemicals even if they are all used up. The price to return by mail if you want to take the chance on the mail station throwing them out, is $9. You can return them by FedEx without any problems, but it would be $16.The post office told me to have AngelLift send me a prepaid return label either from them or Shark Tank, because they have a label that will allow them to send cosmetics through the mail. AngelLift refused. So now I will be sending it by FedEx. You ask why I told the post office what it was? No choice as they go by the mailing address & I guess they know what type of products are produced at the AngelLift company.
Bottom Line: No, I would not recommend this to a friend
Posted on May 1, 2016
It's a joke
First, I only got one strip but I see there's suppose to be two. I have been using it for a month day and night and I see no change. More money thrown in the garbage.
Bottom Line: No, I would not recommend this to a friend
Posted on Apr 17, 2018
Scam!
This is a complete rip-off. Not only do they not work, they are ridiculously overpriced, and then the company only gives you 30 days for money back, but tells you to give it longer than that to see results. Now when I try to comment on their posts, I'm blocked from doing so!
Save your money!
Bottom Line: No, I would not recommend this to a friend
Company Response from AngelLift
Nov 30, 2018
This person is not a real customer.
Posted on Jun 2, 2018
Stay away!
I ordered the AngelLift product only to realize there was an ingredient missing. There's supposed to be "wax" included so you can customize the plastic piece you put in your mouth. Their excuse was instead of sending me the "Starter Kit" they upgraded me to the "Professional" version, so the "wax" isn't necessary any longer. How nice of them, eh? However, the black, sealed package the mouthpiece came in clearly states the "wax" is included, and after 5 days, you should build up the piece. To begin with, the piece is very thin, so I can see why the wax would be beneficial...or you'll just keep the thin strip in your mouth, which I don't believe will do anything.
Once I realized I was lied to, I lost all confidence in this company and their product. I returned the product and was charged for the original shipping costs for a product that was incomplete. I don't do well dealing with unethical companies.
By the way, when you return the product make sure you keep all your records. It was going on 25 days since they received my return and no refund of my money. I emailed them and they immediately, on the same day, processed my refund. I wonder how long it would have taken them to process on their own or if they wait for the customer to contact them before they decide to issue the refund. Just so you are aware.
Bottom Line: No, I would not recommend this to a friend
Company Response from AngelLift
Nov 30, 2018
The customer was clearly upgraded to the most current and effective product, yet insisted on receiving the older, less effective technology, which is no longer produced. We refunded her money without issue. We are sad she is unhappy but took every step possible to help her.
Posted on Nov 7, 2018
Bad experience, arrived damaged
I purchased the starter kit. It arrived in a timely manner, quicker than expected.
My issue is the flimsy lightweight box which it was shipped in, was not what a secure package is shipped in ever!
The package arrived, box opened, busted open along one side and crushed. Half the contents were missing and what was in the box had greasy fingerprints on it! Gross and unsanitary. Certainly not suitable for use.
Upon contacting Customer Service three times, with photos, I never have received any response from the AngelLift company. I am out over $79.00 and disgusted. Truly glad I did not order the kit for $119.00 like I originally intended.
Based on my experience, I would not recommend.
Bottom Line: No, I would not recommend this to a friend
Company Response from AngelLift
Nov 8, 2018
The very day this customer alerted us of the damaged product, we shipped her a brand new one with apologies. She clearly does not read any of her emails or she would know we responded three times and shipped new product. It is sad that this lack of communication has lead her to believe we ignored her.
Posted on Mar 22, 2019
Takes your money but doesn't deliver
I ordered these strips and paid with my credit card, but no product was delivered. When I called to check the status of my order, I was told they would send it out right away. When I didn't get any delivery info I called and emailed and Facebook messaged the company and they just continue to ignore me. I am now trying to get my money back from Amazon Pay. Don't buy from this dishonest company!
Bottom Line: No, I would not recommend this to a friend
Posted on Mar 29, 2019
Disappointed
I have been using these strips FAITHFULLY every day for 30 minutes, first the upper and then the lower. It's been about six weeks and I can say I've seen absolutely no change in the appearance of the lines above my upper lip or anywhere around my mouth. I keep using them hoping that one day I'll see some kind of improvement. I'm not going to reorder and won't recommend them.
Bottom Line: No, I would not recommend this to a friend
Posted on Apr 4, 2019
Waiting 47 days and have not received
I ordered on February 15, 2019 and was charged on my credit card. Today is April 2, 2019 and I have not received. They keep telling me it's on its way. I will be notifying BBB soon if not resolved immediately.
Bottom Line: No, I would not recommend this to a friend
Posted on Feb 4, 2020
No improvement AT ALL
I've been using these faithfully every day for 30 days and haven't noticed a difference AT ALL. I took a before pic four weeks ago and today I took an after pic and I honestly feel as though my marionette lines are deeper. I'll keep using them for another two weeks hoping for results but so far I'm more disappointed than anything.
Bottom Line: No, I would not recommend this to a friend
Posted on Apr 14, 2016
Cheap and difficult to keep in place
I have only used the strips for a week. The package arrived within 2 days of ordering. I watched the video and read the material. It came in a cheap case and the strips looked like thin gel shoe insert material. I have used them as directed for one week. Wearing the appliance I can feel the lift of my top lip. The effect last for about 5 minutes after wearing. I can not keep the appliance above the gum line. It continuously slips to cover my teeth. Cheap and bad design.
I should take my old retainers and cut a piece of plastic or gel foot insert apply the lifter using non toxic glue to the retainer. Better yet, a sports month guard that costs 10.00 and doesn't need to be replaced.
Even if this works (it takes 30 days to see results ), it is annoying to keep pushing the strips up and off my teeth. It's cheaply made, floppy and they want you to order new ones every 60 days. That will not be happening.
Bottom Line: No, I would not recommend this to a friend
Our Promise to You
In order to safeguard you and ensure helpfulness and relevance, our compliance team manually assess every customer review before it goes live.
We have a zero-tolerance policy for fake reviews, and companies cannot control or alter any reviews at any time.