Anson Belt & Buckle Reviews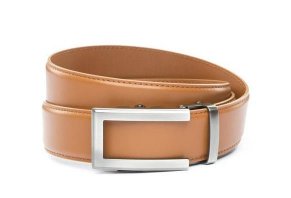 Summary
Anson manufactures a line of interchangeable no-hole ratchet belt straps and buckles in a variety of materials, which they claim don't just look good, but also offer greater comfort.
About Anson Belt & Buckle
Founded by father-son team Frank and David Ferree, Anson Belt & Buckle manufactures high-quality micro-adjustable belts whose straps and buckles can be mixed and matched to your preferences.
Each belt they offer comes with a one-size-fits-most design, along with a lifetime guarantee that ensures continuous product functionality.
But, with several other third-party micro-adjustable belts available, is there necessarily anything unique about Anson's offerings? Is it really a better belt, as advertised on their website?
We had the opportunity to test one of the company's belt and buckle combinations for firsthand insight. Combined with feedback from other customers along with an in-depth look at the competition, we'll quickly help you make a more empowered buying decision.
How Do Anson Belts Work?
When looked at while wrapped around your waist, other than the lack of holes, there isn't anything about Anson's appearance that would immediately make someone think it's not a standard belt. But, in our opinion (more soon), this lack of holes provides a much cleaner, polished look.
Instead of five holes spaced 1" apart, each Anson strap uses a built-in plastic track system that features more than 30 tiny, lopsided 'pyramids,' which are spaced ¼" apart. As these pyramids move through the buckle, a magnetic mechanism catches each one and locks it into place, thereby providing more adjustability than you'll likely ever need.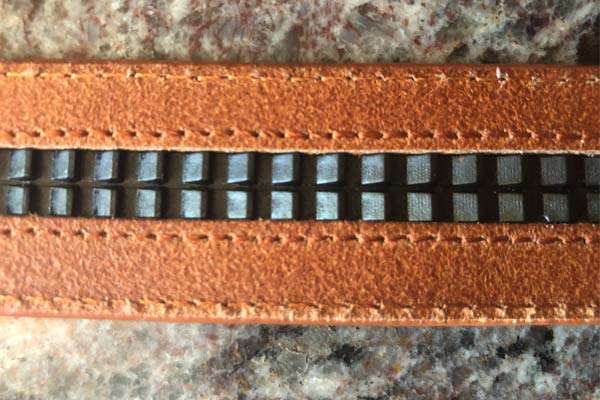 An up-close picture of Anson's ratchet strap, which looks like rows of lopsided pyramids.
Specifically, the website advertises that this adjustability allows their belts to accommodate waist sizes between 16" and 50".
To release the mechanism, you'll just use your left finger to pull the inconspicuous lever underneath the buckle, apply a small amount of pressure toward the buckle, and then pull back on the strap.
Sizing, Mixing, and Matching Your Belt
The Anson website explains that when you receive your belt, it will come in an extra-long length of 55". To correctly size to your needs, you'll start by attaching the buckle to the raw end of the strap, inserting the strap around your waist through your belt loops, and tightening to the optimal fit.
Then, you'll use a ruler to measure how much material you'll need to trim from the raw end of the strap (this is entirely based on preference, although Anson recommends maintaining 1.5" - 2" of material past the buckle).
You'll remove the buckle and use a regular pair of scissors to trim off any excess material. If in doubt, trim off less than you think you'll need, since you can also trim more, if necessary.
Finally, you'll re-attach the buckle to the raw end you just cut, and you're all set. Tip: If you choose a canvas, cloth, or nylon strap, Anson advises that you can help prevent the raw end from fraying by using a regular lighter to singe it. Then, by pressing down on the end with the lighter, you'll achieve a nice, firm seal.
Anson's design allows customers to mix and match buckles and straps within the same width. It's as easy as pulling the clamping mechanism on the buckle backward, removing the strap, inserting a new strap, and re-clamping the mechanism's teeth.
Cost & Buying Options
Anson's buckles are offered in 1.25" and 1.5" widths, in Classic, Traditional, Golf, and Onyx styles, and are priced at $24.99 individually.
Straps are available in the same widths, along with leather (casual and formal), canvas, cloth, nylon, faux croc, microfiber, and suede materials. Again, all are priced at $24.99 individually.
Anson also offers the ability to design complete belts for $49.99, as well as box sets (three straps and two buckles, or vice versa) for $99.99.
All direct orders come with free shipping within the US, although the company ships to most countries around the world.
Anson Belt & Buckle offers a 100% satisfaction guarantee and a lifetime warranty on all of their products, which means "if anything ever happens to the functionality of your belt, [they'll] repair or replace it for as long as you have it."
Customer support can be reached at 843-409-4030 or support@ansonbelt.com.
We also found Anson's belts and buckles sold on Amazon (without quite as much creative flexibility as on the company's site) for the same prices. Free shipping was offered for Prime members.
My Experience With Anson Belt
I ordered a complete Anson belt with a 1.5" saddle tan vegetable tanned leather strap, and a Classic Gunmetal buckle.
It arrived within a few days inside a stylish box with well thought-out packaging, as well as explicit sizing and cutting instructions. Videos were also available online.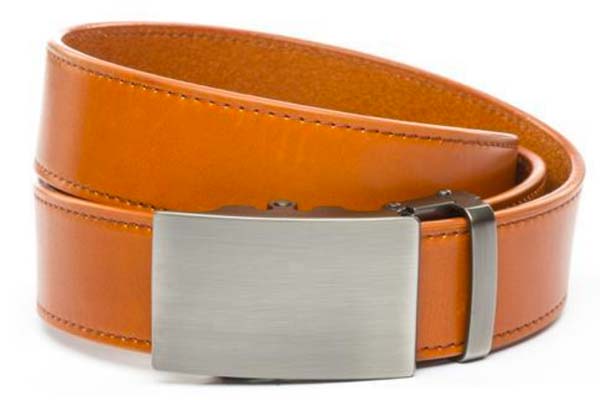 Tanned leather strap and a Classic Gunmetal buckle I had the opportunity to test. Credit: Anson Belt
After about a week of use, here are the highlights of what I've learned:
The sizing and cutting process is ultra easy. As Anson emphasizes, I'd recommend taking a less-is-more approach during this step.

The leather appears to be of high quality and seems like it will only get better as it ages, acquires natural wear and tear, and gains character.

Even with the embedded track system, the strap is flexible and nimble.

Anson's buckles exude quality, are solidly constructed and have some weight to them. Despite this, the belt as a whole feels lightweight and is easy to take on and off.

The hole-less track system is ridiculously easy to use, although it did take a couple of tries to master the buckle's release mechanism. The clamp holds solidly; there's no indication that if installed correctly, it would inadvertently come undone for any reason.
While all of these are undoubtedly great benefits, in my opinion, easily the best one is the complete adjustability provided by Anson's ratchet mechanism and the outstanding comfort it provides.
In fact, I recently had the opportunity to wear the belt while flying, which—combining the cramped quarters, additional water consumption, and pressurized cabin—is often one of the times I most often feel 'trapped' by traditional belts. With the Anson, however, I completely forgot I was even wearing one.
My bottom line: Is $50 a lot to pay for a belt? While this is a matter of perspective, it's certainly at the upper end of the spectrum. But based on my firsthand experience with Anson, the value they deliver far exceeds the price.
The comfort is unparalleled, it looks great, and based on my preliminary testing, it seems like will withstand regular wear and tear for a while.
A Look At Customers Reviews
We encountered close to 10,000 customer reviews on the Anson Belt & Buckle website, who had given the product lineup an average rating of about five stars. Common compliments referenced ease of use, improved comfort, great looks, high quality, and excellent customer support.
Among dozens more customer reviews on Amazon, Anson's belts had a slightly lower overall average rating of about 4.5 stars, with many of the same compliments.
Complaints, on the other hand, often revolved around excess wear and tear after a relatively short time, as well as personal preferences regarding the buckle's unique ratcheting and release mechanism.
Other Alternatives
Whether you call them micro-adjustable, track-based, hole-less, or ratchet belts, there are several popular options competing for many of the same customers as Anson Belt & Buckle.
Like the product in question, many offered similar track systems that utilized lopsided-pyramids, release levers under the buckles, magnetic ratcheting mechanisms, cut-to-size functionality, clasps that solidly affix the buckle to the strap, the ability to fit up to 50" waists, one-year warranties, and a variety of strap materials (leather, nylon, canvas, etc.).
Here's a quick overview of these top-ranked competitors and some of their meaningful differences:
| Brand | Pricing | Special Features |
| --- | --- | --- |
| Anson Belt & Buckle | $49.99 for complete belts | Can accommodate waist sizes as small as 16", complete mix-and-match creativity with entire lineup |
| Mission Belt | $26.99+ | Pre-made and mix-and-match options available, can accommodate waist sizes as small as a women's 22"; also offers licensed NCAA, NHL, and NBA buckles |
| SlideBelts | $18.95+; Buckle engraving +$15 | Fits up to 48" waist, unique dual-ratchet buckle with front-mounted release, Survival Belt with built-in buckle knife, flashlight, and fire starter; can choose buckle color on many models but no mix-and-match option |
| Trakline | $49.95+ for complete belts | Offers gun-specific belts, three buckle designs |
In addition to these popular options, we found dozens of generic ratchet and click belts available on Amazon for as little as $20 during our research.
Does this mean that you should go with one of these lower-priced options, or pay the higher price for Anson?
Bottom Line
Like most other clothing products, the 'right' belt for anyone is going to be based on your personal preferences and needs, and will, therefore, vary between individuals.
Based on what we learned from thousands of online customers, most seemed pleased with what they got for their money when it comes to Anson Belt & Buckle. The company provides the quality, attention to detail, and comfort their belt provides after a week of daily use. As a result, we'd strongly agree that they're worth trying.
If they don't meet your needs, Anson stands behind their products with a 100% satisfaction guarantee, so you might not have much more to lose than return shipping charges.
Customer Reviews