SlideBelts Reviews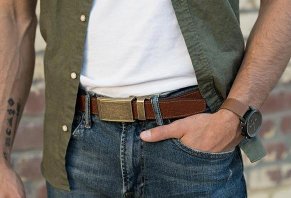 Summary
Using a ratcheting strip and mechanism built into the buckle and strap, SlideBelts claim to look cleaner and more stylish than traditional hole-based belts, while also lasting longer.
About SlideBelts
Available in a variety of men's, women's, and children's styles and colors, SlideBelts offers a complete line of ratchet (also called 'no-hole') belts that promise to provide a perfect fit every time. All you have to do is trim the strap, attach an interchangeable buckle, and you're good to go.
The website also advertises that—because it uses a ratchet strip mechanism instead of holes—their quality leather straps last longer and look cleaner and more stylish at all times. These strap slides through a buckle that uses a simple lever and patented technology, refined over five generations, to deliver easy on-off functionality.
According to the website, Brig Taylor's SlideBelts improve upon the public domain technology found in earlier ratcheting options. But despite all of the advertised benefits, the reality is that there are dozens of potential competitors currently on the market, many of which claim to deliver the same core benefits.
In this increasingly crowded market niche, is there anything that makes SlideBelts meaningfully different? From there, how can you decide which factors are most important, before handing over your hard-earned money?
We'll dive in by taking a closer look at functionality.
How Do SlideBelts Work?
Functionally, the ratcheting strip on SlideBelts' straps works much the same as those from popular competitors (more soon), which look like side-by-side rows of lopsided pyramid-like 'teeth.'
As these teeth, which are hand-sewn into the strap, move through the buckle (zinc alloy core with nickel plating), they interact with a built-in locking mechanism, similar to how a zip tie works. Together, this allows for 30+, ¼" micro-adjustments.
Instead of using a small, awkward protruding lever to release the ratcheting mechanism like much of the competition, though, SlideBelts uses a larger, whole-buckle frame mechanism that's patented and wholly unique to their lineup. On the underside, you'll also find a discreet bottle opener.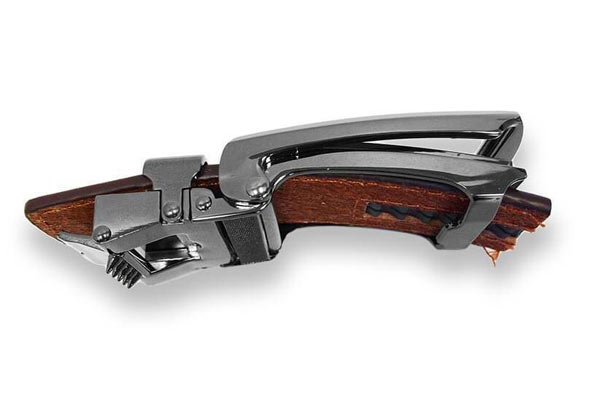 SlideBelts' buckles feature a patented buckle mechanism to lock in the ratchets hand sewn into the strap, which attaches using a small 'door' with teeth. Credit: SlideBelts Inc.
SlideBelts' buckles are interchangeable using a 'door' that locks into place on the strap with the assistance of four sharp teeth. According to the company, they don't use synthetic fillers in their straps, which can be cut to length using a regular pair of sturdy scissors in just a couple of minutes.
Pro tip: A good rule of thumb is to cut slightly less than you think you'll need, reattach the buckle, and put the belt on to double-check. If necessary, you can remove the buckle and cut off the remainder of the strap. Compared to other ratchet belts, SlideBelts also sells a potentially handy buckle removal tool.
With these high-level details in mind, let's zoom in and take a closer look at each of the options they offer.
SlideBelts Buckles and Straps Options
All SlideBelts feature the company's patented dual-ratchet whole-frame buckle, which is available in Silver, Bar-Striped, and Winged Gunmetal designs. These can be mixed-and-matched with all of their straps for hundreds of potential combinations.
SlideBelts Classic
SlideBelts' men's and women's Classic straps are 1 ¼" in width and fit up to a 48" waist. They feature the look of natural leather but are vegan, animal-friendly, and cruelty-free.
Colors and designs include Black, Mocha Brown, Distressed Black Checkered, Navy, White, Steel Grey, Orange, Green, Yellow, Wide Black, and Wide Mocha Brown.
Premium and Golf Straps
Their Premium and Golf men's and women's belts are crafted from either supple top grain leather, or from back-to-back bovine full grain leather for a soft, smooth appearance, additional durability, natural marks, and the ability to patina with age and regular use. They also fit up to a 48" waist and come in a 1 ¼" width.
Top grain leather options are available in Black, Brown, and Walnut, while full-grain is available in Onyx, Adobe, Cognac, Mahogany, Cordovan, Rustic Hickory, Rustic Cayenne, Ash, Woodland, and Bourbon.
Wide Premium belts come in 1.5" widths (men's only) and are available in Ash.
Canvas Belt Straps
Comparatively, SlideBelts' 1 ¼" canvas straps are woven from a blend of cotton and polyester, with a vegan leather backing and a faux-leather tip. Available in Brown, Black, Navy, Herringbone, Burlap, Grey, Brown & Tan, Buffalo Check, and Rasta designs.
SlideBelts Survival Belt
The most unique option in SlideBelts' lineup, their Survival model features a buckle constructed from highly durable glass-filled nylon, with a zinc frame and face, along with a matte black finish.
Folded inside is an AUS-8 stainless steel blade with a durable titanium nitride coating, which includes a safety mechanism that keeps it in place when not in use. You'll also find a built-in bottle opener, a small LED flashlight, and a ferrocerium fire starter rod.
The leather-free strap uses a proprietary combination of "an internal webbing core coated in a durable TPU alloy protective shield," which the manufacturer advertises:
Is impermeable to water and most staining liquids, and can be cleaned of dirt, mud, and even blood with a damp cloth
Will remain flexible in freezing temperatures
Won't crack due to UV exposure
Can withstand physical trauma without cracking or tearing
Delivers almost 1,500 PSI of tensile strength
Is heat-resistant up to 214°F before softening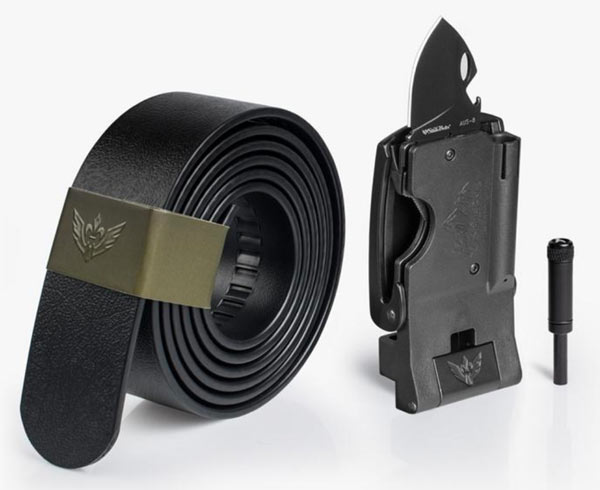 Targeted toward adventure enthusiasts, SlideBelts' unique Survival Belt 2.0 features a blade-wielding buckle with a built-in micro flashlight and firestarter, as well as an ultra-tough strap that still complies with US FDA skin-sensitivity requirements. Credit: SlideBelts Inc.
Skinny Belts
SlideBelts' Classic Skinny belts for women feature a 7/8" strap, can fit up to a 44" waist, and come in Black, Mocha, White, Fog, Beige, Blush, Navy, Merlot, Hazelnut, Sage, Mauve, Rose, Aqua, Azure, Sunrise, Peach, Mint, and Lemon colors.
SlideBelts Kids Belts
These 1-1/4" straps fit up to a 35" waist and come in Black, Mocha Brown, White Leather, Blue Leather, Orange Leather, Red Leather, Yellow Leather, and Green Leather options.
SlideBelts Cost, Return Policy, and Where to Buy
If purchased directly from SlideBelts, their belts and other products are priced as follows:
Classic: $21.95 - $45 (+$15 for engraved buckle)
Premium: $60 - $98
Canvas: $21.95 - $36
Vegan: $24.95 - $45
Survival Belt (not available to UK residents): $150 (Strap: $65; Replacement Flashlight and Fire Starter: $10)
Skinny Women's Belts: $18.95 - $38
Kids: $18.95
Wallets: $50
Wooden Ratchet Belt Hanger: $8
Buckle Removal Tool: $3
Leather Milk: $16.95
Standard shipping is $5.95, while USPS Priority Express shipping is available Monday through Friday (excluding holidays) for $20.66 per order.
All orders come with a 45-day refund policy, less S&H, although the website emphasizes this only applies to "unused, unaltered, and undamaged items." With that said, they also point out that they "assess returns on a case-by-case basis with guest satisfaction as our highest priority."
SlideBelts' products also come with a one-year limited warranty against defects in materials and workmanship. Support can be reached at (888) 754-3311 or support@slidebelts.com.
SlideBelts were also available on Amazon at the time of our research for about the same prices, although no buckle engraving options were present.
SlideBelts Customer Reviews
Between Amazon and the company's website, we encountered more than 15,000 combined customer reviews for SlideBelts, who had given them an average rating of about 4.5 stars.
There, common compliments revolved around quality construction, ease of use, good looks, while the relatively few complaints typically referenced style preferences and lower quality than expected.
SlideBelts vs. the Ratchet Belt Competition
Founded in 2007 by CEO Brig Taylor, SlideBelts appears to have been the first mass-marketed no-hole ratchet belt available in the US. However, several popular companies have followed in their footsteps in the years since, which offer many of the same core features like interchangeable buckles, micro-adjustable plastic teeth sewn into the strap, and a variety of styles and materials available.
Here were some of the more popular competitors at the time of our research:
This is to say nothing of the wide variety of generic no-hole, automatic ratchet belts available for less than $20 on online marketplaces like Amazon, Google Shopping, and Walmart.com. How to choose?
Like any other clothing accessory, selecting the best ratchet belt will primarily revolve around a unique combination of budgetary factors and stylistic preferences.
With this said, SlideBelts come with some of the most competitive prices, and they're the only one with a patented large, frame-size buckle release lever if these are important to you. At the other end of the spectrum, they're also the only one with a Survival model available, although it comes with an ultra-high $150 price tag.
Our Bottom Line About SlideBelts
Picking out a belt isn't exactly rocket science, although it might take some online surfing before you find a company that offers the specific materials and design combinations that suit your needs.
From this perspective, SlideBelts promises to offer access to hundreds of different strap and buckle combinations to suit a wide variety of tastes. Tens of thousands of online customers seem to have rated their competitively priced products very highly.
And if the option you choose doesn't work out, the company stands behind their belts with 45-day exchange policy (if they've been worn—otherwise, you're entitled to a full refund).
Customer Reviews