Mission Belt Reviews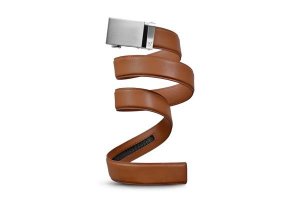 Summary
Mission Belt was one of the first mass-marketed no-hole belts in the US, claiming to offer intuitive use, high-quality materials, and great functionality.
About Mission Belt
Compared to traditional options that only have holes every inch, Mission Belt makes a line of no-hole men's, women's, and kid's versions that adjust every ¼" to deliver a more customized, comfortable fit. With a high-quality, intuitive release lever, they also advertise their belts come off as easy as they click on.
And because there aren't any holes to become damaged, cracked, or stretched out with use, the website reports you won't have to worry about them looking unsightly.
Like many other ratcheting competitors, Mission Belt allows customers to mix and match buckles and straps to create their own unique combinations. Unlike the close competition, they offer officially licensed NBA, NCAA, and NHL belts, and also donate a portion of each sale to fighting against global poverty and hunger (hence, the company's name).
Mission Belt was founded in 2012 by Nate Holzapfel, but entered most of America's consciousness after he appeared on ABC's Shark Tank in 2013. Since reaching phenomenal success, many other no-hole belt companies have entered the market, though, so is Mission still your best option?
How Do No-Hole Belts Like Mission Work?
From functionality and sizing perspectives, Mission's belts work a lot like other no-hole options (more soon).
A hinged clasp with a row of sharp teeth attaches the buckle to the raw end of the strap. At the other end of the strap is a row of plastic 'notches' sewn into the material.
On the underside of the buckle, a ratcheting mechanism uses a magnet to lock into place as these notches, which are spaced in ¼" increments, slide past.
The arm mechanism on the bottom side of the buckle releases the mechanism from the magnet in order to loosen or remove the belt.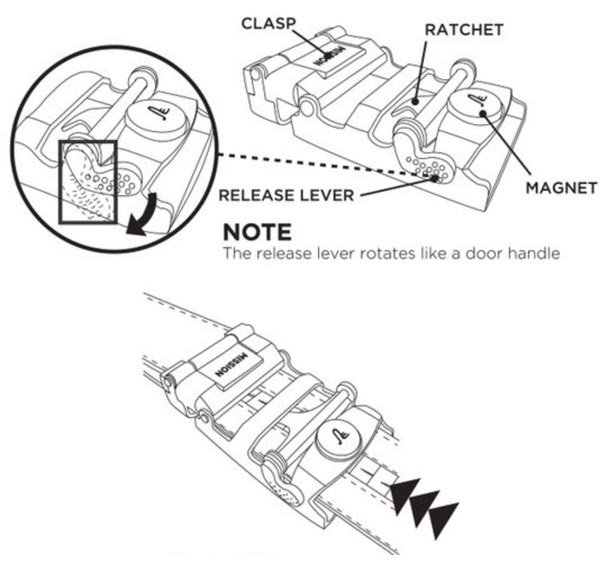 In these diagrams, we can see the magnet, clasp, and ratchet mechanism on the underside of Mission's buckles (left), which click through the embedded strip on the underside of the strap (right). Credit: Mission Belt
Compared to some competitors, many of Mission's belt straps are available in different sizes. However, if necessary, you can further size yours by wrapping it around your waist, measuring, and cutting the raw end that was connected to the buckle using a sturdy pair of scissors (always cut off less than you think you'll need). Then, you'll reinsert the strap into the buckle and close the clasp in its new location.
Based on this design, Mission Belt's buckles and straps are interchangeable, as long as they're both the same width (35mm or 40mm).
Which Models Does Mission Belt Offer?
Men's Mission Belts
Mission's Leather Classic belt lineup for men is the only one with a 1.25" strap and a 35mm buckle. Also, only genuine leather is used.
On the other hand, their Leather Wide (genuine leather with synthetic coating), Nylon webbing, and Canvas versions come with 40mm buckles and 1.5" straps.
Mission's officially licensed NCAA, NBA, and NHL buckles are also 40mm wide and can be combined with your favorite 1.5" strap.
Men's belt straps are available in five different lengths: Small (up to 32"), Medium (up to 35"), Large (up to 38"), XL (up to 42'), and Custom (up to 56").
Women's Mission Belts
At the time of our research, Mission only offered five women's belts, each of which included a 30mm buckle and 1" genuine leather strap with synthetic coating.
Women's Mission belts are available in five different lengths: XS (up to 25"), Small (up to 29"), Medium (Up to 33"), Large (up to 36"), and XL (up to 56").
Kid's Mission Belts
Mission's seven different complete kid's belts are made from 1.25" genuine leather with a synthetic coating, along with a metallic 35mm buckle coated with an acrylic finish.
Kid's belts are available in two different lengths: S/M 5 - 7 (24" - 26"), and L/XL 8 - 10 (27" - 28").
How Much Do Mission Belts Cost and Where Can You Buy?
If purchased directly from the company, Mission's belts are priced as follows:
Complete men's and women's belts: $34.95+
Men's and women's straps: $20+
Mission men's buckles: $20 - $22.50 each
Mission women's buckles: $22
Complete NBA licensed belts: $49.95
NCAA, NHL, and NBA buckles: $29.95 each
Kid's complete belts (no mix and match available): $26.99
Mission also offers accessories like hats, t-shirts, gift sets, and belt hangers for between $1 and $22. And as mentioned at the beginning, the company tells us that $1 from each sale "goes toward helping people in their fight against hunger and poverty."
All Mission belts and other products come with a 100% satisfaction guarantee against damage or defect, which you can request by calling (949) 891-BELT (2358), sending an email to support@missionbelt.com, or filling out the contact form on their website.
We also found Mission's belts sold on sites like Amazon, Nordstrom, and several other independent third-party retailers for about the same prices found on the company's website.
A Look at Mission Belt Customer Reviews?
Mission's belts had garnered thousands of customer reviews on their website at the time of our research, who had cumulatively given them an average rating of about five stars.
Compliments commonly related to adjustability, ease of use, high quality, good looks, and great customer support. After scrolling through pages of results, we didn't encounter any complaints.
We encountered thousands more combined reviews on Amazon, where Mission's belts had garnered an average overall rating of about 4.5 stars.
Compliments mostly mirrored those found on the company's website, while (again) the relatively few complaints commonly cited lower quality than expected and stylistic preferences.
Mission Belt vs. Other No-Hole and Ratcheting Belts
Looking for a no-hole or ratcheting belt? If so, the good news is that you have several popular options from which to choose.
These include options like Smart Belt 2.0 ($55), as well as other mix-and-match options like SlideBelt ($36 - $100), Anson ($50), and Railtek ($30). If you're not interested in mixing and matching, Mia Marion's click belts are priced between $25 and $35.
In addition to allowing you to choose your own strap and buckle combinations, most of these belts boast the same core functionality, including magnet-based locking mechanisms located inside the buckle, plastic 'teeth' sewn into the strap's material offering between 30 and 40 ¼" micro-adjustments, and the ability to customize size by quickly measuring and cutting the strap.
With these details in mind, you'll find that the largest differences seem to be the different styles available, as well as the price you pay for them. For example, Smart Belt is the most expensive competitor listed here, but they're also the only one offering Kevlar reinforcement.
On the other hand, Comfort Click offers a meaningfully lower price but doesn't offer any mix-and-match capabilities like many of their competitors.
When it comes to Mission Belts, the company is unique in that they offer different strap length, depending on your waist size, whereas some other companies (like Anson) only offer one length that must be cut to size. Comparatively, Mission also offers relatively few women's and kid's selections and doesn't offer a vegan leather option for men.
Finally, SlideBelts is the only company currently offering a whole-buckle release mechanism, whereas most competitors feature levers on the buckle's underside that are relatively similar.
Our Bottom Line
If Mission's belts meet your stylistic preferences, they were one of the first no-hole models on the scene, and they're the only ones currently offering officially licensed NCAA, NBA, and NHL buckles. They also come with competitive (although slightly high) pricing with mostly positive consumer feedback online.
Customer Reviews
Posted on Jul 28, 2022
Rivets that hold the belt buckle together fell out.
I contacted the Mission Belt company about my belt buckle. There are two rivets that hold the unit together and they had come out and I had lost them. All I wanted was a replacement of the rivets or a belt replacement. I was informed that they only have a one-year warranty and they cannot do anything for me except give me a 20% discount on a future order. I would not recommend this company to buy a belt from. With the quality of the rivets coming out and replaced on was unacceptable I will never buy a belt like this again.
Length of Use: 1–2 years
Bottom Line: No, I would not recommend this to a friend
Pros and Cons
Looks nice
Appeared to be functional
Their lack of taking care of my problem
There was no replacement parts available
The company is sticking by their one year warranty
There is a engineering problem with belt buckle
Posted on May 18, 2019
OK, but don't expect it to last long.
I just finished sticking my hand down a toilet to retrieve the buckle that completely popped off my pants and into the bowl. Appears that the little screws popped off. I found the one screw in the toilet bowl as well. The other is nowhere to be found. This came without any warning.
I love the functionality of a loop-less belt and have enjoyed Mission's product for the most part but as a long-time customer, I've become very frustrated with the lack of durability with the Mission Belt. Their warranty covers only one year but problems will crop up after that.
I just received a strap I was forced to order because one of my two belts kept breaking. Now this with another color belt! Very frustrating and annoying - especially when it happens in public. I've about had it with having to cut the end of the belt strap because of that issue. I can't deal with the buckles also having an issue.
Bottom Line: No, I would not recommend this to a friend
Posted on Mar 22, 2019
Disastrous product
Purchased at Costco.
Buckle mechanism locked while out at an expensive dinner. Couldn't release the buckle. Paid the expensive bill for the unserved, uneaten meal. Fled home. Pissed myself while trying to cut the unreleasable belt away. Injured myself while cutting the unreleasable belt away.
Do not buy this product! Run quickly in the opposite direction!
Bottom Line: No, I would not recommend this to a friend
Posted on Dec 8, 2018
Nice belts, not so good customer service
I gave these a try during a Cyber Monday sale. The product itself is nice - I do wish I would have ordered the Italian leather ones since the regulars feel more synthetic than the real thing. I did like their nylon belt quite a bit, and the mechanism seems sturdy and very easy to use. I also like the fact that part of the proceeds helps fight poverty through a microcredit program.
Now, they claim they have a 100% satisfaction guarantee. I found one of the belts a little too light in color for my taste and Mission Belt does not offer free exchanges; I would have to pay for shipping both ways! Now I'm stuck with a belt I don't like...how's that for satisfied...
Give them a try but don't get from Mission Belt, get from a merchant that does care about their customers like Amazon or Nordstrom...
Bottom Line: Yes, I would recommend this to a friend
Our Promise to You
In order to safeguard you and ensure helpfulness and relevance, our compliance team manually assess every customer review before it goes live.
We have a zero-tolerance policy for fake reviews, and companies cannot control or alter any reviews at any time.