Artificial Christmas Tree Buying Guide: 7 Important Things to Consider
Our guide breaks down the factors involved in deciding to buy an artificial Christmas tree, including the pros and cons of real vs. artificial, how to budget for a tree, when to buy, how to measure, and how to decide on a tree species, size, style, and lighting.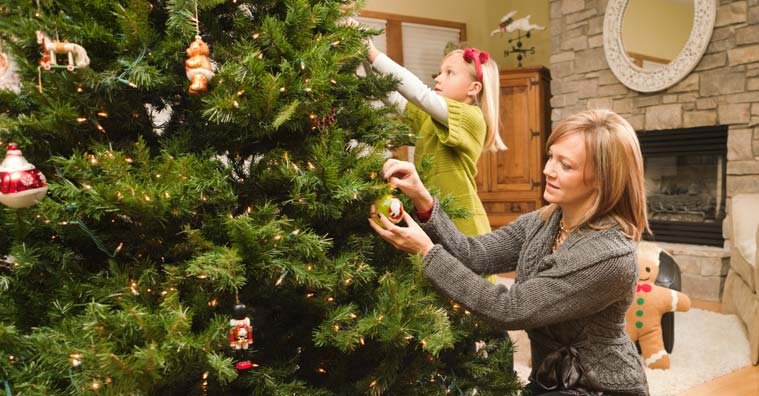 Compared to an old school fake Christmas tree, with its thin, unrealistic branches and cheap flocking that came off if you so much as looked in its direction, modern artificial Christmas trees have come a long way—not just related to realness, but from a quality perspective as well.
With a lifespan of a decade or more, it's important to look at an artificial tree as a long-term investment.
With this in mind, in this artificial Christmas tree buying guide, we'll outline 7 important things that can help you fully understand key details like potential pros and cons, what to look for when buying one, whether or not you should consider pre-lit options, the best time to purchase, and popular artificial Christmas tree retailers.
1. Real vs. Artificial Christmas Trees: Which Is Better for the Environment?
One of the most noticeable benefits of a real Christmas tree is the wonderful scent. It can keep your whole house in a state of perpetual cheer all throughout the holiday season, so not experiencing it might make you feel less Christmas-y.
Additionally, from an environmental perspective, a single acre of live Christmas trees can absorb as much as one ton of carbon dioxide emissions, while the soil itself can absorb as much as 10 times this amount.
Furthermore, according to the USDA, the Christmas tree industry employs more than 100,000 Americans.
But this doesn't mean that all areas of the country have the same access to Christmas trees. In fact, depending on where you live, your tree may have been trucked in from somewhere hundreds of miles away, which you might imagine has a greater negative impact on the environment.
Speaking of the environment, most major metropolitan areas feature free tree recycling (known as "treecycling") programs that reuse them in landscaping and gardening products. In fact, almost 93 percent of real Christmas trees are recycled annually.
But which is more important from an environmental perspective—choosing between a fake or real tree, or how you dispose of it?
As we mentioned above, probably the biggest drawback to an artificial tree is that you'll be losing the traditional pine scent, which can make the season feel less like the holidays.
On the flip side, many people choose to purchase an artificial tree to reduce their yearly expenses.
In 2018 the average cost of a real Christmas tree was $78 and the average cost of an artificial tree was $104.
The NCTA's Jami Warner told us the average artificial tree lasts 10 years. So, over the course of a decade, an artificial tree is the smarter financial choice. You'll pay an average of $104 for one fake tree over that time, whereas the average cost of 10 years' worth of real trees would be $780.
What About Fake Christmas Tree Maintenance?
Artificial trees are often easier to set up and maintain than their real counterparts, as they can be put in place in a matter of minutes, don't require watering, and have little-to-no clean up involved after removal.
This also means that if you're someone who prefers to leave their tree up well after the New Year, you'll be able to keep yours in place without worrying about the added fire danger caused by dry-out.
Do Artificial Christmas Trees Cause Fewer Allergic Reactions?
Generally, you won't have to worry about allergies with artificial trees, since the American Christmas Tree Association (ACTA) reports, "by late November and early December, when such trees are harvested, pollen production has long since ceased."
As a result, "most people with pollen allergies will not be bothered by real trees, except for those who are sensitive enough to be bothered by trace amounts."
Keep in mind that artificial trees can accumulate dust and other particulate matter like mold and fungi, so these could impact allergy sufferers who are especially sensitive.
To avoid these allergens, you can spray down your artificial tree with a garden hose and allow it to dry for at least 24 hours before bringing inside.
What's the Environmental Impact of an Artificial Christmas Tree?
Outside of cost and allergy-triggering, one of the biggest concerns about artificial Christmas trees centers on its environmental impact. But according to Sightline, "Manufacturing accounts for nearly 70 percent of total greenhouse gas pollution released during a fake tree's lifetime."
This is because the branches and leaves of artificial trees are made from metal and PVC (polyvinyl chloride) or PE (polyethylene), both of which are petroleum-derived products. Neither of these materials is recyclable or biodegradable.
According to a 2010 report conducted by PE Americas on behalf of the ACTA, though, depending on the ultimate destination (i.e., landfill, compost, or incineration), keeping an artificial tree between three and four years matches the carbon footprint of purchasing a real tree every year.
The ACTA went on to emphasize "the study [also] found that with both real and artificial trees, no matter how they were ultimately disposed of, Christmas trees accounted for less than 0.1% of the average person's annual carbon footprint."
"This means that the environmental impact is negligible, and can easily be offset by other lifestyle changes, such as driving less, recycling more regularly, purchasing items that use less packaging, etc.," they summarized.
Finally, 80 percent of artificial Christmas trees are imported from China, an important environmental factor that isn't quite as bad as you think, according to PE International's Laura Morrison.
In a 2012 National Public Radio article, she said that the process of bringing trees from China to the U.S. is actually pretty efficient.
"Consumers should be more concerned about how far they drive personally to purchase their tree. Even if the tree has been shipped in from another state, it's the personal drive home that significantly increases the carbon output. At the end of the day, truck transport is still much more efficient than driving your car," she said.
Now that you've got a better handle on the pros and cons of artificial Christmas trees, let's put this information to use and help you decide which one is right for you.
2. How Can You Budget for an Artificial Tree?
Like you would with any other big purchase, setting your budget before browsing different fake tree options can go a long way. After all, even though we learned above that the average cost of an artificial Christmas tree is $100, you can easily double or triple that number if you aren't careful.
Also, a large, often overlooked, expense when shopping for an artificial tree is decorations, so be sure to factor this into your budget as well. This is especially the case if you choose to purchase an unlighted model.
As we'll see shortly, though, it's important to keep your expectations in line with your budget. In other words, if you're expecting to get an uber-realistic looking tree but only have $150 to spend, you could end up disappointed.
3. When Is the Best Time to Buy an Artificial Christmas Tree?
Once you have a budget in mind, you'll want to ensure your money goes as far as possible by purchasing at exactly the right time. Too early and you might pay more than you need while waiting too long can severely limit your options.
To this extent, USA Today's Matt Granite recommends buying an artificial tree during the first two weeks of December, which he calls the ideal "sweet spot."
However, the best time to buy an artificial tree could also include Black Friday, Cyber Monday, the week immediately following Christmas, and—in some instances—even in the middle of July.
The bottom line is that there's no universally "best" time to purchase an artificial Christmas tree, so if you're in the market, be sure to check among retailers frequently until you find the right option that's within your budget.
4. What's the Best Way to Measure for a Fake Tree?
Next, figure out where your artificial tree will be located (e.g., in the middle of the room, in a corner, etc.). Based on this, you'll need to take measurements and determine how much floor space and ceiling height you'll require. For the most part, experts recommend leaving at least six inches for your tree topper.
Most trees you buy will display their height and width on the box or the online listing, so use this as a reference point as you measure out the area in which you want to put your tree.
During setup, make sure your tree is near outlets, and that you have plenty of room to maneuver around it while decorating and for gifts.
Just be sure not to place your tree close too close to electrical outlets, heat sources, or other potential fire hazards (also, be sure to verify that the manufacturer applied fire retardant to your tree). When in doubt? Use an extension cord.
Pro tip: When shopping for your fake tree, check its actual diameter before purchasing. Don't rely only on the tree's shape, such as "full," "narrow/pencil," or "slim."
5. What Style Should You Look for When Buying an Artificial Christmas Tree?
The next personal consideration (and perhaps one of the most important) is style. This includes:
What species are you looking for? Fir, spruce, baby redwood, or something else? There are even subcategories from there, such as balsam fir, white spruce, Fraser fir, etc.
According to the NCTA's Warner, Frasier firs are the perennial favorite among Americans.
"Fraser fir is the number-one Christmas tree sold in the U.S.," she said.
Species aside, do you want your tree flocked or dusted to give the appearance of snow? Would you like accents, such as berries or pinecones?
Furthermore, how realistic-looking would you like your artificial tree to look? Those made with PVC (polyvinyl chloride) tend to be the least expensive, but also the least realistic.
On the other hand, if you're in the market for realism, you'll want to focus on trees made from PE (polyethylene), which uses an injection mold process for the most realistic results—but also frequently come with higher prices.
Another important point to consider is the branch fullness. The fuller your tree is, the better it will look, but the more it will cost.
To make sure you get what you want when buying online, look for a close up picture of the tree and double-check the fullness of the branch tips. For example, if you're looking for a fuller option but can clearly see the center pole, it might not meet your preferences.
Want even more considerations? Some manufacturers use attached branches that are locked in place, while others feature hook-in or hinged branches that allow you to customize their placement. Either way, just be sure the branches are sturdy enough to hold your specific decorations.
Finally, you might want to avoid plastic or flimsy metal stands. These are often permanently attached to the tree, so if it becomes damaged, your long-term investment might fly right out the window.
6. Which Artificial Tree Manufacturer Is Best?
Even though 80 percent of artificial Christmas trees are made in China, there can be a huge difference in quality between manufacturers.
So, if you're thinking about a specific tree brand, be sure to find out as much as you can about the company before handing over your hard-earned money.
Based on our extensive experience, The Better Business Bureau can be one of the best places to learn about a company's online customer reputation, although since most of these companies are headquartered overseas, they might not always be listed.
If this is what you encounter, try searching online for "[Company Name] + reviews," or more specifically, "[Company Name] + Christmas tree reviews." Bad news spreads quickly, so if customers have poor experiences with specific tree brands, their complaints will soon be read by millions of consumers.
Lastly, the length of your warranty can vary widely between manufacturers. Usually, the length of the warranty correlates with the quality of the product.
For example, Balsam Hill is widely considered one of the best artificial tree manufacturers. They have a 3-year limited warranty. Best Choice, a budget brand, has a 60-day warranty.
» See Also: Best Artificial Christmas Trees: Top Picks for Every Budget & Style
7. Should You Purchase a Pre-Lit Christmas Tree or an Unlit Model?
Outside of the factors above, perhaps one of the biggest dilemmas facing artificial Christmas tree customers is whether to purchase an unlit model or pre-lit. In the following section, we'll briefly discuss some important considerations to keep in mind during the decision-making process.
What to Look for When Buying Pre-Lit Christmas Trees
While an unlit Christmas tree might allow for greater decorating versatility, keep in mind that you'll also need to factor in additional money for separate light strands.
Like unlit artificial trees, pre-lit Christmas trees come in just about every imaginable style to fit your needs and personal preferences. This can include clear, multi-colored, or combination illumination—some even use fiber optics.
But the reality is that models with lights spaced 8-10 inches apart not only provide a more balanced look, but this measurement can also be indicative of higher quality.
So, what is a "balanced" look? To determine how well a tree is lit, stand about 10 feet away and squint your eyes, so the lights go out of focus, which will make any dark areas on the tree stand out. From this, you can determine whether or not it meets your light density preferences.
Another suggestion from artificial tree manufacturer Balsam Hill is to look for at least 100 lights per foot of the tree. So, if you have a 7.5-foot tree, you'll ideally be looking at around 750 lights.
With these fundamentals in mind, let's quickly take a look at some of the key pros and cons regarding pre-lit Christmas trees.
The Benefits of a Pre-Lit Christmas Tree
Less work and more convenience. Since stringing lights is arguably the most labor-intensive part of the decorating process, pre-lit trees often involve less work to get your home ready for the holiday season, while also reducing time and effort when removing the lights after Christmas. And let's face it: The Holidays are already busy enough, so not having to string your tree lights removes one more thing off your lengthy to-do list.

Improved efficiency and safety. With the advent of cooler, more energy-efficient LED (versus incandescent) lighting, along with the fact that artificial trees don't dry out or present a subsequent fire hazard, pre-lit Christmas trees can offer a nice balance between convenience, safety, and energy efficiency.
Pro tip: Make sure that your tree is UL approved/listed, which references its safety. If you don't see this designation, you'll want to explore other options before making a final decision.
Potential Drawbacks of Pre-Lit Christmas Trees:
Higher price. Among artificial trees, pre-lit options will almost always be some of the highest-priced. For example, an unlit 6.5' Balsam Hill Balsam Fir is $429.99 while the pre-lit option is $499.99.

The problem of burned-out bulbs. Not all pre-lit bulbs are created equal. In less expensive models, if one bulb breaks, it could short out all the remaining lights, leaving you with a dull-looking tree. To avoid this, look on the label for phrases such as 'continuous on' or that it features 'burn-out protection.'

Lack of decorating versatility. With most pre-lit trees, you're stuck with the lighting scheme until replacing your tree, which can limit your decorating options.
As you can see, whether or not you should buy a pre-lit Christmas tree largely depends on your unique situation, along with your personal preferences. If you've decided that one is right for you, though, where should you turn?
Where's the Best Place to Buy a Pre-Lit Christmas Tree?
Just as the decision to buy a pre-lit Christmas tree is based on many unique factors, so is the decision about where it should be purchased.
The good news is that just about any retailer selling artificial trees should have at least a couple pre-lit options to choose from, including national chains like Walmart, Home Depot, Lowes, Target, Hobby Lobby, and Costco.
And then there are popular online outlets like Amazon and Wayfair, as well as specific manufacturers like Balsam Hill, Bronner's, and Treetopia.
Just keep in mind that, while online options can be less expensive than in-store ones, you'll have to tack on shipping to your order—which probably won't be cheap for a large, bulky artificial Christmas tree.
Before you hand over your money, it's also important to double-check the retailer's refund policy, as well as whether or not restocking fees are assessed.
Storing Your Artificial Tree
Once your artificial tree is finished delivering its holiday cheer for the season, you can certainly store it in its original box, although this might un-fluff the tips and could damage the lights (if pre-lighted).
Instead, you might want to consider purchasing fabric or heavy-duty canvas container from a specialty retailer for easy, damage-free storage during the off-season. Remember, though: This will add to your expenses, so be sure to include it in your original budget.
The Bottom Line
There are a lot of considerations when buying an artificial tree, ranging from their environmental impact and their comparison to real trees, to which type of artificial tree to buy, whether you should get a prelit tree and which manufacturer you should buy from.
In a general sense, buying a fake tree versus a real tree shouldn't be cause for concern. Both are well within the spirit of Christmas, NCTA's Warner said.
"All Christmas trees are good Christmas trees. It's up to your personal preference as to which one is best for you," Warner said. "Some people like the traditional smell of a real tree, while others like the convenience, cleanliness, and ease of artificial trees."
A good way to make your decision is to start with real versus artificial. Once you've chosen one of those two, then ask yourself which species and shape you want.
Some trees are full and wide, while "pencil" trees are tall and thin. Consider where you're going to put your tree and take the space into account as you choose your tree's shape.
Your next choice will be color. In our guide to the best artificial Christmas trees, we feature trees with white flocking, a pink Christmas tree and a variety of natural-colored Christmas trees.
Finally, take into consideration lit vs. unlit trees. While the lit trees will cost more money at the time of purchase, they'll save you time over the course of the 10 years you're likely to own the tree.