Best Artificial Christmas Trees: Top Picks for Every Budget and Style
We compared over 50 artificial Christmas trees from 7 of this year's top brands, including every possible price, style, lighting combination, and size available.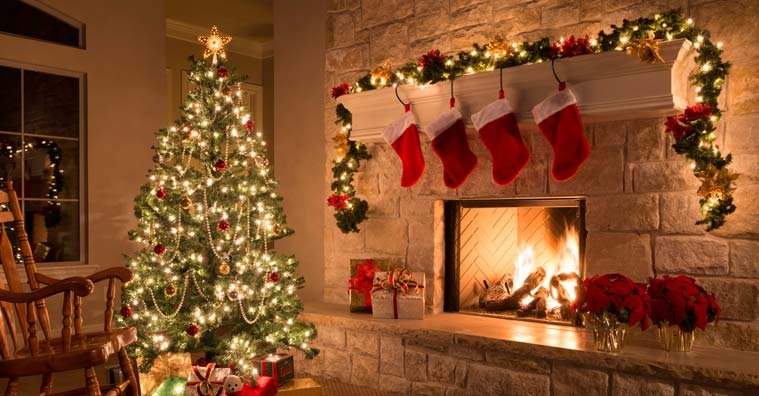 If you want a way to enjoy the tradition of a Christmas tree, but without cleaning up the mess or having to buy a new one every year, an artificial Christmas tree might be the choice for you.
But, how to tell which brand and style will bring in holiday cheer right out of the box?
To help you determine which artificial Christmas tree is a great fit for your home, budget, and style, we combed through hundreds of options across popular online marketplaces like Amazon, Wayfair, and Walmart, comparing customer reviews and featured products to uncover the top picks in different categories.
A Quick Note on Pre-Lit Artificial Christmas Trees
There are plenty of "pros" to choosing a pre-lit artificial Christmas tree; one of which is that they typically start off by helping you save time and money.
However, after reading through reviews of various artificial trees across large online marketplaces, as well as directly on popular manufacturers' websites, it's apparent that lighting systems are the most common cause for customer complaints.
In fact, we found multiple reviews from consumers who'd previously purchased pre-lit artificial suggesting that others steer clear. This could be for a few reasons:
First, customers pay a premium for pre-lit artificial Christmas trees. In fact, depending on the bulb density, these models often cost hundreds more than unlit versions.
In addition, whether on your tree, your mantel, or the outside of your home, Christmas lights are notorious for going completely dark when only one bulb burns out and finding the culprit can often take a long time.
When this happens on a separate strand of lights, it's usually not a big deal, since you can remove and replace the whole thing. But, when the lights go out on a pre-lit tree, you could be stuck hunting through needles for the burnt bulb, or calling the whole thing a bust.
Sometimes, replacement bulbs are even brand specific, which means it can take weeks—or months—to get new ones in the mail. (Assuming the company is still in business, of course.)
With these caveats in mind, there are a few brand exceptions listed below, which use microchips to ensure the entire lighting system doesn't fail should one bulb go out.
Nonetheless, pre-lit options continue to be popular and come with mostly positive online customer feedback. So, in addition to focusing on realism, style, shape, and cost, we'll include a mix of pre-lit and unlit models below.
Most Affordable: Best Choice Products 6' Premium Hinged Artificial Christmas Pine Tree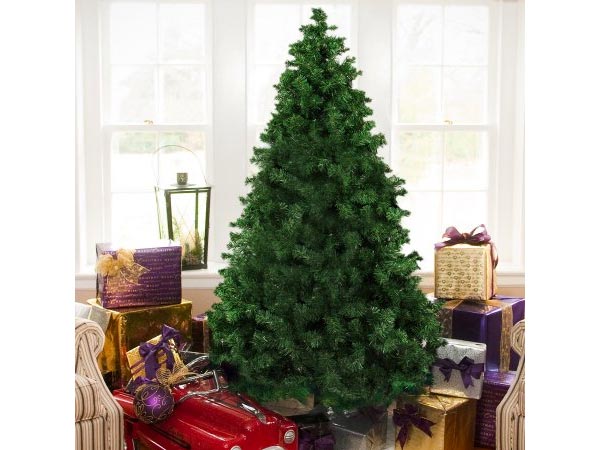 At the low price of $44.99, this unlit artificial Christmas pine tree, made by Best Choice Products, gets the number-one spot as most affordable because, despite using traditional shredded PVC (plastic) needles, many customers report that it maintains a realistic appearance.
Perhaps that's why it's the "#1 Best Seller" on Amazon in Christmas trees, and perhaps why many customers have great things to say about it, despite its low price—and even after multiple uses. It also made Good Housekeeping's list of 14 best artificial Christmas trees. Positive remarks include:
It has a small footprint. "I'm incredibly happy with this Christmas tree! This was just the right height for our apartment, full, great color, and does everything a fake tree should." – LearningLark

It's easy to set up. "Wow - I didn't realize how full the tree would look! I'm very happy I purchased it. It is very easy to assemble." – violetcherry

It delivers value. "This thing is a steal of a deal. For only $40 I got almost the same quality tree as the one I replaced, which cost almost $180." – Danielle
Additionally, at only eight pounds, this product is the lightest of the bunch, which is a potential "pro" for consumers who have difficulty lugging and lifting a heavy artificial tree into the attic or basement at the end of the holiday season.
Despite having overwhelmingly positive reviews, customers frequently mentioned a few drawbacks related to the Best Choice Products artificial Christmas tree, including:
The branches aren't sturdy enough to hold heavier ornaments.
Fluffing the branches takes time.
Only this one species of tree is available.
Some of the needles tend to shed.
Additional Information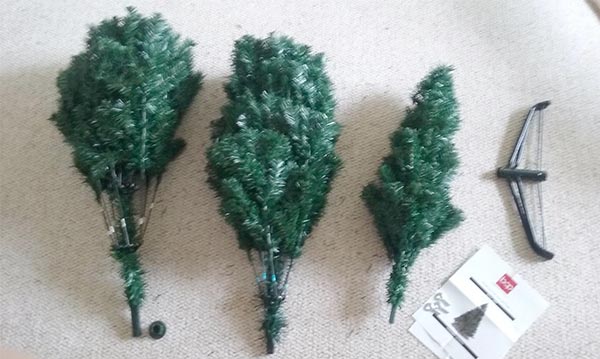 Image via Amazon reviewer Conny
This Best Choice Products six-foot artificial Christmas tree comes with branches already attached to three different sections, so there's no need to assemble your tree branch-by-branch. Details and specifications include:
Lights: No
Density: Contains 1000 tips
Girth: Tree has 55" girth
Base: Includes metal base
Height: 6'
Weight: 8 pounds
Reviews: 3.9 out of five stars on Amazon (from 766 customer reviews)
Where to buy? Amazon for $44.99 or Walmart for $44.99
Warranty: No
Although this tree is the most affordable in our list, reviewers frequently remarked on its fullness, as well as that branches came close enough to the floor to give a realistic appearance.
However, if you have a collection of heavy ornaments, several customers noted that this tree's weak branches might mean it's not the best pick.
Additionally, being made of shredded PVC (as opposed to mold-injected plastic) and having blunt-cut ends (as opposed to tapered), it lacks some of the touches that generally allow artificial trees to pass for authentic ones. Although, it's worth noting that several Amazon customers praised the tree's ability to fool guests into thinking it was fresh off the lot, so your mileage may vary.
If realism is your primary criteria in an artificial Christmas tree, be sure to scroll down to our picks for "most realistic" options.
Best Compact and Lightweight: National Tree 4.5' Dunhill Fir Tree, Hinged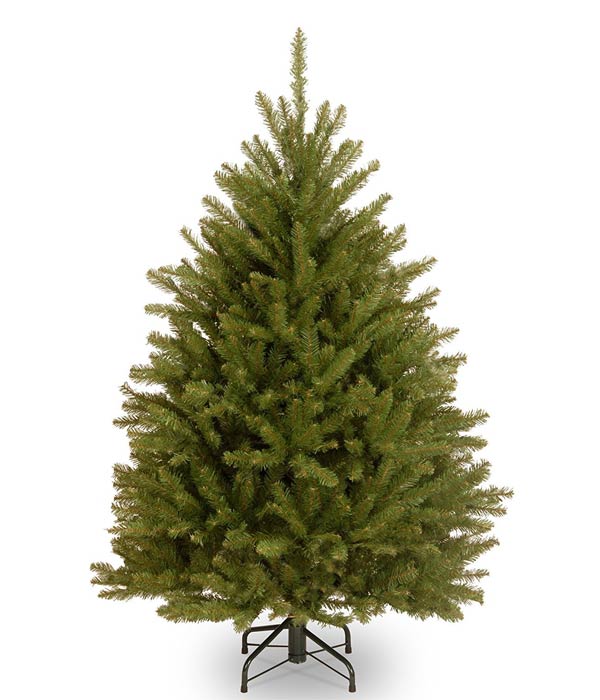 National Tree's 4.5' Dunhill Fir Christmas Tree. Image credit: Amazon
If a six-foot tree is too tall for your space, National Tree's 4.5' Dunhill Fir Tree is a top pick in the compact artificial Christmas tree category on both Amazon and HomeDepot.
Although it's small in stature and can even fit on tabletops, the vast majority of customers seem pleased with its appearance and performance, averaging nearly five stars between both of these sites. Here's a sampling of what they had to say:
It's realistic and delivers a lot of bang-for-the-buck. "This is a beautiful tree. From a few feet away, it's actually hard to tell that it's not real because it looks so good. Definitely worth the extra money over your typical $20 drugstore tree. Perfect for small apartments." – SlyCaptainFlint

It's easy to set up and store. "It is very easy to set up. It does take a little time to set up the boughs, but when you do you can't tell it isn't a real pine tree. The branches are full and hold heavy ornaments easily. We couldn't be happier with the quality of this tree. It is small enough that you could keep all the lights and ornaments on it and just wrap it in a king-sized sheet and put it in a closet until next year. You will enjoy this tree very much." – Judith R. Enzor

It's easy to decorate. "We love this beautiful, full Christmas tree! It was very easy to assemble, and the size is perfect -- so much easier to decorate than the large trees. This is the best Christmas Tree we have ever purchased." – VeryHappy
In fact, there's only a single one-star customer complaint about this model on Amazon, who reported that they weren't pleased with its density. Considering its competitive price, small stature, and high online reputation, though, if you're looking for something compact and manageable this season, it might be difficult to go wrong with this one.
Additional Information
Details and specifications include:
Lights: No
Density: Contains 763 branch tips
Girth: 35"
Base: Includes metal base
Height: 4'5"
Weight: 14 pounds
Reviews: Nearly five stars between Amazon and HomeDepot (from 40+ customer reviews)
Where to buy? Home Depot for $67.46 or Amazon for $66.95
Warranty: No
Despite its small stature and (relatively) small price, this 4.5' Dunhill Fir model seems to meet most customers' needs, especially related to appearance, quality, and overall value. It's also fire-resistant and non-allergenic.
That being said, its 4.5-foot height means that this tree obviously isn't a great option for families looking for a towering artificial pine.
Best Flocked and Pre-Lit: Vickerman Artificial Christmas Trees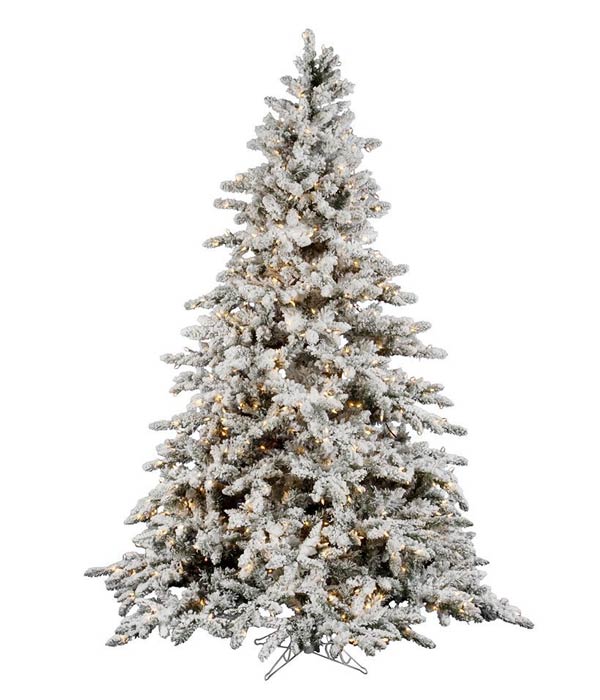 Vickerman's 7.5' Flocked Utica with 850 Dura-Lit Clear Lights. Image credit: Amazon
When searching online for an artificial tree that sparkles with pre-lit holiday spirit and looks like it just came in from the snow, Vickerman's name will repeatedly appear in your results.
Perhaps one big reason for this is that, unlike many pre-lit artificial Christmas trees, Vickerman implements a unique lighting system called Dura-lit, which utilizes microchips in each socket.
With Dura-lit, strands stay lit even if one bulb is broken or missing—meaning that you won't have to spend hours testing lights one-by-one just to get your tree back in working order.
It's also our opinion that Vickerman offers the most aesthetically pleasing flocked artificial trees. Why? Because across all their models, outer branches are coated in thick flocking that we think delivers a realistic, snow-like appearance.
Finally, although Vickerman isn't accredited by the Better Business Bureau, their flocked, pre-lit trees hold consistently positive online customer reviews. Here's what we've people are saying:
Its lighting creates a nice atmosphere. "We always have gotten a real tree until this one. We could not be happier. It's beautiful. Several people asked if it was real. I love the lights. Because they are frosted it makes for a soft, warm, glowing light. Perfect for the holidays." – Cassie

It looks realistic. "This tree is STUNNING. The flocking is gorgeous and realistic- well, as realistic as a snow-covered tree indoors can be. The pictures online do not do it justice as it is truly something special in person. I want to keep it up all year long I love it so much!" – Amazon Customer

It makes them consider other models from the brand. "I am a 'real tree' lover, but this faux version exceeded my expectations. I am now considering using this brand for other trees that we plan to put in different areas of our house. Love it!" – Jenet G.
The above reviews were for Vickerman's 7.5' Flocked Utica with 850 Dura-Lit lights, available on Amazon for $445.19 ($278.89 unlit).
Additional Information
Whether this model or any other, all Vickerman artificial Christmas trees come in three sections, plus an included tree stand. Each is assembled from the bottom (largest) up to the top (smallest) by inserting the next higher section into the pole of the one below. With any models that are pre-lit, you'll also need to plug in each section of lights as you build up from the bottom.
As the tree is assembled, the limbs will fall into place on their hinges and can be shaped and fluffed. Disassembly is the opposite of setup, starting from the top down. Overall, customers report that assembly is very easy.
Details and specifications for the 7.5' version include:
Lights: Optional
Density: Contains 1,650 tips, which will vary with size and style.
Girth: 65" girth, but this will vary with size and style.
Base: Includes metal base
Height: 7'5"
Weight: 49 pounds
Reviews: 4.4 out of 5-stars on Amazon (from 53 customer reviews)
Where to buy? Amazon for $445.19
Warranty: Limited 5-year light/10-year construction from the manufacturer
In addition, Vickerman offers over 85 flocked, pre-lit artificial Christmas trees in a range of sizes and styles—more than 10 of which receive 4-star average ratings or higher on Amazon. Here's a sampling of those top-reviewed models to give you an idea of pricing: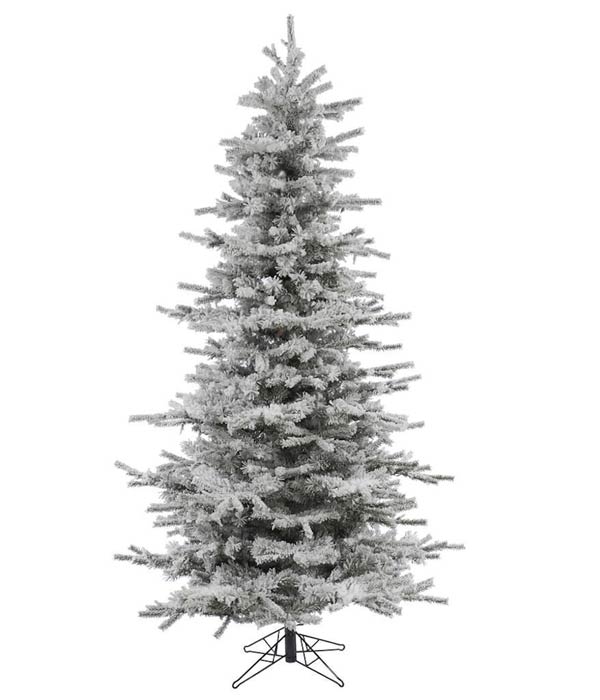 In case you want a flocked look without the built-in LEDs, Vickerman's Flocked Slim Sierra Flocked White on Green Christmas Tree ranks highly. Available in 7.5' ($261.39) and 8.5' ($312.14) models.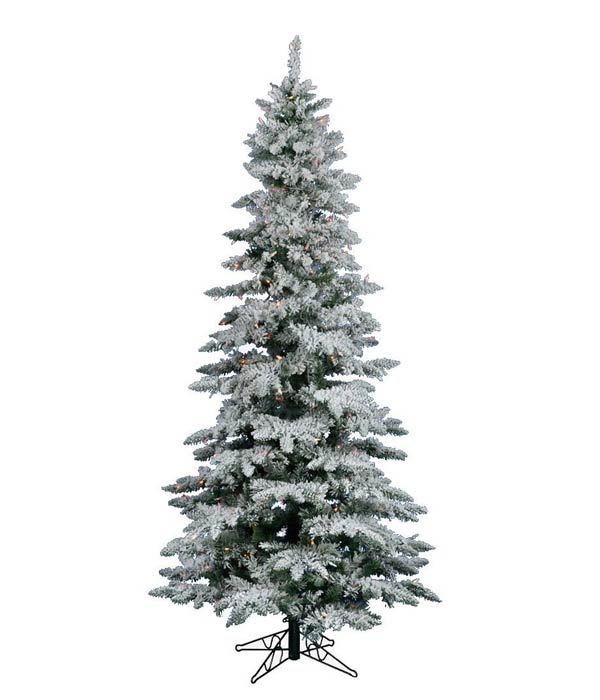 Vickerman Flocked Slim Utica Tree with 400 Multicolored LED Lights, 7.5': $391.61 through Amazon. Additional purchasing options include:
Multicolored model through Wayfair: $269.99
Clear light model through Wayfair: $239.99
4.5' model with multicolored lights through Wayfair: $165.99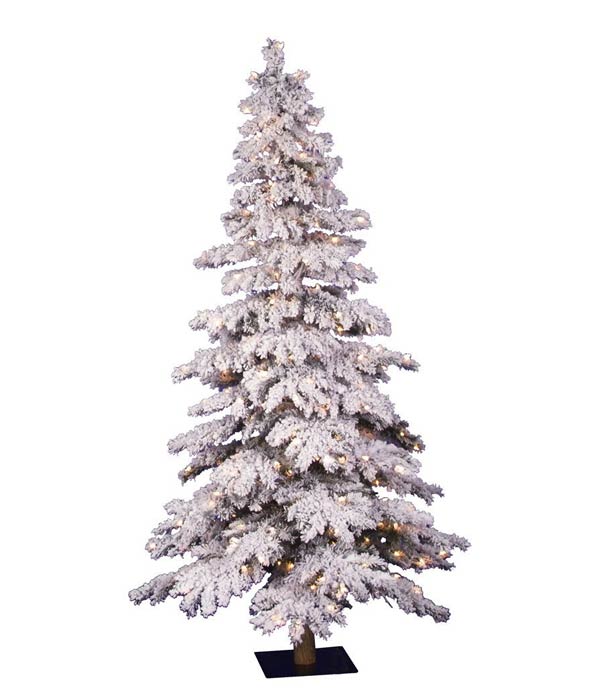 Vickerman 6' Flocked Spruce Artificial Christmas tree with 300 clear lights: $265.13.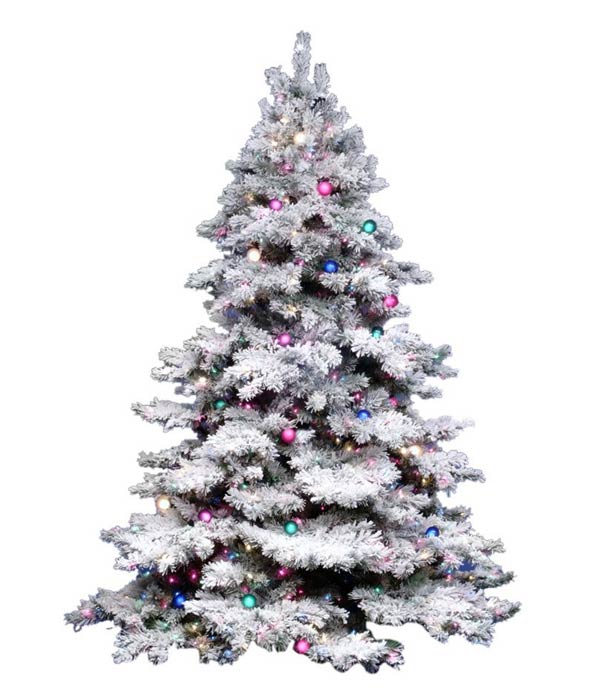 Vickerman 36" Flocked Alaskan Pine Artificial Christmas tree with 100 multi-colored lights: $73.84. Additional purchasing options through Amazon include:
4.5' w/300 clear lights: $207.53; multicolored $176.19
5.5' w/450 clear lights: $239.99
6.5' w/600 clear lights: $396.89
7.5' w/900 clear lights: $518.89
We already mentioned that we have some reservations about pre-lit trees since they cost so much more than the unlit versions. However, if you're seeking the convenience of an already-decorated artificial Christmas tree, without worrying about your lights going out from a single bulb failure, many customers report that you can't do much better than Vickerman's Dura-lit lights.
A final note: In our opinion, Vickerman's unflocked models leaves something to be desired, as they often don't feature the fullness and realism associated with their flocked versions. So, if you're not particularly interested in the look of a flocked tree, we suggest scrolling down to our picks below for the most realistic models.
Best Non-Traditional: Treetopia Angel Pink Flocked 7.5' Christmas Tree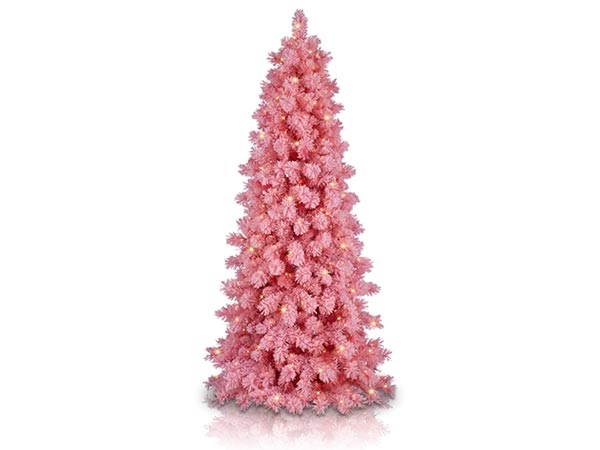 Some artificial Christmas trees strive for a realistic appearance—then there's Treetopia's Flocked Angel Pink Artificial Tree, which was featured on the Today Show for its funky, retro style.
It's constructed using a combination of pine needles and PVC needles for depth and extra fullness. They're also adorned with pre-strung clear lights.
As we've mentioned, this can make decorating easier. However, Treetopia doesn't utilize a technology that would prevent the whole tree from going out if one bulb is broken, so be aware that you might need to add your own lights after several years of use.
As a company, Treetopia holds an A+ rating with 10 complaints closed within the last three years, as of 10/23/18.
Amazon reviews at the time of publishing were mainly positive:
The artificial tree met their expectations for fullness.
It was easy to set up and store.
The branches were sturdy and could hold heavy ornaments
The only complaints we found were focused on the color – it was lighter than expected.
Additional Information
This tree comes disassembled in three different sections of hinged branches—just connect the parts and fluff out branches for a fuller look.
Lights: 500 clear lights
Density: Contains 680 tips
Girth: 39" (slim)
Base: Includes metal base
Height: 7'5"
Weight: 38 pounds
Reviews: No reviews yet
Where to buy? Treetopia for $359.99
Warranty: Covered by a 5-Year Tree and Foliage Limited Warranty and 2-Year Limited Light Warranty (doesn't apply to clearance trees)
Includes: Treestand, extra bulbs and fuses, and on/off foot pedal
Bottom line, Treetopia's artificial Christmas trees aren't going to appeal to everyone. However, if you're searching for an artificial tree with a funky style that will command any room, their wide variety of candy-colored artificial Christmas trees—including peppermint stripe, gold tinsel, sparkling silver, and a range of other sizes, novelty shades, and shapes—are sure to appeal.
Most Realistic: Balsam Hill 7' Balsam Fir Premium Artificial Christmas Tree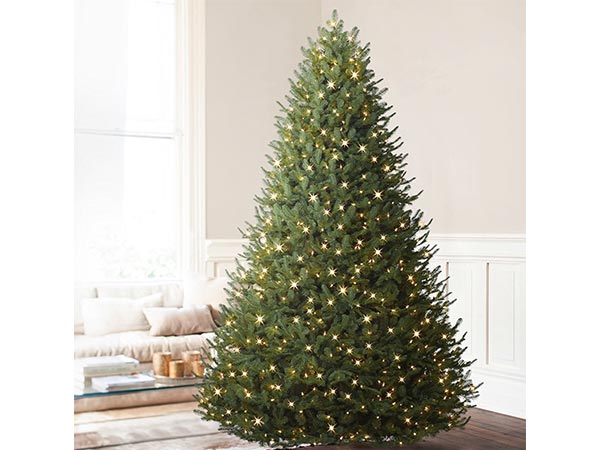 ​
Another model highlighted in Good Housekeeping's 17 Best Overall Artificial Trees, BH's 7.5' Balsam Fir model (shown above in the pre-lit version) features mold-injected, ultra-realistic True Needle foliage—one of three foliage types offered by the company. (The others are Traditional, which is shredded PVC plastic, and Realistic, which is a blend of the two.)
The editors at Good Housekeeping aren't the only ones who were impressed with the tree's realistic look—here's a sampling of the positive reviews we found on Amazon and Balsam Hill's website:
It looks very real. "Good Housekeeping was right when they picked this as their best artificial tree. You'd have to study it to determine that it was fake. From a foot away, you can't tell. Excellent color of the needles and the stems (which match nature in the brownish color) and excellent pliability and natural fullness (actually looks more natural than my real trees of recent years - if that's possible)." – Careful Reviewer

It's nice enough to put up in August. "I always get, and always will get, a real tree besides this one, but I'm telling you; once decorated, it is truly hard to tell the difference. The pre-lit remote controlled lights are just the icing on the cake. I told my children if I have a chance to review this tree I would. Call us crazy, but it's the last of August, and we have this tree up in our 'party room' already. Merry Christmas!" – Hugh from Tennessee

It ticks all the boxes. "Have had several artificial trees and this is by far the best ever at this price point. Very full, easy to put together, no needles or branches broke off, looks great." – Virginia Haddad
Not every review of Balsam Hill artificial trees is glowing. However, as we outlined at the beginning, the majority of these relate to pre-lit models, whether concerning lights that don't work, or ones that didn't deliver the expected glow.
Balsam Hill trees have a good reputation that goes beyond Amazon, too. Kim Swift, founder and creative director at Christmas-tree concierge service Holiday Workroom, purchases, sets up and decorates homes and Christmas trees for her clients.
Her own experience with a variety of brands made it clear which one was best.
"Balsam Hill is the best, in my opinion. It has ultra-realistic features and the tree falls nicely, the color is nice and the way the lights that fit in the tree is fantastic," she said. "I used one last year (for a client). It looked so beautiful when it was done. The color of the tree and the needles looked real."
Additional Information
Lights: Optional, although you'll be able to choose between clear, multicolor, candlelight LED, and unlit. All pre-lit BH models feature their Easy Plug system (lights wired through the trunk).
Density: Contains 5,768 tips, which will vary depending on model and height.
Girth: 56", which will vary depending on model and height.
Base: Includes metal base
Height: 7'5"
Weight: 41 pounds (lit)
Reviews: 4.4 out of 5-stars on Amazon (from 74 customer reviews)
Where to buy? Amazon for $549 (unlit), $649 (lit)
Warranty: Covered by a 3-Year Tree and Light Limited Warranty warranty (60 days for clearance trees)
Includes: Treestand, storage bag(s), cotton gloves. Pre-lit models also come with extra bulbs and fuses, an electrical connection for tree toppers, and a foot pedal connection to easily switch the tree's lights on and off.
The bottom line is that trying to pick the "best" Balsam Hill model is darn difficult—the company offers such a wide range of styles and sizes that's it's hard to choose.
We'll discuss some actionable tips in a moment that can help, but to point you in the right direction in the meantime, here are some of the top-rated models on Amazon: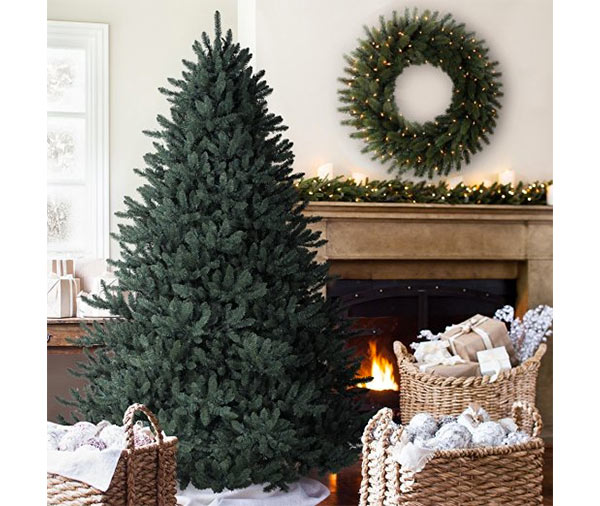 Classic Blue Spruce: Unlit in 4.5' ($159), 6.5' ($239), and 7.5' ($399).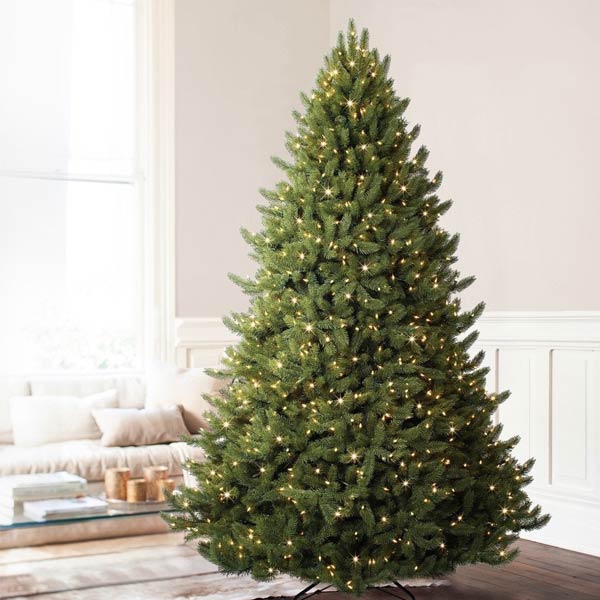 ​
Vermont White Spruce – Available in these purchasing options:
4.5' unlit: $159
6.5' unlit: $239
7' unlit: $299
7.5' unlit: $399
And that's nowhere near their complete list! This brand offers hundreds of trees in various sizes and styles. If you're interested in exploring additional artificial trees from Balsam Hill, we'd recommend heading over to their official website. There, you can search through hundreds of artificial Christmas trees using the following filters:
Height: Select from six categories of tree height, from trees shorter than six feet to those 15-feet and above.

Light Type: Choose between standard lights (clear, multi, or color and clear combination), LED lights (clear or multi), and unlit options.

Tree Shape: Select between regular (full), narrow, slim, potted, and flat-backed shaped trees.

Level of Realism: Choose between traditional shredded PVC, mold-injected plastic, or a combination of both.
The overall impression that we get from Balsam Hill reviews is that, while expensive, their trees are top of the line. It's also worth noting that Balsam Hill holds an A+ rating with the Better Business Bureau, based on 64 closed complaints and 34 customer reviews, as of 9/19/17.
Realistic Runner-Up: National Tree Downswept Douglas Fir Pre-lit Artificial Tree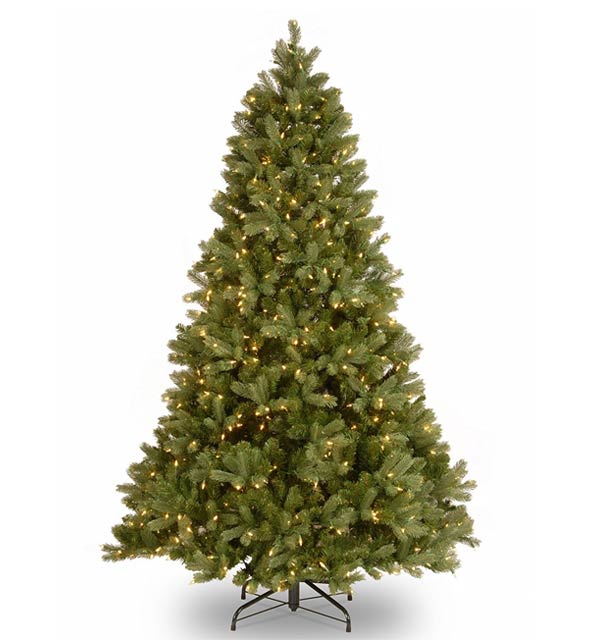 The National Tree Company is another top brand listed by Amazon, and this particular model boasts a rating of 4.5 out of 5-stars from over 200 customer reviews.
But since you can't purchase this tree in an unlit version—despite the company's Bulb-Lock technology, which ensures your tree's lights won't go out should one bulb fail—we felt it earned a solid second place.
Here are some of the positive things customers have to say about this artificial tree:
It's quick and easy to set up. "We are very pleased with our National Tree product. After fluffing it looks fantastic. With my wife and I both fluffing, it took less than 30 minutes to set up the tree from start to finish. If you are looking for a quality artificial tree, from someone who is very pleased and previously only had real trees, I recommend this tree and this brand." – RRR

It's reasonably priced. "I am pleasantly surprised with this tree! The two-tone branches are brilliant—still giving the realistic look of a real tree, but also keeping the cost down. It was easy to set up. No glitches in lights or wiring. I hope to have this tree for years to come!" – Jamie Cox

Realistic look. "Our first artificial tree ever and we are very pleased with the quality and ease! No more needles on the floor, or having to water the tree, not to mention no more cleanup! This is very realistic looking. Easy to put up and take down. Prelit so no hassles of stringing lights. Should have done this years ago! Save a tree! We shopped around a LOT and found this the best value for the money." – Emmamom
The Douglas Fir from National Tree Company comes in three height options, making it a good fit for almost any space: 4.5' ($113.47), 6.5' ($195.85), and 7.5' ($301.51).
Let's take a closer look at the 6.5' model next.
Additional Information
As with the other trees we've featured, the branches on this artificial Christmas tree are attached and simply fold up for storage. To assemble, lock in the three separate sections, plugging in lights as you go.
Lights: 650 clear or dual color LED lights
Density: Contains 1,867 branch tips
Girth: 59"
Base: Includes metal base
Height: 6'5"
Weight: 37.5 pounds
Reviews: 4.5 out of 5-stars on Amazon (from 211 customer reviews)
Where to buy? Amazon for $276.76
Warranty: Covered by a 5-Year Tree and Foliage Limited Warranty and 2-Year Limited Light Warranty
Includes: Treestand, storage carton, and extra bulbs and fuses.
Overall, customers who bought National Tree's Downswept Douglas Fir reported being pleased with their purchase, with positive reviews focusing on the tree's realistic look and feel.
Of the few negative reviews, the majority reported that the tree didn't look like the picture on Amazon's site, whether related to fullness, color, or quality.
Best to Save Space: Balsam Hill Park Avenue Corner 7' Artificial Christmas Tree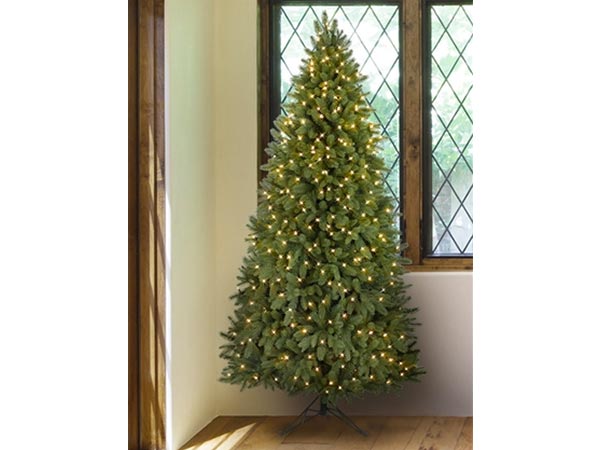 ​
While Balsam Hill's Park Avenue tree certainly isn't the least expensive half/corner model you'll encounter, it seems to top the list among those who are also focused on quality and the most realistic appearance.
Additionally, the unique corner shape allows apartment dwellers to enjoy the feel of a full-size tree without losing precious space. In fact, not only does this model take up less space while on display, but its smaller profile also means that it's easier to store when the time comes.
The Balsam Hill corner tree has 29 reviews on the company's website, with a four-star average rating. There, customers had mostly positive feedback, with many stating that its space-saving design allowed them to enjoy a tree in cramped spaces where it was previously impossible. Others praised this tree for its attractive design, durable construction, and easy setup.
There were a few negatives worth noting. Namely, that the corner tree's unique shape made it prone to toppling, particularly if placed on a carpet or if decorated with heavy decorations.
Additional Information
Because this tree has two flat sides to easily fit into a corner, it's girth measurement is slightly skewed. However, reviews lead us to believe that it's still full in appearance. Also, note that 300 is a relatively low number of lights for a 7-foot tree. Additional specifications include:
Lights: 300 clear lights
Density: Contains 1,151 tips
Girth: Tree has 25" girth (two sides are flat)
Base: Includes metal base
Height: 7'
Weight: 27 pounds
Reviews: 4.2 out of 5-stars on the manufacturer's website (from 29 customer reviews)
Where to buy? Balsam Hill for $399
Warranty: Covered by a 3-Year Tree and Light Limited Warranty (60 days for clearance trees)
Includes: Treestand, storage bag(s), cotton gloves, extra bulbs and fuses, and on/off foot pedal
If you live in a small space, but don't want to forgo the look of a high-quality, full-size tree, the Balsam Hill Balsam Hill Park Avenue Corner model might be a perfect fit, thanks to its minimal footprint.
But, what about the slight top-heaviness discussed earlier? Reviewers who experienced some unsteadiness were able to remedy the problem by anchoring their tree to the wall with a string. That being said, if your walls are plaster, brick, or you'd just prefer to avoid poking a hole in one, this might not be the tree for you.
Important Things to Know When Buying an Artificial Christmas Tree
If you're still wondering if an artificial Christmas tree is right for you or what to look for when buying one, we recommend reading our detailed article: Artificial Christmas Tree Buying Guide: 7 Important Things to Consider.
But when it comes down to it, there are myriad reasons to purchase an artificial Christmas tree over a real one, including reduced potential for allergies, less mess, a better value over time, and the ease of being able to bring it out of storage and set it up whenever you'd like.
However, it's important to remember that artificial trees aren't recyclable. Disposing of one can be both expensive and stress the environment.
To ensure the artificial tree you select fits your needs for years to come, focus on the following checklist:
Shape and Size: Measure your wall height and space before you go shopping or ordering online. People typically buy too big, and once you get a fake tree, you're stuck with it. Also, know the shape that you'd prefer. Fake trees come in the following sizes: pencil, slender/slim, medium and full.

Species: Just like with live trees, you'll have choices like fir, spruce, redwood, etc. Check out different options available to see what compliments your home decor.

Color: Consider the hue you want, since there are so many shades of green, not to mention metallic tinsel and novelty colors.

Density: How dense or sparse do you prefer your branches and needles? Pay attention to the number of tips (the more there are, the greater the tree's density).

Extras: Does the tree come with a storage bag and a stand? If there's lighting, does it come fitted with a foot pedal to easily turn it on and off? These extras can affect your enjoyment of a tree over the years.
Finally, if you think your tree might be subjected to heavy use or knocked around by curious pets, to avoid having to buy another next year, look for one with a longer warranty, which could indicate higher quality.