9 Best Makeup Brands for Women Over 40
Physicians Formula®, Jane Iredale®, and makeup artist Gucci Westman's line are considered the best makeup brands for women over 40, experts say. Read about these brands and more.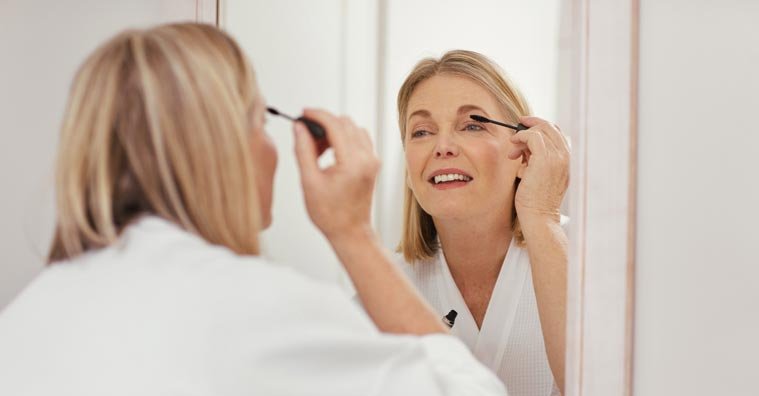 Dramatic skin changes can occur when a woman enters her 40s, especially related to the loss of elasticity and collagen that typically begins for women in their 30s.
During this time, women in their 40s may see some increased hollowing as a result of volume loss and minor wrinkles from facial expressions. In addition, the texture of a woman's skin can change, possibly resulting in dryness, broken blood vessels and dulling.
While these changes may be inevitable, something as simple as the right makeup can help improve the appearance of a woman's skin when she enters her 40s.
This article takes a look at the best makeup brands for women over 40. We've interviewed several experts on this topic, in addition to conducting our own research, to provide you with the nine top makeup brands for women in this age group.
Several brands explored in this article were recommended by a board-certified dermatologist and a nurse practitioner, while other products were recommended by an Assistant Clinical Professor of Dermatology at Yale University of Medicine.
In What Ways Does a Woman's Skin Change in Her 40s?
There are intrinsic and extrinsic factors that change our skin as we are aging, said Nina Copeland of Johnson Dermatology, who is a Family Nurse Practitioner through the American Academy of Nurse Practitioners, and is currently a member of the Dermatology Nurses Association.
"Intrinsically we lose the fat layer of our skin making our skin thinner and dryer," Copeland explained. "Collagen and elastin is produced at a slower rate causing slower healing and fine lines and wrinkles to develop.
"Extrinsic factors include UV exposure, medications, and irritants that can cause premature aging and hyperpigmentation," Copeland added.
"The skin tends to bruise easier, look more dull and thin, sometimes enough to have a crepe-paper like appearance," Copeland said. "Fine lines and wrinkles develop. Healing from bruises, cuts, and scrapes is a slower process. Redness, broken blood vessels and hyperpigmentation may all develop."
Women in their 40s can expect to see some increased hollowing as a result of volume loss, and minor wrinkles from facial expressions, agreed Dr. Christie Prendergast, a plastic surgeon in Santa Monica located in Southern California.
"These changes will vary widely based on your genetics and how well you took care of your skin in your younger years," Dr. Prendergast said.
Many women of this age will start to notice mild to moderate acne, usually related to the hormonal fluctuations of their menstrual cycle, noted Dr. Ted Lain, a Board Certified Dermatologist and Chief Medical Officer specializing in diagnosis and treatment of disorders of the hair, skin and nails.
"The cumulative effects of sun exposure will present as dark spots and fine lines and wrinkles," said Dr. Lain, an advisor and consultant to skincare brands who works at Sanova Dermatology.
"Finally, the skin's plumpness and luminescence they had in their 20s and 30s will no longer be so readily apparent."
Fortunately, the right makeup can help camouflage these changes.
Can Makeup Offset the Appearance of Aging Skin for Women Over 40?
Of course, according to Copeland, who says that makeup can be used to help camouflage adult-onset acne, rosacea, fine lines, and discolorations.
"I prefer to recommend a type of makeup over a specific brand," Copeland said. "Due to women tending to have drier skin as we mature, I usually will recommend a BB or CC cream over a powder foundation for this age group."
BB stands for beauty balm and CC stands for color corrective.
"They are both multi-taskers instead of just a foundation," Copeland explained. "There are lots of different formulations but most will claim to have skin care, coverage and SPF rolled into one. BB tends to be heavier and CC cream tends to be a lighter formula."
Makeup can help to temporarily mask some of the skin changes that women over 40 face, Dr. Prendergast said.
"However, it is best to treat the underlying problems by being on a skincare regimen that includes retinol or Retin-A to stimulate collagen production and improve texture," Dr. Prendergast advised.
Additionally, sunscreen is very important to use daily to protect your skin from the daily sun damage and prevent aging spots or hyper-pigmentation, she added.
"An expert medical professional – dermatologist or plastic surgeon – can help you choose the right skin regimen for you based on your skin analysis," Dr. Prendergast recommended.
Makeup can camouflage many of these over-40 changes if only through tint and coverage, Dr. Lain noted.
"However, many brands now include ingredients that make them as much skincare as they are makeup, helping to prevent the progression of the aging changes and possibly reverse them as well," Dr. Lain said.
9 Best Makeup Brands for Women Over 40
First and foremost, Dr. Lain recommends mineral makeup with an SPF.
"Protection is the key to prevention of sun damage," Dr. Lain advised. "Additionally, search out brands that offer more, including antioxidants."
Brands to consider, according to Dr. Lain, are Revaléskin® and Eminence Organic Skin Care.
"Essentially, they do more than just act as makeup," Dr. Lain explained. "Antioxidants serve to protect skin cells at the DNA level from the punishing effects of the sun. They, along with a broad-spectrum SPF, form the foundation for the protective aspect of an effective skincare regimen."
1. Revaleskin®
Revaléskin® offers a mineral makeup with SPF 25 that provides sunscreen protection, foundation coverage, and clinically proven anti-aging benefits, according to the manufacturer's website.
This 100% natural loose powder formulation contains key ingredients including a broad spectrum anti-oxidant blend, as well as micronized zinc oxide and micronized titanium dioxide, which are broad-spectrum, non-chemical sunscreens.
These clinically proven skincare minerals are anti-inflammatory, making them ideal for sensitive skin. In other benefits, the light-diffusing minerals instantly reduce the appearance of fine lines and wrinkles for a smoother, more perfected complexion.
The Revaléskin® mineral skincare comes in five shades, as well as a totally sheer, finishing touch shade to provide the perfect finish.
2. Eminence Organic Skin Care
The Mineral Illuminator created by Eminence Organic Skin Care was named the Winner of Best Bronzer by LNE & Spas in 2013. This oil-controlling, illuminating powder is infused with acai berry, green tea, and other anti-aging ingredients.
Additional key ingredients include rosemary extract, a natural astringent that eliminates free radicals and slows the appearance of aging; Vitamin A, which ensures natural growth and development of cells; Vitamin E, which prevents against damage from free radicals and sunlight to the skin's appearance; and jojoba seed oil, which contains antimicrobial and oil balancing properties.
Mineral Illuminator comes in two shades to suit most skin tones: Mocha Berry Bronzer (medium to dark) and Chai Berry Glow (light to medium).
To find a spa that offers Eminence Organic Skin Care, visit the Spa Locator.
3. Jane Iredale®
Two makeup brands that Copeland recommends for women over 40 are Jane Iredale® for a more high-end option and Physicians Formula® for a drug store option.
"These are some of my favorites because they have short ingredient lists and are very plain," Copeland said. "Less is more with makeup and skin in my opinion."
Jane Iredale® offers a full line of makeup in a variety of shades, including mineral foundation, concealer, eye shadow, eyeliner, mascara and brow pencils, as well as cheek blush, lip color, and lip liner.
For instance, makeup for the face includes The Amazing Base® Loose Mineral Powder, which conceals redness and diffuses the appearance of fine lines and pores, and is made from micronized minerals and contains SPF 20.
The Smooth Affair® Facial Primer & Brightener prepares the skin so makeup goes on easier and lasts longer. This primer also helps maintain the skin's youthful appearance and minimizes the appearance of pores and fine lines. It contains ingredients including apple fruit extract, sunflower seed oil, honeysuckle flower extract, and aloe barbadensis leaf juice.
The PurePressed® Eye Shadow Triple is crease-resistant and long-lasting and considered gentle and safe for sensitive eyes. This product is vegan and made with ingredients including pomegranate extract and pine bark extract.
The Jane Iredale® makeup line can be purchased directly from the manufacturer. Some of the items in this product line can also be bought at Amazon, Overstock, Dermstore, and Nordstrom.
4. Physicians Formula®
Copeland also recommends Physicians Formula®. This brand never allows fragrance, PABA or any of the 100-plus irritants into any products, according to the manufacturer's website. The dermatologist approved products are also non-irritating, non-greasy, hypoallergenic, and non-comedogenic.
For the face, Physicians Formula® offers blush, bronzer, concealer, foundation, and primer, as well as loose and pressed powder. For instance, the Le Velvet™ Foundation SPF 15 conceals imperfections and evens skin tone, while protecting against environmental damage.
Physicians Formula® also creates makeup for the eyes, including eyeliner, eye shadow, mascara and brow pencils. Additional products include the Eyebrightener® Multi-Colored Eyelighter, which can brighten dark or dull eyelid areas with subtle hints of pearlescent color.
Products for the lips include the Argan Wear™ Ultra-Nourishing Argan Lip Oil Duo, which is infused with 100% pure argan oil. This lip oil treatment is claimed to condition, hydrate, revive, and replenish lips instantly and long term. It can also smooth texture, as well as enhance lip shape and volume.
Physicians Formula® can be purchased online directly from the manufacturer. Some products in the line can also be bought at sites including Walmart, Ulta Beauty, Amazon, Walgreens, CVS, Rite Aid, and Target.
5. Youngblood® Mineral Cosmetics
Youngblood® is considered "the premier luxury mineral cosmetics line" that's made with natural, finely ground minerals from the earth, according to the manufacturer's website.
An award-winning cosmetics line, Youngblood's Mineral Rice Setting Powder was named "Beauty Product of the Year" at the 2007 Danish Beauty awards.
The products do not contain common irritants found in conventional makeup, such as chemicals, dyes, and preservatives. Rather, the products contain a signature blend of Malachite, Rhodolite, Hematite, and Zincite to help protect cells and tissue.
Youngblood® is also said to be gentle to all skin types and conditions, including skin recovering from a laser or chemical peels, as well as skin with rosacea, acne or discoloration.
This product line includes makeup for the face, cheeks, lips, and eyes. The Pressed Mineral Foundation, for instance, contains "superior" concealing and oil-controlling properties, and softens the appearance of fine lines and pores with a smooth, matte finish.
Additional makeup includes Hydrating Lip Tint SPF 15, a new product made with jojoba, argan, sunflower, and avocado oils to help heal dryness and soften roughness; and Outrageous Lashes Mineral Lengthening Mascara, a conditioning and volumizing formula that is said to create noticeably longer, fuller, defined lashes.
Youngblood® makeup can be purchased directly from the manufacturer. Other websites that sell Youngblood® makeup include Amazon, Overstock, The Beauty Place, and LovelySkin.
6. Westman Atelier
Westman Atelier, a "clean" cosmetics collection created by noted makeup artist Gucci Westman, has been recommended by Dr. Deanne Mraz Robinson, Co-founder and Partner at Modern Dermatology in Westport, Connecticut; and Assistant Clinical Professor of Dermatology at Yale University of Medicine in New Haven.
Dr. Robinson said she really likes this line, because it is "very clean and simple," adding that "the less irritating ingredients the better; it leaves skin looking fresh and radiant instead of dry which makes us look older."
The line, which combines botanical-powered formulations with biomimicry technology, includes a foundation stick, powder bronzer, highlight stick, contour stick, blush stick, and tinted highlighter.
According to the company's website, Gucci is a lifelong vegetarian committed to holistic living, and her beauty line takes a "plants-first" approach "to crafting the perfect canvas." Westman Atelier ingredients are curated by Gucci in the lab alongside top chemists to create skin-nourishing, clean makeup that uses "potent" actives at clinically proven efficacy levels. These products are void of ingredients including parabens, sulfates, phthalates, mercury compounds, mineral oil, retinol, and gluten.
Westman Atelier's products can be purchased directly from the company's website. They can also be bought online at Barneys New York, Niche-Beauty, and MECCA.
7. ILIA
Dr. Robinson also recommends the ILIA makeup line, which includes priming serum, foundation, finishing powder, serum concealer, and tinted moisturizer. This company also makes lipsticks, lip glosses, eye shadows, and eyeliners. Some of their best-sellers include a translucent powder with SPF 20, "limitless lash" mascara and tinted lip conditioner.
According to the company, these products, all made from scratch, are "designed from the ground up" with a mix of natural and organic botanics as a base; and at times, safe synthetics "to ensure the product goes above and beyond the expectations of natural."
Dyes and pigments are FDA approved, food-grade dyes; and the only preservative used is Phenoxyethanol alcohol, which is an organic compound that is a mild alcohol derived from flowers. Several products are vegan, including the Satin Cream Lip Crayon, True Skin Serum Foundation Cucumber Water Stick, Soft Focus Finishing Powder, and On & On Eye Primer. These products are also void of ingredients including parabens, phthalates, sulfates, GMO, synthetic fragrances, gluten, and talc.
All products can be purchased from the company's website. Many products in this line can also be bought online at Sephora, Amazon, Bloomingdales, and Nordstrom.
8. RMS Beauty
In other recommendations by Dr. Robinson, RMS Beauty's make-up line includes several products for the face, including cover-up, powders, luminizers, and a product called Lip2cheek which can be used for both. For the eyes, their products include shadows, cake liner, and mascara; and for the lips, they manufacture a mini lipstick set, lip liner, and lip shine.
This company was founded by Rose-Marie Swift, who states on the company website: "Consider it skincare with mineral color – giving makeup a whole new meaning." These cruelty-free products are non-GMO, hypoallergenic and non-comedogenic, and are void of sulfates, phthalates, silicone, talc, petrolatum, and polyethylene.
The company also prides itself on the fact that their products are formulated using raw, food grade, organic, "wild-crafted" and natural ingredients "that are as close to their natural state as possible." Additionally, "extreme care" is taken to use minimal heat in the manufacturing process, "therefore preserving every vital nutrient that nature provides."
In other claims, the company states that it uses "the highest quality" of ingredients, which are kept "healthy on the shelf" to reduce rancidity that can cause free radical damage to the skin. Also, coconut oil, a key ingredient in their beauty cream-based products, is known for high levels of lauric and caprylic acid, which have high antibacterial and anti-fungal properties. Extract of rosemary, known for its preservative properties, is also used in RMS beauty products.
Products from this line can be purchased directly from the company's website. It can also be bought online at Sephora, Nordstrom, Amazon, Dermstore, Anthropologie, and Neiman Marcus.
9. It Cosmetics™ CC+ Cream
The CC+ Cream made by it Cosmetics "works for all skin types" and "even outs skin tone," according to Dr. Lauren L. Levy, a Board Certified Dermatologist at Loucas Dermatology in New York City.
This product, which won the Readers' Choice Award from Allure in 2018, is a color correcting full coverage cream that also contains an anti-aging hydrating serum, as well as SPF 50 UVA/UVB broad spectrum sunscreen.
According to the company, it was developed with plastic surgeons, and delivers several products in one, including a pore-less finish primer and dark spot concealer, which creates a "one-stop shopping" product, Dr. Levy added. Ingredients include hydrolyzed collagen, peptides, niacin, hyaluronic acid, antioxidants, and vitamins.
As far as results are concerned, the company claims that in clinical tests, 100% showed increased skin hydration in 10 days; 96% saw softer, smoother skin; 85% saw an improvement in the appearance of wrinkles; and 77% said their pores appeared smaller.
The CC+ Cream can be purchased on the company's website. It can also be purchased online at Ulta Beauty, Sephora, Amazon, Macy's, and Walmart.
What to Avoid When Shopping for Makeup for Women Over 40
Copeland educates her patients to look at the ingredient list of makeup to determine what to avoid.
"The brands that are simple with fewest ingredients tend to be more gentle on the skin," she said.
Alcohol will tend to dry out the skin that is already drier in this age group, "so avoid a product that has that at the front of the ingredient list," Copeland advised.
Additionally, "women that have more sensitive skin as they age should try to avoid high fragrance and additives that could irritate the skin," said Copeland.
Women over the age of 40 should avoid drying agents such as alcohol and choose more hydrating options, Copeland re-emphasized.
"I tell women who are concerned with lines and wrinkles to avoid drying agents because that can make fine lines and wrinkles appear deeper and give the skin a dull finish," Copeland said. "Try to choose products that put moisture in the skin and finish your makeup with a facial mist that's plain water, like Evian, to give immediate moisture and dewy skin-like appearance."
The Bottom Line
Women over 40 need their skincare and makeup to be just like them – "a hardworking multi-tasker that won't fade throughout the day," Dr. Lain said.
"Good quality mineral makeup with antioxidants provides great coverage, excellent sun protection, and deliver the important properties of antioxidants," Dr. Lain advised.
It's important to keep in mind that what works for you won't work for another woman, Copeland added.
"We all have a different level of extrinsic damage to the skin – especially in our 40s, we have different hormonal effects to the skin," Copeland said. "We may be started on certain medications such as thyroid or cholesterol medications that change our skin. Getting a consultation with your dermatologist is a good starting point."