11 Makeup Tips for Women Over 40 to Look Fantastic
Women over 40 have different needs when it comes to makeup. The following 11 tips can help beauties in this age group maintain a lovely look.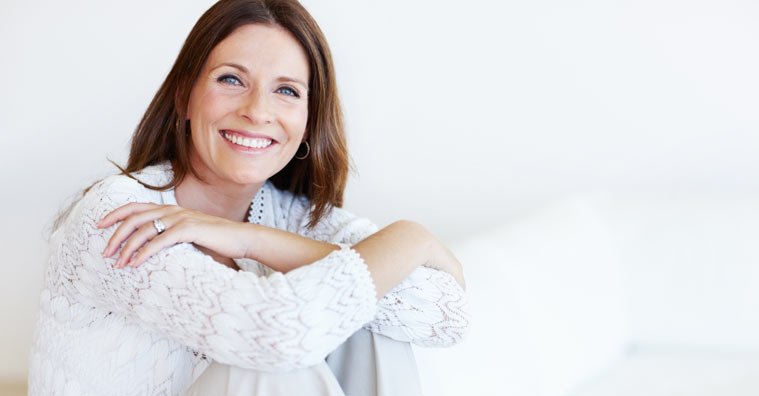 When a woman enters her 40s, she may discover the makeup she loved years ago no longer works as well as it used to.
For instance, foundations that covered imperfections on younger skin start seeping into wrinkle lines, making them appear more pronounced.
Eyeshadow colors that accentuated the eyes now make the eyes look smaller. And mascaras that made the eyelashes pop now cause the lashes to fall out.
Fortunately, there is good news: A woman in her 40s can wear makeup and look terrific by following a few easy tips. With women in their 40s spending millions a year on makeup, this article gives this age group the best advice possible so they are happy with their purchases.
This article takes a look at what happens to the skin when a woman enters her 40s – and why makeup needs change as women mature.
We've gathered input from three experts on this topic, including a clinical esthetician, a board certified dermatologist, and a professional make-up artist, who offer their advice.
How Women's Skin Changes at 40
Eye and Cheek Puffiness
When women hit their 40s, their lymphatic system starts to slow down. Lymphatic drainage – which is the body's way to get rid of toxins – decreases in speed, and the elastic fibers that support the lymph glands break down.
Less sebum production at this age also means the waxy, protective outer coating of the skin is more vulnerable to environmental conditions, such as pollution and smoky environments.
These changes combined can result in puffiness around the eyes and cheeks.
Sagging Skin and Wrinkles
Hormones such as estrogen are switching off when women enter their 40s.
Estrogen is a useful molecule for keeping skin pert and bouncy. So less estrogen can make the skin start to sag and wrinkle around the neck and chest.
"In our 40s, collagen is no longer produced," said Lupe M. Guthrie, the owner of Therapeutic Skin Care in Southern California and a California State Board Licensed Esthetician.
"The collagen and elastin fibers break, thicken, stiffen, clump together and lose their elasticity. This results in wrinkles and aging lines."
Unhealthy Habits Start Showing
Signs of tiredness and life's excesses can be reflected in a woman's face – especially when she enters her 40s. For instance, too much alcohol over the years can open up the blood vessels, giving the skin a ruddy appearance.
Smoking cigarettes can break down collagen, and can also dehydrate the watery gel inside the skin responsible for keeping it plump and bouncy.
The skin's color may also start to turn gray or yellow as a consequence of too much sun exposure.
"Our cells increase the amount of pigment they produce in response to too much sun, and this can give our skin a mottled or uneven appearance," Guthrie explained. "So it's important to choose makeup that's rich and nourishing to reduce the signs of aging."
Mistakes with Makeup for Women Over 40
Big mistake women over 40 tend to make when applying makeup is not prepping their skin, said Dr. Deanne Mraz Robinson, a board certified dermatologist, Assistant Clinical Professor of Dermatology at Yale New Haven Hospital and Co-Creator Pure BioDerm.
She advises to always make sure your skin is cleansed and apply your daily skin care regimen before applying your makeup.
Also, use a makeup primer before applying makeup to give you a smoother and more even application.
11 Makeup Tips for Women Over 40 to Look Fantastic
1. Create a Smooth Surface
The first step begins with creating a smooth surface before applying foundation or concealer. "As you age, you have more to conceal – but concealer can draw attention to lines and crepiness," Guthrie said.
This can be avoided by using products like topical wrinkle fillers, or going a step further by having dermal fillers administered by a board certified plastic surgeon.
Wrinkle fillers, or smoothing face creams, are applied to the face prior to foundation or concealer to create a smooth surface. Wrinkle fillers can instantly smooth fine lines and improve skin texture.
These products can also help reduce wrinkle volume over time and help protect the collagen and elastin network against environmental aggressors.
A "click-pen" formula covers just as well and doesn't seep into facial lines, according to Guthrie. It's called a "click-pen" because the product looks like a pen with the filler formula inside. Some of these formulas can be used under or over makeup.
Primers, like wrinkle fillers, also help smooth the skin. They also "prep" the complexion for a flawless makeup application and extended wear.
Injectable dermal fillers – which are best administered by a board certified plastic surgeon – are another way to help address a variety of concerns related to facial aging for women in their 40s.
Dermal fillers create a smooth surface the same way as topical wrinkle fillers or primers. While dermal fillers cost more, they last much longer.
According to the American Society of Plastic Surgeons, the lasting effects of dermal fillers vary for each individual. But some can last between six months to a year depending on the type of filler you purchase.
These fillers include calcium hydroxylapatite – also known as Radiesse® – which can cost around $650. There's also hyaluronic acid – more commonly known as Juvederm® or Restylane® – which costs about the same.
Prices for dermal fillers vary, and many plastic surgeons offer special seasonal prices, so do your research before spending money on such a procedure.
Dermal fillers can be used to:
Add volume and smooth out the deep creases that run from the nose to the mouth – also known as laugh lines.

Plump thin lips and smooth out vertical lines around the edges of the lips.

Augment cheeks to enhance their shape, often restoring youthful fullness.

Fill out depressions (hollows) under the eye area.

Make indented scars from acne or chickenpox more even with surrounding skin.

Increase volume to fill out gauntness in the lower cheek or temple area, which most often occurs due to fat pads shifting beneath the surface of the skin.
"You need to find a doctor who has been injecting dermal fillers for some time, and who has loads of experience, preferably with more than one type of filler," Guthrie advised.
"Most people considering fillers have more than one area of concern fillers can address, and different fillers are available to specifically treat those concerns, such as lines around the mouth."
2. Use a Plumping Serum/Primer
Using a plumping serum/primer will help "blur the fine lines" and make skin look more youthful, Dr. Robinson said.
She particularly loves Backlight Priming Filter Face Primer made by Becca Cosmetics.
"It is a velvet blurring primer to help make the skin look smooth," said Dr. Robinson, noting that some key ingredients in this primer include Sodium Hyaluronate, "which is a powerful humectant that attracts and holds on to water, making it the ultimate skin moisturizer. This helps to hydrate your skin throughout the day."
This primer is a best seller, according to the maker of this product, which costs $39 on their website.
Becca Cosmetics states that it "luminizes" the skin with a veil of sheer radiance, creating an instant photo-filter effect, which "blurs" imperfections and lights up the skin with "pearlescent" luminosity. Additionally, there's "no settling in pores or fine lines."
3. Create a Fresh Look with Concealer and Foundation
Concealers can seamlessly camouflage blemishes, dark circles, and fine lines while conditioning skin and evening out skin tone.
Guthrie recommends choosing concealers that contain light-reflective minerals and line-filling microspheres to camouflage flaws because they help diminish the appearance of dark circles, blemishes and fine lines.
When selecting these products, she suggests items that are hypoallergenic, talc-free, dye-free and paraben-free. The same goes for foundations, which offer coverage and camouflage for every skin type.
But Guthrie advises staying away from powders that are highly pigmented if you want to look fresh. Instead, choose mineral makeup foundation, which comes in a variety of forms from mineral enriched powders.
"Applying a liquid foundation will smooth out the appearance of the skin, restoring dewiness and taking years off your look," Guthrie advised.
She also recommends using a "yellowish" foundation. "Not strong yellow, just yellowish," because yellow warms up the skin, "and the warmer your skin looks, the younger it looks."
She also suggests applying this makeup in sunlight so you know what it actually looks like before you commit to a purchase.
According to Dr. Robinson, the best foundation is a cream or liquid based foundation, because these help to keep the skin hydrated.
She recommends Rainforest of the Sea made by Tarte™ Cosmetics, which costs $39 on the company's website.
Highlighted ingredients include water, which helps retain the skin's natural moisture; marine plant extracts, which help reduce the appearance of fine lines and wrinkles while smoothing and softening the skin; and Vitamin E, which acts as a natural preservative, emollient, and antioxidant.
This foundation "works great," Dr. Robinson noted, further adding, "when applying foundation, less is more." She recommends starting off with a small layer, "and build if needed. This gives you a better, more natural look."
4. Select Eye Shadows that Maximize Your Look
Stay away from opaque, dark eyeshadows and liquid eyeliners, Guthrie advised, because "dark opaque eyeshadows tend to make eyes look smaller."
Instead, use neutral-colored sheer eyeshadows to define eyes. And switch to eyeliners in pencil, powder or gel form for a more blended, softer look that stays put.
"Opt for shades that will enhance the vibrancy of your eye color and brighten the whites of your eyes," said Guthrie, adding that one way to achieve this is to switch from sparkly shadows to matte shadows.
"Create a classic and defined look using subtle neutral tones on the lid and in the socket line," Guthrie said. "Light colors will lift, so apply them to the inner corner of your eye and beneath your brow."
Guthrie also recommends buying the best quality makeup you can find, such as mineral-enriched eye shadow with a soft, shimmering finish.
Also, products that contain naturally radiant minerals and skin caring vitamins – such as Vitamins A, C, and E – help pamper the eyelids with crease-proof perfection.
The best eyeshadow colors for women over 40 are warm tones, incorporating mattes and shimmers, said makeup artist Jet Emini, adding that "a big mistake" women make is using a cool tone in the crease of their eye, "which will cause your skin to look dull and dehydrated."
Using a matte shadow on your crease "helps blur out" any fine lines on the lid, Emini noted, as if you use a shimmer in your crease, "it will show off the fine lines more."
Therefore, using a shimmer shadow on your lid is best with a lighter tone than your crease to make your eye appear bigger.
5. Use Matte Cream Eyeliner
Emini also recommends using matte cream eyeliner on the lid to give you a softer, more youthful look.
If you're someone who likes to use eyeliner on your bottom lash line, "I love using a darker eyeshadow and starting at the outer corner and bringing it in."
Also, using a nude/white eyeliner pencil in your water line "will help make your eye appear whiter and more opened," Emini noted, adding that mascara "is a preference, and I find that there is not one brand I find to be best. I do think water resistant, not waterproof, is better to preventing flaking throughout the day."
6. Maintain Your Eyebrows
Nothing says "age" like thin anorexic-looking eyebrows – so don't over pluck.
If your eyebrows have begun to fade a bit over time, try an eyebrow growth serum to restore them, such as Revitalash®.
"If they just won't grow back, a good brow pencil is the best way to bring them back to life," Guthrie said. "Choose one with a super fine tip so the color feathers on and looks natural."
Also, if you're filling in your brows this way, use a pencil that's a shade lighter than your natural color­ing. For instance, if you're blonde, go one shade darker.
And when applying, hold the brow pencil at a 45-degree angle, as opposed to perpendicular to the skin. "The strokes will be softer, and the brows will look more natural," Guthrie said.
7. Curl Your Eye Lashes, Use Lengthening Mascara
Guthrie suggests curling your lashes because they tend to flatten as you age.
"And you need to keep everything going upward, against gravity. Even if you skip mascara, curling your lashes makes your eyes look bigger and brighter."
If you want to use mascara, choose lengthening mascara, because "lashes get thinner as you age – you need a thickening mascara to bulk them up," Guthrie explained.
She also warned against using waterproof mascara, because waterproof mascara can cause the loss of even more lashes, and heavy formulas like these can also flatten the lashes.
Additionally, "look for mascaras with thin wands so you can easily coat each lash."
8. Wear Lip-Gloss or Lipstick That Enhance Your Natural Tone
As women age, their lips get smaller, especially the upper lip. Stick to shades that enhance your natural lip tone, rather than bringing attention to the area.
Then top it off with a clear gloss or balm to keep the lips looking full and hydrated.
Guthrie advises using lip plumping products, which are triple-action treatments designed to enhance the lips because peptides used in lip plumping products strengthen the collagen fibers, which "efficiently influences moisture, volume, and outline of the lips."
You can also nourish your lips by choosing products with ingredients such as natural cacao, shea butter, olive oil, glycerin, rapeseed oil, and vitamins.
Additionally, products that contain "hydra-cell complex" can help promote the skin's structural hydration systems for more supple and voluptuous looking lips.
Other ingredients – like argan, mongongo and marula oils – condition and hydrate lips for a healthier, softer and more youthful appearance. Sodium hyaluronate also helps hydrate to increase volume and smooth lips.
Emini said the colors you choose depend on your skin tones and lip color, and if she would have to pick a universal color, "it would be a light dusty rose pink; it's a flattering color on everyone."
She added that Bite Beauty has beautiful shades of lipsticks that are easy to apply and hydrating, and ingredients include grapes and polygonum cuspidatum, which help soothe and fight signs of aging.
Lip-plumping products are also effective, Guthrie added, because "substances such as hyaluronic acid in these lip enhancer products tend to be essential water retaining molecules that increase the collagen fibers."
9. Wear Blush That Gives You a Natural Glow
Emini's favorite brands for blush are Tarte™ Cosmetics and Benefit Cosmetics because they are so pigmented, "a little goes a long way."
She noted that the peach tones compliment most skin tones, "and gives you a natural looking glow," adding that she likes to use a powder over cream, "because it almost works as a setting powder on top of the foundation."
10. Avoid "Matte" and "Waterproof" Foundations
Emini said there aren't any particular brands you should avoid, rather, stay away from the wording on a makeup package, especially if it says "matte."
Matte makeups, foundations in particular, are more for people with oily skin, "and if you have dry to normal skin it can be very drying."
In other advice, Emini said to avoid "waterproof" foundation, because it will dry out the skin and enhance fine lines and wrinkles.
11. Apply a Setting Spray
After applying your makeup, always applying a setting spray is great because it settles the makeup in, Emini advised.
Her "go-to" spray is Tatcha™ Luminous Dewy Skin Mist Spray, which she says "sets your makeup for the day and gives you an amazing glow."
This product, which costs $48 on the company's website, is a bestseller, and is formulated with more than 20 percent botanical oils and humectants "that leave skin dewy," according to the maker, which states that it features a proprietary complex of Okinawa Red Algae, and hyaluronic acid, which delivers "highly efficient" hydration to the skin, acting as the ultimate moisture magnet.
The Bottom Line: Women in Their 40s Can Look Fantastic with the Right Makeup
A woman's skin changes in her 40s, but the following tips can create a beautiful look:
Concealers containing light-reflective minerals can help diminish the appearance of dark circles, blemishes, and fine lines.

Neutral-colored, sheer eye shadows enhance the vibrancy of the eyes.

Thinning eyebrows can be restored with growth serums, or can be filled in with a brow pencil to bring them back to life.

Curling the eyelashes and using lengthening mascara makes the eyes look bigger and brighter.

Lipstick shades that enhance your natural tone are best for a youthful look. Lip plumping products are also effective to restore the lips, which tend to get thinner as women are in their 40s.

Dermal fillers injected by a certified plastic surgeon can add volume to deep creases, augment the cheeks, plump thin lips and fill out hollows under the eyes.
"The most important tips for having a great makeup application over the age of 40 is being on a regular skin care routine," Dr. Robinson added.
"Doing yearly preventative laser treatments and using your daily moisturizer, antioxidants, SPF and retinols, helps with diminishing fine lines, and keeping your skin looking young and fresh."