Crepey Skin: Causes, Prevention and Treatment
Crepey skin doesn't just appear on your face – it can show up from neck to knees. Experts discuss the causes of crepey skin and ways to prevent and minimize it.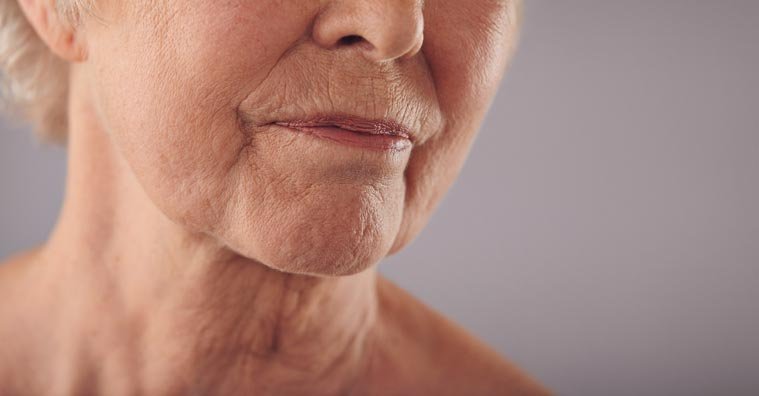 Crepey skin is a normal part of the aging process and typically occurs with people in their 40s, and even sooner for those who smoke cigarettes or spend time in the sun or tanning beds.
The appearance of crepey skin can take a toll on a person's self-esteem by making them self-conscious in certain clothes, and can even cause depression in certain individuals.
This article takes a comprehensive look at crepey skin, including the causes, foods for overall skin health, and clinical methods and products that can help diminish the appearance.
We've gathered input from several experts on this topic who offer their extensive knowledge to give you a well-rounded understanding of crepey skin and ways that can potentially diminish the look.
Keep in mind that this article is not intended as medical advice. If you decide to try any products or clinical procedures mentioned in this article, it's important to talk to your medical provider or a board certified dermatologist, first.
What Is Crepey Skin?
Crepey skin refers to thin, fragile and loose skin that resembles tissue paper, explained Dr. Y. Claire Chang, a board certified cosmetic dermatologist at Union Square Laser Dermatology in Manhattan, New York.
This tissue-paper thin skin is due to thinning of the epidermis (top layer of skin) and dermis (lower layer of skin) and the loss of collagen and elastin.
Other than being the bane of most women over 40, crepey skin is when you have lost or thinned out the "meat" of your skin, according to Dr. Taylor Mulkey, a board-certified dermatologist at REN Dermatology & Laser Center in Tennessee.
"The primary fibers that give our skin thickness and elasticity start to break down typically around age 40," Dr. Mulkey explained, adding that "this causes the skin to be thin and loose."
As we age, our skin becomes looser and flacid because we lose collagen and the elastic fibers that allow the skin to be firm and tight, and crepey skin becomes more noticeable when it affects large areas of the skin, especially our arms and neck, said Dr. Paul Yamauchi, who's in private practice at the Dermatology Institute and Skin Care Center in Santa Monica, California.
While crepey skin typically appears in our 40s, it can show up much sooner if you've been a sun – or worse, tanning bed – worshiper, said Dr. Deanne Mraz Robinson, President and Co-founder of Modern Dermatology in Connecticut.
"Think of an elastic band: with repeated use, it starts to not go back to its true original form," Dr. Robinson said.
How Crepey Skin Affects Self-Esteem
The appearance of crepey skin is a natural part of aging, Dr. Chang noted. However, acceleration of this aging process, by factors such as excess sun exposure or smoking, can reduce one's self-esteem.
"The thin, fragile appearance of skin may make someone look older and less healthy than they actually are, having a negative impact on self-esteem," said Dr. Chang, adding that thin, fragile skin can also be more prone to a dull complexion and bruising.
Any skin condition, including creepy skin, can cause people to have low self-esteem and feel the need to cover-up, Dr. Robinson said. Additionally, Dr. Mulkey said you can't avoid it, and it is hard to treat.
"I find it incredibly depressing – nothing makes a woman feel older than crepey skin," Dr. Mulkey said. "I can't tell you the number of patients who are so disappointed when I inform them there isn't a magic fix. Crepey skin is different from wrinkles so you can't simply fill it or pull it tight."
When the skin becomes crinkly and paper thin, it gives off the appearance of looking old and unattractive, Dr. Yamauchi said.
"There's no doubt people hate looking old and become self-conscious," he noted. "The reaction to developing crepey skin depends on the person. Some don't care about it. But most people realize it's a signal we're getting older and become bothered by the appearance. Some may actually become despondent and depressed by crepey skin."
What Are the Causes of Crepey Skin?
According to Dr. Chang, crepey skin occurs due to multiple internal and external factors, including the following:
Age is a driving intrinsic factor in the appearance of crepey skin. As we mature, our existing collagen is gradually degraded while collagen production is reduced. External factors can also accelerate the appearance of crepey skin.

UV exposure, including sun exposure and tanning bed use, plays a key role in photo-aging and thinning of the skin. UV exposure is known to break down collagen and elastic fibers, a condition called solar elastosis, in the skin.
Other causes of crepey skin include smoking cigarettes, environmental pollution, and collagen stress, Dr. Chang said, as well as extreme body weight changes and dry skin, which "can worsen" the appearance of crepey skin.
Dr. Mulkey agreed that the most common cause of crepey skin is chronic sun exposure. Typically, we will start to see some laxity and the early stages of crepey skin starting in the 40s, she said, "however, if you have a history of heavy tanning you could potentially see some early changes in the late 20s."
There are a few other factors that can contribute to the development of crepey skin, such as lack of hydration in the skin, medications like prednisone, and gaining and losing a substantial amount of weight.
Another risk factor is genetics and your skin type, said Dr. Yamauchi, adding that if you're fair skinned and have had a lot of sun exposure, the chances of developing crepey skin becomes higher earlier in life. In addition, wrinkles and skin cancer will also occur.
Ways to Minimize Crepey Skin
There are multiple external causes of crepey skin that are preventable, said Dr. Chang, further emphasizing that "the key culprit" in accelerating the appearance of crepey skin is excess sun exposure.
Avoid Excess Sun Exposure and Wear Sunscreen
It is essential to protect yourself from too much sun by using sunscreen daily, and reapplying every 2 to 3 hours, avoiding peak sun hours during the mid-day, and wearing broad-brimmed hats and sun-protective clothing.
Avoiding excess sun exposure will help prevent UV-related collagen breakdown.
According to Dr. Mulkey, "there is no way to really avoid getting crepey skin – it is more of trying to delay it."
For instance, sun damage "is by far the biggest contributor" to crepey skin, and therefore "everyone should find a sunscreen they like and will use regularly – yes, you really do need to reapply every 2 hours. If you are getting a tan even while using sunscreen you are not doing enough. You should also be wearing hats, clothing and seeking the shade."
Avoid Cigarette Smoking
Avoiding smoking cigarettes will help reduce the appearance of crepey skin and wrinkles. According to the National Institutes of Health, smoking has been long established as having deleterious effects on the skin.
Apply Topical Antioxidants
Topical antioxidants will help protect the skin against environment-related damage, Dr. Chang advised, because applying topical antioxidants, like topical vitamin C or niacinamide, can help reduce UV and pollution-related oxidative damage and collagen breakdown in the skin.
"As we age, we have less production of lipids in our skin to protect it and make it look plump," said Dr. Chang, adding that "frequent hydration" of the skin can plump up the skin with topicals that help stimulate collagen production, like retinoids and peptide-containing serums.
Hydrate
Dr. Mulkey recommends focusing on your skin hydration on all levels, noting that "oral hydration is important, but you need to be using a good moisturizer to help replace and maintain the water content in the skin.
Dry, dehydrated skin will worsen the appearance of crepiness." Dr. Yamauchi agreed that applying moisturizers keeps your skin young and healthy appearing by trapping the water in your skin.
Incorporate a Healthy Diet
A diet that consists of antioxidants, taking vitamin supplement including A, C, D and E, and omega-3 fatty acids, can protect your skin from premature aging, Dr. Yamauchi advised.
Expert Recommended OTC Products for Crepey Skin
Topical antioxidants work to reduce free radicals and protect the skin from the sun and environment-related skin aging, said Dr. Chang, adding that her favorite antioxidant serum is SkinCeuticals® C E Ferulic®.
Additionally, retinoids and retinol are powerful anti-aging ingredients that work to treat photo-aging by increasing collagen production, increasing skin cell turnover, and diminishing brown spots.
Long-term retinoid use can help stimulate collagen and prevent crepey skin in the long-term, said Dr. Chang, who recommends Differin® Gel, SkinMedica® Retinol, and Neutrogena® Rapid Wrinkle Repair®.
SkinCeuticals® C E Ferulic®
According to the maker of this product, SkinCeuticals® C E Ferulic® features "a synergistic" antioxidant combination of 15% pure vitamin C (L-ascorbic acid), 1% vitamin E (alpha tocopherol), and 0.5% ferulic acid, which can enhance protection against environmental damage caused by free radicals that can contribute to atmospheric aging.
This serum helps neutralize free radicals induced by UVA/UVB, infrared radiation, and ozone pollution, which may lead to visible signs of accelerated skin aging.
Differin® Gel
Creators of the non-comedogenic, fragrance-free Differin Gel made it with the retinoid adapalene, an over-the-counter active ingredient that doesn't require a prescription with this product.
SkinMedica® Retinol
According to the company that created SkinMedica® Retinol, this complex renews the skin by enhancing skin tone, texture and resiliency. It's considered appropriate for all skin types pre-conditioned by using Retinol Complex 0.25 or another retinoid product.
Neutrogena® Rapid Wrinkle Repair®
Neutrogena's Rapid Wrinkle Repair line contains several products, including a lightweight, fast-absorbing retinol oil that's enriched with retinol SA, which the company claims provides more benefits than other forms of vitamin A for visible results that can occur in just 1 week.
Skinbetter Science® Alto Defense Serum™
According to Dr. Mulkey, it is by far easier to prevent damage to the skin which eventually leads to crepiness. Therefore, she recommends an antioxidant in the morning, because "the theory is an antioxidant would be to pick up free radicals typically caused by the sun or environmental pollutants.
The antioxidant would scavenge for the free radicals and prevent damage to collagen and elastin. One of her favorites is the Skinbetter Science® Alto Defense Serum™, which contains 19 different antioxidants that are designed to "dynamically" enhance natural free radical neutralizing elements.
Skinbetter Science® AlphaRet® Overnight Cream
Retinols and retinoids can help rebuild collagen in the skin, said Dr. Mulkey, adding that "everyone should be on one." The biggest issue with retinoids is tolerability, she noted, because they tend to cause irritation in the skin, and she is particularly sensitive and has struggled in the past to find a product she can tolerate with daily use.
She recommends Skinbetter Science® AlphaRet® Overnight Cream, which contains a combination of an alpha hydroxy acid and a retinoid that leaves skin looking rejuvenated with little-to-no irritation.
Skinbetter Science® Trio Rebalancing Moisture Treatment™
A good moisturizer is a must, Dr. Mulkey emphasizes, "but pay attention to the ingredients. In general, a cream is better than a lotion and having some alpha or beta hydroxy acids can actually lubricate and plump up the skin." She advises to look for glycolic, lactic or salicylic acid, and is "a big fan" of Skinbetter Science® Trio Rebalancing Moisture Treatment™, which is a triple-action formula that helps to hydrate a compromised barrier and bring moisture back to the skin.
Oil of Olay® ProX
Dr. Mulkey recommends products in the Oil of Olay® ProX line, which includes a ProX Hydra Firming Cream that contains lactic acid and can optimize the skin's elasticity and firmness by locking in moisture.
Epionce® Renewal Facial Cream
Dr. Mulkey suggests Epionce® Renewal Facial Cream, which the company claims is its "flagship" product. It contains sodium hyaluronate, which is the sodium salt of hyaluronic acid, among other paraben-free ingredients – including apple extract, date fruit extract, and avocado oil – creating a hydrating formula for visibly smoother, tighter skin.
Epionce® Intensive Nourishing Cream
Dr. Robinson recommends Epionce® Renewal Facial Cream, which is loaded with fruit extracts, and peptides stimulate skin regeneration. This ultra-rich cream is claimed by the company as clinically proven to provide "superior moisturization" for photo-aged skin on the face, neck and décolleté.
ISDIN Uradin Lotion
Dr. Robinson suggests ISDIN Uradin Lotion, which "gives your skin an effective, immediate and 24-hour intense hydration." According to the maker, this lotion is considered ideal for the daily care of dry or very dry skin and restores your skin's natural smoothness.
Supergoop!® Forever Young Hand Cream
Dr. Robinson suggests Supergoop! Forever Young Hand Cream with SPF 40, which she said protects while rejuvenating the skin with a blend of powerful antioxidants and natural oils.
According to the company, this product is rich in omega-7 fatty acids, which deliver the hydration; rich in fatty acids and tocopherols that help fight off oxidation and water loss; and is extremely rich in fatty acids and vitamin E, making it a great moisturizer.
Retin-A
Retin-A (tretinoin) is a prescription cream that has scientifically proven to be effective in reversing sun damage, Dr. Yamauchi said. "However, it can be irritating to people with skin and can make you sensitive to the sun."
Clinical and In-Office Methods That Can Diminish the Look of Crepey Skin
According to Dr. Chang, there are a growing number of "noninvasive" clinical treatments that can be done at dermatology offices to prevent and treat crepey skin, and all clinical treatments available look to increase the production of collagen and elastic fibers and thicken the skin.
In contrast to common misconception, Dr. Chang noted that frequent treatments with these lasers and noninvasive devices "do not thin out the skin, but help it to become thicker and more resilient."
Ideal candidates are those with mild to moderate skin laxity, or those who do not want to undergo more invasive surgical procedures, and Dr. Chang said that radiofrequency, microneedling, resurfacing lasers, Ultherapy or platelet-rich plasma can help diminish the appearance of crepey skin:
Radiofrequency, such as Thermage®, is a device that stimulates collagen in all layers of the dermis and is considered one of the top treatments to treat crepey skin and to tighten sagging skin. The procedure involves prep with pain medications and gridding the treatment area. The treatment time is often about 30 minutes to 1 hour. Immediately after the treatment, patients may be red and mildly swollen, and there are no activity limitations. The downtime is minimal. Possible rare side effects include blistering, crusting, and burns.

Microneedling with or without radiofrequency can help stimulate collagen deep in the skin. Candela Profound and Endymed Intensif are two devices that combine both microneedling, which creates small wounds in the skin, and radiofrequency, both of which stimulate collagen. Microneedling procedures typically require numbing cream and possibly other pain medications. Side effects include redness, swelling, bruising, and bleeding.

Resurfacing lasers, like Fraxel® dual, also stimulate collagen to improve the appearance of crepey skin. Resurfacing lasers put columns of energy into the skin to stimulate collagen. It takes about 2 or 3 months to see the final results, as it typically takes your body this much time to build the collagen. Downtime from resurfacing lasers depends on the type of resurfacing laser and the settings used.

Ultherapy is another skin tightening device that uses micro-focused ultrasound energy to stimulate collagen deep in the skin (even deeper than Fraxel® and Thermage®). It can be uncomfortable, and thus, requires premedication with pain medications. Possible side effects include redness, swelling, bruising, and altered sensation after the treatment.

Platelet-rich plasma is another popular treatment for skin rejuvenation and collagen stimulation. It involves taking the patient's own blood and centrifuging it to extract the growth-factor rich portion of the blood. This can be used to apply topically pre- or post-microneedling or resurfacing lasers or can be injected directly into the skin.

Diluted skin fillers, according to Dr. Mulkey, are being injected in areas of crepiness. It is a two-fold effect, she said, further explaining that the fillers occupy space, "so they can beef up the skin, but they also have bio-stimulating properties to help rebuild your own collagen."

Skin-tightening devices are still a work in progress and have room for improvement, Dr. Mulkey said. Most devices use radio frequency or high-frequency ultrasound to help heat the collagen and elastic fibers of the skin, and the heat helps rebuild collagen and tighten up existing fibers. These types of procedures work best on a small focal area such as the face, neck or arms. The ideal candidate is in his or her 40s or 50s with mild-age related skin laxity. It can be a painful and costly procedure, she noted, adding that a full face radiofrequency treatment could range from $2,000 to $4,000 dollars. "Unfortunately the results can be variable."

Dermal Fillers. According to Dr. Robinson, the FDA has approved Restylane® Lyft™, a hyaluronic acid filler traditionally used in the face for use in the hands; as well as Radiesse®, which is made from calcium hydroxylapatite. "Both hyaluronic acid and calcium hydroxylapatite are naturally occurring substances in our bodies, and when injected by a board-certified dermatologist, are very safe," she said.

Sculptra®, or injectable poly-l-lactic acid, can also be used as a dermal filler and can help build collagen, according to Dr. Robinson. The company states that this treatment works deep within the skin to help stimulate collagen production, and, unlike hyaluronic acid fillers, it helps stimulates the skin's own natural collagen production.

TempSure™ Envi is a non-invasive laser treatment that uses radiofrequency energy to tighten loose skin on the face and body, Dr. Robinson said. Created by HOLOGIC®, TempSure™ Envi is claimed to safely deliver consistent and reliable skin tightening through its unique time and temperature control capability.
Crepey Skin and Nutrition
It is no cliché to say that we are what we eat – rather it is a scientific fact, according to Dr. Annthea Fenwick, an expert in nutrition and owner of Achieving Fitness After 50 in Nevada City, California. Dr. Fenwick is also a certified exercise physiologist at the American College of Sports Medicine.
"The food we eat becomes us through the physiological processes of digestion, absorption, and metabolism," she said, and "our bodies convert food into muscle, liver, blood, bone, and skin."
That sweet potato, apple, and garden fresh salad help your heart, brain, and skin work correctly, repair quickly, and remain youthful, Dr. Fenwick explained. On the flipside, that doughnut, fried chicken and bag of potato chips is destined to become a less healthy and vibrant part of your heart, brain, and skin.
Your skin is the largest organ in your body, she emphasized, so keeping your skin smooth and firm requires giving it the best nutrients possible. In other words, "the better we eat the better the appearance of your skin. What we eat, how much, and how often is within our control, and it has a tremendous impact on our skin."
10 Foods with Phytochemicals for Skin Health
Foods that contain phytochemicals help us by neutralizing free radicals, which are loose cannons in your body that destroy cells by damaging their membranes. When that happens, the cells cease to function properly. That means, nutrients can't get in and toxic waste can't get out.
"This loss of function is visible – we see it in rougher, less elastic skin," said Dr. Fenwick, adding that phytochemicals "arrest" this kind of damage because they wield antioxidants that scavenge the free radicals and prevent them from damaging cells.
The top ten foods you can eat to look and feel better have also been associated with the prevention and treatment of cardiovascular disease, cancer, hypertension, and diabetes. These foods contain phytochemicals that produce antioxidants.
Carotenoids: red, green, yellow, orange fruits and vegetables, especially sweet potatoes and cruciferous vegetables.
Flavonoids: most fruits and vegetables, especially citrus, onions, and apples.
Lignans: flax seeds, berries, and whole grains
Omega 3 fatty acids: salmon, nuts, and seeds
Legumes: chick-peas, beans, and lentils
Good fats: olives, avocados, nuts, and seeds
Lean protein: tofu, chicken, fish, beef, lamb, eggs
Mushrooms, sea vegetables
Garlic, onions, and leeks
Plenty of fresh water (8-10 glasses per day)
To minimize the effects of crepey skin, proper nutrition will always be the first line of defense, Dr. Fenwick advised.
As an analogy, she said to think of a medieval fortress town. To invade it, an enemy must overcome a series of obstacles – an open plain, then a moat, then a ditch, a thick wall and so on. Throughout the battle, defenders inside the town must continually devise new tactics of counterattack.
Our bodies and skin are the fort, and phytochemicals are our defenders. The obvious conclusion is that the more phytochemicals there are defending us, the stronger our lines of defense.
"The foods to avoid would be processed foods, fast food, sugary foods, sweets, candy, alcohol, and high salted foods," Dr. Fenwick added. "These foods products do not support the body, and can actually exacerbate dry, crepey skin."
Treating Crepey Skin: What to Avoid and Red Flags
Dr. Chang always recommends asking a board certified dermatologist for the most evidence-based treatments for crepey skin before spending a lot of money.
"There is an overflow of fad products and supplements that claim to stimulate collagen and reverse aging," she warned. "For example, oral supplementation with collagen pills or vitamins may be helpful in patients who are deficient of this in their diet; however, it is unlikely to help the majority of the population. There are no studies showing that the collagen ingested orally is metabolized and actually make their way into the skin."
According to Dr. Mulkey, the biggest red flag is, "if it sounds too good to be true, you will most likely be disappointed in your results," adding that "there isn't a magic fix for this problem," and that "results are modest."
"Don't get me wrong, I am fighting the process myself, but setting realistic expectations is important," Dr. Mulkey advised. "If a product or devise claims to take 10 or 20 years off your appearance, it simply is not true. These procedures are costly, so ask the question – 'what is a reasonable result?'"
If you have an area with significant sagging, or have lost an excessive amount of weight and have a lot of extra skin, many therapies are unlikely to make a meaningful impact for you, said Dr. Robinson, who further warned to "be wary of providers that claim otherwise and do your research beforehand."
She added that you should always seek out a board certified dermatologist for any of injectable or laser/light-based therapies.
The Bottom Line
With the advance of dermatologic research, there is an influx of new devices and lasers that can help treat crepey skin, Dr. Chang said, adding that if skincare is not doing the trick, consult with a board certified cosmetic dermatologist about possible noninvasive or more aggressive options.
Additionally, Dr. Chang advises making sure to find a doctor you trust and one that is honest, because most noninvasive, non-surgical treatments show mild to moderate improvement in skin laxity, and may not be appropriate for those who are more surgical candidates.
If you have crepey skin, "you are not alone," Dr. Mulkey said, and that "everyone eventually gets crepey skin. You may feel you are the first of your friends, but I can promise everyone will get their turn with crepey skin."
It is important to start early in preventing loose, crepey skin, Dr. Chang further advised, because "prevention is the name of the game." She added that it's never too early to start sun protection, using antioxidants and retinoids. "More and more patients are also seeking noninvasive skin tightening procedures…even before skin laxity appears in order to prevent or delay crepey skin."
Hydrated skin always looks better than dehydrated skin, so take care of yourself from the inside out with plenty of water daily, and stay moisturized, Dr. Robinson added. "Also, sun exposure is cumulative, so don't go by the 'damage is done' rule of thumb. There is always time to slow down the clock, and improve skin health by being safe in the sun."
» For Further Reading: