How to Get Rid of Crepey Skin on Legs: Treatments, Creams & Natural Ways That Can Help
Crepey skin on the legs is a common side effect that comes with age, especially for women. Read about numerous methods and products that are claimed to address this condition.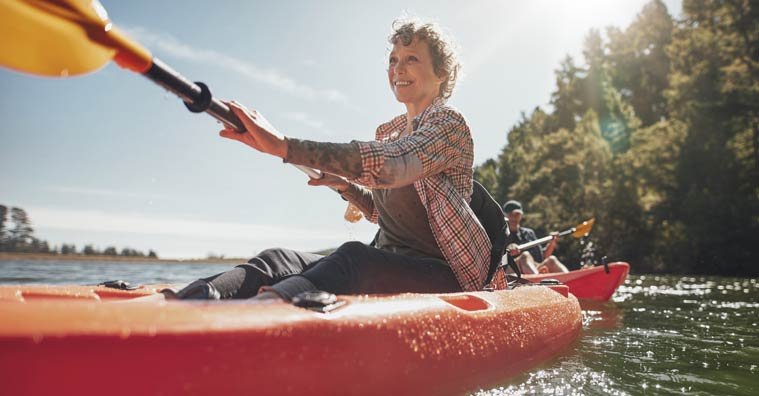 Aging is a normal part of life – and crepey skin on the legs can be a common side effect, especially for women as they grow older.
While medical experts agree that crepey leg skin is a difficult aesthetic problem to improve, there are several clinical methods – and a few natural ways – to help offset the appearance of crinkly skin that's loose or flabby on the legs.
This article takes a comprehensive look at what causes crepey skin on legs, and how it differs from crepey skin on other parts of body. We also explore clinical and non-clinical methods used to address this condition, creams and lotions with top ratings, and what to avoid in terms of spending money on products or treatments that promise to work.
We've gathered input from several experts on this topic, including board certified dermatologists, a clinical professor of dermatology and a board certified plastic surgeon.
Let's begin with an explanation of crepey leg skin, according to our experts.
What Is Crepey Leg Skin?
Crepey skin on legs typically occurs on the area above the knees and creates an appearance of wrinkles, said Dr. Yuly Gorodisky, owner of the West Coast Plastic Surgery Center in Southern California who is board-certified by the American Osteopathic Board of Surgery.
"Many patients with this complaint pull up on their skin, stretching and smoothing out the wrinkles, and are asking for a treatment that would recreate the effects of this action," Dr. Gorodisky noted.
Crepey skin is not a medical term, according to Dr. Bruce Brod, clinical professor of dermatology in the Perelman School of Medicine at the University of Pennsylvania.
"This may be referring to both cellulite, which causes dimpling, and loss of elasticity from sun damage, which causes thin skin with fine wrinkling," Dr. Brod said.
Crepey skin is typically due to skin thinning from sun damage, age and other factors, which we discuss in the next section.
What Causes Crepey Skin on Legs?
In general, crepey skin is caused in most part by sun damage, smoking, genetics and weight fluctuation, said Dr. Kally Papantoniou, a board certified dermatologist specializing in cosmetic, laser and surgical dermatology in New York City, Queens and Eastern Long Island.
Crepiness has a strong correlation with the aging process, she said, and can certainly vary in age of onset.
"Women tend to develop crepiness around menopause; however this can vary and may even start as early as mid-40s," Dr. Papantoniou noted.
The skin loses elasticity and thickness with age, Dr. Gorodisky said.
"Recurrent sun damage, aging, malnutrition, smoking and certain medical conditions can cause thinning, sagging and wrinkling when standing, which usually improves when sitting or laying down," Dr. Gorodisky explained.
Sometimes, crepey skin on the legs is more exaggerated because of gravity, said Dr. Sandy Johnson, who is certified by the American Board of Dermatology. Additional causes of this appearance, she said, include sun exposure and dehydrated skin, and even loss of weight.
"It's more due to sun exposure than your age," according to Dr. Johnson.
Dr. Brod agreed that loss of elasticity is generally related to chronic UV exposure, "with a minor contribution from the chronologic aging process."
Crepey skin on the legs is actually no different from skin on other parts of the body, which we cover next.
How Is Crepey Skin on Legs Different from Crepey Skin on Other Parts of the Body?
Crepey skin on the legs is actually very similar to crepiness that we see on other parts of the body, Dr. Papantoniou said.
Dr. Gorodisky agreed that the cause of the problem is the same and commonly occurs on the arms, abdomen, and neck.
"If we looked at the skin on a microscopic level we would see similar changes – damaged collagen and elastin fibers and structural network," Dr. Papantoniou explained. "What makes crepiness different on the legs is the stronger need for maintenance treatments for best results."
It's possible to help offset the appearance of crepey skin on legs with healthy lifestyle choices, which we explore in the next section.
Can Crepey Skin on Legs Be Addressed Through Diet, Exercise or Water Intake?
Crepiness can in some ways be prevented and reduced through maintaining a steady weight and using good sun protection, Dr. Papantoniou noted.
"Eating well, staying hydrated, exercising, reducing alcohol and abstaining from smoking are also very important for aging well and reducing crepiness," she said.
Maintaining a healthy way of life with a healthy diet and adequate hydration can help, Dr. Gorodisky agreed. He also advises to avoid smoking, and protect the skin from the sun to help minimize the progression of skin thinning and crepiness.
Additionally, "maintenance treatments with topical products that preserve moisture can help repair and thickening of the skin," Dr. Gorodisky said.
According to Dr. Johnson, healthy living is important, "but I'm not aware of something in particular to help," she said. "I always advise good hydration, exercise, sleep and moisturizer."
Now that we've explored what crepey leg skin is all about, let's discuss several clinical treatments that are claimed to help address this condition, according to our experts. This information is not intended as medical advice, so it's important to consult with your healthcare provider before undergoing any clinical treatment.
5 Clinical Treatments for Crepey Skin on Legs
Skin tightening procedures can help stimulate collagen production at deeper layers of the skin. Such treatments typically involve state-of-the-art devices that use laser energy, radiofrequency energy or ultrasound energy, or a combination of these energies to deliver heat to the skin tissue, according to the American Society for Dermatologic Surgery.
Dr. Papantoniou recommends three clinical treatments: Thermismooth 250, Ultheara and Thermitight.
Thermismooth 250
The Thermismooth 250 is a noninvasive energy device which uses radiofrequency to stimulate skin to produce collagen, and after 4 to 6 sessions, can have significant effects on crepey skin.
For an area measuring half the size of a piece of standard paper, the cost is around $400. For legs, maintenance treatments are typically performed every 6 months.
"The Thermismooth is very helpful and patients tend to be happy with results," Dr. Papantoniou said. "If used by a trained practitioner side effects are minimal, and there is no downtime with this treatment. It feels like a hot stone massage and after 30 minutes the skin looks back to normal."
Ulthera
Ulthera, a noninvasive tightening skin device, uses ultrasound to target collagen in order to rejuvenate and stimulate new collagen. Typically, it can take 2 to 3 treatments for best results, depending on the case.
The price can vary depending on the size of the area being treated, with costs ranging from $2,000 to $4,000-plus.
"After treatments, areas rarely will have a small bruise, but usually the recovery is minimal and very well tolerated," Dr. Papantoniou explained. "Repeat treatments may need to be done approximately 6 months after being treated."
ThermiTight
ThermiTight is a minimally invasive tightening treatment that uses radiofrequency delivered by a small tube, no larger than the ink cartridge found in a pen, under the skin.
Working at a deeper plane, the ThermiTight is able to provide more significant lifting than topical energy devices. The cost is approximately $3,000 to $4,000, and has some bruising and mild tenderness after the treatment.
"The results tend to last around two years, but will vary between patients, with some having longer-lasting results and others requiring some form of maintenance treatments," Dr. Papantoniou said.
Gentle YAG
Dr. Johnson said the best clinical treatments for crepey skin on legs are anything that stimulates the skin to thicken.
"There are a variety of lasers to stimulate the collagen – I like the Gentle YAG the best," Dr. Johnson noted. In her office, the charge is approximately $200 per treatment, and most patients undergo 3 to 5 treatments spaced out monthly.
YAG refers to the crystal from which the laser causes effects.
"Like most lasers that tighten skin, it heats up the dermis, which is the layer of skin that provides structure and firmness. This makes the skin tighter and firmer," Dr. Johnson explained. "The results are fairly permanent. I saw one patient recently that we treated 8 years ago and she still has great results."
CO2 Laser
To stimulate collagen and thickening of the skin, treatments in Dr. Gorodisky's practice usually involve topical products that include retinol, which helps bolster the skin's thickness and elasticity; and hyaluronic acid, which helps thicken the epidermis.
Additionally, energy treatments such as CO2 laser and radiofrequency microneedling can help to thicken the skin and improve wrinkles. These treatments cost approximately $1,500.
"These treatments work by creating microscopic skin injury which recruits collagen and becomes thicker as it heals," Dr. Gorodisky explained.
There are also a few natural treatments that can help address crepey skin on legs, which we discuss in the next section.
Non-Clinical Treatments for Crepey Skin on Legs
Dr. Papantoniou noted that some patients will incorporate microneedling to stimulate skin to produce collagen.
"This is well-tolerated, and can be done at home and in office for a deeper session," she said. "If used regularly every 1 to 2 weeks, results can be seen with an at-home derma-roller microneedling hand-held device."
Dermal rollers, which contain hundreds of tiny needles, can cost $20 to $40; results will vary and need to be repeated often for maintenance.
Wrap treatments can also help, Dr. Gorodisky said.
"By creating swelling or improving moisture of the skin by preventing evaporation, these can temporarily improve the appearance of the crepey skin," he said.
4-Step Process Can Help Target Skin Creping
Dr. Cynthia Bailey, a board certified dermatologist based in Northern California, said the following 4-step process can help target creping anywhere on your skin:
Cleanse using only non-drying soaps and skin cleansers.

Correct the appearance of crepey skin using glycolic acid, which will restructure the outer dead skin to give it more luster. Strong glycolic acid also will help to promote more natural skin production of hyaluronic acid in the dermis to plump crepey skin. Add physical exfoliation to remove dry scale that makes crepey skin look worse.

Hydrate with moisturizing creams and lotions matched for your skin type and the body area you are treating.

Protect creping skin from the sun to prevent further skin thinning and to help your body reverse what has occurred. Don't underestimate the importance of sun protection as a cause of your skin creping, because we know that most skin thinning happens due to sun damage – not the aging of your skin.
Lotions and Creams for Crepey Skin on Legs
Creams and lotions can help offset the appearance of crepey skin because of their hydrating effects as well as their ability to slowly thicken the skin.
"It is important to hydrate your skin," Dr. Papantoniou advised. "This means don't over wash and remember to moisturize regularly."
For areas that are both dry and crepey, Dr. Papantoniou recommends using a lotion or cream that contains ammonium lactate as an active ingredient. Ammonium lactate is a combination of lactic acid and ammonium hydroxide and is typically used as a moisturizer.
"This can help both exfoliate and hydrate your skin," Dr. Papantoniou said. "Women that actually apply this twice daily notice great results after 10 to 12 weeks."
According to Dr. Brod, treating sun-damaged skin and loss of elasticity on the legs can be challenging – therefore, prevention is key by protecting this skin from the sun.
Additionally, "using moisturizers to treat dry skin may improve the appearance and physiologic moisturizers with either ceramides or alpha hydroxyl acids that may offer modest improvement in the appearance," Dr. Brod noted.
Lotions and creams that contain the following ingredients can also help offset the appearance of crepey skin on legs.
Alanine: Alanine, a non-essential amino acid, may help improve creases and create a smoother texture and appearance.

Almond Oil: Natural oils from almond trees can help smooth and condition the skin.

Aloe Vera: Aloe vera leaf gel and extracts are considered great for all skin conditions and types to help rebalance dryness and promote collagen production.

Avocado Oil: Oil obtained from a ripe avocado may increase the collagen of connective tissue. This oil also contains compounds that benefit dry skin.
There are also creams and lotions on the market that claim to specifically address crepey skin. The following products were rated by customers with at least four stars or higher out of a five-star rating on Amazon:
pH Factor 55: PH Factor Anti-Aging Retinol Cream with Ferulic Acid is made with Vitamin A (retinol) as well as ferulic acid, which targets sun-damaged skin. It also contains Botanimoist AMS (dried extract of apple fruit) which increases skin hydration up to 88%. Other ingredients include black tea, aloe vera, and chamomile for the overall health and appearance of your skin. The cost for a 15-ounce bottle costs around $13 on Amazon.

AmLactin: AmLactin Alpha-Hydroxy Therapy Rapid Relief lotion for the arms and legs is claimed to heal extremely rough, dry, flaky skin, with instantly visible results. A 7.9-ounce bottle costs around $13.50 on Amazon; a 2-ounce bottle is also available for $8.99; and a 3-piece travel set costs $33.95.

Advanced Clinicals: Advanced Clinicals Collagen Skin Rescue Lotion is said to hydrate, moisturize, lift and firm. This product contains ingredients including green tea, aloe vera, and chamomile, and can help eliminate the appearance of sagging skin. A single 16-ounce jar costs $19 on Amazon; or two jars of the same size can be bought for around $18.92.

Paula's Choice: Paula's Choice RESIST Skin Revealing Body Lotion contains 10 percent alpha hydroxy acid, as well as glycolic acid and antioxidants, which can help reveal younger-looking, hydrated skin. This product is claimed to visibly improve skin texture, tone and clarity, and is specially designed for dry, aged skin. A 7-ounce tube costs around $26 on Amazon.

TreeActiv Crepey Skin Repair Treatment: This product, which can be used for the face, neck, chest, legs, and arms, contains hyaluronic acid, vitamin E, antioxidants and essential fatty acids. It also contains alpha-hydroxy acids which are known to help improve the skin's texture. An 8-ounce jar costs around $33 on Amazon.

Gold Bond Ultimate Lotion, Strength and Resilience: This product contains seven plumping moisturizers as well as proteins and lipids to help replenish moisture that has naturally been lost from skin through the aging process. This lotion can help aging skin to look stronger, feel more resilient, and improve the overall appearance, with many customers claiming that they saw an improvement in moisture retention in just one day. A 13-ounce bottle costs around $14 on Amazon.
What to Avoid When It Comes to Spending Money
While many products and treatments can help address crepey skin on legs, it's important to know what to avoid when it comes to spending money on a solution.
Avoid spending a ton of money on creams that "swear" to treat crepiness, Dr. Papantoniou advised.
"It is better to just moisturize and put your savings toward an actual tightening treatment for best results," she said.
Dr. Gorodisky highly recommends avoiding a surgical knee lift.
"This may improve skin laxity but leaves a very visible scar," he said.
Dr. Johnson noted that the brand, Strivectin, makes a lot of claims. "But I have not seen great science to support it," she said.
The Bottom Line on Treating Crepey Skin on Legs
Unfortunately, there is no way to permanently make the crepiness disappear, according to Dr. Papantoniou.
"And the reason it is so challenging to treat is our legs are the most weight-bearing part of the body," she said. "For example, the next time you squat down, think about how much your poor thigh skin is stretching. This contributes to why even after a series of treatments the legs still require touch up sessions a few months later."
Dr. Gorodisky agreed this is a difficult problem to improve.
"The best results are achieved with the help of microneedling and radiofrequency skin tightening," he said. "There is also a brand new treatment that involves cool helium plasma that may also show beneficial."
Some patients may truly have a lot of skin laxity and may benefit from a thigh lift procedure, Dr. Gorodisky added, "but this surgery is major and has potential for complications and recurrence."
"We could all use a magic wand," Dr. Johnson added. "The best method is prevention – use your sun protection and your daily moisturizer."