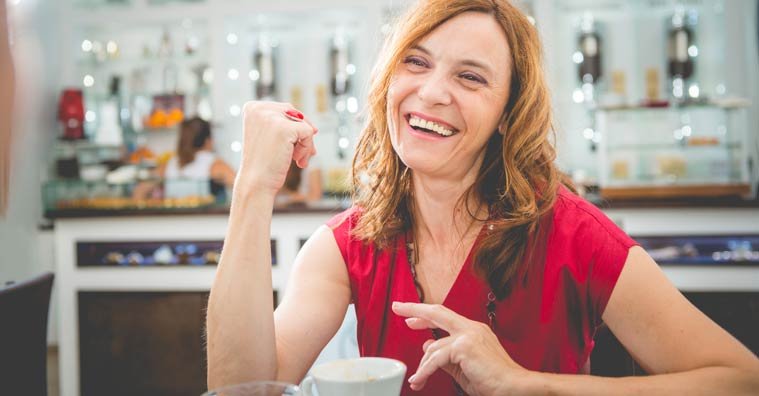 Sagging and crepey skin on the upper arms is considered a sign of aging, and one that women especially want to improve. Fortunately, there is hope for women with this aesthetic condition, thanks to a number of surgical and non-surgical options, as well as creams and lotions on the market today.
This article takes a look at what causes crepey skin on women's arms, and how it differs from skin on other parts of the body. We also explore and compare surgical and non-surgical methods used to address this condition, as well as creams and lotions that have received top ratings.
We've gathered input from several experts, including board-certified dermatologists and plastic surgeons, who offer their favorite methods that address crepey or sagging arm skin for women.
Sagging and Crepey Arm Skin: Causes of Appearance
Genetics, weight fluctuations, and age all contribute to excess skin or fat pockets under the arms, according to Dr. Christie Prendergast, a board-eligible plastic surgeon with Finesse Plastic Surgery in Southern California.
"This can vary widely depending on weight changes and genetics, however, we typically see a higher incidence of patients with extra skin as they age," Dr. Prendergast said.
Sagging skin and crepiness on the arms have been a challenge to manage, but in the past decade great scientific developments in the energy-based and minimally invasive device industry have made it possible to provide great treatments, said Dr. Kally Papantoniou, a board-certified dermatologist specializing in cosmetic, laser and surgical dermatology in New York City, Queens and Eastern Long Island.
Women are learning more about how they can treat their skin beyond a healthy diet, exercise and using creams, Dr. Papantoniou noted. Women are reading about it in beauty magazines and see the new devices featured in the media – hence many are educated on this topic and treatment options.
In Dr. Papantoniou's practice, women start to see this arm skin condition generally in their mid-30s.
"Fluctuation in weight is often a big contributor to crepey skin, which is another reason to try to maintain a steady weight," Dr. Papantoniou advised.
Additionally, Dr. Papantoniou said that sun damage also contributes to the breakdown of collagen/elastin, which is a leading cause of skin laxity. Genetics can also play a large role, with some women more prone to skin changes such as sagging or crepiness due to genetic predisposition.
In the practice of Yuly Gorodisky, a board-certified plastic surgeon in Southern California, most patients with crepey skin and skin excess are in their 50s and older. The main causes are aging skin due to years of sun exposure and loss of collagen. Some have a genetic component, while others have excess skin due to weight fluctuations.
See Also: What Causes Crepey Skin and How It's Different From Wrinkles
"Some dislike the loose skin that shakes when they wave their arms – also known as bat wings – and some dislike the wrinkles and crepey skin on their arms," said Dr. Gorodisky.
"Many patients are seeking treatments for their arms," he said. "There is hope for those women."
How Is Crepey Arm Skin Different from Other Parts of the Body?
According to Dr. Papantoniou, the arms are much more visible on a daily basis, unlike thighs, buttocks and the belly area, which are also common areas for saggy skin but are covered by clothing most of the time.
Dr. Prendergast said that the main aesthetic concerns for women with this issue are related to how they fit into clothing. They are concerned about the appearance of their arms and become self-conscious when wearing strapless tops or dresses or short sleeves.
"The loose skin or extra fat on your arms can affect the way that you fit in clothing," Dr. Prendergast said. "This area of the body is particularly important to the females of southern California because of the summer clothing. The difference is that is area is very visible in clothing. Other areas of your body – such as the inner thighs – can be more readily covered with clothing."
Luckily, crepey skin responds to the same technologies and procedures no matter where it resides on the body, noted Dr. Ted Lain, a board-certified dermatologist and Chief Medical Officer at Sanova Dermatology in Austin, Texas.
"Therefore, what we use for skin tightening on the face works just as well as other areas of the body," Dr. Lain said.
In Dr. Lain's practice, common technologies used to address this include ultrasound with Ultherapy, and radiofrequency with Exilis and other machines. These are among many treatments available, which we cover in the next sections. The following sections offer details about surgical methods, non-surgical treatments and over-the-counter products that can help.
Keep in mind that the following information is not intended as medical advice. Before you try any procedure or product, it's important to consult with your doctor first.
Surgical Methods Can Diminish Crepey Skin on Women's Arms
In Dr. Prendergast's practice, Brachioplasty, Liposuction, and BodyTite are among the top surgical methods to combat excess skin or tissue – specifically under the arms.
Brachioplasty
The most definitive method to permanently remove extra skin is brachioplasty, also known as an arm lift. This is a surgical procedure that entails a combination of liposuction (if you have extra fat) and skin resection. The average cost of this procedure in Southern California is $7,500.
The downtime varies but on average is six weeks. As far as overall effectiveness is concerned, Dr. Prendergast said this is an excellent way to permanently remove the extra arm skin and give you an arm lift.
"Unfortunately, you trade improved contour for a scar," Dr. Prendergast said. "This can still be limiting for patients who like to wear sleeveless clothing and is best in patients who have a large excess amount of skin with skin laxity that is not a candidate for non-surgical interventions."
The scars will be linear and long, located from the elbow to the underarm, said Dr. Papantoniou, further noting the scars can be pink at first, usually fading to white.
"However scar tissue can sometimes be hypertrophic, thick and hard, requiring laser treatments, though less common," said Dr. Papantoniou, adding that the recovery time is around two weeks. "The results are very effective, but there are a surgical scar and risks from surgery including infection."
Liposuction
There is a small subset of patients who just have extra fat with some skin laxity and good skin quality, such as younger patients who have good collagen content. Dr. Prendergast noted that these patients are good candidates for liposuction alone which can result with a certain degree of skin tightening.
"These are select candidates who have only a small amount of laxity and primarily extra fat pockets," Dr. Prendergast explained. "This requires a careful analysis as liposuction in this area is challenging due to the anatomy and multiple nerves in the area that need careful consideration."
Potential side effects may include lumpiness, partial numbness and soreness, and possible infection.
The approximate cost of liposuction surgery on the arms in the United States ranges from $2,000 to $5,500. If an anesthesiologist is required, anticipate an additional fee.
BodyTite
This is a newer technology that utilizes the power of radio frequency to get the extra skin tightening that you cannot achieve with liposuction alone.
"We are really excited about this technology and the power of the skin tightening in combination with liposuction to really rejuvenate the arms without the need for a surgical scar," Dr. Prendergast said. "This is a scar-less arm lift that holds a lot of promise."
This treatment is considered a quick, gentle and virtually painless procedure, and patients typically return to their normal activities soon after treatment. There is a small risk of infection, and minor swelling and bruising may occur but are minimal.
The typical cost for BodyTite ranges from $2,400 to $14,000, which depends on the surgeon performing the treatment, the location where you undergo this treatment, and the overall complexity of the procedure.
In general, surgical options have more downtime and can be costly, ranging typically from $4,000 to $8,000. Nonsurgical treatments usually involve a series with no to minimal downtime and can cost from $150 to $1,500 per session, which we cover in the next section.
Non-Surgical Methods Can Diminish Crepey, Sagging Skin on Women's Arms
Thermismooth and Exilis Elite are both energy based devices that can stimulate fat reduction, new collagen and tightening of the skin which reduces the appearance of cellulite. According to Dr. Papantoniou, these work with radio frequency, take around four treatments and are painless, and maintenance is performed every six months.
ThermiSmooth®
This non-invasive technology is FDA cleared for fat reduction, cellulite reduction, and skin tightening. Treated areas usually take four to five sessions, and follow-up maintenance occurs about every three to six months.
The cost of this treatment varies, depending on factors including the clinic's location, fees of the doctor, and number of sessions required. The average cost of a single treatment ranges from $1,400 to $2,500. The sessions will cost about $200 to $350 each, and some clinics might offer package deals.
After undergoing this treatment slight redness of the skin might occur, which normally subsides in about an hour.
Exilis Elite
Exilis, created by BTL Aesthetics, uses radiofrequency waves to heat up specific layers of the skin to melt away fat and tighten. Exilis technology currently comes in two models, including the BTL Exilis Elite, which is a machine designed for body treatments – including the arms.
Essentially, Exilis works by stimulating collagen production within the skin, which can have a skin tightening effect by building up the fiber network in the skin. It is also used for the purpose of fat reduction.
The cost ranges from $1,000 to $1,500. As far as the pain factor is concerned, this treatment was invented to be painless and comfortable, and there are no needles or injections required. Additionally, Exilis is not believed to have significant side effects.
ThermiTight
ThermiTight is considered a minimally invasive treatment that's better for more moderate skin crepiness. The recovery is minimal which can take up to two weeks with mild bruising.
According to Dr. Papantoniou, this technology utilizes radiofrequency to stimulate your skin cells. This is done under the skin through a small probe. After the treatment, the skin cells produce collagen and the skin ultimately tightens. This can be performed topically, as well as through injection for deeper and more intense lifting.
"We are using this for virtually any area of the body," Dr. Papantoniou said.
ThermiTight usually involves one single treatment that usually takes less than an hour. The results can be immediate, while most patients see a major improvement within a few weeks, with maximum improvement notices around three or four months.
The cost of this treatment varies, ranging from $1,200 to $5,500.
Ultherapy®
Ultherapy® is a non-invasive procedure that's cleared by the FDA to lift skin in areas including the neck and under the chin. This ultrasound device is also claimed to significantly tighten the skin on the body – with only one treatment.
For the most part, no recovery time is needed. However, patients undergoing this procedure might experience some pain, so painkillers might be provided to diminish discomfort. Possible side effects include slight swelling and mild bruising.
The results are not seen immediately – rather, patients can expect to see apparent improvement over a period of about six months.
The average price of this treatment is $2,700.
Lotions & Creams That Diminish Crepey Arm Skin
Now that we've taken a look at both surgical and nonsurgical treatments for sagging or crepey skin on the arms, this section offers examples of lotions and creams – both clinically proven and recommended by our experts – that can help.
Body of Knowledge Slimming and Contouring Cream
The Body of Knowledge Slimming and Contouring Cream is claimed to help diminish the appearance of cellulite and loose skin on the arms while it tones and smoothes.
This product is part of the biopelle® PRESCRIBEDsolutions® customized skincare line. It can be purchased online at sites like Amazon and DermStore, which sells an 8-ounce bottle for $140.
You can also find a provider of this product through the biopelle® website.
This product is recommended to be used twice a day for a minimum of 30 days, and it is clinically proven. When used on the hips, for instance, 80% of the test subjects saw a reduction in hip circumference in 60 days without a change in diet, and approximately 65% of patients showed measurable improvement after 28 days.
In clinical trials, 95% of panelists reported less evident skin nodules and 75% a reduction in the "orange peel" look of cellulite.
Gold Bond® Ultimate Strength & Resilience
Gold Bond's Ultimate Strength & Resilience is both a lotion and cream that's claimed to strengthen, increase resilience and improve the texture of aging and mature skin.
This product, recommended by Dr. Papantoniou, contains seven plumping moisturizers and three vitamins with proteins and lipids to help replenish moisture that's been lost through the aging process, ultimately helping the skin to look stronger and feel more resilient.
It has been clinically tested for proven effectiveness. For instance, testing showed that 92% had improvement in moisture retention in 1 day; 84% saw a visible improvement in skin texture in 5 days; and 77% felt stronger, more resilient skin in 4 weeks.
Gold Bond® can be purchased through numerous online retailers, including Target, Walmart, Walgreens, Amazon and Kroger. A four-ounce tube costs around $6 at Amazon, which also sells the 13-ounce bottle for around $15.
ZO® Skin Health Oraser® Body Emulsion Plus
This product, recommended by Dr. Gorodisky, is said to improve the quality, smoothness and overall health of the skin.
The benefits include exfoliation of dead skin cells, restored hydration, strengthening of the skin's protective barrier, a reduction in the appearance of brown spots, and an improvement in skin tone.
In one review, a customer with Keratosis Pilaris – also known as "chicken skin" – used Glycogent on the back of her arm, followed by Oraser Body Emulsion Plus twice per day, for four weeks. As a result, she stated that her Keratosis Pilaris was 99.9% cleared. This customer also noted that the skin on the back of her arms is smooth and even toned, with no more bumps or chicken skin.
An 8-ounce tube costs $95 on the manufacturer's website.
SkinCeuticals Body Retexturing Treatment
The SkinCeuticals Body Retexturing Treatment, recommended by Dr. Papantoniou, is designed for dehydrated, aging skin. This product is a gel that is claimed to exfoliate and hydrate simultaneously to resurface dull, rough skin.
According to the maker, this product improves radiance and smoothness and is formulated for the arms – as well as the legs, elbows, and knees.
During an 8-week-long controlled clinical study, 50 multi-ethnic females representing all skin types and ranging in age from 30 to 50 were tested. The study showed that once-daily use of Body Retexturing Treatment significantly replenished and retextured arms, legs, and even stubborn knees and elbows for a smoother, more radiant appearance.
The cost of a 6.7-ounce bottle is $60 on the manufacturer's website.
StriVectin Tightening Body Cream
The StriVectin line can also be beneficial, according to Dr. Papantoniou. The tightening body cream nourishes and moisturizes for tighter, smoother feeling skin.
It contains caffeine and peptides, which are claimed to help enhance definition and promote firmness. This product also features Patented NIA-114™ technology, which is said to strengthen the skin barrier to retain vital moisture.
Over time, skin elasticity and resiliency are improved, leaving skin visibly toned and revitalized, according to the manufacturer's website.
This product earned top reviews in a scoring system of one out of five, in which 84 reviewers gave it an overall rating of 4.6. One reviewer noted that "it has tightened my arms to a noticeable difference," while another stated that she noticed "a big improvement in firmness" after applying it twice a day, mainly on her upper arms.
This product costs $59 for a 6.7-ounce tube on the manufacturer's website. The same tube costs around $44 on Overstock, $49 on SkinMedix, and $34.99 on eBay.
Final Thoughts on Diminishing Sagging or Crepey Skin on Women's Upper Arms
If you're considering plastic surgery to address this, Dr. Papantoniou warns that smokers, diabetics, and those who are overweight will be poor at healing and should proceed with caution.
On the flipside, "for a woman who has lost significant weight and now has uncomfortable excess skin, this will be the best option," Dr. Papantoniou advised. "I recommend if you are looking to improve the skin quality of your arms, see an expert for the best clinical advice for what will fit your needs best."
According to Dr. Prendergast, a bad candidate for plastic surgery on the arms is one who is very young or a woman who does not have realistic expectations.
"A very young patient still has a lot of collagen content in their skin and the extra skin and fat is likely amenable to diet and a targeted exercises for arm toning," explained Dr. Prendergast, further noting that an ideal candidate is any woman who has skin laxity.
"Arm rejuvenation is gaining popularity and with the advent of new technology, there are many promising techniques that avoid some of the surgical scar burden," she said.
Sagging skin and crepey skin are different problems that don't always occur together, Dr. Gorodisky added.
"Some who have arm complaints need to be evaluated to determine the best options for improvement," he said.
Was this article helpful? Read more we've written on related topics: