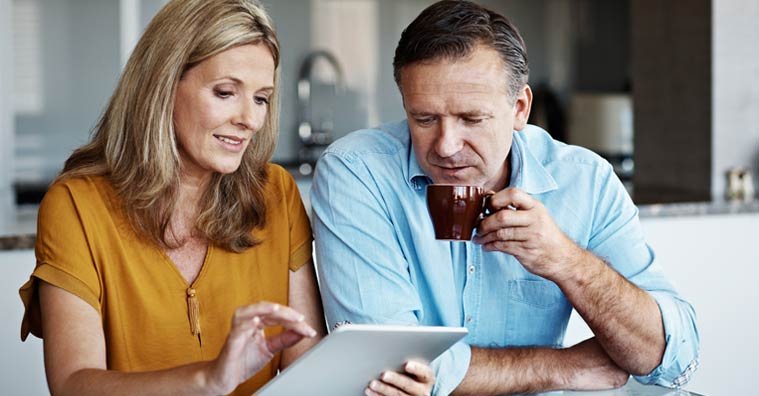 Costco is known for offering deals on bulk buys. But, did you know the box store also offers discounts on vacation packages, theme parks, cruises, and rental cars through Costco Travel?
We'll take you on a tour of the basics, insights, and customer reviews as well as compare Costco Travel deals back-to-back with the costs of booking the same trip yourself to help you decide if Costco Travel offers the savings and value that you're looking for.
Three Basics of Costco Travel
These apply to every Costco Travel booking, whether you're shopping for a cruise, car rental, theme park or an entire vacation package:
1. A Costco Membership Is Required
Costco Travel packages are open exclusively to Costco members. Membership options include:
Standard "Gold Star" Membership - $55 Annually (plus sales tax); valid at Costco locations worldwide.

Business Membership - $55 Annually (plus sales tax); same as standard membership except that additional "affiliated" members can be added for $55 each.

Executive Membership - $110 Annually (plus sales tax); valid at Costco locations worldwide; annual 2% reward on qualified Costco purchases; additional benefits and greater discounts on Costco Services; extra benefits on select Costco Travel products. (More on this shortly.)
While mandatory Costco membership tacks onto your total vacation price, signing up also gives you access to Costco's warehouse prices on groceries and home goods.
2. There Aren't Any Hidden Fees
Costco prides itself on upfront pricing, and they extend the courtesy with Costco Travel. For example:
Most vacation packages include ground transportation to and from the hotel.
Resort fees and taxes are included in the listed price.
Most cruise packages also include taxes, fees, and port expenses.
While it's important to check the fine print of each deal, Costco Travel appears to go the distance to ensure you aren't hit with any surprise costs.
3. Flights Are Optional
When using Costco Travel to book vacation packages, cruises, rental cars, Disney and Universal packages, and guided vacations, you have the option to book just your activities and stay—giving you the freedom to select your own flights.
You can also book a hotel only. However, Costco Travel doesn't allow members to use the service to only book flights (rather than a package), though if you just want to book a hotel room, you can do so with either Best Western or Hyatt.
What Are the "Extra Benefits" an Executive Membership Specific to Costco Travel?
Our curiosity was peaked when we read that Costco's Executive Membership came with extra travel perks; however, we weren't able to find any details on the website.
One quick call to Costco Travel customer service later, we learned why. The Executive Membership benefits currently only apply when booking on one of their three partner luxury cruise lines: Regent, Viking River, and Uniworld.
The "extra benefit" is an additional $100 of onboard credit. So, if you already have a membership and are considering upgrading to Executive to book through Costco Travel, you'd net an extra $45 in savings. However, the benefits are a wash if you're signing up fresh, or nonexistent if you're not interested in a luxury cruise.
The customer rep we spoke to noted that this information is left off of their website because partnership deals occasionally change, and advised that members considering an upgrade for travel benefits should call to ensure that it still applies.
Two more important notes that might influence which membership you purchase.
Remember the claim that an Executive Membership offers an annual 2% reward on all purchases? Well, it turns out not all. Unfortunately, Costco Travel purchases are specifically excluded from earning cash back in the Costco Travel terms and conditions.
Finally, Executive Member benefits are valid for the primary cardholder only. (Meaning that $100 onboard credit is only given to one traveler.)
What's the Cost of Traveling with Costco Travel?
There are three branches of Costco Travel: Rental cars, cruises, and vacation packages (theme park and guided vacations are included in the latter.) We'll look at each individually to answer the following question: Can Costco Travel save you money?
Costco Travel Rental Car Deals
Costco Travel offers car rentals through Alamo, Avis, Budget and Enterprise locations worldwide. While their car rental rates depend on what each agency is charging, Costco Travel promises the lowest price, plus a few perks.
For example, U.S. drivers receive one additional driver fee waived, meaning that you don't have to pay more when planning to swap driving duty. Also, Costco Travel members are given an extra 10% off Enterprise rentals, which is automatically applied to your quote.
Another perk: Costco Travel claims that you can reserve a car and cancel it without incurring any fees. Since prices change often, that means it's in your best interest to check back on rates to see if they've dropped, so that you can rebook at the lowest possible price.
Just note that car rentals through Costco Travel don't include any kind of insurance coverage, so make sure you pay for the rental with a card that offers primary rental car coverage or that you are covered by your personal car insurance.
Related: Ten Tips for Saving on Your Next Car Rental
How Do Costco Travel Car Rental Deals Compare to the Competition
To see how Costco Travel car rental rates stack up against the competition, we compared their offers with 3 other car rental agencies in five different locations, also varying the duration of rental and type of drop-off (same versus different location).
All comparisons were made by selecting an economy car, and dates were set at 60-days from the time of writing (February 2017). Pick-up/ drop-off locations were set to the nearest airport to find the lowest fees. All rentals include unlimited miles unless noted.
| Rental Car Period/Location | Costco Travel | Kayak.com | SkyScanner.com | CheapoAir.com |
| --- | --- | --- | --- | --- |
| 5-Day Honolulu, HI | $165 | $121 | $143.15 | $143.15 |
| 7-Day Dublin, Ireland* | €97 (~$102) | $27 | $26.50 | $36.15 (Mini size available for $9) |
| 7-Day LA-NYC One-way | $662 (+$0.30 plus tax per mile) | $810 | $378.95 | $809.25 |
| 3-Day Seattle, WA | $91.13 | $118 | $67.32 | $83.96 |
| 2-Day Houston, TX | $42 | $24 | $29.52 | $43.76 |
* When researching Dublin, Ireland, we couldn't help but note that prices were insanely low! Kayak.com states that they are featuring lower than normal car rental rates at this time (78% lower than standard).
But, as we checked across other providers, it became apparent that Dublin, Ireland car rental prices were at rock-bottom (almost) across the board.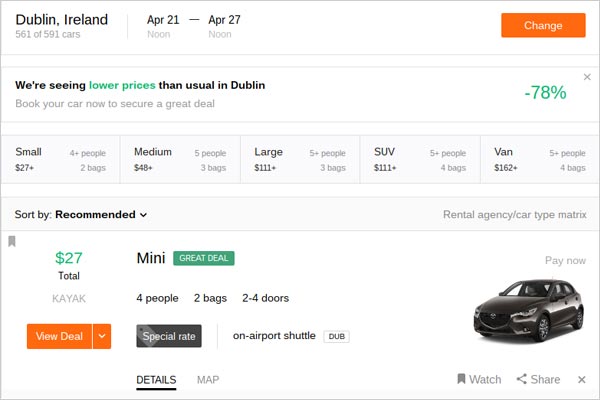 Screenshot of kayak.com
The one exception – Costco Travel. Despite their promise of providing the best deal, their rates were four-times higher than the competition (and ten times higher if you count the mini-size available through CheapoAir.com).
Final Thoughts on Costco Travel Car Rental Rates
Considering how frequently articles on Costco Travel mention that they offer the lowest car rental rates, we were especially disappointed to learn that they didn't offer the best price even once.
Instead, our research indicates, that in some instances, you're better off sticking with Kayak.com or SkyScanner.com when booking your car rental.
Costco Travel Vacation Package Deals
While you can certainly search through Costco Travel vacation packages on a whim, members can also go about browsing depending on your interests in three different ways.
First is by destination. Costco Travel offers vacation packages to locales all over the world, including destinations in the Pacific Islands, Las Vegas, Mexico, Caribbean, Europe, and South Africa.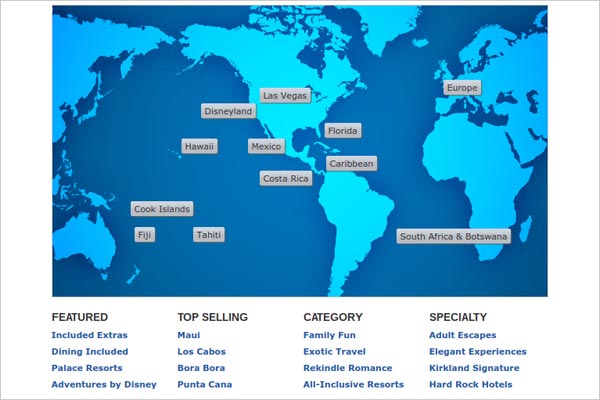 Screenshot of costcotravel.com
Directly below the map on the Costco Travel Vacation Packages page, you can also view groups of vacations that are filtered by:
Featured - Includes vacation packages with extra perks, those with dining included, Palace brand resorts, and Adventures by Disney.

Top Selling - Currently includes Maui, Los Cabos, Bora Bora, and Punta Cana.

Category - Family fun, exotic travel, packages promising to "rekindle romance," and all-inclusive resorts.

Specialty - Adult escapes, elegant experiences, Kirkland Signature brand vacation packages, and Hard Rock Hotel packages.
Finally, while many Costco Travel vacation packages combine the services of different companies, a few offer deals strictly through a partnership. This includes:
Guided vacations through Trafalgar in Europe, North, Central and South America, Australia, New Zealand and Asia.

Safari-style vacations through Lion World Travel, which focus on wildlife viewing guided tours through South Africa and Botswana.

Theme park vacation packages through Walt Disney World, Universal Orlando, and Disneyland Resort. (We'll include a separate section comparing these prices after examining vacation packages.)
Note that Vacation packages often include airport transportation or a rental car depending on the destination. Airfare can also be added to any package.
How Do Costco Travel Vacation Package Deals Compare to the Competition
So much variety can certainly be daunting to search through! But, does Costco Travel offer deals that are worth the effort?
To find out, we've compared several Costco Travel vacation packages to the competing travel websites and, when applicable, how much it would cost to piece together the trip yourself.
Package #1: Five Nights at Hawaii Island Hilton Waikoloa Beach Resort for Two Guests
Includes a full-size rental car for five days, daily breakfast for two, all hotel and car taxes, and resort charges. Note that this package does not include airfare.
Costco Travel: $1,198 - $1,390 depending on dates.
Travelocity: $1,547.99 - $1,652.41 depending on dates.
Booking separately: $1,635 ($1,185 for resort, plus $450 for car rental). Does not include hotel and car taxes or resort charges.
When it comes to the Hilton Waikoloa Beach Resort for two, Costco Travel is a clear winner.
Package #2: Five Nights at Tahiti's Conrad Bora Bora Nui Resort for Two Guests
Trip includes round-trip economy class airfare from Los Angeles on Air Tahiti Nui, round-trip inter-island airfare, transportation to and from the hotel, five nights in an overwater villa, airfare taxes and hotel taxes.
A stay at the Conrad Bora Bora Nui Resort also includes daily breakfast, nightly dinner, one-time complimentary mini-bar.
Costco Travel: $7,998 - $8,998 depending on dates.
Travelocity: $6,340. Includes flights, hotel, taxes, and fees.
Booking separately: $5,848.95 - $9,114.10 ($3,516 - 6782.10 for resort, plus $2,332 for flights). Does not include ground transportation.
When it comes to this package, the available rates for Hilton's Conrad Bora Bora Nui Resort definitely makes or breaks your deal. Because the cost of one night in the resort is as much as a single round-trip ticket, pricing really depends on how high the demand is for a particular set of dates.
Still, we were surprised that Costco Travel lagged so far behind the other options insofar as delivering the best deal.
Package #3: Six Nights at Costa Rica Andaz Peninsula Papago for Two Guests
Trip includes economy class airfare from Washington Dulles for two.
Costco Travel: $2,688.07. Includes round-trip flights, hotel transfers, daily breakfast, and a $60 tour credit.
Travelocity: $2,809.18 including flights and daily breakfast
Booking separately: $2,713 for flights and hotel. Does not include ground transportation or breakfast.
With the lowest price and additional perks, we're finally able to credit Costco Travel for the best deal on a vacation package.
Related: Research Your Next Trip Like a Travel Pro
Final Thoughts on Costco Travel Vacation Package Costs
Costco Travel offers hundreds of vacation packages, each with a variety of perks and varying rates depending on the dates that you want to travel.
Additionally, some package types, such as the "Have it Your Way" vacations offered throughout Europe and the UK, were more expensive at a glance until you calculate in spending credits, and other perks, such as included dinners at various restaurants.
So, how many travel websites should you compare against a Costco Travel deal to find the biggest savings?
In our experience, it's worth checking out one or two tops.
Sure, sometimes a site may work a deal with a hotel chain, and you'll see a huge discount. If you are flexible about where to stay, you might stumble into a great deal. However, hotel prices vary more with the day, date or occupancy rate of a property rather than which booking site you use.
Costco Travel Theme Park Deals
Costco makes hotel and Disney and Universal theme park ticket packages rather easy. The packages often include a few extras like breakfast, resort credit and/or shuttle transportation between airports and your hotel. Here are a few examples:
Package #1: Orlando World Center Marriott with Walt Disney World 5-Day Magic Your Way Tickets
This package offers tickets for two adults and two kids ages 10+ for five nights. Includes the Water Park Fun & More option, Resort View Guest Room, and rental car.
Costco Travel: $2,776.33 with resort fee included.
Booking separately: $3,388 excluding resort fee (Marriott.com: $1,442; Disney tickets: $1,780; rental car: $166)
Package #2: Holiday Inn & Suites Across from Universal Orlando, 3-Day Park to Park Tickets
This package offers tickets for two adults and two kids ages 10+ for four nights and a Standard Deluxe Room.
Costco Travel: $1,201.63
Booked Separately: $1,861.08 (IHG.com: $781.12; Universal tickets: $1,079.96)
Final Thoughts on Costco Travel Theme Park Packages
Out of all the Costco Travel services we've covered so far, their theme park packages seem to be where savings really shine. While prices for parks and hotels vary depending on dates, going through Costco Travel appears to save you an average of $500 or more.
Costco Travel Cruise Deals
Costco Travel members can book cruises with companies including Disney Cruise Line, Royal Caribbean, Viking River Cruises and more.
It's worth noting upfront that comparing cruise prices along can be slightly inaccurate. Usually, prices are fairly consistent across the board, but it's the included extras that set different agencies apart. These could be pre-paid gratuities, onboard credit, drink packages, or specialty dining experiences.
Costco Travel tends to offer cash cards that members can use on board the ship. If the cruise line itself is also offering a shipboard credit for passengers, then Costco Travel customers can combine the two for more cash to spend on board.
How Do Costco Travel Cruise Deals Compare to the Competition
The following chart shows results of Costco Travel cruise prices and extras compared to some of the most popular online cruise travel agencies. To simplify the comparison, we provided prices for the cheapest balcony room from each travel agency for a given cruise. Prices shown are for two guests:

Costco Travel
Cruise.com
Expedia.com
CruisesOnly.com
Sep 30, Disney Fantasy 7-Night Caribbean
$2,758
Extras: $215 Costco Cash Card
$2,856
Extras: None
$3,024
Extras:$100 Onboard credit if booked with MasterCard
$3,022
Extras: $200 Hotel certificate
April 29, Royal Caribbean 7-Night (Kirkland Signature)
$1,248
Extras: $25 Shipboard credit, specialty dining experience, and spa experience.
$1,284
Extras: Hotel certificate and onboard credit (varies)
$1,390
Extras: $75 Onboard Credit
$1,284
Extras: $100 Onboard credit; $200 hotel certificate (must call)
July 22, Celebrity Solstice 7-Night
$3,619
Extras: $235 Onboard credit
$2,994
Extras: None
$3,618
Extras: $125 Onboard credit
$3,518
Extras: Pre-paid gratuities; $150 Cash Back
Note that the prices shown above do not include taxes, fees, and port expenses, which typically add $200 per person.
Final Thoughts on Costco Travel Cruise Rates
Including the extras, Costco Travel led the pack in two of the three itineraries that we researched. Based on these results, we can confirm that it's definitely worth checking their available deals when shopping around for your next cruise.
But what really stood out were their Kirkland Signature cruise deals. These can be found within their own category on the cruise homepage, or recognized by a "Kirkland Signature" icon that indicates a particular itinerary will include some valuable extras.
One final note: When shopping around for cruises, there was a notable difference in extras offered by cruise-specific online travel agents (Cruise.com and CruisesOnly.com) as opposed to more general online travel agents, such as Expedia. When you're trying to search and compare multiple cruise offerings, we recommend sticking with the specialized sites.
See Also: A Beginner's Guide to Choosing a Cruise
How to Book a Trip on Costco Travel?
See a Costco Travel deal you'd like to book? There are two ways to go about booking with Costco Travel. Just remember that to get any further than browsing, you'll need to have your membership number on-hand.
If the deal you've found is perfect as is, the simplest way to book a trip through Costco Travel is to click the "Book It" button next to your preferred dates on the website. You'll immediately be asked for your member number, followed by all the necessary passenger and payment details.
But, what if you see a cruise, theme park, or vacation package that needs a little tweaking? For example, you might want to add airfare to an additional person to your trip.
If that's the case, we suggest calling Costco Travel at 1-866-921-7925. Live representatives are available from 5 am to 9 pm Pacific Monday through Friday, and 6 am to 5:30 pm Saturday and Sunday to help guide you through additional options for your trip.
Costco Travel Payment Options
As of June 20, 2016, Costco no longer accepts American Express cards (including Costco Travel). Instead, you'll need to use a Visa or MasterCard.
Specific to car rentals, know that you won't need to enter a credit card at the time of your reservation. However, a major credit card must be presented when you pick up your car rental. Costco Travel suggests contacting the rental location directly to learn which types of cards are accepted, and the amount required to accommodate the rental hold.
Related: Costco Anywhere Visa Card by Citi Review
What Are Customers Saying About Costco Travel?
We read reviews of Costco Travel from all over the web, including Yelp, Reddit, and Trip Advisor and learned that customers had generally positive remarks about their experience with the service.
Positive remarks that were frequently seen include:
A high level of satisfaction with Costco Travel's customer service.
The ability to combine deals to get an even bigger discount.
In situations where prices were similar across the board, Costco Travel's perks put their service ahead of the pack.
Those who were happiest with the savings offered by Costco Travel had invested the time to call their customer representatives. According to several reviewers, speaking with a live rep allowed them access to deals and combinations that weren't shown on the website, which resulted in a tailored trip and even better savings.
While by no means the majority, there were some less than satisfied customers. General complaints included high prices, particularly for car rentals, which is why we suggest comparing competitor rates before booking.
However, there were a few customers who had particularly negative experiences worth noting. One couple had booked a resort vacation package that included meals, but were handed a bill for dining upon checkout. The mistake was eventually fixed. However, it took her several days of phone calls to get the charges reversed.
Multiple reviews (found on Yelp) cite negative experiences due to delayed or canceled flights that caused them to lose days from their vacation packages. In the situations described, customers were either unable to get partial refunds from Costco Travel or were instructed to go through their travel insurance.
Other travelers who had booked vacation packages with hotel stays were told that their room booking hadn't been changed to reflect the updated flight arrival.
In our experience, booking flights and hotels through a third-party always comes with added risks – it adds an extra step where things can go wrong, and online travel agencies such as Costco rarely follow through when there are last minute changes.
That's why it's vital that you always call and confirm with individual service providers, including airlines and hotels, and don't forget to double check that any prepaid packages have been applied before you use them.
Related: How to Get the Best Deal When Booking Your Next Hotel
Bottom Line: Can Costco Travel Save You Money?
After comparing prices of Costco Travel deals in different categories with those of other travel booking websites, we think the answer depends on what kind of travel you're shopping for.
Overall, we can't recommend Costco Travel for car rentals. Not only are their rates higher than the competition for the locations that we researched, but customer reviews mentioning a discrepancy in fees between what was advertised and what they were charged leads us to suggest you look elsewhere.
Examples of higher rates and poor experiences include this customer who found that booking an Enterprise rental through Costco travel was $300 more than the competition in Hawaii. Another reviewer was told that, despite their reservations, a car wasn't available at scheduled time of pickup. Discrepancies in price include a customer who was charged $132 for a two-day rental after being quoted $50. Or, this customer who declined coverage only to have it added to their total.
Some of the fault in these reviews might lay with the individual car rental locations and companies. However, simply using a third-party service for car rentals increases the risk of scheduling and price discrepancies.
When it comes to vacation packages, understand that you'll oftentimes pay more for a package deal than doing the legwork and purchasing each step separately. Package deals also decrease your flexibility and add complications when things go wrong.
We've shared some examples of decreased flexibility in regards to flight changes in the previous section. However, this particular disadvantage of third-party services isn't unique to Costco, but across the board.
When I worked as a flight attendant, I often saw passengers, who had booked their travel through third-party providers, frustrated that the airline was not able to offer refunds or make changes in the situation of a delayed or canceled flight. Instead, they were forced to go through the original booking agent and were told they faced a several-week wait time to see the money returned.
Examples of complications include this Costco Travel customer who was exceedingly unhappy with her accommodations on arrival but felt like her hands were tied since she had purchased a package deal. Or this review, which states that they were notified last minute that their hotel was unavailable due to renovations. To opt for another meant an increased $1000 in costs, so they were forced to take a loss on the flight costs and scrap their entire vacation.
Each situation is different, but the Costco Travel Yelp page lists about 35 reviews detailing similar tales. However, these 35 critical reviews are a fairly small number of the thousands of customers who use Costco Travel every year.
It's important to remember that sometimes on vacation, luck just isn't on your side and roadblocks occur. However, when you're booking through a third-party agent such as Costco Travel, overcoming those setback means dealing with one more business – that is if you're allowed to make changes to your package at all.
Finally, it's worth noting that using a third-party agent means that you lose the opportunity to accumulate any loyalty points when booking, particularly frequent flyer miles.
However, comparing and booking each step of a trip separately certainly takes extra work. If you prefer to have everything pre-arranged, Costco Travel's included perks can mean a more enjoyable planning process and greater value.
Cruises and theme park vacations appear to be where Costco Travel can really shine. When it comes to cruises, we recommend focusing on Kirkland Signature deals, as these appear to have the lowest prices and most valuable perks.
In a nutshell, because of the sheer variety of available travel options and competition, we can't definitively say that Costco Travel will save you money all the time. However, if you're planning a cruise or theme park vacation, it should be on your list of places to price compare.
Read Next: Groupon Getaways: What They Are (and Aren't) Good For