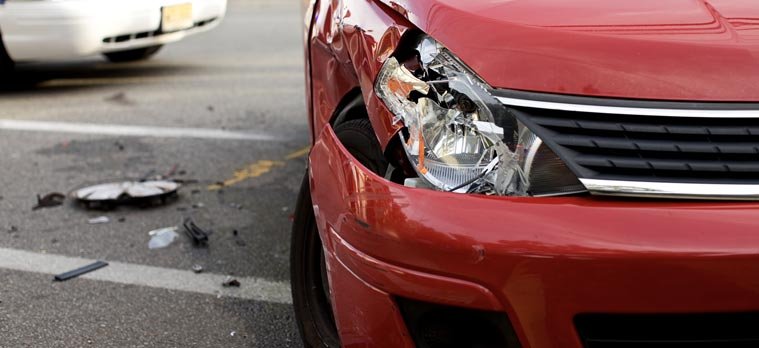 Depending on the company, the state in which you live, and your specific activity, tickets and accidents can impact your auto insurance rates for anywhere from three to 10 years.
But, exactly how much can you expect your rates to increase over this time? Is there a big difference, say, between a ticket and an accident? What about major violations, like reckless driving and DUI? Will your premium skyrocket if you get more than one violation in a short period?
To help you find some answers, we compiled more than 800 quotes from the top five auto insurance companies across five different states. Here's what we learned:
How Much Will Your Insurance Rates Go Up After a Ticket or DUI?
Auto insurance companies typically classify tickets and violations as either minor or major.
A few examples of minor violations include speeding anywhere from 1-19 over the limit, running a stop sign, and failing to signal a lane change. As their name implies, these types of violations will typically impact your premium the least and for the shortest amount of time (often 3-5 years).
Major violations, on the other hand, won't just increase your premium, but they could also remain on your record for as long as 10 years, depending on your state. Common examples include reckless driving, speeding greater than 20 miles over the limit, racing, and Driving Under the Influence (DUI).
In some instances, even just one of these major violations could cause your insurance company to cancel or non-renew your coverage, since they signify that (at least from a statistical perspective) you're a high-risk driver.
On average, we found an increase of:
1 minor violation: $350 per year (+28%)
2 minor violations: $588 per year (+43%)
Major violation (reckless driving): $1,032 per year (+76%)
Driving Under the Influence: $1,080 per year (+80%)
Pro tip: For a DUI, keep in mind that what you pay for the initial ticket, along with a serious insurance rate hike, are only two of added expenses you'll have to account for. You'll likely also have to pay thousands in legal fees, ignition interlock fees, and even for entrance into a substance abuse treatment program.
In California, the Administrative Office of the Courts estimates that, in total, a DUI could cost you a minimum of $45,000!
How Much Will Your Insurance Premium Increase After an Accident?
Compared to tickets and violations, there can be much more nuance surrounding how much of a rate hike you'll experience after an auto accident. How so?
There are a lot of variables involved with accidents: They can be at-fault or not-at-fault; involve property damage only, or also include bodily injury; apply to collision coverage (collision with a fixed object) or comprehensive coverage (theft, vandalism, natural disasters, etc.); and pay out very little, or a whole lot.
What's the point? Each of these variables can impact how much your insurance rates increase as a result of an accident in very different ways.
For example, many insurance companies don't surcharge (or surcharge very little) for a single not-at-fault accident.
An at-fault accident with a $2,000+ payout will likely result in an even bigger increase, while an at-fault accident with bodily injury will almost certainly cause your rates to spike significantly—your coverage could even be canceled or non-renewed as a result.
Based on an at-fault accident with $2,000+ paid out, and no bodily injury (the only option available in the top-ranking comparison engine we used—see Methodology below), we learned you might expect an average increase of:
1 minor accident: $708 per year (+52%)
2 minor accidents: $1,056 per year (+78%)
When we attempted to add a third accident, all rates remained the same.
But are these rates anywhere close to what you might realistically expect to pay?
How Accurate Are These Rate Increase Quotes for New Tickets & Accidents?
It's important to reiterate that these numbers are only averages, so your actual increase could be—sometimes much—lower or higher, depending on your carrier. After all, during our research, we found that some activity impacted certain carriers' premium much more than others.
For example, one minor violation caused our Farmers rate to increase by $68 per month, but it only went up another $10 as a result of two at-fault accidents (in total, not in addition to the violation).
In another zip code, our Allstate rate only increased $5 for a minor violation and remained the same when we added a second. Comparatively, State Farm's rates jumped by more than 270% in another zip code between a clean record and two violations.
Why is this? And what does it mean when you're trying to figure out exactly how much your premium will increase?
There are two parts to this answer, so let's quickly go beyond what you may have read elsewhere and take a peek behind the curtain.
Part 1: How Multivariate Rating Systems Impact What You Pay For New Auto Activity
Here's the long and short of multivariate rating: Every variable on an auto insurance policy can interact with every other variable, creating an ultra-unique rate, called a 'matrix,' based on millions of variable combinations.
This means that most auto policies feature a custom, pinpoint-precise price for that specific risk. And it's this preciseness that makes it next to impossible to provide a one-size-fits-all answer to how much your rates might increase as a result of a new ticket or accident.
To give you an idea of just how many of these variables are involved, Stan Hladik and Diane Bascelli of The Secret Insurance Agency in Totowa, New Jersey tell us:
"These variables include credit scoring, driving record, garaging territory, the presence of youthful or inexperienced operators (those with less than 3 years driving experience) … multiple policies with the same insurer (i.e. home, renters, etc.), affinity or occupation credits, payment plans (automatic payment plans or paying the premium in full provides discounts), the type of vehicle and coverage selections will also impact premium, and so forth."
Christine M. McCarthy, an Associate Attorney at Einhorn Harris in Denville, NJ, adds that "These multivariate ratings are becoming ever more sophisticated. With the advancement in technologies, there is a wide breadth of data that insurance companies analyze to predict your likelihood of filing a claim."
Troy Peterson, Agency Partner at Friedle Insurance in Wauwatosa, WI provides some additional insight into exactly what this means:
"Most companies not only use a multivariate rating product, but keep adding more pieces. Recent enhancements include using Carfax to determine your annual mileage, finding out if you live on a busy street or a cul-de-sac, and massive increases in combined policy discounts (auto/home, auto/renters)."
Bottom line: Even among seemingly similar risks (drivers, vehicles, usage, coverage, and so forth), the same piece of activity, such as a minor speeding ticket, could impact rates very little on one policy, and a whole lot on another.
What's the second factor regarding why it's difficult to provide a one-size-fits-all answer?
Part 2: How Each Insurance Comparison Engine Can Deliver a Different Quote
If you choose to utilize an auto insurance comparison site to investigate how much your rates might increase as a result of new activity, we think they can be useful for gaining a general idea.
But keep in mind that your quotes may or may not vary, depending on the site you choose.
For example, using the same basic criteria in the 92212 zip code, NerdWallet's comparison engine reflected a $162/mo rate with State Farm for a minor violation, but it was $196/mo on The Zebra—a difference of more than $400 per year.
On the other hand, in the 80210 zip code, NerdWallet returned a rate of $236/mo for a DUI, while The Zebra came in nearly the same at $239/mo.
Given these potential differences, what can you do if you're looking for the most accurate quote possible?
What Should You Do If Your Auto Insurance Rates Might Increase Due to an Accident or Violation?
The reality is that what's happened, has happened. Now, what can you proactively do to minimize the impact of your new ticket or accident?
Reach Out to Your Agent
In a lot of our auto insurance articles, including How to Lower Your Insurance Costs, we've repeatedly reinforced the idea that a local agent who's attentive to your needs can act as one of your greatest resources.
This is the case whether you're looking to optimize your coverage, save money, or find out how much your premium might increase as a result of a new ticket or accident.
They'll almost certainly be able to provide you with a fairly accurate estimate using their computerized quoting system in a matter of minutes. Then, they can help you shop around between companies if you learn that your rates will increase drastically.
Pro tip: If you're insured with a direct carrier, such as GEICO or Esurance (as but two examples), you can contact their customer service line to obtain a new rate quote.
Just keep in mind that they'll likely run a new Motor Vehicle Report (MVR) to ensure an accurate quote, which could result in a rate increase at your next renewal.
Otherwise, some carriers only run new MVRs every 2-3 renewals, which means you could be advancing your rate hike by calling for a quote. This is another potential advantage of having a local independent agent.
What else can you do?
Pay the Claim Out-of-Pocket
Stan Hladik recommends:
"If involved in a minor motor vehicle accident with nominal damage to your vehicle as well as a claimant, it may make sense to pay for the claim outside of your insurance policy. Consider your coverage for larger claims involving greater damage, or injuries to drivers or passengers."
Look at it this way: If it costs you $1,000 to fix someone's bumper who you rear-ended, but will cost you $2,000 in increased rates over the course of five years if filed with your insurance company, it might make sense to pay out of pocket.
Consider a Defensive Driving Course
Christine M. McCarthy recommends taking a defensive driving course to help offset a potential ticket-related premium increase.
She told us, "Many of these courses can be taken online and purchased through a site like Groupon for an additional discount."
But first, be sure to "check with your insurance company in order to ensure the class you take is approved and will satisfy the requirements for a discount."
However, Troy Peterson notes that you might want to keep things in perspective.
If you're someone who only gets a ticket once every three to five years, it might not impact your premium too much. And after spending the additional time and money on the course, you might be better off "paying the fine and trying to avoid going too fast in the future."
You Might Think Twice About Using an Online Surcharge Calculator
All of the professionals we spoke with recommended against spending your precious time using an online surcharge calculator. Why?
As you probably guessed based on what we learned about multivariate rating earlier, online surcharge calculators tend not to be very accurate because there are so many variables involved with premium calculation.
In the end, Stan Hladik tells us they're simply not able to interpret all the data, and Troy Peterson drives home the fact that they're "really a waste of time."
The Only Surefire Way to Know How Much a Ticket or Accident Will Increase Your Auto Insurance Rate Is by Calling Your Agent
Based on everything we've covered here regarding new violations and accidents, you should now have a general idea how much your auto insurance rates might increase.
But if you're looking for the most accurate quote possible, the bottom line is that your local agent (or your direct carrier's customer service line) could be your most valuable resource—especially from a time perspective.
And, as we all know, time is money these days.
---
Methodology
To obtain these quotes, we used NerdWallet's Auto Insurance Rate Estimator, one of the top search engine results at the time of our research. Per their website, all quotes are estimated.
Among the top five U.S. insurers by revenue, we chose five zip codes at random (the only guideline was a mix of urban, suburban, and rural areas) across five states:
CA: 92122, 92264, 93730, 94559, 95120
CO: 80210, 80497, 80521, 80901, 81007
TX: 76310, 77018, 77306, 78480, 78713
NY: 10472, 12208, 12534, 13208, 13903
GA: 30324, 30503, 30901, 31409, 31902
The driver quoted was a 30-year old married male, no military service, and 14 years insured. The vehicle was a 2010 Toyota 4Runner with the Extended Coverage option:
$100,000 Bodily Injury Liability Per Person / $300,000 Per Accident
$50,000 Property Damage Liability
$100,000 Uninsured Motorist Bodily Injury Coverage Per Person / $300,000 Per Accident
$50,000 Uninsured Motorist Property Damage Coverage
$500 Deductible Collision And Comprehensive Coverage
$75 Towing Coverage
No Full Glass Coverage
Minor violations were added as "all other violations," and accidents were added as "accident $2,000+ Prop Dmg". There was no option to indicate bodily injury or less than a $2,000 payout.
All activity was quoted as having occurred in January 2017.