BarxBuddy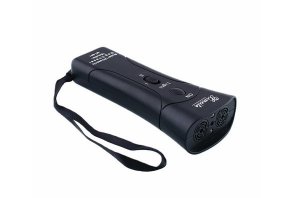 Summary
BarxBuddy's Training Device implements sound and light cues to help you train your dog, but only owners who can devote time to intentional, consistent training will find the most worth from the device.
BarxBuddy Review: Does It Really Work?
The BarxBuddy Training Device is an ultrasonic dog whistle that intends to be your solution for a dog that barks too much.
The device uses two settings to grab your dog's attention, making it more versatile than a simple dog whistle.
In our review of this device, we'll talk about how it works, tell you how effective dog whistles really are, provide the device's pricing and return policy, then give you our conclusion about this device's effectiveness and value.
How to Use the BarxBuddy Training Device
This device is a handheld whistle that runs on a 9-volt battery. It has two settings on it: sound, and sound and light. To activate these settings, you'll press an "On" button that will emit an ultrasonic sound or sound and light up to around 49 feet away.
The sound setting is intended to be the first step in your training. Whenever your dog barks, press the on button and the whistle will emit a sound you can't hear but your dog can.
This sound grabs their attention and makes them stop whatever they're doing, in theory. If they don't respond to the sound alone, you can switch to sound and light and try again.
If your dog stops his or her barking, experts recommend giving them a treat to affirm the behavior. Continue to use the BarxBuddy until you sense your dog has changed their barking behavior.
This device is a welcomed relief if you're a dog owner with a pup that barks incessantly. If you have young children who take naps, roommates or easily annoyed neighbors, barking becomes even more of a problem.
A device like this one gives you a simple way to train your dog not to bark when they shouldn't bark.
You also get the added benefit of a sound/light combination that stubborner dogs may require.
In addition to this, an ultrasonic device doesn't cause your dog any pain, making it a gentler alternative to spanking your dog or using a bark collar that shocks them.
Will BarxBuddy Actually Work? The Science Behind Dog Whistles and How to Use Them
To understand how you can effectively use a whistle like BarxBuddy to bark train your pup, we reached out to Russell Hartstein, a certified dog behaviorist and owner of L.A.-based Fun Paw Care.
He sees three clear advantages to dog whistles as compared to using your voice or a clicking device to train your dog:
Humans can't hear them
Higher frequencies can, at times, travel farther than other sounds
Dog whistles have a distinct sound
So, if you decide to use BarxBuddy, you have the assurance that it won't disturb sleeping children or grouchy neighbors, you have more range than if you were using your voice or a clicker, and your dog won't be confused by what the sound means.
However, using a dog whistle isn't simply about the advantages. You can't expect to take your BarxBuddy home, turn it on and stop your dog from barking.
"A whistle by itself is irrelevant," Hartstein said. "It's how it's used, the methodology and whether or not the whistle actually emits the right sound. And, it's a matter of if the end-user is skilled enough to use the whistle and not harm the dog."
Training your dog not to bark is more than simply activating a whistle when he or she barks. You need to identify the situation that causes the dog to bark. Then, when that situation arises, activate the whistle and reward your dog with a treat if he or she doesn't bark.
It goes deeper than this, too, Hartstein told us. If your dog barks whenever someone comes to the front door, then you need to implement proximity training. Start by having someone stand far enough away from the door so that your dog doesn't bark. Use the whistle, then give them a treat (snack, belly rub, etc.).
Then, tell the person to come slightly closer to the door and repeat: whistle and treat.
Continue to do this until the person at the door can walk up and knock without causing barking. At this point, Hartstein said, your dog associates someone coming to the door with something good happening to them.
What makes a dog-whistle purchase more involved than you may think is not just the structure and consistency you need to use it well, but the commitment to rewarding your dog in the future when they don't bark.
For this reason, BarxBuddy's dog whistle won't be worth the investment for most people.
"How many parents will train their dogs appropriately and efficaciously? The answer is: pretty low," Hartstein said.
Pricing and Return Policy
You have four purchase options ranging from $39.95 for one device to $114.95 for four devices. Shipping is free and will take three to five days to arrive at your home via USPS.
BarxBuddy gives you a 30-day, money-back guarantee for your purchase. The fine print says you'll need to call the company at (213) 337-8656 or email them at support@barxbuddy.com to initiate the return process.
The address to which you'll send your return is: P.O. Box 521717, Phoenix, AZ, 85072-2171.
The Bottom Line: Is BarxBuddy the Right Choice to Bark Train Your Dog?
Because training your dog not to bark requires more than just a cue like a dog whistle that implements a light, too, the BarxBuddy offers no real advantage over other whistles.
In fact, the BarxBuddy is considerably more expensive than the top-rated dog whistles on pet marketplace Chewy.com.
Achieving success in training your dog not to bark isn't a matter of finding the best whistle, either. It's about devoting your time to systematically and methodically training your dog to see a bark trigger (mailman, trash truck, etc.) as a sign of good things to come rather than something to be afraid of or nervous about.
If you don't have the time for a structured training program, buying the BarxBuddy Training Device or any other dog whistle will be irrelevant. Simply blowing your whistle when your dog barks won't solve his or her barking issues, Hartstein said.
Should you realize that you don't have the time to bark train your dog, Hartstein recommends finding a dog behaviorist to help you. A good source of local certified behaviorists, he said, is the International Association of Animal Behavior Consultants. Other reputable certifications include Fear-Free Certified and Pet Protection Guild membership.
Customer Reviews
Posted on Jan 31, 2022
Didn't work and no refund
I ordered two by mistake. I would have kept both if the device had an effect. I returned them both after ten days but never heard from them.
I bought them to contribute to excessive barking. I used them exactly as suggested but neither of my dogs responded in any way. They did not seem to recognize any difference and continued to bark.
Most disappointing is that I lost money on two devices since one was ordered by mistake.
I returned them with a letter, by priority mail. They did not respond and my attempts to reach them by phone failed.
Length of Use: Less than 3 months
Bottom Line: No, I would not recommend this to a friend
Pros and Cons
It is small
It has an attractive design
It produces no sound to a human ear
It didn't work on my digs
It is relatively expensive
No customer support
Posted on Jun 17, 2021
Didn't work
Tried to use the device according to directions. My Shephard Mix was not impressed in any way, with the so-called sound or light show. I have read the reviews and it seems to work better on small animals. Difficult to trust something I can't hear. I would love to see test results from a lab that can detect high-frequency sound. Otherwise, hard to say whether it's a hoax. Customer Service, however, was much more responsive than the device. Refunded the cost and the shipping I paid upfront (not the return) after I requested they do so. No arguments!
Length of Use: Less than 3 months
Bottom Line: No, I would not recommend this to a friend
Pros and Cons
Customer service quick refund
Didn't work as promised
Posted on Apr 26, 2021
Do not purchase
This may work for limited in-house barking but does not work for barking at doorbells or dogs at the fence. Unfortunately, I was not able to return the item because the return policy is not posted to the website.
Length of Use: 3–6 months
Bottom Line: No, I would not recommend this to a friend
Pros and Cons
No "pros" were specified in this review
It doesn't work
Difficult to return
Posted on Apr 18, 2021
It is a hoax
I purchased a BarxBuddy about 2 weeks ago and have found that is absolutely a joke. If anyone says otherwise, they must be in on the scam!
Length of Use: Less than 3 months
Bottom Line: No, I would not recommend this to a friend
Pros and Cons
No "pros" were specified in this review
It does not work
Posted on Apr 2, 2021
Snake-bitten by BarxBuddy
We have a 2-year-old Pyrenees mix (100lbs). She was adopted and untrained. I've spent 12 solid days with her - and it never worked...not once! It had no, zero, nada effect on her...while she continued to bark at everything. Completely ineffective. She doesn't even acknowledge it. This device is nothing more than a flashlight.
Might work on a domestic rat, but not a big dog!
Length of Use: Less than 3 months
Bottom Line: No, I would not recommend this to a friend
Pros and Cons
Pretty bright LEDs, if you need a flashlight
Pretty bright red laser, if you ever get lost in the forest
Ineffective, period, does not work
Posted on Oct 23, 2020
Does not work!
When I use it my dog comes to and sticks his nose against it. Does not stop barking or change anything she does. The only use is to use the laser light to make my cat chase it around the floor. Do not buy this!
Length of Use: 3–6 months
Bottom Line: No, I would not recommend this to a friend
Pros and Cons
No "pros" were specified in this review
Does't work
Posted on Oct 23, 2020
Whistle didn't work and I had to pay shipping both ways
The light feature comes on constantly but the whistle either didn't work at all or had no effect on my dogs. I have had 10 dogs in the last 20 years, with 4 currently, and have always had products like this work. Needed a new one and saw this. Easy to return and customer service was very nice, however, I am responsible for shipping both ways ($16 total). Not worth it for an item that may be broken. Will not recommend.
Length of Use: Less than 3 months
Bottom Line: No, I would not recommend this to a friend
Pros and Cons
Easy to hold
Arrived quickly
Easy to contact customer service and Andres was very pleasant
Product was defective, only lights worked
My responsibility to pay shipping both ways for a defective item
No offer to replace with another, so no responsibility by the company for their product
Posted on Aug 7, 2020
It's a miracle!
I have an 8-month-old terrier/hound mix who barks at everything - people in the hallway of the building, dogs barking (outside, inside, on the TV), any animal appearing on the TV (he watches TV intently) - real, cartoon, painting, etc. He went on a barking binge yesterday over a picture of a cartoon dog on a van. Received the package, opened it up, put in the battery, and when some dogs appeared on the TV, hit the button and he stopped in mid-bark! I did not expect it to work that well. For the rest of the day, every time something sent him into a barking frenzy, hit the button and poof - barking stopped. I don't know how, but it works like magic! HIGHLY recommend.
Length of Use: Less than 3 months
Bottom Line: Yes, I would recommend this to a friend
Pros and Cons
Stopped him in mid bark while my other dog was unaffected
Instant results, still cannot believe it
Easy and small; it is in my pocket at the ready
No "cons" were specified in this review
Posted on Jul 28, 2020
Poor
I purchased one of these a while back. It didn't work at all on my french bulldog. Whenever I would go to get it when she was barking a lot, she would see those lights and trigger her wanting to play.
Length of Use: 3–6 months
Bottom Line: No, I would not recommend this to a friend
Pros and Cons
No "pros" were specified in this review
It didn't work
Posted on Jul 24, 2020
Cat vs. dog
Didn't work on my Cavapoo - in fact, it caused her to bark even more (non-stop); however, ironically, it does deter our two cats from fighting. Go figure!
Length of Use: Less than 3 months
Bottom Line: No, I would not recommend this to a friend
Pros and Cons
Stops our 2 cats from fighting
Had no positive effect on my dog
Caused increased barking
Posted on Jun 23, 2020
Did not work
So I ordered, took a while to come. No instructions in the box. Battery hard to install as connectors tucked away back to front so had to twist them around without disconnecting wires behind. Either I have a dud one or it's useless. Doesn't do anything. Have two dogs who bark a lot.
Length of Use: Less than 3 months
Bottom Line: No, I would not recommend this to a friend
Our Promise to You
In order to safeguard you and ensure helpfulness and relevance, our compliance team manually assess every customer review before it goes live.
We have a zero-tolerance policy for fake reviews, and companies cannot control or alter any reviews at any time.