Brainly Reviews
Claimed This company has claimed this profile, is getting alerted on any new customer reviews entering this page, and may engage in dialogue with its customers to address their matters.

Companies cannot pay money or provide goods in order to remove or alter customer reviews.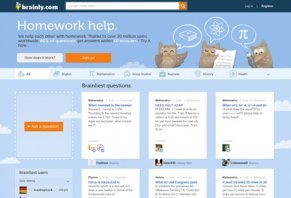 About Brainly
When launching an internet business, the acronym KISS (Keep It Super Simple) is often the key to success, and Brainly, a collaborative community of more that 30 million worldwide users helping one another to learn and explore, claims to have taken this to heart. All you have to do is ask a question related to your subject and get an answer. What could be more simple than that?
Headquartered in Poland, Brainly claims to bring students of all ages together from across 35 countries and 12 languages, with a stated goal of reaching more than 100 million users by the end of 2015. And considering their position as the largest social learning network, their recent $9 million Series A funding, and media attention from popular outlets such as Forbes and TechCrunch, the company appears to be well on its way.
But although the concept may be simple, how exactly does Brainly work?
Ask a Question, Get an Answer: How Brainly Works
Let's say you're working on some algebra homework and become stuck on a specific problem. You've looked through your book and asked a couple friends, but you just don't know how to solve it. It's getting kind of late and your eyes are becoming heavy, and you just need to finish this last problem before you can go to bed.
In an instance like this, Brainly might be able to provide a solution. This points-based Q&A website claims to provide crowd sourcing for homework, which can allow you to learn and explore answers related to your problems. This includes subjects such as english, mathematics, social studies, business, and history. Before asking your question (or even signing up for an account) though, you can browse Brainly's fairly extensive archive of past questions and answers.
Asking Questions on Brainly
In order to ask a question, you'll first need to sign up for a Brainly account by manually entering your information, or you can use your Facebook credentials for a faster signup process. Then, after signing up and deciding which question to ask, you simply need to choose a subject from a drop down list, type your question, and then press the "Ask a question" button.
According to Brainly, any questions you ask should be straightforward and should not contain links to external sources. And if the question is complex, it may be better answered in multiple questions. However, once your question is posted, Brainly claims that 80% get answered within 10 minutes (see more about this in the Consumer Feedback section).
For each question that you ask, Brainly provides the ability to receive up to 2 acceptable answers, which are verified by a team of 450 moderators for accuracy, and who will delete answers if they contain too many errors. Also, if you don't understand one of the answers, you can request further information for clarification.
For getting your homework questions answered on the go, Brainly also has apps available for Android and iOS devices.
Brainly's Points-Based System
Brainly's services are offered free of charge, although they are points-based. In other words, when answering questions, if yours is deemed the best, the you'll receive 50% of the total points offered by the user who's asking the question. And when it comes time to ask your own question, you'll award points to the user who best answers it.
However, before you start answering questions, you can earn 20 points for registering your Brainly account, 10 points for completing your profile, 10 for verifying your email address, and another 5 for logging in once daily. In addition, if you're the one asking a question, you'll receive 25% of the total points for choosing the best answer.
What Do Other Consumers Have to Say About Brainly?
Although Brainly has been in business since 2009, the company recently entered the U.S. market in early 2014. With this said, Brainly appears to have a very positive online reputation, and most users appear to have enjoyed using the site and receiving answers to their homework problems.
Outside of technical issues related to their mobile apps, some of Brainly's most common complaints/criticisms are related to questions that take a long time to receive an answer, with some appearing to go unanswered altogether. In addition, some teachers have expressed concern that Brainly may provide students with answers to their homework problems, but this doesn't mean that they're being taught how to arrive at the answers themselves (most related to math), which could be problematic when test time comes.
Bottom Line: Can Brainly Help You Solve Your Homework Problems?
Overall, Brainly's simple concept and extremely large user base means that the site is easy to use, and you'll very likely receive answers to any of your homework problems in 10 minutes or less. Brainly could be especially useful for students who are strong in one or more subjects but are weak in others, because the website gives you the ability to exchange knowledge with others all across the globe.
However, keep in mind that although answers are claimed to be verified by a team of 450 Brainly volunteer moderators, you'll almost certainly want to have your answers double checked before you turn them in to your teacher.
Terrible service, terrible quality.

By Seth C.

,

McCrory, AR

,

Jan 26, 2020
Verified Reviewer

Hello there. Now, to say Brainly is not a very good website is like joining an already massive crowd, although I can list several reasons why my experience on Brainly wasn't enjoyable. To begin; Brainly now charges users for a subscription of Brainly Plus, you may ask, what is Brainly Plus? It's a subscription that allows you to see the answers on your question without having to watch an advertisement (which is usually OF Brainly Plus). Brainly Plus' primary problem is that it didn't work a lot of the time, some users (such as myself) have experienced errors such as answers still being blurred out, account not working, still charging after canceling, etc. The free trial is no better, you are required to type in your credit card information and when the free trial begins, more often than not, you're locked in, you still have to pay a subscription fee even if you've already canceled. In my personal opinion, Brainly has no right to charge people for information that they don't provide, unless they're giving that revenue back to the content creators.

Another problem with Brainly is the moderators, who will report users' questions for things such as: posting links, setting an Algebra question as "Algebra" and many other things. I personally believe that this is both in violation of common decency (and probably a term of service as a moderator) and in a promise of good moderation (which a lot of Brainly's bot-reviews say the moderation is). On top of all this, questions are rarely if ever answered, and usually in 3 days to a week. Answers usually contain incorrect answers, no work, or improper explanations. Above all else, in my opinion, I think Brainly is not a very efficient choice for getting past your tests unless you have enough time and money to throw at the website. I personally recommend you find different websites. I wish you all good luck out there, and if you're reading this, have a nice day!

Bottom Line: No, I would not recommend this to a friend

---

What the heck

I can't make an account, what the heck! This is all it says "We're sorry, but we are not able to complete your registration at this time." I've tried like a hundred times, when can I get in!

Bottom Line: No, I would not recommend this to a friend

---

Advertisement

---

It's a scam.

By Liam M.

,

Florida

,

Aug 19, 2019
Verified Reviewer

This is an app that doesn't allow you access unless you pay for their subscription and give them money. While the cost is ludicrous, this would not normally be an issue as there are always people willing to pay for a service such as this.

However, this is a website that is primarily used by students, including children. Their entire ad platform is designed to convince you to pay for the subscription; if you don't provide credit card information, it assumes you just don't have one, and tells you that your parents can use theirs.

As for the final result, assuming you pay for it, it's a completely terrible app with not a professional insight. As this site is used by children, with unhelpful moderators that also don't know the material, this app only serves to obstruct real learning. Garbage on a gilded pedestal, locked behind a steep paywall.

Bottom Line: No, I would not recommend this to a friend

---

They scammed me

By Aisha H.

,

Texas

,

Jun 10, 2019
Verified Reviewer

I cancel my free trial for Brainly Plus and they charged me for it. They never respond to the emails, and once I had canceled the Brainly Plus subscription that I was charged $24 was taken away when it had said that I had access for a year. Brainly is a scam and don't give them your credit card info unless you want a problem with them.

Bottom Line: No, I would not recommend this to a friend

---

Advertisement

---

Greedy

By Marli C.

,

No

,

Apr 23, 2019
Verified Reviewer

For the couple of months I've been doing online school, Brainly at first was helpful. It would give me three free answers for three different questions, and after that, I could watch ads to get more help. Now, it gives one answer and completely blocks me from seeing the problems worked out, let alone the ads. I'm really ticked off. This was the only website I could find the questions on and it was quite reliable with the help, but now it's complete garbage. They expect students to actually pay money? Nah.

Bottom Line: No, I would not recommend this to a friend

---

This app/website is not very helpful

By Aubrey C.

,

Bryant, AR

,

Apr 13, 2019
Verified Reviewer

I use this app to help me with some of my school work and sometimes it is great to use, but the questions I have asked have either been ignored and deleted because there was no answer for it, or people spam the answer box just to get the points and I don't think it's right or fair! Also, there are some really rude people on this app/website.

Bottom Line: No, I would not recommend this to a friend

---

I will just explain why Brainly is not that helpful for others and you.

By Jacob T.

,

Hemet, CA

,

Nov 17, 2018
Verified Reviewer

Brainly has not been the best experience for me because you may not get rid of people sending you notifications and sometimes you are not able to answer some questions. It is not the best app, and I prefer Quoro.

Bottom Line: No, I would not recommend this to a friend

---

BS answers

By C G.

,

California

,

Oct 19, 2018
Verified Reviewer

I'm an answerer on Brainly! And, I'm probably one of the smartest minors on there. Yes, Brainly is awful when it comes to getting your questions answered. If you want help from someone that ISN'T a blind guess, good luck! You will not be finding it here.

Bottom Line: No, I would not recommend this to a friend

---

Reporting is dumb on here

I got reported for having links on it when there are THOUSANDS of other people who also had links. And they delete my question, and it's not true that 80 percent of questions get answered, I believe it's 80 percent of them don't. I see so many of them not being answered. Overall, it is very bad and unfair, which might explain why it's free.

Bottom Line: No, I would not recommend this to a friend

---

People on here are not smart at all. They be giving you the wrong answers all the time. And I just stopped using the app. Such a let down.

I stopped using this app because people don't know how to answer a question right. So please update your app! And make sure that the people know their stuff. I'm in high school, and I used this app to help me with my homework. And I post a question, and I just want the right answer that's all. Heck, school is hard enough; I just wanted some help. Thank you.

Bottom Line: No, I would not recommend this to a friend

---

Pretty funky and buggy

By Shukant Pal

,

Uttar Pradesh, India

,

Mar 13, 2018
Verified Reviewer

This site is very unprofessional. There is no concept of text formatting or even previewing your answer, especially while using math symbols. I tried to answer many questions, but in the end, I find that the answers are totally absurd because of the improper math. There isn't even an option to edit the answer. I really started hating the featureless site and decided to delete my account.

Also, most questions are improperly asked. I think this site is a waste of time for smart/brilliant students.

Bottom Line: No, I would not recommend this to a friend

---