Candid Aligners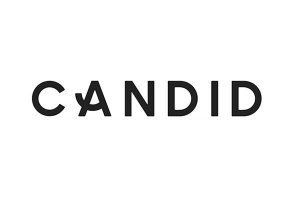 Summary
Candid's on-demand aligners can straighten your teeth in six to eleven months using a series of aligners crafted from a mold of your teeth that you create at home.
Candid Aligners Review: How It Works, Pricing, Drawbacks
Candid is a company who sells custom-fit teeth aligners that can resolve common tooth issues like crowding, discoloration, poor spacing, and protruding teeth.
What makes the company unique is that you can get a set of custom-fit aligners without ever having to leave your home, as Candid can create an aligner based on photos you take and the "modeling kit" they send you.
The company's founder is Nick Greenfield, an entrepreneur who worked at Lyft, Washio, and Paribus before starting Candid.
According to his company profile, he got the idea for Candid in the aftermath of having to shop for aligners.
"After scouring the market and only finding solutions costing upwards of $6,000, Nick thought there must be something more affordable and convenient," a company blog post notes. "It was a no brainer … He knew the world was moving towards easier increased (on-demand) access and fairer pricing, and that's how Candid began."
In this review, we'll talk about how Candid works, how much it costs and then compare it to competing on-demand aligner service SmileDirectClub.
The Sign-up Process
When you go to the Candid website to get your aligners, you'll need to take a multi-question preliminary screening to find out if you're a good fit for their product.
We took the test ourselves. Many of the questions focused on the condition of your teeth and how you feel about the condition of your teeth. They also ask other questions like whether or not you've had braces and if you've gone to the orthodontist in the past.
At the end of the quiz, they'll tell if you can participate or not. We were told that we were a candidate for the aligners.
If you find yourself in the position we were in, then you'll need to know what happens after that.
Here's how it works:
Candid sends you the kit
You make five impressions of your teeth and take photos
You send the kit back to Candid
A dermatologist in their network analyzes your impressions and photos
They make an alignment plan or they say you aren't a good fit.
Really, the most interesting part of this process is the modeling kit. This is what you'll use to get molds of your teeth that the Candid orthodontist uses to create aligners that will, over time, straighten your teeth.
Contents of the Candid box:
Cheek stretcher
Gloves
Putty catalyst and base
Bite guide
Lower trays (2)
Upper Trays (3)
Return shipping box
Instruction manual
As someone who has had to get tooth molds from my dentists for crowns, I can tell you that these various items are very similar to what you'd seen in an actual dentist's office.
You mix one pair of putty catalyst and base per mold, then combine one tray and the putty along with the bite guide to bite down on the putty-filled tray.
You'll also need to provide the Candid orthodontist with photos, which you'll take using your phone or a camera and the cheek stretcher. Your photos can be rejected for poor quality, so make sure you heed the following tips Candid gives for good photos:
Use a blank wall as a background
Light the room well
Take off glasses/sunglasses
Take off your hat
With all our pictures taken and your molds created, you'll email the photos to Candid and use a return shipping box they provide to send in your aligners.
According to Candid's website, it will take at least five weeks for their orthodontist to receive your molds and photos, analyze them and create aligners specific to your teeth's needs. Their orthodontists have an average of 20 years of experience, the site notes.
There is a chance that the orthodontist may conclude you aren't a good candidate for Candid, in which case the company will refund your $95. If you are accepted, then Candid's FAQ section notes that the average treatment time is around six months and "it will almost never take longer than 11 months on the high end."
You'll typically have enough aligners to change every two weeks and, as the FAQ section says, you'll get email and text notifications to remind you to switch your aligners.
Candid's site notes that you can pretty much go about your daily routine with these aligners> They won't interfere with playing musical instruments and it will be hard for people to tell that you're wearing them.
Your aligners will also come with a retainer that you'll wear for two weeks after your treatment is done, Candid's website says.
Pro tip: Your kit will also come with complimentary teeth-whitening toothpaste.
Candid Studios
An alternative to doing the at-home kit to start the process is to go to a Candid Studio, which is a Candid storefront that functions more like a traditional dentist's office. You walk in and get a free scan of your teeth that your orthodontist will use to create a 3D model of your teeth from which your aligners will be designed.
The advantage to this is that it's free and will save you the $95 you'd pay to have Candid send you an at-home kit. The downside is that they only have 10 locations around the country: Atlanta, Austin, Boston, Chicago, West Hollywood, Santa Monica, Columbus (OH), San Francisco and two locations in New York City.
Candid Pricing
The Candid pricing model is very simple. You'll pay $95 for your molding kit and for the orthodontist to analyze your molds and come up with a treatment plan.
The full-fledged treatment of multiple aligners, as well as the retainer, will cost you a flat fee of $1,900, a cost you can pay all at once or pay in increments of $80 per month through Affirm, a company who does payment plans for a variety of businesses.
The Candid website says that you can use insurance to offset some of the cost of your treatment but that how much is covered is based on your plan. Candid will work with your insurance company to nail down how much you'll pay out of pocket.
The billing code for the aligners is D8040. You can use this code to call your insurance company and see what kind of insurance discounts you can get—if any.
Candid says that the average price of aligners through an orthodontist's office is $5,000, making Candid a considerable bargain.
Drawbacks of On-Demand Teeth Aligners
We see a lot of positives when it comes to companies like Candid. Primarily, you don't have to make any office visits to get your aligners. It takes about 30 minutes to make the molds and take photos, and you can do it in the convenience of your home.
However, said Dr. Ron Baise, a London-based dentist, sending someone a batch of aligners they rotate out every two weeks doesn't afford the patient the advantage of nuance. If a part of the alignment plan needs to be adjusted, you're stuck.
"To get the best out of aligners they should be constantly adjusted to ensure that your teeth are moved gradually. The more gradual the movement, the more permanent the changes to your teeth position are," Baise said.
And, while the initial molds you send it are effective in creating a care plan for the next six to 11 months, there are not updated molds that may reveal that certain tweaks need to be made to your remaining aligners, he said.
"The changes between aligners are made in advance, and there is little course correction as the treatment goes on. This means that mail order treatment would lack the bespoke adjustments that make the difference between good and great treatment with aligners," Baise told us.
We read the same insight from the California Association of Orthodontists (CAO) article regarding mail order aligners.
"Throughout orthodontic treatment, your teeth may move faster or slower than originally anticipated. They may also move in ways that were not anticipated. This is taken into account in orthodontic treatment by an orthodontist.
When you get mail-order braces or aligners, you won't have this specialized treatment. Their plan is based on your initial scans or impressions, and is not typically altered throughout, which can cause serious damage to your teeth, gums, and jaw."
Comparing Candid to Smile Direct Club
SmileDirectClub is a well-known on-demand alignment company that is in direct competition with Candid.
The first main area of comparison is pricing. SmileDirectClub charges $1,850 for a cash payment and $2,170 if you go on a payment plan. The payment plan requires a $250 down payment. The company will charge you an extra $99 for a retainer, which is interesting considering Candid provides one for free and says they are necessary to keep your teeth aligned in the two weeks following your treatment.
As we mentioned earlier, Candid's plan is $1,995, which includes the cost of your retainer. SmileDirectClub's price is $1,949, so there's a $49 difference.
Now, here's where things get interesting. Candid's website says they differ from the competition in that an orthodontist rather than a general dentist reviews your molds, creates your 3D scans and provides you with an alignment plan. They say their orthodontists have an average of 20 years of experience and have undergone at least two years of training in teeth alignment.
Here's how the Candid blog explains the difference between a general dentist and an orthodontist:
"While general dentists can start practicing right after graduation, orthodontists spend an extra 2–3 years honing their skills in the art of tooth movement. That's why there are 195,000 dentists in the US, only about 11,000 of whom are orthodontists. These licensed tooth-movers have thousands of extra hours of specialization under their belts, and the training and test scores to prove it."
This indicates that the doctors who are analyzing your teeth molds and creating your alignment plan have special expertise in this area of dentistry, whereas you may or may not get an orthodontist with Smile Direct.
Understanding which of these services is best for you really boils down to your preferences for expertise and convenience. Our research indicates that Candid's dentists have far more specialization in tooth alignment, whereas Smile Direct is slightly cheaper.
Our Bottom Line About Candid
Candid is on par with what you get from SmileDirectClub, the other leading on-demand aligner provider.
As Candid's website points out, using their service will save you as much as 65 percent of what you'd pay if you went through an orthodontist's office in your town. SmileDirectClub provides similar savings.
So, either way, there's good value in choosing an on-demand alignment company as opposed to a local orthodontist.
The downside is that Candid's alignment treatment is an impersonal process and by that we mean you're doing everything online or over the phone. You don't actually get to sit across from an orthodontist.
Investing $1,900 in your teeth is an expensive investment and for those who want the peace of mind of seeing the doctor who will straighten your teeth, the lower price tag Candid offers may not be worth it to you. You may opt for SmileDirectClub because they have locations in more than 40 states, albeit some states only have one location.
In general, Candid is a good choice if you're looking for an affordable way to straighten your teeth. Keep in mind though that, as our expert pointed out, the treatment plan isn't going to be nuanced to any unforeseen changes that take place in your alignment during treatment.
Customer Reviews