SmileDirectClub
Claimed This company has claimed this profile, is getting alerted on any new customer reviews entering this page, and may engage in dialogue with its customers to address their matters.

Companies cannot pay money or provide goods in order to remove or alter customer reviews.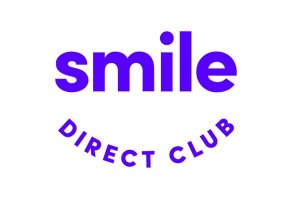 SmileDirectClub delivers invisible aligners directly to you giving you a straighter, brighter smile for 60% less than other treatments – with no monthly office visits.
SmileDirectClub Review: Can They Straighten Your Teeth?
Interested in straightening your teeth, but don't have the time for regular orthodontist visits? Or, do you have the time, but cringe at the thought of traditional braces?
In either instance, SmileDirectClub promises to deliver an "innovative remote treatment process" via teledentistry that can help you straighten your teeth using custom clear aligners.
We're told this process allows SmileDirectClub's network of more than 250 licensed dentists and orthodontists to evaluate your teeth from anywhere, which, when combined with their 3D treatment modeling and direct-to-consumer convenience, means they can work around your schedule at a fraction of the price. You'll even get to see a 3D preview of your new smile before you begin the process.
Regardless of what you're shopping for, it's difficult to resist up to 60-percent off. But will you have the same teeth-straightening experience with SmileDirectClub as a traditional orthodontist? In other words, even if it is less, does SmileDirectClub represent a solid deal? That's exactly what we'll explore here.
How Does SmileDirectClub Work?
Overall, we can break the SmileDirectClub process down into two steps:
Step 1: Initial Consultation and Setup
First, you'll make an appointment through SmileDirectClub's website to visit a SmileShop location. There, a company representative called a "SmileGuide" will take a 3D image of your smile, which they state takes about 30 minutes. After you're finished, you'll immediately be able to see the 3D image of your smile.
There are over 390+ SmileShop locations across the U.S., Canada, Australia, United Kingdom, Ireland, Germany, and Hong Kong. Some of these locations are inside CVS, Walgreens and Walmart stores. Not near a SmileShop location? You can complete an impression kit at home instead.
You'll then be assigned a licensed dentist or orthodontist who will review and approve your 3D smile plan and guide your new smile from beginning to end.
SmileDirectClub says that, in many cases, within 72 hours you'll receive your treatment plan showing how your smile will transform. Next, they'll begin production of your clear aligners custom-created for your teeth.
Step 2: Using Your Aligners
You'll be sent all aligners in your smile plan at one time, along with SmileDirectClub's bright on™ premium teeth whitening (offer varies by country). It's important to wear your clear aligners in the proper order, all day and night, removing them only for meals and drinking beverages other than cool water. Or if you wear the nighttime clear aligners offered by SmileDirectClub, ensure they are worn for a minimum of 10 hours overnight.
You'll check in with your doctor every 90 days through your customer account, so he or she can monitor your progress. (If you have any questions, you can reach out to a SmileDirectClub customer care specialist 24 hours a day, seven days a week via phone, email, or live chat.
The average SmileDirectClub customer completes treatment in 6 months.
Once you're finished, you'll need to wear a custom-fit retainer to prevent your teeth from shifting back into their original positions. For the first 2 weeks after treatment, you'll wear them all day and night (except when eating and drinking anything other than cool water), just as you did with your aligners. After that, you'll only need to wear them at night.
SmileDirectClub recommends replacing your retainers every 6 months to keep them clean, fresh, and tight-fitting.
How Do Clear Aligners Straighten Teeth?
Unlike braces, which use interconnected brackets and wires, "are a series of tight-fitting custom-made retainers that slip over the teeth."
Each tray will slowly move your teeth into the desired position, leaving you with straighter teeth and a brighter smile over the course of several months.
SmileDirectClub aligners are made of BPA-free plastic, which is fairly common among competitors, too (more about this soon).
The Pros and Cons of Clear Aligners
On the positive side, compared to traditional braces, clear aligners:
Can be removed and generally aren't as noticeable
Generally need to be worn for a shorter period of time
Eliminate having to worry about difficulty eating or food getting stuck
Cause less discomfort (you'll still feel some discomfort, especially for the first few days after changing to a new set of trays)
Offer little chance of tooth discoloration
However, clear aligners aren't perfect. Here are some potential drawbacks:
You'll have to brush and floss after each meal.
You'll also need discipline in order to stick to your treatment plan and keep the trays in place all day and night.
Clear aligners can't be used for those with bridgework or those with complicated issues that require moving teeth vertically, rotating canines or premolars, or those with anything more than mild-to-moderate crowding, rotation, and/or bite correction.
How Much Does SmileDirectClub Cost?
If clear aligners sound like an ideal solution, how much will you pay through SmileDirectClub?
Your online Smile Assessment is completely free. To determine if clear aligners are a good fit for you, you'll need to complete either a free 3D scan at a SmileShop or an at-home impression kit for $49. If it's determined that you're not a suitable candidate, the $49 fee will be refunded.
When the time comes, SmileDirectClub provides two payment options for its customers:
Single Payment: A one-time payment of $1895. (This is a more cost-effective payment option.)
SmilePay™ Monthly Payments: Pay a $250 down payment, then $85 a month for 24 months. In total, you'll pay $2290.
All SmileDirectClub clear aligner plans include complimentary whitening gel.
Once your treatment plan is complete, a set of retainers to preserve your new smile is $99.
Other miscellaneous SmileDirectClub costs include a $50 fee for individual replacement trays (or $99 per set) if lost, as well as a $49 fee for any additional impression kits. Regarding this last one, the fee "can be deducted from your treatment plan cost when you purchase your aligners," the company says.
All Canadian pricing can be found on SmileDirectClub's Canadian website
All Australian pricing can be found on SmileDirectClub's Australian website
All British pricing can be found on SmileDirectClub's UK website
All European pricing can be found on SmileDirectClub's Irish website
All German pricing can be found on SmileDirectClub's Deutsch website
Hong Kong pricing can be found on SmileDirectClub's Hong Kong website
Finally, SmileDirectClub provides a Smile Guarantee, which stipulates that if you're dissatisfied for any reason, simply return your unused aligners, and they'll refund the prorated amount.
Customers are eligible for a full refund if they return the aligners within 30 days of delivery. In order to request one (or to ask any questions), customer service you can reach their customer service department at 1-800-848-7566 (number varies by country).
Those who have orthodontic benefits in their dental plan could be "reimbursed directly from your insurance company after purchasing your aligners." However, they note that they do not accept direct payments from insurance companies.
SmileDirectClub also accepts payments through HSA and FSA plans, as well as CareCredit.
A Look at SmileDirectClub Customer Reviews
There is a wide variety of customer input regarding the SmileDirectClub both on YouTube and various review sites including HighYa and Yelp.
YouTuber misselissalk seems to have had a positive experience with SmileDirectClub, finding it less expensive than the competition and receiving everything right on time. She also enjoyed the 3D digital model that shows you what your teeth will look like with each tray.
Interestingly, she was able to correct her top teeth only. Per the company's FAQ, SmileDirectClub generally recommends against straightening just your top or bottom teeth, since this can significantly change your bite, unless the club member has a permanent retainer and or other orthodontic/ dental devices that would prohibit tooth movement.
She noted that rough edges on SmileDirectClub's aligners created sores and cuts in her mouth. She went on to say that the company provided a file to smooth out rough edges and that orthodontic wax helped, too. Over time, though, her mouth healed and the pain receded.
She didn't like brushing her teeth after eating or drinking something other than water and felt that the company's email communication was "kinda poor." Specifically, she noted long response times with several follow-ups required.
At the time of publishing, 546 HighYa reviewers gave the company an average rating of 3.0 stars, with 49 percent saying they'd recommend the service to a friend.
Most recent reviews from customers praised the company reflecting on their positive experience with the customer service and overall experience.https://www.youtube.com/watch?v=oLCsyY-vkDY
SmileDirectClub Compared to Candid
According to Colgate, the average cost of an Invisalign treatment plan ranges from $3,500 to $8,000 compared to SmileDirectClub's single-pay price of $1,895. SmileDirectClub offers better pricing by a wide margin.
However, SmileDirectClub isn't the only non-Invisalign company who provides clear aligners. We've done an in-depth review of Candid, a company very similar to SmileDirectClub whose prices are slightly higher: $2,400.
They take you through a similar progression as SmileDirectClub and they also offer brick-and-mortar locations where you can start your alignment process. Because the two companies are so similar, we suggest that you call each one and interact with their customer service people to see which company you are drawn to.
The Bottom Line on SmileDirectClub
We believe the strengths of SmileDirectClub are that you have the freedom to get aligners without ever having to leave your home. You don't have to deal with a dentist's chair and you may be able to avoid the cost of braces, which are significantly more expensive than the aligners the company offers
Their aligners are cheaper than what you'll get with Invisalign and competitor Candid, too.
The downside of the company's service is that the reviews we read were below average, with multiple reviewers complaining of poor customer service and cracked aligners. There were also complaints about waiting times.
As for who is a good fit for these aligners, we think WebMD makes some excellent points about this. First, they say that custom-built aligners tend to have a tight fit and are best suited for adults and teens rather than kids.
"Young people, and their mouths are still growing and developing; the doctor must think about this when setting up treatment," they said.
They go on to point out that clear aligners, no matter which online company you choose, have their limitations.
"Clear orthodontic aligners are typically used for patients who have mild or moderately crowded teeth, or have minor spacing issues. Patients who have severe crowding or spacing problems -- or severe underbites, overbites, or crossbites -- may need more complex treatment," they note.
The site goes on to say that the smart way to go about using aligners is to get a diagnosis from your dentist first. If they say aligners are a good fit for what's going on with your teeth, you have the green light to research the options you have for SmileDirectClub.
Longterm success remains to be seen

By Lyn A.

,

British Columbia, Canada

,

Apr 4, 2020
Verified Reviewer

Affordable.

At the initial consult, I wasn't made aware that I'd be paying $125 every 6 months for new retainers indefinitely after my month-long process.

How successful this process is remains to be seen (I'll give it a few years).

Bottom Line: Yes, I would recommend this to a friend

Apr 6, 2020

Hi Lyn, thank you for taking the time to leave us a review. With any teeth straightening treatment, retainers are recommended to keep a customer's new smile. We offer these for $125 and suggest that they be replaced every 6 months. We strive to be transparent about this and have this information available on our website at https://smiledirectclub.ca/en-ca/pricing/. Most customers should be finished with treatment in about 4-6 months, so it shouldn't take a few years to see results. I'm sending you a private message to see how we can help with your concerns. Best, Madison.

---

Great decision!

By Briston G.

,

South Carolina

,

Apr 4, 2020
Verified Reviewer

I was skeptical because of the price difference and no one-on-one contact but it turned out to be a really good decision. I saved a bunch of money and my daughter's teeth look so good now.

Bottom Line: Yes, I would recommend this to a friend

Apr 6, 2020

Thank you for this wonderful review!

---

Got great results

By Christy B.

,

Arizona

,

Apr 3, 2020
Verified Reviewer

Wore my aligners for 5 and a half months and now have a perfect smile, so happy with my results and how amazing SmileDirectClub is. Was painless and barely noticeable. Super easy process and never had an issue with how my aligners fit.

Bottom Line: Yes, I would recommend this to a friend

Apr 3, 2020

Hello Christy, your wonderful feedback and rating mean a lot to us.

---

100% best thing ever!

This was the best choice I made selecting SmileDirectClub for enhancing my smile. Yes, the first 1-2 hurt while my teeth were settling into the trays. I wore them 24/7 and not one soul could tell I had them in. I would recommend them to anyone questioning pulling the trigger on SmileDirectClub!

Bottom Line: Yes, I would recommend this to a friend

Apr 3, 2020

We appreciate your positive words! We're honored.

---

Advertisement

---

Convenient, efficient, easy

By Che-Lei T.

,

Tennessee

,

Apr 3, 2020
Verified Reviewer

I have enjoyed receiving services from SmileDirect. I love the convenience, especially since I work the night shift. I'm also so happy for the new products (especially the sanitizing machine and water flosser) that they have added to their line.

I'm so happy I was finally able to get perfect teeth as an adult trying to date - it adds to my confidence.

Bottom Line: Yes, I would recommend this to a friend

Apr 3, 2020

Thanks a million, Che-Lel! Thank you for sharing the support.

---

Back to where they used to be!

By Emma S.

,

Texas

,

Apr 3, 2020
Verified Reviewer

I had slight crowding on both top and bottom teeth. SmileDirectClub straightened my teeth better than I hoped for! The aligners are tight the first few days but most of the time I rarely noticed them! I never received an email for them to check in on my smile, but I stayed with the schedule and couldn't be happier!

Bottom Line: Yes, I would recommend this to a friend

Apr 3, 2020

We are thrilled to see this awesome review on our page!

---

Great choice for me

By Carrie B.

,

Colorado

,

Apr 3, 2020
Verified Reviewer

I really liked that it was self-managed, and that I didn't have someone giving me lectures. I was in charge.

The only problems I had were with the edges of some aligners, sometimes cutting my tongue and being very rough. I would fix them, only to have to start over with the next set.

The aligners never made my teeth ache, and I never had any tooth pain. It was exciting to see the progress.

I never did get used to having the aligners in my mouth. I never forgot they were there, and they drove me nuts, but I did it and I'm very happy with the results.

I would strongly recommend changing aligners right before bedtime so that you skip the first few pressure-filled hours in a new set. They never kept me awake.

It took less than five months. I only wish I'd done it sooner. I recommend Smile Direct Club for two reasons, the lower price, and the lack of visit to an orthodontist. I'm pretty happy.

Bottom Line: Yes, I would recommend this to a friend

Apr 3, 2020

We are grinning ear to ear, Carrle! Thanks so much for the kind review.

---

Love my smile

By Donna H.

,

South Carolina

,

Apr 3, 2020
Verified Reviewer

I have enjoyed my experience with SmileDirectClub. For the most part, the braces fit my teeth except for the last few weeks. I had a problem with the bottom row cutting my mouth around previous dental work. Other than than, I love the fact that I would receive an email and text reminding me to change my sets.

I wanted my top row of teeth to be straight and pretty and that goal was met by SmileDirect Club.

Bottom Line: Yes, I would recommend this to a friend

Apr 3, 2020

Hello Donna, we greatly appreciate the feedback! We want nothing more than for all club members to love their end results once they have completed their smile journey with us.

---

Amazing!

By Elizabeth L.

,

South Carolina

,

Apr 3, 2020
Verified Reviewer

The process of SmileDirectClub was so easy! I loved being able to go to the Smile Shop and get my imprint taken and then have all of my aligners shipped to me at one time! I was so happy that all of my aligners fit wonderfully. I have never been happier with my smile.

Bottom Line: Yes, I would recommend this to a friend

Apr 3, 2020

Hello Elizabeth, thank you for sharing this amazing 5-star review!

---

Don't fall for this! Not even for the price!

By Heidi F.

,

New Jersey

,

Mar 21, 2020
Verified Reviewer

Went in for my free scan. From the start they start pressuring you to sign up but at the same time have a conversation with you that by the end of the consultation, you're signing away. I went in on a Wednesday, and I specifically told the girl that I didn't get paid until that Friday. She said, "no worries, it takes them two business days to process." That was lie #1. They charged my card the next day. Thank god I had money in my account where I didn't end up over-drafting.

A few weeks go by, I receive the aligners. I start wearing them and I see a little bit of a difference. (Backstory: I had worn braces in the past, so my teeth weren't really bad that I wouldn't see a difference right away.) At this point, I get a notification that my first payment will be due. Of course, it doesn't fall on the week that I would get paid, so I decided to call (AHEAD OF TIME) to inform them that I wouldn't have sufficient funds and if it would be possible to change the billing date to TWO days later. Well, that didn't go well. They told me that for the first payment, they couldn't change the date; I had to wait until that processed and for the following month, I had the option to change it. I let it go and then after a few days later, I get a notification from my insurance company saying that I wouldn't be able to get reimbursed because of the type of company SDC was. At this point, there was no reason for me to continue with the aligners as I was paying for orthodontic coverage and not getting my portion refunded.

I called SDC and informed them of the situation and told them that I wanted to cancel. I was told that I had to speak with a manager in order to do that and I would get a call back within 5-7 business days.

Five days went by and nothing. I waited until it had been a week and decided to follow up. When I called, I was told that they were extremely backed up and that it could take up to 10 business days to get a call back, but to not worry. They would put notes in my account to not get charged and I would be put on the priority list for a call back.

Two and a half weeks later, I receive an email from a manager. I had to explain everything again and finally, after the 2nd email, I was finally given the address to return the unused aligners. I go into my credit card statement and then realized they had charged my account. I was furious because I was clearly told that notes were being added and I wouldn't get charged. So I decided to call the finance company to find out why they went ahead and charged my card.

I was told that because of the contract and the two week grace period that they had given me that they had to charge my account because SDC had not informed them that the account was canceled. I then went ahead and called SDC. They told me that once the aligners were received, at that moment is when they inform the finance company of the cancellation but that I would get a full refund but that could take anywhere from 7-10 business days.

I'm so annoyed. All SDC wants is your money! I have worked in the health care field for over 12 years and have NEVER worked anywhere where they would just give patients the runaround. This is such an unprofessional company. Stay away!

Bottom Line: No, I would not recommend this to a friend

Mar 23, 2020

Hello Heidi, we are very disappointed to see this as we take pride in our customer service and communication efforts. One should not feel pressured at their SmileShop visit to pay for the aligners as the 3D scans are valid for 90 days. This allows plenty of time to make a decision and request modifications to their smile plan if needed. Purchasing the aligners should be an exciting time, instead of frustrating and a hassle. Returning packages should be easy and receiving a refund should not take weeks to be processed. In order to better assist, I will be reaching out via private message. Best, Valerie

---

Great initial visit

By Farrell W.

,

Little Rock, AR

,

Mar 19, 2020
Verified Reviewer

Great visit, knowledgeable staff, Hunter did a great job explaining everything, he is also using the product, speaking for itself. Can't wait to get my box and start seeing results.

Bottom Line: Yes, I would recommend this to a friend

Mar 19, 2020

Hello Farrell, thank you for your kind words and this wonderful review!

---