Byte Invisible Aligners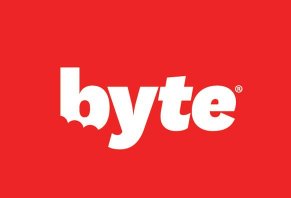 Summary
For those with mild to moderate teeth alignment issues, byte claims to offer an at-home alignment treatment that can adjust your teeth into the right spots in an average time of five months. While the treatment is affordable, dentists and orthodontists with whom we spoke said there are some serious drawbacks.
Byte Invisible Aligners Review: Are They Worth It?
Byte is an invisible aligner company that provides aligners for less than $2,000 via at-home kits sized to your teeth based on an impression kit they send to your home.
The company is one of several who offers invisible aligners through the mail. SmileDirectClub and Invisalign are two competitors that we'll talk about later in our review. The business model in this niche business centers on convenience and affordability, which we'll also discuss in a few minutes.
We couldn't find much about byte's origins but we do know that they place an emphasis on making you feel confident about your smile. Their About Us page's opening sentences reflect that.
"Byte is for the self-assured, the courageous, the people who are comfortable in their own skin and who are getting after it. Can you relate? Good. Because that's why we created byte," they write.
In this review, we'll talk about how byte's process works, how much it costs and what customers are saying about their experience. Then, we'll do a comparison of byte to SmileDirectClub and Invisalign, and wrap up with a conclusion covering the service's pros and cons.
The Process
Byte's service happens in two steps. First, you pay up-front for an at-home impression kit. Byte will then send you the impression kit It will arrive with an impression tray that you fill with molding putty they give you.
You'll get a smile stretcher that keeps your lips out of the way when you put the tray and putty in your mouth, along with putty gloves you use to keep your hands clean.
You'll also receive instructions about how to make your mold and a return shipping box you'll use to send your impressions back.
Byte gives you enough putty to do your impressions a second time if you make a mistake the first time. If you aren't confident about your ability to do the impression well, you can schedule an instructional video chat session with the byte team.
The impression kit makes a mold of your teeth that byte's orthodontists will examine and create an aligner plan for your teeth. The company says your aligners will arrive within four weeks of you sending your impression kit.
Keep in mind that byte has to approve you for their aligners. Their program is designed for those with minor to moderate alignment issues, their website says, as well as spacing, crowding, bite and rotation issues.
If byte determines you're not a good candidate for their treatment, they'll refund you for the cost of your impression kit.
Byte says that, while every patient is different, the average treatment time is five months.
What we've described here is the basic progression of byte's services. The company offers a way to speed up this process by using a device called a "HyperByte." The device is a mouthpiece that fits over your aligners and sends, "soft micro-pulses through the roots of your teeth to the surrounding bone."
The device, Byte says, can cut your aligner treatment time in half by stimulating blood flow and bone adaptation to your aligners.
Multiple studies focus on high-frequency vibration (HFV) treatments. We found one in the journal Orthodontic Practice US that indicates a dentist saw quicker results from patients who opted for HFV treatments.
Another study we read noted that HFV treatment simulated exercise when applied to bones, which led to better bone health.
And, finally, a 2018 study we perused revealed that devices like HyperByte that accelerate alignment may be effective in reducing the time of your aligner treatments.
"The results of this study suggest that clear aligner treatment duration may be significantly reduced using an (alignment accelerator) device by reducing both the intervals between aligner exchanges and the total number of aligners required to complete treatment," the study said.
Based on our research, we believe there's sufficient evidence behind byte's claim that their HyperByte can speed up your alignment. How quickly it can do that and if it can do that, based on your bones, is an unknown, though.
You'll want to weigh this information with the cost of the device, which we'll talk about in a few minutes.
The Cost and Financing Options
You'll pay two main fees when you use byte: the cost of the impression kit and the cost of the aligners.
At the time of publishing, the impression kit cost $99 but because of a summer promotion, byte offered the kit for $29.95.
The company's aligners cost $1,895. There are three ways you can pay for the treatment. You can pay for the entire cost up-front, make an insurance claim to reduce the cost or go on the "bytepay" payment plan to get payments as low as $62 a month.
Byte says their financing approval rate is flawless—they don't deny anyone and provide instant approval.
If you want to speed up your treatment through the HyperByte device we mentioned earlier, it will cost you $699.
The Byte-for-Life Guarantee
Byte offers a lifetime guarantee on their aligners. This means they'll put you through a new alignment plan and new aligners if "your teeth ever move out of alignment for the rest of your life."
At face value, this is a robust warranty and welcomed one considering you'll pay nearly $2,000 for the treatment.
However, the site's fine print notes there are multiple circumstances that would nullify the lifetime guarantee:
Tooth trauma from outside circumstances
Missing teeth
Teeth affected by non-byte dental or orthodontic treatments
Teeth that have changed due to a health condition
Also, if you bought a HyperByte for your first treatment, you'll have to buy it again for your second one. HyperByte is not included in the guarantee.
We called Byte to find out more about the "dental or orthodontic" clause. The phone rep told us that the exclusion applies to cosmetic work like veneers, but it also applies to implants or "any type of surgery done to your mouth."
The reason behind these exceptions, the phone rep said, is that byte is working off the shape and size of your teeth in your original impression. Any slight changes to your teeth since that first impression could render the aligners useless.
Comparison to Competitors
The following chart shows you some of the differences and similarities between byte and two other invisible aligner companies: Invisalign and SmileDirectClub.
| | Byte | SmileDirectClub | Invisalign |
| --- | --- | --- | --- |
| Aligners price | $1,895 | $1,895 | $3,500 to $8,000* |
| Impression kit price | $29.95 | $49 | N/A |
| Financing | $62/mth. | $85/mth. For 24 months. | N/A |
| Insurance | Yes | Yes | Yes |
| Average treatment time | 5 months | 5 months | 6 months |
*According to data from Colgate.com
Based on the information we have here, we believe that byte and SmileDirectClub offer better value simply because they're significantly cheaper than Invisalign.
However, there's a key difference between the three services. Invisalign requires you to go to a dentist to get your impression whereas you can do byte and SmileDirectClub at home.
This may seem like a disadvantage but, from a medical perspective, your aligners are more likely to fit better and formed to your specific jaw, gum and tooth makeup (more on that later).
Also, Invisalign claims to use better materials to create their aligners than competing services. We tried to verify this claim but neither byte nor SmileDirectClub provides in-depth information about the materials they use for their aligners.
However, if you're in a position in which you can't afford Invisalign and don't want to take on monthly payments to finance it, then byte and SmileDirectClubare the more suitable choices.
Each service offers financing and each service can accept your insurance, provided aligners are covered in your plan.
Based on our research, we believe there is little difference between the services that byte and SmileDirectClub offer and, therefore, are of equal value in both pricing and services.
Do At-Home Aligners Really Work?
We wanted to get a sense of what dentists thought about companies like byte that offer at-home invisible aligners. So, we reached out to several sources for insight.
Dr. David Frank, owner of Austin-based Walden Dental, said the main drawback to invisible aligner companies is that they don't take X-rays of your teeth. So, it's virtually impossible to tell if there are any root, bone or jaw issues that could render your aligners ineffective or capable of hurting your teeth rather than helping.
"The biggest concern is that there are no X-rays or any other data to rule out where the tooth roots are in position. It limits any type of accuracy of long term shifting of the teeth," Frank said.
He went on to say a tooth is like a straw sitting in a cup full of coffee beans. You can move the part of the straw sticking out of the coffee beans but it's extremely difficult to move the base of the straw simply by adjusting the top of it.
Also, Frank pointed out that getting aligners through the mail means that you aren't consulting a dentist or orthodontist who could point out gum or bone disease in your mouth.
By using aligners to straighten your teeth, they could actually harm your teeth if you have gum or bone disease.
"If you have the presence of bone disease and gum disease you will dissolve the root surface and you can cause permanently loose teeth that may result in them having to be removed," he said.
Dr. Ron Baise is a London-based dentist who runs his own practice, 92 Dental. He agrees with Frank, saying that mail-order aligners can't take into account existing conditions.
"The way that the progression of treatment occurs does not take into account the shape of your jaw and other dental issues you may have. Having aligners made by a dentist can offer you a much more bespoke treatment which is likely to have a better result" Basie said.
Baise went on to say that there's a chance that mailed aligners could work but there's a lot that has to go right.
"Quite simply, DIY tooth straightening can work for some, but you are relying on both taking high-quality impressions yourself and having a shape of jaw and mouth that meshes nicely with the one-size-fits-all progression of treatment that they offer," he said.
Frank said he believes at-home invisible aligners could be a good fit for someone who is strapped for money and understand the risks.
"For someone who is willing to take the risks of not having a well-controlled followed-up success, and has accepted the limitations of it not working," he said.
"It may work for those people who have no access to dental care and have limited budgets basically that accept the consequences of damage to teeth and roots and the effects to their jaw."
The Bottom Line
Based on our research, we think there's some pretty clear evidence that byte is a good value when you take into account how quick its treatments are and how competitive its pricing is. You'll pay less than you will for Invisalign and around the same as fellow competitor SmileDirectClub.
That being said, we think there are serious concerns raised by the dentists with whom we spoke. Byte's orthodontists may create your treatment plan and explain what you're going to do. However, they don't have images of your teeth and jaw on hand to understand what's going on below the surface.
Because of this, we think it's imperative that you set up an appointment with your dentist and ask them if your teeth, gums, and bones are in adequate enough shape to do byte. Doing so helps you avert any unintended consequences of using aligners when you shouldn't, according to Frank.
As you talk with your dentist or orthodontist, remember that his or her office represents perhaps the greatest benefit to doing aligners with your orthodontist rather than through a mail-order company, according to New York-based orthodontist Dr. Jacqueline Fulop-Goodling.
"Clear aligners you get in-office have supervision throughout treatment from the doctor and entire dental team. When aligners are not working ... based on their doctor's treatment plan, guidance can be given from the dental team to make sure those predictions and an ideal smile come to fruition," Fulop-Goodling told us.
Customer Reviews
Posted on Oct 22, 2020
Too bad, had high hopes
In December I will have been doing this for a year. I am tired of it taking days and weeks for a response to simple questions. I am very upset with no answers to my inquiries, emails, phone calls, voicemails left.
When I first started, I called Byte and was always helped right away.
Now that there are problems, I have emailed and called the contact number given and left messages since it seems impossible to get a real person to answer the phone. Answering recording says I will receive a response within 24 hours. No one has responded to emails or voicemails to let me know just where the next set of aligners will be sent, or even if you received the last impressions. Certainly nothing of solving issues.
My aligners have broke in 2 pieces. I mailed the last impressions on October 6th, two weeks ago, but no answers from Byte.
I want this process done! I just left another voicemail at your company phone center. If someone does not CALL me, I will be making a formal complaint to the Ohio Attorney General.
Length of Use: 6–12 months
Bottom Line: No, I would not recommend this to a friend
Pros and Cons
Staff very nice, courteous when you finally get a response
Even if slower than implied, it seems to work
Horrible on timely response
In-house seems badly coordinated, CS knows not what techs are s doing
You call, no one answers
Recording says 24-hour or sooner response, but have yet to had a response by then, last one has been weeks and no answer to questions
Posted on Nov 6, 2019
Money-back guarantee is a sham
Bought and completed a Byte impression kit over other companies because Byte offered a money-back guarantee if I wasn't a candidate. The process was simple and straight-forward, and I sent my impressions in for evaluation. In parallel, I visited my dentist for my normal check-up, and I asked her about the spacing issues I was seeing. My dentist advised me that unless I addressed an overall issue with my bite (I have a crossbite), any spacing corrected with Byte or another clear aligner company was sure to recur. When I got my treatment plan from Byte, I relayed what I had been told regarding my bite, and asked whether the treatment plan addressed it. After conferring with the staff orthodontist, my "treatment advisor" Jackson Bantle told me that the treatment plan did not address my bite, and that addressing the bite was above and beyond what Byte could do. Given what my dentist had told me about recurrence, I assumed that I would be a candidate for the money-back guarantee - but that wasn't the case! When I asked for my money back, I waited two weeks for a reply email before asking a second time. I received a response to my second request; Mr. Bantle stated that fixing a bite was "outside the scope" of Byte (making the company's name very confusing!). Since they could still straighten and fix spacing (however temporary those fixes might be), I did not qualify for a refund. This gives me the impression that the money-back guarantee is just lip service, and that Byte is not interested in long-term solutions to their customers' issues.
Bottom Line: No, I would not recommend this to a friend
Our Promise to You
In order to safeguard you and ensure helpfulness and relevance, our compliance team manually assess every customer review before it goes live.
We have a zero-tolerance policy for fake reviews, and companies cannot control or alter any reviews at any time.