Conture Hair Remover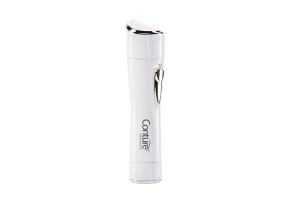 The Conture Kinetic Smooth Hair Remover and Skin Polisher is a two-in-one device designed to keep your skin hairless and glowing – especially on your face.
Conture Hair Remover Review: Does it Work?
According to the company website, the Conture Kinetic Smooth Hair Remover is a "safe, painless and non-invasive way" is a two-in-one device that works to remove dead skin as well as unwanted face and body hair.
This battery-operated shaver claims to utilize sonic hair removal technology to rotate blades at 50,000 pulses per minute to painlessly cut hair at the base so that it takes longer to grow back. Conture suggests you'll start noticing younger-looking skin within one use.
But is the Conture really a smart way to remove unwanted body hair? Let's explore that below.
How Does the Conture Work?
The Conture device is approximately the size of a tube of mascara and will purportedly help you maintain your skin's vitality.
At the time of writing, the Conture comes with two treatment heads. One utilizes "ultrasonic hair removal technology" to cut your unwanted body hair at the root.
Your skin stays protected from the sixteen diamond cut stainless steel blades with the included safeguard, ensuring that the hair removal process is painless
The second attachment is a natural based mineral polishing head that allows for gentle friction on the surface of your skin to remove dead skin cells for a smoother, brighter appearance.
One added benefit of these removable heads is that you can clean the razer between use.
The Conture runs on a single AA battery that you can replace when necessary. Because the entire device is water-resistant, you can purportedly use it in the shower.
What Do Clinical Studies Show?
Conture published the results of an in-house three-week consumer perception study on their website. According to these results:
97% agreed Conture removed facial and body hair painlessly
94% agreed their hair didn't grow back thicker or darker
100% agreed Conture effectively removed hair
90% agreed Conture left their skin feeling smooth
We couldn't find additional information about these findings at the time of writing.
Cost
The Conture device sells on the company website for $39.99, including shipping.
For this price, you'll receive the base device, both the sonic shaving head and mineral skin polishing head, a travel case, and a replacement blade for the shaving head.
All Conture purchases come with a one-year warranty. We couldn't find any information on the company website about this warranty's specifics or how to get in touch with the company to utilize it.
What Do Users Think of the Skin Removal System?
The Conture website highlights about a dozen reviews for this hair removal device, all of which were published in July 2019 and award the product five stars.
We feel it's important to note that many of these reviews are word-for-word duplicates of each other, but purportedly published on different dates by different customers.
Sephora has seven published reviews for Conture, and on this site, the device averages 3.1 stars. The story is similar on QVC, where this polisher and hair remover averages 3.1 stars after 18 reviews.
Several of these reviewers raved about how well it worked to remove hair in tricky spots on their face like the lips and chin. These reviewers wrote that they considered it to be an excellent alternative to laser hair removal.
Other reviews are less favorable. A few users called Conture a "big expensive razer" and said they needed to go over their skin too many times for it to remove all their hair.
Some people also stated that the razer irritated their skin and that it stopped working after a few months of use.
Comparison to Similar Products
Women looking to remove facial hair have a lot of product options to compare the Conture System to.
The Finishing Touch women's hair remover is a bestseller on Amazon, with over 11,000 reviews that average 3.5 stars. Here at highYa, reviewers awarded this device 2.6 stars.
This personal shaver is about the same size as Conture's, though it's half the price at $19.87. Like Conture, it runs on an AA battery.
The devices differ from each other in that Finishing Touch doesn't include removable heads or a mineral polishing feature.
There are dozens of similar facial hair removal devices on Amazon, all at the same $20 price point.
In our minds, this makes the Conture Kinetic System a bit of an outlier price-wise in the facial razor market, and it's not altogether clear what the device offers that's worth paying twice as much for it.
The Bottom Line
This device is branded as an all-in-one hair remover and skin polisher, and it claims to offer skin-improving benefits you can't get elsewhere.
However, we think a lot of this product's branding is suspect. As an example, Conture uses the term "kinetic energy" to explain how this shaver works.
Kinetic means movement, so this is actually just a fancy way of saying that the system has movable blades, just like all other battery-operated razors.
The makers also tough that the blades are powered by "ultra-sonic technology," but it appears that this term is purely marketing jargon.
And, as previously noted, all on-site customer reviews were published within a short time period and include numerous duplicates.
These fundamental mistakes and anomalies are red flags for us; we think they undercut the research the company claims they've done regarding the product's efficacy.
Compounding the problems, off-site reviews for the Conture system are average at best. Many people called this device an overpriced razor, and that matches what our research showed.
Until Conture offers more comprehensive information about the benefits of its hair removal device and the studies it used to prove them, we are hesitant to recommend it.
Your money might be better spent on a different brand, such as Finishing Touch, that costs half as much.
---
Phone contact did not cancel as directed for ongoing shipments

By Beverly P.

,

Cloquet, MN

,

Jan 6, 2020
Verified Reviewer

Overall Experience:

Will not cancel automatic shipments on the phone number given to cancel. Told me I would get a call back in a few minutes, and it didn't happen. They said they'd call back in a few minutes. Marcell was his name. He said he transferred me to Conture to cancel the automatic shipments. Now, the customer care number given, won't answer my call, and no one has contacted me from "Conture". Next step is to complain to the Better Business Bureau.

Bottom Line: No, I would not recommend this to a friend

---

Isometric junk!

By Deborah L.

,

California

,

Jul 20, 2019
Verified Reviewer

Overall Experience:

My poor mother, who suffered from dementia, fell prey easily to any product that claimed better skin and a more youthful appearance. She would buy expensive products advertised on shopping shows or pop culture shows, not understanding that most of the time the people behind these products want to separate a person from their money. When she passed, I inherited the Conture kit (which she was also unable to use because of weakness in her hands and arms - she lacked the motor coordination to hold the device properly). I have no such difficulty. I thought, "why not?" because I didn't spend a dime on it. I'm in my early 50s, with some light wrinkles. I thought it would make sense to try it on forehead wrinkles, smile lines, crow's feet. I could not see how it differed from a basic suction pump as to what it does. Give me a hollow tube and a small cup to hold against my skin...I could use my breath to lightly suck and achieve exactly the same effect. Isometric vibrations? That is a fancy-sounding pseudoscientific term that actually means next to nothing. "Isometric" means "equal." Equal vibrations. Can you figure out what that is supposed to mean? No? Neither can the Internet, because if you Google "isometric vibration" not a single result is forthcoming! I gave it a twirl, I saw no difference in anything and now I am boxing this paperweight to send to the thrift store because maybe it will spare someone like mom from buying it at retail cost.

I do not have an order number, but my 85-year-old mom most definitely did, bless her memory...and shame on these companies that try to bilk the non-scientific public out of money they probably need to save with the false aura of promises of eternal youth.

Bottom Line: No, I would not recommend this to a friend

---

Advertisement

---

Watch for the constant payment, keep your money!

By Robert Low

,

Chicago, IL

,

Apr 7, 2018
Verified Reviewer

Overall Experience:

A machine that was supposed to cost $200.00 has ended up costing me $600.00 because they have been making double payments to my account. I have been dealing with their billing department, and they claim the charges are for a piece of crap cream they send you every month.

Bottom Line: No, I would not recommend this to a friend

---

Overall Experience:

I would very much like to give a stellar review for the Conture System. I have been using the system for two months and see the results I was hoping for! My laugh lines around my mouth and nose have softened in appearance. The lines between my eyes have nearly vanished. My sagging jawline has become more firm and more defined.

I use the system at least once a day, it's very convenient. I use it while watching the evening news just before bed. If I'm watching TV early in the day, I'll use it then and then again in the evening. I use both the system lotions as well as my own. I have not found a difference in the lotions.

I would like to say that this system is convenient and very effective. I am 59 years old with mild skin damage due to sun. And I would HIGHLY recommend the Conture System!

Bottom Line: Yes, I would recommend this to a friend

---

Advertisement

---

Awful experience!

By Sunny Dee

,

San Francisco, CA

,

Dec 30, 2017
Verified Reviewer

Overall Experience:

I called Conture because I was nervous to use the product based on bad reviews. The operator encouraged me to watch the DVD, and use with lotion, etc. So I did! And I used it at night, briefly, and delicately to be on the safe side. Well, I woke up with lines I never had before! I focused on my slight jowl area.

Well, it ALL looked worse in the morning! I was mortified! They would probably tell me to keep using it for ongoing results. But if my face looks even worse in a few hours, forget it! Luckily, after many days, I'm seeing my face popping back to normal, so I'm feeling more positive. I'm in my 40's, and I benefit from a healthy and active lifestyle that keeps me young looking. I'm barely wrinkled as is.

Bottom Line: No, I would not recommend this to a friend

---

Overall Experience:

I tried this product, which is slow and with zero result. Here is the thing, you better read the fine print because you will be charged for that useless machine hundreds of dollars. They are nothing but "two-bit hustlers!" Keep your money.

Bottom Line: No, I would not recommend this to a friend

---

Advertisement

---