Flawless by Finishing Touch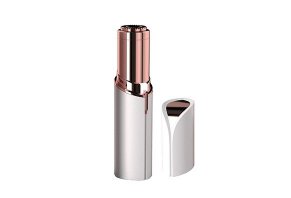 Summary
Flawless by Finishing Touch is a facial shaver that's as discrete as a tube of lipstick and designed to make it simple to keep your face stubble-free.
Pros
Small and discrete shaver for easy use
Includes a replaceable battery and shaving head
Cons
Might break after a few weeks
Some users complained it left their skin bumpy and caused ingrown hairs
Not waterproof
Flawless by Finishing Touch Review
HighYa is supported by our readers. When you buy something through a link on this page, we may earn an affiliate commission. Learn more.
Staying on top of unwanted facial hair often involves an arsenal of razors, creams, and specialized tools. Is it possible to cut these products down to just one small shaver and enjoy the same results?
Flawless by Finishing Touch is a pocket-sized shaving tool designed to make it easy for women to remove unwanted facial hair. Unlike plucking, waxing, or using an epilator, Flawless by Finishing Touch promises a painless hair removal process that won't leave your skin irritated afterward.
This discrete device is shaped like a lipstick tube so that it can be tucked into purses and pulled out for quick touchups at any time. The company claims that this shaver is equipped with German engineering technology to ensure you get a microscopically close shave.
Can this device possibly live up to the hype? Learn our perspective on whether to purchase this personal shaver here.
How Does Flawless by Finishing Touch Work?
Flawless by Finishing Touch works on all skin types to remove unwanted hair. Due to its small size, it's considered best for facial hair removal, especially around the upper lip, cheeks, chin, and eyebrows.
The device boasts an 18k plated gold head, which the company claims makes it hypoallergenic and suitable for those with sensitive skin. The shaver includes a built-in light that highlights each hair as you approach it to ensure you don't miss obvious sections. It runs off a single AA battery.
Note that Flawless by Finishing Touch isn't a laser, hot wire, epilator, or traditional razor. Instead, it utilizes "Butterfly Technology" through a spinning head to shave the skin without making direct contact with it.
How to Use It
To use this shaver, remove the Flawless Cap and slide the switch on its side to the "on" position. This will both start the shaver and turn on the light.
You can then press the unit's head flat against your skin (not at an angle) and move it with small circular motions to remove unwanted hair over that area before moving it somewhere else.
The device's head will likely start to feel warm after you use it for several minutes – this is normal. You can use it daily to maintain your results.
Pricing and Refund Information
You can purchase each Flawless by Finishing Touch shaver from the company website for $19.99 per device. Each order qualifies for free shipping and includes a 60-day money-back guarantee.
This means that you can get a full refund on your purchase for any reason during this period, so long as you pay return shipping costs.
You can get in touch with Flawless' customer service at (866) 972-4739 or at flawless@customerstatus.com.
We also found this device for sale at other retailers for the same price point.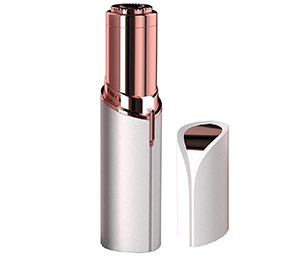 Buy Flawless by Finishing Touch from Amazon:
Flawless by Finishing Touch costs $19.88 on Amazon, and is available in six colors. Shipping is free (on orders over $25.00).
Analysis of Customer Reviews
There are more than 130 reviews of Flawless by Finishing Touch on HighYa, averaging 2.6-stars. Here's what these readers had to say about the product:
Common Compliments:
Works as described for easy hair removal
Easy to change out the battery when necessary
Common Complaints:
Led to razor bumps and ingrown hairs
Stopped working after a few uses
Difficult to clean
Some users struggled to get refunds
Hurts to use for some users
Alternatives
For those shopping for the best way to remove facial hair, there are lots of devices available for consideration. Amazon shoppers will likely look at the Panasonic Facial Hair Trimmer, the Leuxe Painless Hair Removal Razor, and the Fullife Waterproof Hair Removal System. The following chart highlights some of the differences between them:
| | Flawless by Finishing Touch | Panasonic Facial Hair Trimmer for Women | Fullife Facial Hair Remover for Women | Leuxe Facial Hair Remover for Women |
| --- | --- | --- | --- | --- |
| Cost | $19.88 | $23.99 | $19.99 | $19.98 |
| Key Features | 18k gold head, built-in LED light, replaceable AA battery, replacement heads are available | Pivoting head to match your face's contours, includes additional eyebrow trimmer attachments, replaceable AA battery | Rated for waterproof use, built-in LED light, runs on an AA battery, replacement blade heads are available | Hypoallergenic stainless steel blades, waterproof design, runs on an AA battery, replacement blade heads are available |
| Amazon Rating | 4.0 (17,000 reviews) | 4.1 (4,736 reviews) | 4.3 (1,000 reviews) | 4.2 (1800 reviews) |
Comparing these devices, a few things stand out. First, each shaver costs approximately the same and has near-identical Amazon reviews.
The pain points for each device seem to be the same. Many shoppers wish these devices gave them a closer shave, irritated their skin less, and lasted longer before breaking.
One way the Panasonic trimmer differs from these other options is that it includes interchangeable attachment heads. This gives the tool a finer point than the other shavers and makes it ideal for detail work, especially around the eyebrows.
Both the Fullife and Leuxe shavers claim to be waterproof. This could be a selling point for many users who would want to shave in the shower. However, both products specify that this waterproofing is meant only for washing the devices after use. Neither is intended to be used under running water.
Finally, both Flawless by Finishing Touch and the Leuxe shaver claim to use hypoallergenic materials (stainless steel and 18k gold) to ensure the devices don't harm sensitive skin. Customer reviews tell a different story, though, as many users complained of skin irritation and red bumps after using the shaver a few times.
While gold is considered to have antibacterial properties that may ensure that your shaver's head stays pathogen-free, the plated head won't offer protection against clumps of hair and skin cells that may get trapped in the device's hard-to-clean areas.
The Bottom Line: Should You Try Flawless by Finishing Touch?
The Flawless facial shaver by Finishing Touch offers a compact hair removal device that it claims makes it easy for you to keep your skin smooth and stubble-free.
However, our analysis of customer reviews shows many believe that Flawless overpromised on the benefits of the Finishing Touch shaver. Many thought the device seemed cheap and was ineffective for removing their facial hair.
Some wrote that the device left patches of hair in place, while others complained it only performed a surface level shave and that their hair grew back within days, meaning that they had to use the device almost daily for any meaningful progress.
There's no question that the Flawless shaver does work, but there's a good chance it won't end up being the last or best hair removal device you ever purchase.
Customer Reviews
Posted on Jul 5, 2023
Stopped working, no refund
I bought one for my special needs daughter. Was so excited that it worked exactly how I wanted it to. It only worked once. Contacted the company only to be given this number and that number. I don't have time for the hassle. Don't buy!
Length of Use: 3–6 months
Bottom Line: No, I would not recommend this to a friend
Pros and Cons
No "pros" were specified in this review
Customer service was non existent
Razor stopped at first time if use
Price for one use
Posted on Feb 4, 2023
Flawless
Had to quit using the razor for your face. I have always had a clear complexion, but now I have so many ingrown hairs I look like a 16-year-old with extreme acne. Do not buy!
Length of Use: 6–12 months
Bottom Line: No, I would not recommend this to a friend
Pros and Cons
No "pros" were specified in this review
Ingrown hair
Stubble
Top keeps falling off when in use
Posted on Sep 29, 2022
Cannot find a way to install the battery
I searched the paperwork but there is NO WAY to open a battery case to install the battery. The unit is totally useless as a result. These people who mention changing the battery figured out something I can't. What junk!
Length of Use: 6–12 months
Bottom Line: No, I would not recommend this to a friend
Posted on May 5, 2022
Battery
Can't open it to install the battery! Seems like a common problem. Do not throw your money away! How dissatisfied. And so are many others. Definitely doesn't deliver what is promised. Long-term stubble....skin issues...
Length of Use: Less than 3 months
Bottom Line: No, I would not recommend this to a friend
Pros and Cons
No "pros" were specified in this review
It's a scam
Posted on Mar 3, 2022
Junk
Worked maybe 3 times and stopped working. We did everything we could and it doesn't come on. The light works, lol. I have tried the flawless finish razor electric but it doesn't work either.
Length of Use: 3–6 months
Bottom Line: No, I would not recommend this to a friend
Pros and Cons
Compact
Easy
Cute
Doesn't work
Don't know how to get a new one
Posted on Feb 21, 2022
Flawless works well. Wish I'd bought it sooner!
I bought my Flawless Finishing Touch facial hair remover 11 months ago from my local Walmart store, and it is one of the best beauty purchases I've made. I use my Flawless daily, and I purchased the replacement heads from Walmart's website.
Before I used Flawless, I used to use disposable razors, which would sometimes nick my skin and leave small scars. My Flawless causes me no irritation, removes the hair quickly as long as I use it in circular motions, and the device is easy to clean when I remove the head and clean it with the tiny brush that came in the original package. I pretty much clean Flawless after every use.
My advice is to use Flawless on clean and dry skin that has no lotion or makeup on it for best results. You may need to go over certain sections of your face with Flawless a few times to get the hair off, but it will come off. You may need to hold your skin and keep it taut with one hand while you work the Flawless with your other hand, especially if you're working on the contours of your face such as your chin. Otherwise, the razor head will pop off and you'll have to keep cleaning it and putting it back on again.
I've replaced the battery a few times, but that's fine. I love this tool so much, and I also purchased the Flawless Nu Razor for removing body hair as well as the Flawless eyebrow hair remover.
Length of Use: 6–12 months
Bottom Line: Yes, I would recommend this to a friend
Pros and Cons
Helpful demonstration videos on the company website
Does not cause me any skin irritation
Device is easy to clean
Removes hair quickly
Beautiful design
Environmentally friendly
The head of the device sometimes pops off when using it on the contours of the face
Posted on Sep 24, 2021
Replacement heads
The razor is amazing, works great, but the replacement heads I have ordered do not fit any of the 4 units I have purchased. What are we supposed to do?
Length of Use: 1–2 years
Bottom Line: No, I would not recommend this to a friend
Pros and Cons
Love the product
Doesn't show interest in fixing the replacement head problem
Posted on Jun 30, 2021
Waste of money
I have PCOS, I bought this to use on my chin. Due to my condition I tried everything. This product does not work. It hurts if you have coarse stubble, constantly gets clogged and I ONLY used it for a week then it stopped working. It would not turn on. I changed the batteries thinking it was that. Nope, still didn't turn on. If you have PCOS and a lot of course hair. Don't buy this. It may work on peach fuzz, I don't know.
Length of Use: Less than 3 months
Bottom Line: No, I would not recommend this to a friend
Pros and Cons
Discreet and small
Inexpensive
Somewhat quiet
Hurts
Doesn't work
Broke within a week
Posted on Jul 24, 2020
Bad/frustrating experience and pathetic customer service
Once ordered the shipment took forever/over a month to reach with no updates or information about delivery time/status. Any number of calls to their Customer Service number to enquire about the status of shipment and delivery date yielded no results. After getting connected, the calls just dropped every single time. No update either on the delivery status with a tracking number of the shipment. Delivery date just kept getting pushed and pushed with no notification or intimation from Flawless or shipper. The few times that the calls went through to their CS, there was an eternal hold with the repeated recorded message to check status on site and then the calls just dropped. Never ever have I experienced so much frustration and lack of response over any online order. Meanwhile, when I realized that this product is available in stores for a much lesser price and wanted to return it, discovered that not only is their price more on their site but I also had to pay for return shipping and handling. This is unheard of and most unacceptable.
Hence I want future buyers to be cautioned and made aware never to buy products from Flawless on their site. Not only is the price more...more importantly, very irresponsible and pathetic, and almost non-existent after-sales customer service.
Length of Use: Less than 3 months
Bottom Line: No, I would not recommend this to a friend
Pros and Cons
No "pros" were specified in this review
Their lack of transparency
Pathetic, non-responsive and non-existent Customer Service for follow up
Most non friendly, arrogant and uncooperative Customer Service attitude
Posted on Jul 7, 2020
BEWARE: Short product life expectancy
Liked how it worked but it had a VERY short life. It would not work at all after replacing the original battery. I liked the product concept and convenience so I purchased a second one and had the same issue with no response from the company. Too bad, as I won't even think of purchasing the newer products or recommending it to anyone else.
Good marketing, product design, and packaging have made this a high profile item. Poor product results and poor customer service can sink it.
P.S. The little $9.99 facial trimmer I bought 20 years ago is still going strong.
Length of Use: 6–12 months
Bottom Line: No, I would not recommend this to a friend
Pros and Cons
Has a product that is a good and convenient concept
Continues to make interesting products
Poor product development
Poor customer service - this can make or break a company
At $19.99 this is an expensive purchase if it doesn't work
Posted on May 22, 2020
Worst company ever
Ordered a Finishing Touch Flawless Nu razor for my wife for Mother's Day - was shown to be in stock when I ordered. The Friday before Mother's Day I get an email saying it would arrive in two to three weeks. I ask for a refund, was told I would have to wait until I received something I do not want now. They screw you by making you get the product and then you have to pay the postage back - can not talk to a real person on hold 28 minutes so far.
Bottom Line: No, I would not recommend this to a friend
Our Promise to You
In order to safeguard you and ensure helpfulness and relevance, our compliance team manually assess every customer review before it goes live.
We have a zero-tolerance policy for fake reviews, and companies cannot control or alter any reviews at any time.