Flawless Nu Razor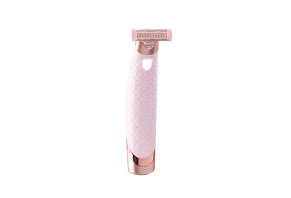 Summary
Finishing Touch's Flawless Nu Razor promises to give you a closer shave without nicks or cuts with a rechargeable device designed for dry shaving.
Flawless Nu Razor Review: Is It Worth It?
Disposable razors may seem like a bargain, but their price starts to add up after years of regular shaving.
The Flawless Nu razor is a rechargeable women's' shaving tool designed for instant, painless hair removal. This razor includes a bi-directional pivoting head that is plated in hypoallergenic 18-karat gold.
It includes more than 200 hair-removing precision points and is designed to be used without soap, water, or cream for an ultra-close dry shave.
Finishing Touch, the parent company of the Flawless Nu razor, sells other shaving products, including the Flawless Body Hair Remover and Flawless Facial Hair Remover. The Nu Razor differs because it's designed for full body use on dry skin.
Is this the high-end razor that you should invest in? Learn here where the Flawless Nu Razor has any selling points that make it stand out from the competition.
Rechargeable
Possible to purchase replacement heads
Can be used over the whole body without extra attachments
More expensive than competing brands
Can only be used on dry skin
How Does the Flawless Nu Razor Work?
The Flawless Nu Razor is a rechargeable razor that has a pivoting head designed to go smoothly over curves. This also means that you can use it when pulling up or down, rather than in just one direction like traditional razors.
It also comes equipped with an LED light so that you get a closer look at your skin and miss fewer patches while shaving. For your underarms, bikini line and other sensitive areas, you can use the included SensaGuard so you don't nick your skin.
This rechargeable razor also comes with a USB charging cord, and it will last up to 60 minutes on a single charge. Expect it to take three hours to reach a full charge, and you can't use it while it is charging.
Though the razor is water-resistant, you should never get it wet or submerge it in water. It's not designed for use in the shower but instead should be used on completely dry skin.
To use, you need to push the button on the top of the handle and run the razor against your body, keeping the head flat to your skin. You can run it up and down without risk of nicks, cuts or bumps.
When done, clean the razor blades with water and charge it so it's ready for next time.
What Does the Flawless Nu Razor Cost?
The Flawless Beauty website sells the Nu Razor for $39.99, plus free shipping. Your order will include one razor and a USB charging cord. The company suggests that you replace the head of your razor every three to six months, and you can purchase replacements for $14.99 each.
All orders from the Flawless Beauty website will ship within 30 days of ordering and will be mailed via UPS.
The Nu Razor qualifies for Flawless Beauty's 60-day money-back guarantee, minus return shipping charges.
Flawless Nu Razor Alternatives
We compared the Flawless Nu Razor to other top-selling options on Amazon to see which ones stand out from the others.
| | Flawless Nu Razor | Panasonic ES2207P Ladies Electric Shaver | Braun Silk-Epil Wet and Dry Cordless Electric Epilator | Brori Electric Razor for Women |
| --- | --- | --- | --- | --- |
| Price | $39.99 | $19.99 | $110 | $29.98 |
| Charging Style | USB charging cable | AC charging stand | USB charging cord | USB charging cord and base |
| Replaceable Heads | Yes, $14.99 each | Replacement blades are available but may be challenging to find | Yes, $20 each | No |
| Designed For | Dry shaving the entire body | Wet and dry whole body shaving | Removing hair at the root for a longer-lasting shave | Wet and dry whole body shaving |
| Key Features | Includes an LED light to help you get a closer shave | Wet/dry design means you can use it in or out of the shower | Can be used wet or dry, comes with seven extras, including a facial brush to remove makeup and other impurities | Can be used wet or dry, includes LED light for better visibility, possible to use while charging |
| Average Rating (Amazon) | NA | 4.1 (15,700 reviews) | 4.3 (3,000 reviews) | 4.3 (173 reviews) |
Looking at these four razors, Flawless Nu stands out because it can only be used in dry conditions. That's a potential nuisance for anyone who regularly shaves in the shower. Each of the other three razors can be used wet or dry, which gives users a lot more flexibility.
Flawless Nu Razor doesn't currently have any online reviews. HighYa readers have weighed in on other Finishing Touch products like the Body and Facial Hair Remover, awarding them 2.5 and 3 stars, respectively.
This makes it difficult to know how the razor performs in real life, and it might mean you could be more comfortable purchasing one of these competing products that have thousands of reviews.
Finally, the Flawless Nu Razor costs more than other equivalent shavers, and it doesn't seem to have additional features to justify the price increase. Likewise, the brand is less likely to be sold in traditional retailers, which means you might have a harder time finding replacement heads than with these other options.
The Bottom Line
The Flawless Nu Razor claims to offer a better shaving experience for women than other razors, but looking closer at the specifics shows that it doesn't seem to offer much that's different from other brands. In fact, in regards to versatility, it's actually more limited because you can only use it for dry shaving.
You can purchase a rechargeable razor for less money and more features than the Flawless Nu Razor, and you can read hundreds of reviews from other customers before making your decision.
Because of these factors, we don't think that there is any legitimate reason to prioritize purchasing this razor over any other.
Customer Reviews
Our Promise to You
In order to safeguard you and ensure helpfulness and relevance, our compliance team manually assess every customer review before it goes live.
We have a zero-tolerance policy for fake reviews, and companies cannot control or alter any reviews at any time.