Finishing Touch Flawless Body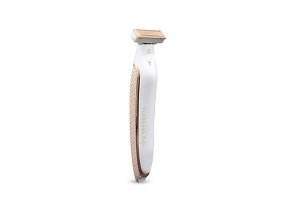 The Finishing Touch Flawless Body hair remover promises to give you a close shave without water or shaving cream, and without irritating sensitive skin.
Finishing Touch Flawless Body Review: Will You Get Your Closest Shave Yet?
The Flawless Body hair remover is a hypoallergenic body shaver that's designed to help you remove unwanted body hair without dealing with painful bumps, nicks, cuts, or irritation.
The head of this dry shaver is plated with 18-karat gold and it boasts a pivoting head that makes it possible to contour around body curves like the knees, elbows, and other tricky locations.
It also can be used to shave up or down without requiring you to shift your hand position, and the device comes equipped with a LED light.
NuBrilliance, the company who offers this shaver, is also the company behind the Finishing Touch Flawless, which is a hair trimmer for your face.
Do these extra features make the Finishing Touch Flawless body hair remover a better buy than traditional razors? Let's look closer at the details to shed some light on this device.
How Does Finishing Touch Flawless Body Work?
As the name implies, the Finishing Touch Flawless Body hair remover is designed for removing any unwanted hair around your underarms, bikini line, ankles, knees, arms, and legs.
The product website tells us that this shaver is a rechargeable unit that lasts up to 45 minutes per charge and takes approximately four hours to recharge.
To use this hair remover in tricky spaces, the device comes with two comb attachments that trim hair 3 and 5 millimeters in length, though it's also possible to use the device bare for an ultra-close shave.
The hair remover's portable design is meant to make it discrete, and you don't have to be in the shower to use it.
In fact, the company makes it clear that the while the unit is water resistant, you shouldn't intentionally get it wet or submerge it in water. In other words, this full-body shaver is meant to be used on dry skin only.
According to the company website, the key to the Finishing Touch's effectiveness is the SensaGuard, a protective block that prevents sensitive skin from coming in direct contact with the device's blades. It also includes an oscillating 18k gold-plated head that purportedly removes your body hair without triggering skin problems.
Does this match reality? According to Bustle and the Jewelry Information Place, 18k gold is considered a hypoallergenic metal that is less likely to trigger skin rashes like contact dermatitis for those with a metal sensitivity.
However, Everyday Health notes that metal allergies are pretty rare, so paying for the privilege of a gold razor might be more protection than many of us need.
What Does Finishing Touch Flawless Body Cost?
At the time of writing, the Finishing Touch Flawless Body razor retailed for $29.99 on the company website, shipping included. Each order also qualifies for a 60-day money-back guarantee (minus processing fees) if you aren't happy with your purchase.
If you have further questions for the company, you can get in touch at 866-972-4739 or through email at ideavillage@customerstatus.com.
Similar Products to Finishing Touch Flawless Body
We couldn't find any customer reviews of the Finishing Touch Flawless Body hair removal system at the time of writing, but looking at how this product compares to other methods for removing body hair should help you make a better buying decision.
Beyond razors, one time-tested method for removing body hair is the use of hair removal creams like Nair.
Branded as a quick, easy way to make hair disappear, it's possible to buy Nair as a lotion, mousse, and roll-on applicator, and the product works to remove body hair approximately ten minutes after application, and the results tend to last days longer than shaving.
Pricewise, you'll pay $6 for enough Nair for four applications, meaning that you'll need to use the Finishing Touch Flawless body hair removal tool about fifteen times to break even on cost.
Another hair removal option to consider is a product made by the same brand: the Finishing Touch Flawless leg shaver. This device also comes equipped with 18-karat gold plated heads, and it's meant to be used without shaving cream or water.
This hair remover's broader shape means that it's better suited to treating large flat areas like the legs, while the company's body razor is designed with different head sizes to handle more detail work.
You'll pay twice as much for the leg shaver (two payments of $29.99), but the device is designed to make leg shaving an easier process than ever. If that's an important consideration for you, this rechargeable device might be a better option than the Finishing Touch Flawless Body version.
Our View: Should You Consider Finishing Touch Flawless Body?
Looking at the available research about the Finishing Touch Flawless Body system, we believe that there are good reasons to consider using the hair remover yourself.
While the lack of customer reviews about this product makes it difficult to determine how well this body shaver works, the company has a long history of producing innovative shavers, and the brand's lipstick tube-inspired facial shaver is ranked almost three stars out of five on our website after more than 100 reviews.
If you're interested in finding a better way than a razor to keep your body hairless, there are many reasons to consider the Finishing Touch Flawless Body tool.
The rechargeable device is meant to last far longer than your standard shaving tools, and interchangeable combs let you control how close the shaving job is.
For those who try this device and discover it's not the right shaving tool for them, the company offers a 60-day money back guarantee so you can recoup most of your cost.
---
Don't buy

By M K.

,

Monroe, NY

,

Jun 25, 2020
Verified Reviewer

Length of Use: Less than 3 months

Overall Experience:

I only had it for one day and it stopped working. I wouldn't recommend this to anyone, it's a waste of money. I saw the ad on TV and I have been wanting to buy it but I bought it and it left me disappointed.

Pros and Cons:

No "pros" were specified in this review
Stopped working
Didn't give a clean shave

Bottom Line: No, I would not recommend this to a friend

---

Don't buy Flawless Body Shaver

By Ria B.

,

Arizona

,

Dec 12, 2019
Verified Reviewer

Overall Experience:

The first time I used this shaver resulted in shorter hairs on my legs. The clean shave I expected did not occur. The next time I used it, it did not trim or cut any/many hairs on my legs. I tried shaving at an angle, shaving at a low speed and high speed, using a hard and soft pressure, which no acceptable results. I am very disappointed with the product and would absolutely NOT recommend this product. I'm going back to my trusty razor.

Bottom Line: No, I would not recommend this to a friend

---

Advertisement

---

Overall Experience:

I actually got my hair remover shaver at Target that went on sale. I've tried waxing and shaving and it made my hair grow back darker and longer. I've only used this product three times within two months. I've noticed my hairs on some parts haven't grown back, at first some dark hair still grew but it eventually decreased. My leftover dark spot also started to diminish. I really believe the product works. It really just depends on the individual's hair growth and how many times it will decrease in time. I really want the women who have had trouble like me to give it some time because our body needs time and adjustments to new changes. Of course, everyone has different results. I hope my truthful review will not discourage but help promote those who really need this! Have a blessed day!

Bottom Line: Yes, I would recommend this to a friend

---

Great product

By Chayan W.

,

Mason, OH

,

Oct 4, 2019
Verified Reviewer

Overall Experience:

I took this product specially for my daughter who is in her teens and her skin is super sensitive. Tried waxing but it left scars. I took this product and used and it instantly started taking the hairs out. It's totally painless, rather she felt ticklish.

Bottom Line: Yes, I would recommend this to a friend

---

Advertisement

---

Excellent

By Mindy S.

,

Florida

,

Jul 26, 2019
Verified Reviewer

Overall Experience:

I just purchased this and it is awesome. I am on a blood thinner and with a regular razor too many nicks. It is re-chargeable. The only issue is the hairs do fall like a regular razor, not into a tube to empty, but very happy with results.

Bottom Line: Yes, I would recommend this to a friend

---

Not as advertised

By Cathy T.

,

Canada

,

Jun 20, 2019
Verified Reviewer

Overall Experience:

This left a lot of hairs behind and the ones it did get left a stubble. Didn't give a close shave at all. Today it cut me. The store I bought it from won't return it, they said it wasn't defective, so I guess they're all like that.

Bottom Line: No, I would not recommend this to a friend

---

WORTHLESS

By Kim F.

,

Illinois

,

Jun 20, 2019
Verified Reviewer

Overall Experience:

It does not give you a close shave. It was a total waste of money to have purchased this shaver. Don't waste your money on one of these. You will be as disappointed as I am. There has to be a better product out there.

Bottom Line: No, I would not recommend this to a friend

---

Crap

By Nicole S.

,

Spooner, WI

,

Jun 18, 2019
Verified Reviewer

Overall Experience:

My husband purchased it for me for a gift. It took over two months to get. I used it one time and it broke. I used it just like they said to. This is the biggest piece of crap I've ever purchased. I would not suggest that anybody purchase this product.

Bottom Line: No, I would not recommend this to a friend

---

Rubbish

By Sharon R.

,

Norfolk, VA

,

Jun 7, 2019
Verified Reviewer

Overall Experience:

My legs are still rough after using. I still see the hair, it is just being clipped at the tip but still protruding far out of my skin. The worst electric shaver that I have ever used. I'm wondering if I can get my money back?

Bottom Line: No, I would not recommend this to a friend

---