Coventry Direct Reviews
Claimed This company has claimed this profile, is getting alerted on any new customer reviews entering this page, and may engage in dialogue with its customers to address their matters.

Companies cannot pay money or provide goods in order to remove or alter customer reviews.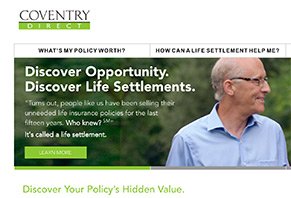 Coventry Direct is a life settlement company that can purchase your life insurance policy for more than the surrender amount, but less than the death payout.
About Coventry Direct
Whether your life insurance premiums are too expensive to maintain, you have more life insurance coverage than you currently need, you need help with increasing medical or long-term care expenses, or you'd like to boost your retirement funds, Coventry Direct can help you sell all or part of your life insurance policy for cash.
According to Coventry Direct, this process—known as a life settlement—can help you realize "significantly" more value than if your life insurance policy lapsed or was surrendered. In fact, Coventry claims that a life settlement could help you receive 4X more than the surrender amount!
All you have to do is complete an online form to see if you qualify, and Coventry Direct promises to "help you discover your life insurance policy's hidden value."
If you're thinking about selling some or all of your life insurance policy, you have a lot of questions. After all, you're probably talking about a significant chunk of change here. What are the details behind a life settlement? Is it a good idea? What are the pros and cons? When it comes down to it, is Coventry Direct your best option?
Let's start answering your questions by taking a look at life settlement basics.
What Is a Life Settlement? How Does It Work?
According to the Life Insurance Settlement Association (LISA):
"A life settlement is the sale of a life insurance policy to a third party for a value in excess of the policy's cash surrender value, but less than its face value, or death benefit. A policy owner receives a cash payment, while the purchaser of the policy assumes all future premium payments and receives the death benefit upon the death of the insured."
From a legal perspective, this is possible because a life insurance policy is considered property, similar to stocks and bonds. As such, they can (among other things) be borrowed against for a loan and sold to another individual.
Here's a simplified look at how it works: A portion of every payment you make on a life insurance policy goes toward increasing its cash value. So, all things being equal, someone who's paid on their policy for 20 years will almost certainly have more cash value at stake than some who's been making payments for 5.
Depending on the type of policy you have though (e.g. whole, universal, variable, etc.), your policy can also gain cash value in other ways. These include formulas determined by the carrier, current interest rates, subaccounts like stocks and bonds, and more.
Now, let's say that you're 70, in poor health, and can't afford your monthly payments any longer. You've been paying on your policy for decades and it now has a total cash value of $250K. However, if you were to surrender your policy to the carrier, it might only be worth a fraction of that amount; say, $30K.
Enter a company like Coventry Direct, who could arrange to purchase your policy for $180K. Sure, it's much less than the actual value of the policy, but much more than what you'd get if you were to surrender the coverage. Then, when you passed away, the company would cash in your policy and receive the full $250K, netting them a $70K profit.
But hold on: Is Coventry Direct the company that will purchase your life insurance policy, or is it someone else?
Does Coventry Direct Purchase Life Settlements?
According to a disclaimer at the bottom of their website:
"Coventry Direct is a marketing company. It is not a life settlement provider or broker. Coventry Direct will refer qualified policies to a licensed entity."
In other words, the answer is no. Instead, Coventry Direct acts as a kind of referral service, essentially advertising policies to potential investors, who often try to outbid one another. However, it appears the company will qualify your policy prior to submitting it to investors, which can be determined by "your age, type of insurance policy, the premiums and your health."
You'll also need to be 65+ (or have had a change in health) with a life insurance policy face value equal to or greater than $100K.
Regardless whether you go through Coventry Direct or another company, is a life settlement a good idea in the first place?
Life Settlement Pros & Cons
As we briefly discussed above, perhaps the biggest benefit of selling a life insurance policy is that you can free up cash to use for medical expenses, retirement funds, or just about anything else. And life settlements can be even more beneficial depending on your reason for selling (i.e. can no longer afford the premium, etc.).
On the other hand, if possible, most professionals recommend keeping life insurance policies in force until the policyholder has passed. Why? Because the payout to spouses and heirs will be much greater than anything offered through a life settlement.
On top of this lower amount, any income earned through a life settlement may be taxed as income, depending on how much premium you've paid (generally, money paid as part of a life insurance policy is non-taxable). Also, depending on your state, the life settlement industry may be largely unregulated, and some agents don't have to be licensed or registered with the state in order to run their business. In short, there could be very little oversight of the industry in your state.
Finally, keep in mind that the life settlements industry is relatively new, and competition between companies can be intense. As such, you may experience some hard selling techniques after reaching out for a quote.
To help protect yourself and ensure you're making the right decision, the Financial Industry Regulatory Authority (FINRA) recommends uncovering answers to the following questions:
Is the life settlement provider licensed in my state?
What will happen to my policy? Will it be held, sold to another company, or packaged with other policies and sold to investors?
What information is required? Who needs it, and what will they do with it?
What's the best way to protect my privacy?
Am I getting the best price for my policy?
What are the transaction costs/fees? Are there any tax consequences?
Am I able to change my mind? If so, will there be any penalties?
Is this in my best interest? Am I being pressured into making a decision?
Considering everything we've talked about so far, what are Coventry Direct's customers saying about their experiences?
Coventry Direct Customer Reviews
Considering the length of time the company's been in business, along with the fact that they're the largest life settlement company in the industry (more than $3 billion purchased to date), there was surprisingly little online customer feedback for Coventry Direct at the time of our research. Obviously, the company's busy buying policies, but it doesn't seem like customers are talking about their experiences online once the process is complete.
We also found a 2014 Business Insider article covering AIG's litigation against Coventry Direct, claiming they "used a network of shell companies to artificially inflate the prices to [some of their investors]." The case appears to have been settled earlier this year.
Is Coventry Direct Your Best Option for Life Settlements?
If you search online for life settlement companies, you'll find that Coventry Direct is certainly the largest. However, they're definitely not your only option. To find a member company in your state that's authorized by the Life Insurance Settlement Association, be sure to check out the organization's Search page.
Also, considering the amount of money potentially on the line, you'll also want to speak with your financial planner or advisor, who can provide professional advice about whether or not a life settlement is in your best interests.
Did you sell your life insurance policy to Coventry Direct? How did the process go? Do you feel like you got a fair deal? Tell us all about it by writing a review below!
---
Outstanding interaction!

By Kevin J.

,

Erie, CO

,

Jun 22, 2020
Verified Reviewer

Length of Use: Less than 3 months

Overall Experience:

I can't tell you how impressed I am with Drew, our Coventry Direct rep! He couldn't have done better, answered every question, followed up on every commitment. Just an outstanding experience for me!

Pros and Cons:

Thorough answers about everything and if he didn't know (rarely), he did the research.
Next day shipments of documents and the associated instructions were so well prepared!
Detailed explanations of how it all works.
No "cons" were specified in this review

Bottom Line: Yes, I would recommend this to a friend

---

Nothing but good things to say

By Jamie W R.

,

Woodstock, VA

,

Jun 21, 2020
Verified Reviewer

Overall Experience:

Travis was very helpful. I would rate the overall experience as good! A bit time-consuming but in the end all worked out. In the future, my wife would like to do the same conversion with her policy!

Pros and Cons:

Travis was great to work with!
Too much paperwork and follow-ups!

Bottom Line: Yes, I would recommend this to a friend

---

Advertisement

---

An unimaginable windfall

By David H.

,

Paragould, AR

,

Jun 18, 2020
Verified Reviewer

Length of Use: Less than 3 months

Overall Experience:

A Coventry Direct advertisement on social media peeked my interest about a "life settlement". With cancer in my rearview mirror 4 years earlier and unable to work to make the annual premiums of a life insurance policy, it would be necessary to drop the policy and forfeit all previously paid premiums which totaled several thousand dollars.

Upon contacting CD, I was greeted by Scott Kalbfleisch with a very understanding attitude. Scott led me through the process and after reviewing all of my information, made me an acceptable offer for CD to help me sell the life policy.

Daily Scott stayed in contact with me to keep me apprised of every step of the process, even calling me after everything had been completed to make sure I had received my settlement.

I would encourage anyone to review the "life settlement" process with Scott at Coventry Direct. The process was timely, easy, and rewarding. I am glad to tell others about CD and Scott.

Pros and Cons:

The offer
Scott Kalbfleisch's professional approach guiding me through the process and a constantly friendly voice
The ease of the process
No "cons" were specified in this review

Bottom Line: Yes, I would recommend this to a friend

---

Selling our Term Policy to Coventry

By John L.

,

Indianapolis, IN

,

Jun 18, 2020
Verified Reviewer

Length of Use: 3–6 months

Overall Experience:

I am glad to write a review about my experience these past few months in working with Coventry to sell our term life insurance policy.

Peter Hershon was the Coventry employee with whom we worked, and he was really terrific. Besides being extremely pleasant and easy to deal with, he walked us through every step of the process. He was also very diligent, detailed, and punctual in communicating with us as necessary. If he is representative of other Coventry personnel, they have a great company.

Pros and Cons:

Peter Hershon!
No "cons" were specified in this review

Bottom Line: Yes, I would recommend this to a friend

---

Advertisement

---

Sale of Life Insurance

By Beverly H.

,

Chambersburg, PA

,

Jun 16, 2020
Verified Reviewer

Length of Use: Less than 3 months

Overall Experience:

I saw the Coventry ads on TV. We decided to sell my husband's life insurance. I called Coventry and was connected with Mr. Bill Perry. He was very helpful and took us through each step of the process. We are very pleased with the result.

Pros and Cons:

Service
Representative
Simplicity of forms
No "cons" were specified in this review

Bottom Line: Yes, I would recommend this to a friend

---

William Perry's performance

By John S.

,

Tarpon Springs, FL

,

Jun 15, 2020
Verified Reviewer

Length of Use: Less than 3 months

Overall Experience:

Ever since I started with Coventry, I was working with Bill Perry. I feel he is a complete asset to your business. He was friendly, kind, respectful, and resilient. He understood my needs and I thank him for that.

This process started a year ago, and I was facing to sell my policy or convert my policy. After careful consideration, I decided to sell.

I like to thank Coventry and William Perry for your support throughout this process.

Pros and Cons:

William Perry
He was always accessible to me
You did what was promised
No "cons" were specified in this review

Bottom Line: Yes, I would recommend this to a friend

---

Life insurance policy

By John R.

,

Overland Park, KS

,

May 21, 2020
Verified Reviewer

Overall Experience:

Scott Kalbfeish was the agent that helped me with selling my Life Insurance Policy. Scott was very helpful during the entire project and communicated very effectively. He also followed through with all matters.

I would certainly recommend Scott!

Bottom Line: Yes, I would recommend this to a friend

---

Excellent service!

By Loretta B.

,

Willamette Valley, OR

,

May 15, 2020
Verified Reviewer

Overall Experience:

Drew Acker was the Coventry Direct representative that I worked with during this process. His service was excellent! He kept me informed every step of the way. I would definitely recommend this company to anyone considering selling their life insurance.

Bottom Line: Yes, I would recommend this to a friend

---

Great experience

By Michael P.

,

Dallas, TX

,

May 6, 2020
Verified Reviewer

Overall Experience:

I saw the Coventry advertisement on television and decided to call them to sell my step-father's life insurance policy. He is in assisted living and did not need to keep paying for a term policy. I was connected with Jordan Blackwell. The sale of a policy is a process and it is not a process you do frequently. Jordan patiently explained what was needed and kept track of my submissions. It took a while but we finally closed the transaction. I was working with a competitor that benefitted from Jordan's work and even though they offered slightly more, I went with Jordan and Coventry. I appreciated how he valued my time and business. I would recommend Coventry to anyone looking to monetize a term life policy.

Bottom Line: Yes, I would recommend this to a friend

---

Pleasant outcome

By Robert L.

,

Lakewood, NJ

,

May 4, 2020
Verified Reviewer

Overall Experience:

After many months of back and forth with a different representative, Jordan took over my case. From the start he made me confident that I had made the right choice of choosing Coventry. He was calm and reassuring throughout this process of getting the insurance company to expedite the different forms that needed to be completed.

Jordan is solely the one reason that I would refer others to Coventry.

Bottom Line: Yes, I would recommend this to a friend

---

Sale of life insurance policy from Symetra to Coventry

By Vicki B.

,

Idaho

,

Apr 30, 2020
Verified Reviewer

Overall Experience:

Starting in December 2019, Chris Collins walked me step by step through the process of selling my husband's life insurance policy. He attended to every detail, answered all my questions, and was polite and thoughtful. Based on this experience I would recommend Chris receive the highest rating! He is a valued asset to Coventry. Thank you Chris!

Bottom Line: Yes, I would recommend this to a friend

---