Dermaflash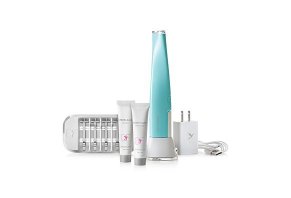 The DERMAFLASH system is a home-based dermaplaning system that promises to make your face bright, smooth and free from hair and dead skin cells.
DERMAFLASH Review: Hype or Actually Achieve a Brighter Appearance?
DERMAFLASH is a home dermaplaning system that promises to help you keep your face smooth and hair-free by sloughing off dead skin cells, built up debris and peach fuzz to create a cleaner canvas that makeup can adhere to.
In less than 10 minutes a week, the DERMAFLASH promises to keep your skin exfoliated and radiant without requiring you to pay spa pricing.
Can this skincare device deliver on these promises? Let's look closer at how it works to find out.
How Does DERMAFLASH Work?
According to the product website, the DERMAFLASH relies on 'subtle sonic vibration and proprietary edge' to exfoliate your skin and remove peach fuzz.
They claim that regular treatments will give you glowing, hairless skin without causing any sensitivity or irritation and that it is appropriate for all ages, ethnicities, and skin types.
To ease any unfounded worries you might have, the company also make it clear that trimming your facial hair won't cause it to grow back thicker than before, a claim that Business Insider also validates.
How to Use the DERMAFLASH
The DERMAFLASH website provides detailed instructions on how to use this device. It suggests performing the treatment weekly by placing a small amount of the included 'PREFLASH' serum onto wet hands to produce a lather, which you then massage onto your face and rinse off.
When your skin is dry, turn on the device so you feel a gentle vibration (pressing again increases the intensity).
Starting at the front of your ear, hold your skin taut and use short, delicate strokes to glide the DERMAFLASH across your face, avoiding contact with your lips, nose, and eyelids.
Once your skin is thoroughly touched up, you can massage in a small amount of the included 'POSTFLASH' lotion to rehydrate your skin.
The included razors are meant to be single use, so you can use the eject button to dispose of them after treatment.
The company makes it clear that the device is only meant for specific areas of the face, not the rest of the body. It's also not intended to be used anywhere with cuts, abrasions, rashes, sunburns, moles, or acne, and it's best not to use it on skin that has recently undergone laser treatment.
What Is the Cost?
At the time of writing, the DERMAFLASH brand offered purchasing options for two versions of this device. We've created the following chart to highlight some of the differences between the two.
| | | |
| --- | --- | --- |
| Device | DERMAFLASH ONE | DERMAFLASH 2.0 LUXE |
| Price | $149.85 (three payments of $49.95) | $199.95 (three payments of $66.65) |
| What's Included | 10 ml PREFLASH Cleanser 10 ml POSTFLASH Moisturizer Travel Edge Tray with two full-size edges Travel Bag | 20 ml PREFLASH Cleanser 20 ml POSTFLASH Moisturizer Travel Edge Tray with two full-size edges Travel Bag DERMAPROTECT Daily Defense Broad Spectrum SPF 50+ |
| Treatments Provided | 4 | 8 |
| Speed Selection | One speed | Two speeds |
| Waterproof Silicone Sleeve? | No | Yes |
| LED Battery Level Indicator | No | Yes |
| Replacement Cleanser/Moisturizer/Blades Cost | $39 | $29 |
From our research, we found that the 2.0 LUXE is the second generation of DERMAFLASH and that it offers a few extra features like speed control and a waterproof feature. Even so, functionality wise, the two devices are relatively similar.
Each DERMAFLASH system relies on a different type of single-use blade, and the company automatically enrolls you in a subscription plan to receive more when you sign up.
They state that you can schedule each shipment to arrive every 4 to 24 weeks. You can contact the company directly at 888-652-9579 to control your shipment schedule.
What Is the Cancelation and Return Policy?
The DERMAFLASH website offers a 60-day money back guarantee. This means that customers can try out the system for almost two months and return it if they are unhappy with it (even if the bottles are empty) minus the cost of shipping and handling.
It's also possible to change an order if it hasn't shipped yet by calling the company at 888-652-9579.
What Do Previous Customers Think of DERMAFLASH?
There are plenty of reviews of DERMAFLASH systems available online today, so what do customers think of the system?
At the time of writing, Sephora's website has 92 reviews of the system, and it averages 4.3 stars out of 5, with 85% of users saying that they would recommend the system to a friend. However, Amazon shows a different perspective, as the product averages two stars after 113 reviews on the site.
Numerous reviewers reported that they thought that using the DERMAFLASH left their skin smoother than it ever was before, and they stated how amazed they were by the amount of hair and dead skin came off their face with every treatment.
Many people commented that their skin felt terrific for days afterward and that their makeup adhered better to their face after they completed the treatment.
On the other end of the spectrum, a few people commented that the system was more expensive than expected because of how frequently the blades needed to be replaced and stated they thought the pricing was relatively similar to spa treatments.
Others reported that the system led to skin irritation, and even that they received the wrong sized blades for their device, rendering it useless until the company shipped replacements.
Overall, it seemed to us that most users believed this product worked as promised (at least when they received the right blades), but there are mixed opinions about how valuable this service is and whether the premium pricing is worthwhile.
Is There a Difference Between DERMAFLASH and Professional Dermaplanning?
If you're considering investing in the DERMAFLASH system, there's a good chance that you are interested in dermaplaning. Does a professional treatment make more sense for your skin needs? Let's compare the details of the two.
According to Cosmopolitan, Allure, and American Spa, dermaplaning is a highly effective exfoliating treatment where a skin doctor uses a surgical scalpel to scrape off hair and dead skin cells on the surface of your face. The premise behind the procedure is the same as DERMAFLASH – an exfoliated face looks cleaner, brighter, is less prone to breakouts, and creates a better canvas for applying makeup.
Professional dermaplaning can cost between $150-$250 per treatment, but the results often last four weeks or more. That's approximately the cost of the DERMAFAST, but the effects usually last up to four times as long because your doctor knows how to safely get deeper into your skin to remove more hair and skin overall. Likewise, professional dermaplaning is often performed before chemical peels or facials to improve the overall results.
Which option makes more sense for you? While our research challenged the comments of some reviewers that using the DERMAFLASH was equally expensive as seeking out professional dermaplaning, there are reasons to consider the in-spa treatment.
Not only will your results last longer when they're delivered by a scalpel, but you're also less likely to accidentally injure yourself or irritate the parts of your skin you're not supposed to touch.
Likewise, receiving a professional treatment gives you the opportunity to get other skin procedures that enhance the results further. Since the biggest complaint we noticed from customers of DERMAFLASH was that the results weren't as apparent as they would like, this might be an important consideration.
The Bottom Line
As this research should have revealed, the DERMAFLASH dermaplaning system is a viable option for those who want to remove unwanted hair and skin cells from their face to achieve a brighter appearance that's a better surface for applying makeup.
The customer reviews we looked at showed that many users are happy with the system, as they found that it worked as promised to shave their faces and that the results lasted for up to a week.
However, some thought that the system irritated their skin and didn't make as much as an impact as professional treatments. Many Amazon reviewers also commented that they received the wrong blades for their system, meaning that they weren't able to test it out even after paying close to $200 for it.
Speaking of pricing, the Derma brand doesn't make it clear that the DERMAFLASH's blades are only single use and that users are automatically enrolled in a subscription service to receive more on a regular basis.
This extra cost makes the system more expensive than many customers first thought, and it might be a reason to consider spending more for professional treatments that offer slightly better results.
If you're interested in home-based dermaplaning, there's plenty of reasons to consider trying the DERMAFLASH. Just keep your purchase date in mind, because the company's 60-day satisfaction guarantee means that you can get most of your money back if you decide that the system isn't right for you.