MicrodermMD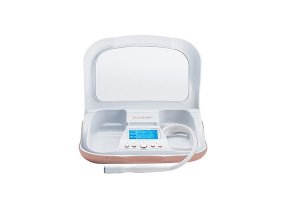 Summary
MicrodermMD brings the benefits of microdermabrasion to your home with a portable device. Clinical studies and customer reviews indicate it works, but expect to pay more for it than for the competition.
Pros
Clinical evidence and customer reviews indicate it can work
LCD screen demonstrates your exact movements
Three tips, three use modes
Cons
More expensive than comparable units
Replacement parts are expensive
Likely won't match professional results
MicrodermMD Review: An In-Depth Look
The MicrodermMD is a portable device for home use from Trophy Skin that's claimed to smooth and brighten your skin while giving it a youthful glow.
It's designed to gently exfoliate your skin to remove dead cells, reduce the signs of aging, and eliminate the evidence of sun damage—all for less money than you'd spend on traditional spa treatments.
The company claims that the device utilizes the dual-benefits of diamond-tipped exfoliation with gentle suctioning to remove skin imperfections while encouraging better blood flow and collagen production.
In this article, we take a detailed look at MicrodermMD's effectiveness and other important details, to help you decide if it is right for you.
Is There Evidence for MicrodermMD's Effectiveness?
The MicrodermMD home microdermabrasion system is meant to complement your current skincare routine for optimal results through home treatment.
According to the American Society of Plastic Surgeons (ASPS), microdermabrasion is a technique where abrasive instruments gently sand your skin to remove the dead skin cells and other debris that accumulate on the surface.
A 2016 study found that microdermabrasion can be an easy, safe technique for improving the signs of acne scars and melasma on the skin. In most cases, you can expect to see mild to moderate improvements in your overall skin texture.
Stephanie Ivonne, a licensed esthetician and advisory board member for Smart Style Today, recommends microdermabrasion.
She told us that many experts in the industry even perform the procedure on themselves using home devices like the MicrodermMD.
"By gently sanding your skin, this procedure can help in treating sun damage, discoloration, and even some light scarring," she told us.
"The appearance of skin-related concerns can really improve with regular use…Even after the first treatment, you may notice a difference in the appearance of your skin tone with less pigmentation and discoloration, leaving you with a healthy glow."
The ASPS reports that the average cost of microdermabrasion is $136 per session, so MicrodermMD claims to offer you a treatment option that pays for itself within three sessions.
This home device utilizes diamond peel exfoliation to purportedly operate on the same principles as medical-grade units in professional settings.
And according to Ivonne, a home device can be a viable option for those who want to save time and money.
"[Home] systems aren't as powerful and invasive as those professional options, but still get the job done," she explained.
You'll likely need to commit to longer, more frequent treatments to achieve similar results at home.
That matches Trophy Skin's data. According to the company's self-reported clinical assessment of 22 female patients between 35–55, it can lead to the following skincare benefits:
75% of patients saw a reduction in fine lines and wrinkle depth
80% of participants experienced decreased pore size
75% of users noticed mild to moderate decreases in solar lentigines
80% experienced a significant decrease in wrinkle depth
95% had softer, more hydrated skin
85% saw fewer blemishes
Using the MicrodermMD: What to Expect
The device includes a diamond tip for long-term use and an LCD screen that lets you choose between three modes for treatment:
Auto Mode: Best for beginners
Sensitive Mode: Offers an extra-gentle treatment
Manual Mode: Designed for experienced users who want more control, and ideal for body treatments
Expect each treatment to take around five minutes.
To use, you'll first need to ensure you have clean, dry skin that's free of product.
After you put on your preferred tip, you'll turn on the screen and choose the mode.
The screen will display indicator lines for where to start on your face and the direction to move the tip.
Keep the tip pressed slightly against your face, moving it around with smooth, even strokes. It's best to brace your skin with your free hand so that the tip can glide gently across the surface.
You should hear a suction "pop," once you move it off your skin. The screen will direct you on where to move from one part of your face to the next.
Once finished, you should apply your preferred skincare products as your skin is in a primed state for absorbing them.
Your skin might look red and irritated immediately after treatment, but it should calm down quickly.
Many people notice results after one treatment, but it might take several weeks to see them.
For best results, Trophy Skin recommends using it at least two to three times per week as well as before special occasions. Those with sensitive skin should use it less often and at a lower setting.
Cleaning the brush head is an important final step, and the company recommends using an ultrasonic jewelry cleaner to extend the life of the diamond tip.
Risks and Possible Side Effects
Not everyone should use the MicrodermMD. The company suggests that anyone with an active infection of herpes, acne, or sunburns, as well as anyone with uncontrolled diabetes, eczema, rosacea, skin cancer, or who is pregnant, should talk to their doctor before using the device.
Red skin is a common side effect after treatment. Trophy Skin ensures that this is a sign that the device is stimulating your blood flow and that the redness will fade within minutes.
Some people experience dry, flakey skin after treatment, which is why it's best to apply moisturizers immediately after.
Pricing and Return Policy
The complete MicrodermMD system currently costs $299 on the company website, with free standard shipping.
The system includes:
The microdermabrasion device
Three types of tips (standard diamond, pore extraction, and infusion tip)
100-pack of wool filters
Power adapter
All direct purchases from the company come with a 60-day guarantee. You can request a full refund (minus return shipping) on your purchase at any point within this timeframe, so long as the device remains in like-new, gently used condition.
If you purchased from another retailer, the refund policy may differ, and you should reach out to the seller directly.
Analysis of Customer Reviews
The MicrodermMD currently has over 380 reviews on Amazon, which average 3.8 stars. Below are the key takeaways:
Common Compliments:
High-quality home microdermabrasion system
Great customer service experiences when replacements were necessary
Refreshes skin and pores
Leads to smoother skin and smaller pores over time
Cost-effective compared to salon appointments
Common Complaints:
Replacement pieces too expensive
Cheap plastic components
Some received products with missing parts
Lost suction after just a few weeks of use
Popular Alternatives to MicrodermMD
| | MicrodermMD | Microderm GLO Diamond Microdermabrasion Machine | Top Direct Processional Diamond Microdermabrasion Machine |
| --- | --- | --- | --- |
| Price | $299 | $199 | $205 |
| Number of Heads Included | Three | Two | Nine |
| Number of Modes | Three (auto, sensitive, manual) | Two (auto, manual) | One |
| Designed for Full Body Treatment? | Yes, with manual mode | No | Yes |
| Screen | Yes | Yes | No |
| Average Rating (Amazon) | 3.8-stars, 390 reviews | 4.2-stars, 978 reviews | 4.3-stars, 56 reviews |
All three of these systems include diamond heads that are designed to agitate off the dead skin cells and other imperfections on the top layer of your skin so that it looks its best.
MicrodermMD is the most expensive unit, but it offers three treatment modes compared to two and one for the other devices, and the LCD screen will coach you through your treatment in real-time, including the direction of each brushstroke.
If you're new to home microdermabrasion, this could be a key selling point.
The TopDirect system stands out for its head selection. The base unit includes nine suctioning tips, each with a different intended use like the nasal area, eyes, removing heavy skin buildup, or targeting larger body regions.
This offers a lot of flexibility for those who want to perform specific treatments, though you are sacrificing the screen that comes with the other two options.
Overall, each of these units claims to buff away skin imperfections, and they seem well equipped to do so.
You might want to base your buying decision on which unit is easiest to buy replacement cotton filters for, as you'll need a new one for every treatment.
The Bottom Line
The MicrodermMD home microdermabrasion device promises to make sure your skin looks its best by buffing it down to its newest layers.
The device aims to replicate the results you could get from professional treatment, and we believe that may be overstating things.
However, customer reviews and clinical assessments indicate that many users are happy with their results. This suggests that it to be effective for stripping off your dead skin cells to freshen up your appearance.
As with all microdermabrasion systems, keep in mind that your routine post-treatment is equally important as the procedure itself.
Make sure you invest in high-quality products moisturizers for immediately after treatment so that you can soothe irritated skin and lock in moisture to the layers that need it most.
Customer Reviews