MicrodermMD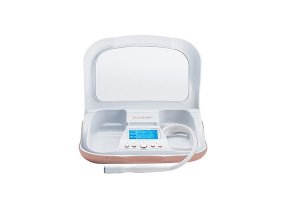 The MicrodermMD device offers an at-home microdermabrasion treatment using a real diamond tip, to balance skin tone, improve sun damage, and tackle the signs of aging.
MicrodermMD Review: Details, Effectiveness, and Features
The Trophy Skin MicrodermMD is an at-home microdermabrasion machine that tackles many of the signs of premature aging by improving skin tone and restoring radiance to the skin.
Specifically, its removable diamond-tipped exfoliating wand polishes away blemishes and removes gunk as efficiently as a professional skin care treatment, revealing your new glowing skin.
The machine comes with everything you need to treat a variety of skin conditions such as enlarged pores, uneven skin tone, age spots, and skin discoloration. While the device is mainly for the face, it can also be used on a sun-damaged chest, the back of the hands, elbows, knees, and feet. It's also safe to use on sensitive skin.
To get a better idea of what you might realistically expect by using MicrodermMD, let's zoom out and take a look at how microdermabrasion works in general.
What Is Microdermabrasion?
Unlike how it sounds, microdermabrasion is only mildly painful and one of the fastest, gentlest, non-chemical, non-invasive anti-aging treatments around today.
It uses a combination of tiny crystals, or diamonds, to gently exfoliate the stratum corneum (outermost layer of the skin), along with a powerful vacuum that suctions away dead skin cells.
This mechanical abrasion removes the superficial layer of dead skin cells from the surface and then suctions the exfoliated particles into the wand-like machine.
Cosmetic treatments that use a combination of suction with exfoliation are believed to be beneficial in rebuilding collagen and elastin by increasing blood flow to the epidermis.
Once you remove the outer layer of the skin, the body goes into repair mode, replacing the lost skin cells with a fresh layer of healthy cells, leaving your skin feeling and looking softer, vibrant, and younger.
Pricing
MicrodermMD kit will cost you $299. It's also available for purchase in QVC, Amazon, and Dermstore for the same price.
Included in the kit, you'll receive:
Microderm MD Device
Pore Extraction Tip
Infusion Tip
Medium Diamond Tip
100 Pack Filters
Power Adapter
User Manual
Cleaning Brush for Diamond Tip (1 piece)
Cleaning Brush for Diamond Tip (1 piece)
Built-in Mirror
When you take into consideration the average cost of an in-house treatment, it isn't too bad. If you were to go into a salon for the same kind of treatment, you'd be looking at spending about $100-$150 per session.
Microdermabrasion generally only shows results after several treatments, which could bring your salon cost to a total of $1,000, easily. Spending $299 on the MicrodermMD doesn't seem like such a bad idea.
From our research, the best deal you'll get is by purchasing the MicrodermMD directly from the official Trophy Skin website. We came to this conclusion as they are currently offering a monthly payment plan spread out over the course of 12 months, at 0 percent interest. Being able to pay off a skincare device in small payments sounds pretty tempting to us.
You'll also receive a 3-year manufacturer warranty, free shipping, and 60-day money back guarantee.
How to Use the MicrodermMD
The MicrodermMD machine is relatively simple to use and is designed to accompany your current skincare regimen. You can also use the wand on other parts of the body that are showing the early signs of aging, such as your neck, arms, and chest.
You may have noticed that this product comes with two other tips aside from the diamond exfoliating tip – the infusion tip and the pore extraction tip. These are handy little accessories worth $50, and a nice bonus to the kit.
The infusion tip opens up your pores to allow nutrients from your antiaging serums or moisturizers to soak into your skin. All you have to do is apply your favorite serum or facial product over clean skin and then gently massage your skin using the infusion tip.
The pore extraction tip, on the other hand, is to clear out your pores and get rid of blackheads. When used on the lowest setting of suction, the pore extraction will gradually pull out debris, dirt, and oil.
An average treatment should take about 5 minutes to cover areas around the face and neck. If you're treating other parts of the body, such as neck and arms, it may take a little longer.
Step one: Wash your face with a gentle facial cleanser.

Step two: If you're new to microdermabrasion, you'll want to choose the Auto Mode setting on the LCD screen, following the stroke pattern in the manual. When the machine beeps, that's the signal to move onto the next part of your face. Once you become more familiar with the process, or if you feel like going over parts of your skin that you may have missed, you can select the manual setting.

Step three: After using the MicrodermMD, finish up by rinsing your face and applying your favorite anti-aging moisturizer.
A Few Helpful Tips When Using the MicrodermMD
It's not uncommon to feel the urge to apply heavy pressure with the wand on the face in hopes of a better scrub. Appling too much pressure is not necessary as the suction is powerful enough to polish and slough away the dead skin on its own. All you need to do is glide the wand over your skin while it works its magic.
Since the kit comes with 100 replacement filters, you'll want to be sure to replace the used filter with a new one each time you use the machine. You don't want to use the same one twice as it's full of bacteria, dirt, and dead skin cells.
What's Special About the MicrodermMD?
You may be wondering why this machine has a diamond tip, if it's real, and if that's why you're paying a fair price for it.
Trophy Skin boasts that their unique tip is the best and made to last. Of course, most companies will claim their product is the best, so what would make the MicrodermMD genuinely superior to their leading competitors?
After a bit of research, we discovered that other top brands use synthetic diamond tips, which may chip or wear away over time. MicrodermMD does, in fact, use a 100 percent diamond tip, which would back up their claim as real diamonds can last a very long time.
So, the answer is yes; you are using a real diamond tip to buff away at your skin, in true Cleopatra style! But is the diamond tip essential? Are there other less expensive microdermabrasion tips that may give the same results?
Crystal Microdermabrasion Tip vs. MicrodermMD Diamond Tip
There are two main types of professional microdermabrasion – crystal and diamond. The most common form of crystal used is aluminum oxide, known as corundum, along with other crystals such as sodium chloride, sodium bicarbonate (baking soda), and magnesium oxide.
Although crystal microdermabrasion has been the go-to process used by skincare professionals for a long time now, diamond microdermabrasion devices like MicrodermMD are thought to represent a safer, more modern alternative.
Some studies suggest a concern in the health risks associated with aluminum oxide-based microdermabrasion machines, with the potential of small particles being breathed in and entering the lungs.
Many skincare practitioners and dermatologists prefer using a diamond tip method of microdermabrasion, as they're not prone to gradual disintegration. There isn't much risk of dust and residue being inhaled or ingested when using around the patient's eyes, noses, and mouths.
The MicrodermMD Device vs. Salon Treatment
By now, you're probably wondering if you can expect to achieve salon-quality results at home using the MicrodermMD.
According to the summary listed on the company's website (we didn't locate a publically available copy on any third-party websites), they conducted a six-week study where 22 female patients ages 35-55 were instructed to use the MicrodermMD 2-3 times per week. Data was collected through high-definition photographs as well as through a questionnaire to track the progress of the patients.
Upon completion, an independently blinded surgeon analyzed the data at three different time periods using the oral commissure severity scale, indicating significant change if there was a 1-point increase from the first week of the study to completion.
The evaluation made by the physician indicated a 1-point improvement of patients. Results showed a significant improvement of a 75 percent reduction in wrinkle depth, tone, and fine lines.
Additional improvements reported include:
80% experienced reduced pore size
80% experienced a decrease in wrinkle depth
95% had softer, more hydrated and refreshed skin
While all of this seems highly positive, they don't provide the same metrics (e.g., pore size, wrinkle depth, skin hydration, etc.) for in-office treatments. As such, there's no way to quantify the company's claim that MicrodermMD can help you achieve similar results as at your doctor's office.
Analysis of Customer Reviews
When having a look at various reviews on the company's website, along with other retail sites, we collected the following information, which could help give you some insight when deciding whether to try out MicrodermMD for yourself.
Overall, the majority of reviews were relatively positive. Amazon customers gave it an average rating of 4.7 stars, QVC customers a 3.5, and those on Dermstore a 4.5 rating. Some users stated they wanted harsher exfoliation, while some liked the product but thought the design of the machine was a little awkward.
Others mentioned the reason they purchased the MicrodermMD was to have something to use in between their regular visits to the dermatologist and noted that it helped them save a lot of money.
Most reviews reported a noticeable change in their skin texture and pore size, and that their skin felt softer and look more vibrant. Dark spots and acne were noticeably reduced, and the generous number of replacement filters was a plus.
The Bottom Line
It's worth noting that results in practically every kind of treatment can vary according to the individual. How often and how effectively you use an anti-aging device should also be taken into consideration.
Typical microdermabrasion treatment visits at a salon are scheduled between 1-2-month intervals, for about an hour, whereas at-home devices like MicrodermMD can be used in 5-minute sessions, 1-3 times a week.
All in all, the choice of whether to do a microdermabrasion treatment at a salon or with an at-home device depends mainly on your skincare needs, your time, and your finances.
After doing some research on what the professionals have to say about the effectiveness of at-home microdermabrasion kits, they suggest that it's a relatively mild treatment that is safe to use and has become increasingly popular.
They do mention, however, that even though they provide noticeable improvements, the results may not be as remarkable as a treatment performed by a qualified physician or aesthetician using a professional microdermabrasion system.
Another critical piece of advice is the chances of skin damage occurring from having the at-home device always available.
Furthermore, microdermabrasion devices (whether in-office or at-home) shouldn't be used by pregnant women, or by "people who have deep scars, active keloids, undiagnosed lesions, a recent herpes outbreak, warts on the face, active acne (stages 3 and 4), an auto-immune system disorder, or unstable diabetes." Regardless of whether or not you're experiencing any of these, you should always talk with your dermatologist before beginning any new microdermabrasion regimen.
It seems the effectiveness of an at-home machine is a fine line between using it enough and avoiding overuse, which can be accomplished by following the packaging guidelines closely.
But if MicrodermMD doesn't help balance your complexion and skin care regimen within 60 days of purchase, you can return it for a full refund. Just keep in mind that you'll have to pay return shipping costs.