Dr. Ho's Pain Therapy System
Claimed This company has claimed this profile, is getting alerted on any new customer reviews entering this page, and may engage in dialogue with its customers to address their matters.

Companies cannot pay money or provide goods in order to remove or alter customer reviews.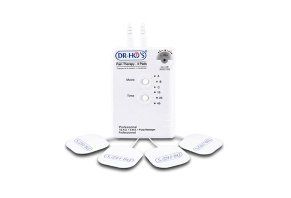 Dr. Ho's Pain Therapy System is a TENS unit that is alleged to offer a drug-free method of relief for some of the most common pain conditions. Scientific support is lacking, however, and TENS doesn't address the underlying cause of your symptoms.
---
Great product!

By Daniella H.

,

Timnath, CO

,

Sep 11, 2018
Verified Reviewer

Overall Experience:

I used to be a patient of Dr. Ho in Toronto and had the original pain therapy system, which helped me a lot with migraines, neck, shoulder and back pain.

It got lost as I moved around a lot. I recently had a severe muscle spasm in my mid/lower back. I remembered Dr. Ho's system and ordered a new one online. After two weeks of painkillers, muscle relaxant and a cortisone injection, I still had quite a lot of pain, until I started using the pain therapy system. As in the past, it helps me a lot, and I felt relief after just one session.

Bottom Line: Yes, I would recommend this to a friend

Mar 5, 2019

It's wonderful to hear that you are getting the relief you need with our system. In addition, we are happy that you remembered us from your clinic days!

---

Good product

By Judy C.

,

Ontario, Canada

,

Jun 29, 2018
Verified Reviewer

Overall Experience:

I have been using this product for almost a week. I am feeling much less pain than when I started out. I am experiencing a lower back problem in the left buttocks and upper thigh. I was very skeptical, but am very pleased with the results so far. I am also doing stretching exercises, which I was unable to do before I used this device. I would recommend this product.

Bottom Line: Yes, I would recommend this to a friend

Mar 5, 2019

Thank you Judy! We are happy to hear that you are feeling better and can now do your stretching exercises!

---

Advertisement

---

The best

By Tamara A.

,

Canada

,

May 27, 2018
Verified Reviewer

Overall Experience:

I had back pain for two weeks, so I went into a Walmart pharmacy to buy some back pain pills. I was surprised to see the Dr. Ho machine there for $159.00. I was very scared to buy it, but at that point, I would try anything. I will swear on this. That night it was working and the next day my back was good. The best money spent. I would swear on this.

Bottom Line: Yes, I would recommend this to a friend

Mar 5, 2019

We are honored you took a chance on us and we are so glad that we provided you with the relief you needed!

---

Ask all questions you can before you buy it!

Overall Experience:

I never used the product, so I can't say that it's good or bad. I returned it because what they said that it will cost me wasn't true, and they charge me more. They will start sending product and charging to your credit card until you do something. Now I had to pay to return it via certified mail and wait for my refund.

Bottom Line: No, I would not recommend this to a friend

---

Advertisement

---

Like getting a tattoo

By Jen Bauer

,

Canada

,

Apr 3, 2017
Verified Reviewer

Overall Experience:

If you think getting a tattoo is relaxing, then this is the system for you.

I made sure I followed the instructions and dampened my pads before putting it on my skin, but every time is starts off feeling like a tattoo needle is violently attacking my skin. Very painful! A few times it would subside and eventually feel fine, however, that initial start to my treatment is so painful that I dread using the system, and if I find the courage to go ahead, I end up crying from the pain!

I have had TENS therapy at physiotherapy appointments, and it NEVER felt painful. I even bought news pads within a week of my purchase of this system to make sure I did not have a bad set of pads, but it was the same result. I have 30 days to return it for a full refund, and I am returning tomorrow with 15 days left on my return timeline. That's how painful it is!

Bottom Line: No, I would not recommend this to a friend

---

Great product

Leyte, Philippines

,

Nov 9, 2016
Verified Reviewer

Overall Experience:

I do have numbness and pain in my buttocks. My son bought the Dr. Ho's Pain Therapy System Pro through HSN in the USA. This is a great product because it relieves the pain and the numbness does not bother me that much anymore after using it. And, I like the company's proprietary auto modulating pain relieving waves which other ones do not have.

I just started using the unit over a week ago and so far it works great for me.

Bottom Line: Yes, I would recommend this to a friend

---

Advertisement

---