Dr. Ho's Pain Therapy System
Claimed This company has claimed this profile, is getting alerted on any new customer reviews entering this page, and may engage in dialogue with its customers to address their matters.

Companies cannot pay money or provide goods in order to remove or alter customer reviews.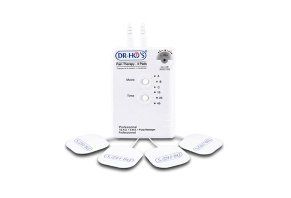 Dr. Ho's Pain Therapy System is a TENS unit that is alleged to offer a drug-free method of relief for some of the most common pain conditions. Scientific support is lacking, however, and TENS doesn't address the underlying cause of your symptoms.
Dr. Ho's Pain Therapy System Review: Can It Relieve Pain?
What is Dr. Ho's Pain Therapy System?
Dr. Ho claims that the Pain Therapy System can relieve pain, ease muscle tension, and improve circulation through transcutaneous electrical nerve stimulations (TENS).
Pain is among the most common reasons for a trip to the doctor's office. More than 20% of US adults are estimated to suffer from chronic pain.
As the source of the pain can be wide-ranging, the treatment choices are just as variable. Common management options can include medications, supplements, ointments and creams, hot and cold packs, physical therapy, as well as more invasive medical procedures.
Both your pain and its management can carry substantial physical, emotional, and financial burdens.
Dr. Ho claims that his Pain Therapy System provides a drug-free and more cost-effective option for addressing your pain.
In fact, he claims that the Pain Therapy System can be used to manage the following conditions:
Headaches
Back Pain
Neck and Shoulder Pain
Joint Pain
Nerve Pain
General Aches and Pains
In this article, we'll help you determine if these claims are true by detailing the recommended use of the device, reviewing the science behind TENS, as well as addressing the available purchasing options for the Pain Therapy System.
Drug-free and non-invasive
Unlikely to cause harm
Managing pain from home is convenient
Favorable return policy
Strong evidence supporting efficacy is lacking
Will not address the underlying source of the pain
Pricy, and replacement pads can add considerable cost
Many comparable devices are more affordably priced
Reviews at Amazon are mediocre
How to Use Your Pain Therapy System
Dr. Ho claims that the Pain Therapy System can help relieve pain from the comfort of your own home. This is said to be accomplished through TENS - the application of a gentle electrical current through adhesive massage pads.
To use your Pain Therapy System, start by placing the self-adhesive pads on to the skin overlying your pain. Next, click on the power dial.
Once the unit powers on, you can gradually increase the intensity and choose from three separate massage patterns modules; deep, vigorous, or gentle, calming massage. Also, each module offers four different massage techniques.
Set the built-in timer for 10 or 20 minutes - the Pain Therapy System will shut off automatically after your desired duration.
According to the website, TENS should work by sending electrical impulses along your nerves to prevent pain signals from reaching your brain. Dr. Ho claims that this will help relieve pain, decrease muscle tensions and spasms, and improve circulation in as little as 20 minutes.
Is There Any Science Backing the Pain Therapy System?
According to the product page, Dr. Ho commissioned clinical investigations that examined the proposed benefits of the Pain Therapy System.
While the Pain Therapy System was found to be effective in relieving muscle stiffness and tension in pain clinic patients when compared to the control group, this study was funded by Dr. Ho.
Also, without being published in a medical journal, it is unlikely that this study has undergone a rigorous peer-review process. Thus, results must be taken with a grain of salt.
The ability of TENS to relieve a variety of pain-related conditions has been rigorously studied elsewhere, however.
This review concluded that TENS might represent a safer option for pain relief when compared to other medical managements. However, the potential effects may be limited as individuals develop a tolerance to their TENS device.
In a review of 12 randomized trials, TENS did not improve symptoms related to chronic back pain, though researchers did conclude that it may offer short term improvements in functional disability. When reviewing 9 randomized studies, researchers similarly found the evidence supporting TENS as a back pain treatment to be lacking, mainly due to poor study quality.
In a study examining previous reviews of TENS use in those with chronic pain, researchers were unable to draw a strong conclusion. Again, they found the available evidence to be insufficient to effectively determine if TENS is beneficial or harmful in those with chronic pain.
Another recent large review also found the available evidence to be inconclusive regarding the ability of TENS to benefit acute low back pain.
As you can see, TENS is a well-studied topic. Unfortunately, due to the variety of study subjects, methods, and results, it has been challenging to draw strong conclusions regarding the effectiveness of TENS.
Is the Pain Therapy System Safe?
TENS devices like the Pain Therapy System are generally safe to use, though there are some things you should know about before using.
The risk for serious harm is unlikely, but minor side effects related to skin irritation are possible. You may unknowingly have an allergy to the adhesive used in the skin pads.
Shaving or trimming the area to which you apply the pads can limit irritation and ingrown hairs from repeated use of your TENS. Similarly, your skin should always be clean before pad placement.
While pads are reusable, they should also be kept clean. Ensure that the adhesive cover is free of dirt, debris, hair, etc. when you store them away and replace them frequently.
You should avoid placing pads over broken skin, cuts, abrasions, bruising, etc. to avoid unwanted pain or infections.
Lastly, it is advised that those with heart pacemakers or epilepsy, as well as those who are pregnant, should avoid the use of TENS.
The biggest risk for adverse effects when using TENS is that these devices do not address the underlying causes of pain. They simply mask the signal. Without properly identifying the source of your symptoms and taking proper steps in management, you may never truly experience relief.
Speak with a doctor to determine the best plan of care.
Pain Therapy System: The Cost
Dr. Ho's Pain Therapy System can be purchased directly from the product page.
Three different options are available:
The Basic Package comes with the TENS unit, 8 regular pads, 2 large pads, foot pads, a travel bag, and an instructional DVD. It currently costs $199.99.
The Deluxe Package includes the same items except that you get double the amount of regular and large pads. This package costs $229.99.
Lastly, the Ultimate Package includes Dr. Ho's Pain Therapy Back Relief Belt and Magic Heat Pad in addition to the contents of the Deluxe Package. It costs $279.99.
You can also purchase pad replacements. The kits vary in both the size and number of pads included and range from $35-$50.
Like other products offered by Dr. Ho, the Pain Therapy System is backed by a 90-day guarantee. If you're unsatisfied, email drho@drhonow.com or call 1-877-DrHoNow (1-888-816-6547) to process your return.
The same packages are also available through Amazon and are priced similarly. Keep in mind that you'll miss out on the 90-day guarantee with this option, however.
What Are the Alternatives?
Dr. Ho's Pain Therapy System is not the only TENS unit on the market. With a little bit of investigating, you are likely to find comparable devices available for purchase in-store or online.
For example, the TENS Massager from iReliev comes with 20 pads and offers 8 different settings. At $59, it is less than a quarter of Dr. Ho's intermediate package.
iReliev also offers a 100% money-back guarantee and has a 4.6-star rating on 677 reviews at Amazon.
This unit offers many additional pads, a variety of settings, and a 60-minute built-in timer. Considering the cost and the return policy, this is probably a better place to start if you're considering a TENS unit.
The Bottom Line
Dr. Ho's Pain Therapy System does offer convenience though the research in support of TENS is lacking. However, you should be aware that even if effective, TENS only addresses the symptom and not the underlying cause.
Therefore, you may find relief during use, but still experience pain when you're not using the Pain Therapy System.
Nonetheless, the 90-day guarantee does allow ample time to determine if the Pain Therapy System can offer benefits. Though the system is pricey, this helps eliminate much of the financial risk to try it.
At HighYa, 16 users rate the Pain Therapy System 2.9-stars. Those unhappy cite product malfunctions, pad durability, and issues with the return policy. Customer support did seem to address all concerns and mentioned that they couldn't control return policies when units are purchased through other vendors.
TENS may provide some relief, but given the available research, opting for a more cost-effective unit may be a better idea before splurging for the pricier system offered by Dr. Ho.
Either way, you should speak with your doctor about addressing the cause of your pain. Otherwise, it may persist even with using TENS and other therapeutic options.
---
Lack of support

By Dan B.

,

Ontario, Canada

,

May 19, 2020
Verified Reviewer

Overall Experience:

Purchased the Dr. Ho's Circulation Promoter system on March 1, 2020 for my feet.

1. On the box it states "helps relieve symptoms of Plantar Fasciitis." The unit does not provide relief for this symptom. Stretching and exercise provide more relief.

2. The equipment may be defective. The left foot side of the unit seems to provide more stimulation than the right foot side. Reached out online, using the contact page from Dr. Ho's website for support. I never received a reply back.

Too much bother to return.

Would not recommend because of the lack of support for people with Plantar Fasciitis.

Bottom Line: No, I would not recommend this to a friend

May 19, 2020

Hi Dan, thank you for reaching out. I'm sorry to hear that you didn't receive a reply to your email. Often, our responses go into junk mail, but you can reach us directly by phone at 1-877-374-6669. We also have a 90-day money-back guarantee (less shipping) when you purchase directly from us.

For best results with the circulation promoter, we do recommend using it every day for at least 20 min to help manage painful symptoms. Since the unit helps to reduce swelling and inflammation, regular use can lead to long term pain relief results.

As for one side providing more stimulation than the other, this is a common thing we hear, but it's not the system - it's how the nerves in your feet react to stimulation. Often times people who suffer from plantar fasciitis or neuropathy report that one foot feels more stimulation than the other. This is generally due to one foot having more nerve damage than the other. Regular use can help to "wake up" your nerves, and over time you should notice that the stimulation is the same for both feet.

We do ask that you reach out to us directly if you have more questions, or need any further assistance at the number above, or to drho@drhonow.com.

---

Thumbs down big time

By Cheryl S.

,

British Columbia, Canada

,

Feb 27, 2020
Verified Reviewer

Overall Experience:

Bought this a few years ago. Followed all instructions, and could never get it to start. Wasn't worth the time and money to send it back. I wouldn't even give it 1 star. Hard to know when it won't start.

Bottom Line: No, I would not recommend this to a friend

Feb 28, 2020

Hi Cheryl, we are very sorry to hear that you had issues with your system. Our PRO system does require charging prior to use, but we would have been happy to troubleshoot your system had you reached out.

We do offer a 24-hour support line to our customers, and a 90-day money-back guarantee (less shipping). It also includes a 1-year warranty so had you called us we would have either assisted via troubleshooting or replaced your system for you.

---

Advertisement

---

This product is a SCAM.

By Lance M.

,

New York

,

Jan 21, 2020
Verified Reviewer

Overall Experience:

This order is a scam and the product is a SCAM. They will charge your account $99 regardless if you like it or not. Don't get this product, it is not worth the headaches. The customer service is garbage and unprofessional.

Bottom Line: No, I would not recommend this to a friend

Jan 27, 2020

Hi Lance,

When purchased directly from us, we offer a 90-day money-back guarantee (less shipping). This ensures you have enough time to use the product as results may take 3-4 weeks for some people with serious conditions.

However, when you purchase from another retailer, we have NO CONTROL over other retailers' return policies. The customer service and refund policy are up to each individual retailer. In this situation, we do not have your order information (as you purchased from another retailer) so we have no course of action to offer you a refund. Your comments regarding customer service should be regarding the retailer you purchased from, not DR-HO'S.

---

Garbage

By Ghislain B.

,

Manitoba, Canada

,

Aug 16, 2019
Verified Reviewer

Overall Experience:

That is the worst piece of garbage I ever bought. Never in my whole life I'm going to buy that. Supposed to be a doctor, more like a charlatan. They text me back and I never saw a penny, yet it has been over 6 months. I can say goodbye to my money.

Bottom Line: No, I would not recommend this to a friend

Aug 19, 2019

Hi Ghislain, thank you for reaching out to us. It is not in our policy to ever "text" with customers, so I am unsure who you are dealing with regarding your purchase. I invite you to please contact our Customer Care team at 1-877-374-6669 and we can verify your purchase and provide receipts to you.

---

Advertisement

---

Mixed bag

By Anne M.

,

Northern Idaho

,

Aug 8, 2019
Verified Reviewer

Overall Experience:

I purchased the Dr. Ho Pro Deluxe Package in June 2019. While the main unit works extremely well for relieving pain and muscle spasms from my generalized dystonia, the smaller pads separate too easily (after 1 or 2 uses) and are no longer viable.

I replaced the Dr. Ho pads with much better quality professional-grade TENS pads in order to benefit from the Pain Therapy System. These new pads are also much less expensive.

The travel foot therapy pads, however, did not work well for me at all. I followed instructions, used the system while seated, and found no relief. Instead, the plastic knobs had nearly embedded in my skin and my son had to peel them off both of my feet. Thankfully, no skin was punctured.

I have found that using the professional-grade TENS pads on the bottom of my feet provide the best results for my foot pain.

Dr. Ho's did offer me replacement pads, but I opted to stick with what I know works.

The electronic unit for Dr. Ho's Pain Therapy System is excellent and offers much more pain relief than a typical TENS unit. However, the gel pads are overly priced for the poor quality, and the traveling foot therapy pads aren't worth the pain for tender feet.

Bottom Line: Yes, I would recommend this to a friend

---

They do not give all your money back when you return it

By Anna V.

,

Galloway, NJ

,

Jul 22, 2019
Verified Reviewer

Overall Experience:

I am senior on a fixed income. I thought this would work but it has not. I returned on July 1 and they charge a fee for returning the product, which I knew I had to pay for shipping it back. I paid $159.00 so on the payment plan I only got back $102.00. I think they are ripping people off. They charge you for their shipping, for shipping the product out to you. Do not buy this product, it does nothing for you.

Bottom Line: No, I would not recommend this to a friend

Aug 6, 2019

Hello Anna, we are sorry that you did not get the relief you were searching for. As per your call with our team, we noted that we do offer a full refund, less the shipping cost. This policy is stated on our website, and was also explained during our call to you. I see that you were refunded on July 5th for $205.95 and were NOT charged a restocking fee. Kindly verify with your credit card company the amount you received back, as our records show that you received a full refund less the cost of shipping.

---

Be careful when you buy the circulation promoter

By Raylene S.

,

Colorado

,

Apr 30, 2019
Verified Reviewer

Overall Experience:

Be careful when you buy the circulation promoter. You cannot return this even when you break the seal! What a rip off. I just turned on the circulation part for the feet. Because I did this, I can no longer return. So how are you supposed to test it, because when you test it, it is not returnable. How are you supposed to test a product and then not to be able to return this! What a rip off!

Bottom Line: No, I would not recommend this to a friend

Apr 30, 2019

Hi Raylene, we are sorry to hear you had issues with this unit, however, our Return Policy covers a 90 day period when you purchase directly from us. https://drhonow.com/en_ca/90-day-money-back/

I encourage you to call our Customer Care team at 1-877-374-6669 to resolve this issue, as you can certainly return after you have used the unit, provided it is within out 90 days.

If you purchased from another retailer, you would have to abide by their return policies, as we can not control other retailers return policies.

---

Absolutely love it.

By Daniel S.

,

Joliet, IL

,

Mar 19, 2019
Verified Reviewer

Overall Experience:

I just got it today from HSN. I must say I am completely satisfied. I have spent the day trying the different attachments and finding my settings. I have not felt this tense free since high school. The foot pads work magnificently. Aches and pains are gone that I didn't even realize I had. I will definitely be keeping an eye out for more of Dr. Ho's products. Thank you for what is probably going to be the best night sleep I have had in a while.

Bottom Line: Yes, I would recommend this to a friend

Mar 21, 2019

Hi Daniel! Thank you so much for letting us know how much you love it! We are so glad that you are feeling pain-free and sleeping well!

---

Awful

By Natty P.

,

Canada

,

Feb 19, 2019
Verified Reviewer

Overall Experience:

I was sent a faulty remote. It stopped working after months and they expect me to pay $25 plus shipping. SCAM, I will never buy stuff from TV again.

Poor business. Customer service does not understand English at all.

Bottom Line: No, I would not recommend this to a friend

Apr 30, 2019

Hi Natty, sorry to hear you had an issue with your remote. We have a 1-year warranty for our products. If you have your receipt, we can repair/replace your unit.

---

Great product

By Dianne C.

,

New Zealand

,

Jan 20, 2019
Verified Reviewer

Overall Experience:

I've used this product for years, bought more gel pads, no problem. I'd never used gel pads dampened, made them dry first. Neighbour borrowing tens as she has nerve damage and numbness in foot, today she has done feeling in foot. Looking to buying a machine for herself.

Bottom Line: Yes, I would recommend this to a friend

Mar 5, 2019

We are glad to hear that you are enjoying our unit! We do recommend spraying the pads with water before and after as it helps conduct the electricity, and the pads will last longer!

---

Works wonders!

By Susan S.

,

Alabama

,

Nov 27, 2018
Verified Reviewer

Overall Experience:

I have purchased the Dr. Ho's TENS Unit and was so glad! It's user-friendly, easy to figure out. The TENS Unit was able to reach the intensity close to that which the chiropractor's office had! This is much better, it is there when you need, and is rechargeable like a cell phone! It gave me the quality of life, until last week when a friend came over with a friend - who stole it! I have been devastated! They knew I have cancer and severe back problems that is painful with other chronic pain conditions. Oh, please note, if you have a heart defibrillator, etc. - you cannot use a TENS unit.

Bottom Line: Yes, I would recommend this to a friend

Mar 5, 2019

We are glad to hear that the unit worked for you, but we hope you get it back from your friend soon!

---