Dr. Marty ProPower Plus Reviews
Claimed This company has claimed this profile, is getting alerted on any new customer reviews entering this page, and may engage in dialogue with its customers to address their matters.

Companies cannot pay money or provide goods in order to remove or alter customer reviews.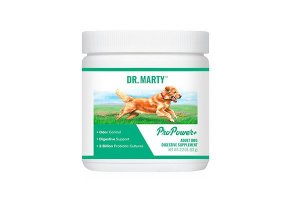 The formula found in Dr. Marty's ProPower Plus combines two billion CFU of four beneficial bacteria strains with enzymes and other ingredients that could help improve your dog's health.
---
Can't use this product on my dogs

By Lynn B.

,

Tennessee

,

Dec 24, 2019
Verified Reviewer

Overall Experience:

I ordered this product thinking that it would help my senior Weimaraner and my Yorkies. It gave my Weimaraner diarrhea, and gave the Yorkies bloody poop. I stopped giving this to them immediately. Once I stopped the Yorkies' bloody poop went away, but I had to take the Weimaraner to the vet. It might work for some dogs, but not mine. I ordered three bottles. I have one partially used bottle, and the other two are unopened. I need to return these. Please give me information on returning, and getting my refund.

Bottom Line: No, I would not recommend this to a friend

Dec 24, 2019

Hello Lynn. My name is Kat and I am with Dr. Marty Pets. I am sorry to read about your experience with ProPower Plus. Your dogs' reaction to ProPower Plus is not typical and I would like more information on your situation. Please email me at kat@drmartypets.com so that we may investigate further. I would also like to offer you a full refund for your purchase without any need for return. Dr. Marty Pets always advises our customers to consult their pet's veterinarian prior to making any changes to their daily regimen, as results may vary. I would like to apologize again for your experience and I look forward to hearing from you.

---

ProPower Plus

By Gene W.

,

Beaver, PA

,

Dec 23, 2019
Verified Reviewer

Overall Experience:

Luxie is a ten-year-old Pit Bull. She is halfway through her second jar and her alertness, playfulness, and overall interest in other dogs and people is amazing. Luxie should be the poster child for any Pit Bull doubters. She is a happy and healthy girl with no elimination problems. We credit ProPower Plus for her positive attitude and her love of life! Thank you, Dr. Marty.

Bottom Line: Yes, I would recommend this to a friend

---

ProPower digestive supplement

By Lori G.

,

Rhode Island

,

Nov 22, 2019
Verified Reviewer

Overall Experience:

My 12-year-old shepherd lab mix, although healthy, was experiencing gas, bad breath and belly bloating. He has been on ProPower for three weeks and so far, the bloating and gas have significantly improved and his breath is also getting better.

Bottom Line: Yes, I would recommend this to a friend

---

Did absolutely nothing for my dog

By Paula K.

,

Connecticut

,

Nov 22, 2019
Verified Reviewer

Overall Experience:

Ordered 3 bottles. Used one completely, as was told it takes time. After 2 months of "takes time" there was no improvement to be seen by me in coat, energy, pain control or enjoyment of eating...In fact, the first week he often refused the food, though I noticed no scent change in the product being added, but then, that's why I am a human and he is a dog. Customer support sends out "boilerplate" answers, but, if you keep on them, a real person answers. Bottom line here. It did not work for us, and I had such high hopes for him.

I am sending back in the hopes of them honoring their guarantee of a full refund minus any shipping charges.

Bottom Line: No, I would not recommend this to a friend

Nov 22, 2019

Hello Paula. I am sorry to read about your experience with ProPower Plus. We have many satisfied customers, but we understand that we may not be the right choice for everyone. We always advise our customers to consult their pet's veterinarian prior to making any changes to their daily supplement regimen, as results may vary. Please email me at kat@drmartypets.com if you would like any assistance with the returns process. Thank you for taking the time to share your thoughts. We genuinely appreciate your feedback. I wish you and your pup a wonderful day.

---

Advertisement

---

The probiotic powder

By Cyndy S.

,

Sparks, NV

,

Nov 21, 2019
Verified Reviewer

Overall Experience:

I tried the powder because my beagle was eating grass all the time. I saw the video and wanted to try it.

She has been eating it now for three weeks and, I notice she doesn't run to eat grass now at all.

Bottom Line: Yes, I would recommend this to a friend

---

Stomach issues are a thing of the past

By Judy C.

,

Tracy, CA

,

Nov 19, 2019
Verified Reviewer

Overall Experience:

Our Border Collie just turned 8 years old and has been bothered with a sensitive stomach since we adopted him at 9 months old. Stomach issues were problematic from the start. He would frequently wake us up in the middle of the night retching his dinner. Sometimes he would have red vomit, like blood. We would take him to the vet and nothing was found to be a medical issue. Many times he was eating berries from the neighbor's tree or plums that had fallen from our trees. Regardless of the cause, he was miserable. Once his stomach was emptied, he was back to his loving, playful self. We decided to try Dr. Marty's ProPower Plus. It has been almost two months since we started using ProPower Plus and there has not been one nighttime or daytime throw up. No more visits to the vet for his stomach issues. It has been a god-send. We comfortably recommend ProPower Plus to try.

Bottom Line: Yes, I would recommend this to a friend

---

Awesome food

By Wendy F.

,

North Carolina

,

Nov 18, 2019
Verified Reviewer

Overall Experience:

My dog was diagnosed with pancreatitis and we almost lost her. Dr. Marty's food has done wonders for her and my whole pack loves it. Thank you Dr. Marty, and my 3 dogs thank you as well.

Bottom Line: Yes, I would recommend this to a friend

---

Two dogs are like puppies

By Aidea S.

,

Tucson, AZ

,

Nov 18, 2019
Verified Reviewer

Overall Experience:

We have two dogs on ProPower Plus and your food and both dogs are like puppies again. One of our dogs is a ten-year-old Border Collie who was starting to act a bit older and we have been giving him your food and ProPower Plus and he's waking my husband up earlier every morning along with our four-year-old who was experiencing canine epilepsy. Since we have had her on your food (and Keppra) we have not had any seizures in 3.5 months and I know it's due to the food change! And our dogs are real pooping machines! So many people tell us they bathe their dogs all the time, we never bathe our dogs and their coats are just beautiful! They smell wonderful, they shine, and they are very happy dogs that love to go on walks, play and we love our dog family! We highly recommend ALL your dog products!

Bottom Line: Yes, I would recommend this to a friend

---

ProPower Plus

By Ina G.

,

Robertsdale, AL

,

Nov 18, 2019
Verified Reviewer

Overall Experience:

I have two poms. Both are over 10 years of age and both have cataracts. Both have had very sensitive stomachs. I had been making chicken and rice for them for some time, but they couldn't even tolerate that any longer. I started them on Pet Fresh about three months ago and that made an immediate difference - they were no longer throwing up or passing bloody stools. But they were still lacking energy. I decided I would try ProPower Plus and it has definitely made a difference. They are more active than they have been in quite a while. Thank you for ProPower Plus. It is making their lives a lot better.

Bottom Line: Yes, I would recommend this to a friend

---

Good

By Margaret G.

,

Melbourne, FL

,

Nov 16, 2019
Verified Reviewer

Overall Experience:

My dog is a Black Mouth Cur. Name is Shelia, 7 and 1/2 years old. She's my rescue after I had to put my chocolate lab down after 12 years.

Shelia is doing good on ProPower Plus. It took a couple of days but really enjoys it.

Bottom Line: Yes, I would recommend this to a friend

---

Buster's eating habits have changed!

By Jeffrey S.

,

Florida

,

Nov 13, 2019
Verified Reviewer

Overall Experience:

Before I started giving my dog, Buster (a long-haired Dashound) Dr. Marty's ProPower Plus, Buster would ignore me bringing him his food, we had to coax him most of the time to eat and now since we put this product in the same dog food he just about asks for his supper, his attitude also seems more positive and he likes playing more often. I am convinced about Dr. Marty's research and his product, so far it has been very good.

Bottom Line: Yes, I would recommend this to a friend

---