Dr. Marty ProPower Plus Reviews
Claimed This company has claimed this profile, is getting alerted on any new customer reviews entering this page, and may engage in dialogue with its customers to address their matters.

Companies cannot pay money or provide goods in order to remove or alter customer reviews.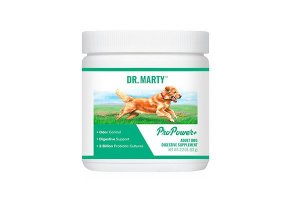 The formula found in Dr. Marty's ProPower Plus combines two billion CFU of four beneficial bacteria strains with enzymes and other ingredients that could help improve your dog's health.
About Dr. Marty ProPower Plus
Each dose of Dr. Marty's ProPower Plus contains a blend of 14 health and digestive ingredients which allegedly delivers a long list of dog-friendly benefits, regardless of breed, age, or size.
The company states that this supplement may improve digestion, increased energy and alertness, boosted immune function, healthier teeth, less anxiety and nervousness, scratch-free skin, and a healthier, shinier coat.
To use, put one scoop of ProPower Plus's easy-to-serve powder over your dog's food or a favorite snack, once per day. From there, Dr. Marty tells us your pooch's health will be supported from nose to tail.
Your dog is part of your family, so you want to ensure they're as happy and healthy as possible. But, does your four-legged friend need a dietary supplement and is Dr. Marty's ProPower Plus necessarily the best option for maximizing value?
We'll answer those questions by telling you what's in this supplement, what science says about dog supplements and, specifically, probiotics, as well as how much the supplement costs and how it compares to similar products.
Dr. Marty's ProPower Plus Ingredients and Nutrition Details
The supplement facts label listed on Dr. Marty's website indicates that ProPower Plus contains the following ingredients:
Super Pet probiotic-enzyme blend 1,000 mg or 2 billion CFU – Protease, Amylase, Cellulase, Hemicellulase, Lipase, Papain, Bromelain, Bacillus coagulans (SEBIOTIC®), Lactobacillus acidophilus, Bifidobacterium lactis/longum, Lactobacillus plantarum, and Fructooligosaccharides (DigebSEB®), Gum Acacia, Cellulose Plant Fiber
Champignon mushroom extract 80 mg
Kelp (Ascophyllum nodosum) thallus powder (Organic) 60 mg
The website also lists these nutrition details:
Crude Protein (min) 10.4%
Crude Fat (min) 0.31%
Crude Fiber (max) 28.1%
Moisture (max) 9%
Probiotics (min) 2 billion CFU/g
Using these numbers as a guide, Dr. Marty's recommends the following serving sizes, based on your dog's weight:
| | |
| --- | --- |
| Dog Weight | ProPower Daily Serving Size |
| 1 - 10 lbs | ½ scoop |
| 11 - 35 lbs | 1 scoop |
| 36 - 55 lbs | 1 ½ scoop |
| 56 lbs+ | 2 scoops |
Outside of the ProPower Plus's probiotic content, we're left with two remaining ingredients: 80 mg of Champignon mushroom extract and 60 mg of kelp thallus powder.
There are no available third-party online articles or clinical support indicating that Champignon ("white button") mushroom or kelp are specifically beneficial for humans or dogs.
However, mushrooms are high in fiber and protein, while both it and kelp contain vitamins and minerals like selenium, potassium, copper, zinc, iodine, magnesium, iron, and calcium.
Can Dogs Benefit from Taking Dietary Supplements?
According to WebMD, the typical processed dog food delivers enough vitamins and minerals for your dog:
"Most dogs receive a complete and balanced diet - including necessary vitamins and minerals - from commercially processed dog food, according to the FDA. Dogs fed a homemade diet may need supplements."
WebMD goes on to emphasize that if your dog already receives adequate nutrition, supplementing with additional vitamins or other ingredients can actually harm their health, rather than boost it.
What about from an effectiveness perspective? We talked with Dr. Dawn M. Booth, director of the clinical pharmacology lab at the Auburn University College of Veterinary Medicine, to get an answer.
"It's hard finding quality evidence for the efficacy, much less the need, for these products," Booth told us.
To help you decide whether or not your dog requires supplementation, as well as assistance choosing the best product (if any at all) while avoiding side effects and medication interactions, it's essential that you talk with your veterinarian beforehand.
Can Dogs Benefit from Taking Probiotics?
Canine-oriented probiotic supplements are very popular with some veterinarians and that a great deal of anecdotal evidence exists to support their benefits.
Furthermore, the AKC advises there are also several one-off clinical trials indicating that probiotic supplementation could—like in humans—enhance immune response, reduce diarrhea, and eliminate the need for antibiotics in dogs.
Potential Side Effects Related to Dr. Marty's ProPower Plus
Like humans, dogs can take probiotics without the risk of series side effects.
"We want to use things that are safe long-term. Probiotics fit that bill," WebMD points out.
The Pet Health Network reports that mushrooms sold in large-chain grocery stores aren't toxic to humans or dogs, which includes the mushrooms used to make this supplement.
Again, it's essential to talk with a veterinarian before giving your dog any supplements to help avoid potential side effects or interactions.
How Much Does Dr. Marty's ProPower Plus Cost?
How much you pay for ProPower Plus supplement depends on which Dr. Marty's site you order from. For example, if purchased from TheCanineCode.com, customers will pay:
1 jar: $49.95
3 jars: $134.85 ($44.95 per jar)
6 jars: $239.70 ($39.95 per jar)
If ordered from Dr.MartyPets.com, though, prices increase to:
1 jar: $69.95
3 jars: $188.85 ($62.95 per jar)
6 jars: $356.70 ($59.45 per jar)
Both sites offer free shipping and 90-day money-back guarantees, less the cost of return shipping. Customers can request one by calling 800-670-1839 or sending an email to support@drmartypets.com.
Are There Other Dog Supplements Like Dr. Marty's ProPower Plus?
There are a lot of canine probiotic supplements competing with Dr. Marty's ProPower Plus, many of which advertise the same general benefits.
They also share many of the same probiotic strains, prebiotics (food for the bacteria once they reach your gut), additional ingredients, and suitability for all ages, sizes, and breeds.
Their differences largely come down to pricing, formats, and specific formulations. Here were some of the top-rated options on Amazon at the time of our research:
| | | | |
| --- | --- | --- | --- |
| Brand | Price (Amazon) / Cost Per Serving | Format | # of Strains / CFU |
| Dr. Marty's ProPower Plus | $49.95 / $0.83–$3.33 | Powder (scoop) | 6 / 2 billion |
| Purina Pro Plan FortiFlora | $27.99 / $0.93 | Powder (sachets) | 1 / 100 million |
| Zesty Paws Probiotic Bites | $25.97 / $0.29–$0.87 | Soft chews | 5 / 3 billion |
| Nusentia Probiotic Miracle | $39.99 / $0.11–$0.22 | Powder (scoop) | 6 / 360 billion |
| Advita Probiotic Supplement for Dogs | $17.59 / $0.59 | Powder (packets) | 4 / 200 million |
| NutraPet Probiotics for Dogs | $19.97 / $0.17–$0.67 | Chewable tablets | 3 / 200 million |
Like with humans, some formulas might work fantastically for one dog, but not at all for another.
Also, dogs can be picky eaters, too, so you might need to try more than one formula and format (powder, chewable, etc.) before landing on one that agrees with your pooch.
So, looking at these options through a price-per-dose lens, if you own a dog that weighs more than 56 lbs., Dr. Marty's ProPower Plus costs more than three times the next highest competitor, FortiFlora.
Dr. Marty's is cheaper than FortiFlora for dogs who weigh less than 10 lbs., but, even at this end of the spectrum, ProPower Plus is priced nearly eight times higher than the lowest-cost option, Nusentia.
» Recommended Reading: Dog Supplements 101: A Detailed Beginner's Guide
Bottom Line
Based on our thorough research of probiotics, and taking into account the commonalities between probiotics for humans and probiotics for dogs, there are four important reminders as you consider buying this dog supplement:
Making sure the manufacturer lists all bacteria strains and ingredients, including their CFU counts and concentrations
Checking online customer reviews, along with organizations like the Better Business Bureau, to ensure the company has mostly positive feedback
Browsing sites like ConsumLab.com and the Natural Medicines Database to learn if the specific formula has undergone testing, and if so, what the results were
Verifying the company offers a reasonable return policy (at least 30 days), with no restocking fees
Looking at ProPower Plus with these guidelines in mind, the company clearly lists all ingredients and concentrations on the supplement's label, and the formula comes with wholly positive customer reviews on Dr. Marty's website.
It hadn't undergone testing at the time of publishing, but the company stands behind its product with a three-month return policy, which should be more than enough time to figure out if it delivers maximum value for your dog.
---
Dog refuses to eat it

By Ernesto M.

,

Dallas, TX

,

Jun 23, 2020
Verified Reviewer

Length of Use: Less than 3 months

Overall Experience:

I bought this in hopes of helping my dog with his itching, bad breath, and digestion. All it did was give my dog diarrhea and he refuses to eat it anymore. It's only been a week. Also, when buying the products it offered me a deal to buy three more containers, apart from the one I planned to buy, and said I'll be paying $85 for four containers on a $200 deal. They lied. They ended up charging me $140, felt like a scam.

Pros and Cons:

Easy instructions to follow
Fast delivery
Refuses to eat his food
Gave my dog diarrhea

Bottom Line: No, I would not recommend this to a friend

Jun 23, 2020

Hi Ernesto. My name is Kat and I am with Dr. Marty Pets. I am sorry to read that your dog has experienced diarrhea after trying our ProPower Plus. This is not a typical reaction and we would like more information. Please email me at kat@drmartypets.com so that we may assist you as soon as possible. We will also look into this pricing issue so that we may determine what happened. We offer additional deals to our customers so that they may take advantage of the discounts. These deals are billed in addition to the original order, and do not replace the original order. Again, I apologize for your experience and Dr. Marty Pets is committed to making this right. I wish you and your pet a wonderful day, and I am looking forward to hearing from you soon.

---

What a disappointment

By Laurie C.

,

Kalamazoo, MI

,

Jun 16, 2020
Verified Reviewer

Length of Use: Less than 3 months

Overall Experience:

Take heed to other reviews regarding the amount you receive. I wish I had looked into this product further. My dog eats lots of grass on our walks so I thought I should try this, not realizing eating grass was a symptom of digestion problems. So, I ordered this product for the $50 price tag. Shocked when I saw the amount. Very small container, not even half full. The amount needed daily for my size dog would make this product lasting less than a month. For that price, I'm thinking she will develop wings to fly! Won't buy again and wish I hadn't wasted my money. Because if it does work I would never continue on this for $50 plus per month.

Pros and Cons:

No "pros" were specified in this review
Price for amount

Bottom Line: No, I would not recommend this to a friend

Jun 17, 2020

Hello Laurie. My name is Kat and I am with Dr. Marty Pets. I am sorry to read your review of our ProPower Plus. All jars of ProPower Plus come with thirty scoops and are not filled to the top to prevent the powder from packing. We provide information on the recommended number of scoops by weight on our official website so that customers may make the best choice. As a courtesy, I would like to offer you a full refund on your purchase for your trouble. Please email me at kat@drmartypets.com so that I may get started on this right away. We understand that we may not be the best choice for every dog owner and we truly appreciate your feedback. I wish you a wonderful day and I look forward to hearing from you soon.

---

Pros and Cons of ProPower Plus powder

By Doreen K.

,

Graham, WA

,

Jun 9, 2020
Verified Reviewer

Length of Use: 3–6 months

Overall Experience:

I've been using the ProPower Plus Powder for about 3-4 months now for my two 12-year-old lab/Shepard mix rescues. I have seen a difference in the playfulness and more engagement of interest, though not much of a difference in the gas, and oh boy, it can clear a room. The bad breath that we were hoping the powder would address, it did not. Also the price, well, I hate to say that with two dogs I cannot afford Dr. Marty's price, I am not Oprah Winfrey or the other wealthy celebrities that Dr. Marty is so proud to say that he has serviced their dog's needs, so I am now in search of one that will be reasonably priced. It's not that I don't love my furry babies, I'm just not a rich person.

Pros and Cons:

Some health improvement
Overpriced, unaffordable to help multiple dogs

Bottom Line: No, I would not recommend this to a friend

---

I would not tell a friend to buy this

By Bonnie L.

,

Iowa

,

May 21, 2020
Verified Reviewer

Overall Experience:

I received my jar of ProPower Plus today and I couldn't believe my eyes at how small that jar is for the exorbitant price. It all looks like it could fit into a one-cup measure! I don't believe anyone can say they love animals, put out a gloom and doom video about pets not living long lives without this miracle powder, charging an arm and a leg for this stuff, and then sending this miniature jar of it to unsuspecting victims who just love their pets. Many of us are on a fixed income and can not afford this added expense per month no matter how much we love our pets...You should be ashamed, Dr. Marty.

Bottom Line: No, I would not recommend this to a friend

May 26, 2020

Hello Bonnie. My name is Kat and I am with Dr. Marty Pets. Every jar of ProPower Plus comes with thirty servings. Jars are not filled to the top to prevent overpacking and to allow for settling during the shipping process. As a one-time courtesy, I would like to offer you a full refund on your order. Please email me at kat@drmartypets.com so that I may get started on this right away. I wish you and your pup a wonderful day, I look forward to hearing from you soon.

---

Advertisement

---

Mixed review

By Betsy K.

,

Alabama

,

May 13, 2020
Verified Reviewer

Overall Experience:

Our Goldendoodle, Buster, has been taking ProPower Plus for about a month. He's finished the first jar and started on the second. He seems to really like it; however, I'm wondering if he may be allergic to some of the ingredients. He has started scratching quite often and he doesn't have fleas. The only thing that has changed in his diet is the addition of ProPower Plus.

Bottom Line: Yes, I would recommend this to a friend

May 15, 2020

Hello Betsy. My name is Kat and I am with Dr. Marty Pets. While I am happy to read that your dog likes our ProPower Plus, I would like more information about your dog's current reaction. We always advise our customers to consult their veterinarian prior to making any changes to their dog's daily regimen, as results may vary. Please email me at kat@drmartypets.com so that we may have more information to assist you. I wish you and Buster a wonderful day and I look forward to hearing from you.

---

Overall Experience:

My senior dog often has soft/loose bowel movements, bad hips, coat is dull. I watched Dr. Marty's video all the way through and decided to buy the three jars of the ProPower. My dog would not eat her food when I put the two scoops in it, I tried it for days using the two scoops, I stuck with it until one of the jars was gone which actually was not very long, but now I have given up. I gave her food without the powder and she would eat that food. I am sad as I really hoped my doggo would be one of the ones that benefitted from this product.

Bottom Line: No, I would not recommend this to a friend

May 15, 2020

Hi Jacqueline. I am Kat with Dr. Marty Pets. I am sorry to read about your experience with our ProPower Plus. We have many satisfied customers who have seen great results, but we understand we may not be the best choice for every dog. Dr. Marty Pets always advises our customers to consult their veterinarian prior to making any changes to their dog's daily regimen, as results may vary. Dr. Marty Pets is proud to stand by our ninety-day money-back guarantee for all returns. Please email me at kat@drmartypets.com for more information and assistance with the return process. We genuinely appreciate your feedback. I wish you and your pup a wonderful day.

---

Response to supplement

By Gina C.

,

Orlando, FL

,

Apr 10, 2020
Verified Reviewer

Overall Experience:

I have a 17-month-old American Staffordshire and Doberman mix. I have had him since he was about 4 months old. He was a stray I found that I believe was dumped. I also have a 14-year-old mix breed. I started both of them on the ProPower Plus 2 days ago. My 14-year-old seems to be tolerating it so far although she did eat grass tonight and her stool was a little loose. She has very bad hip dysplasia and bad knees and her coat is very dull. My 17-month-old has vomited twice so far. The first time was undigested food that he vomited about 4 hours after he ate. Tonight he vomited on me, it was liquid with some specks of undigested food in it, again about 4-5 hours after eating. He was on a homemade raw food diet that I do cook. But as he has gotten bigger it became too expensive. So he is now on half Blue Wilderness Basics and half homemade raw food cooked. He was on FortiFlora and seemed to do well with it. I felt like he needed a supplement due to the raw food diet. He doesn't wretch when he vomits, it just seems to come out of him. He is getting 2 scoops a day split between his 2 meals. He's a very active dog. I'm a little concerned about the involuntary vomiting. My 14-year-old so far seems ok. Is this something to be concerned about? Order# DP1156453. Will this correct itself and continue with the same dose? Not sure what to do? Please help.

Bottom Line: No, I would not recommend this to a friend

Apr 23, 2020

Hi Gina. My name is Kat and I am with Dr. Marty Pets. I am sorry to read about your dog's reaction to our ProPower Plus. Dr. Marty Pets always advises our customers to consult their pet's veterinarian prior to making any changes to their dog's daily routine, as results may vary. I see that you have been issued a full refund for your order. I apologize for your experience and I wish you the best of luck in the future when searching for the proper product for your dogs. I wish you and your family a wonderful day.

---

A question

By Dawn H.

,

Tyler, TX

,

Apr 3, 2020
Verified Reviewer

Overall Experience:

A question - We just started giving our 11-year-old Maltipoo the ProPower Plus in hopes it will help her not eat grass and not itch or lick her paws. Can we split the dose and give 2 times a day instead of once? She loves the flavor and eats all her food when it is on it. Will it work the same? Hoping to give a 5-star review if this works. Also, how long does it take to see a difference?

Bottom Line: Yes, I would recommend this to a friend

---

Dog won't go near her food

By Paul S.

,

Rhode Island

,

Apr 2, 2020
Verified Reviewer

Overall Experience:

I just received my order today and my dog will not even go near her food, never mind eat it. I spent a lot of money and I can't believe she won't go near it. I had hoped that this would work for her as she is our family. I don't think it's a bad product, maybe it has a smell that she picks up on, she is 4 years old, and been in the same food since we took her off puppy food. I hope that I will be able to return the product since she won't touch it, had really hope it would work.

Bottom Line: No, I would not recommend this to a friend

Apr 3, 2020

Hello Paul. I am Kat with Dr. Marty Pets. I am sorry to read that your dog is not interested in our ProPower Plus. We have many customers whose canines have seen great results, but we understand that we may not be the best choice for everyone. Dr. Marty Pets advises our customers to consult their pet's veterinarian prior to introducing any new supplements into their pet's daily regimen, as results may vary. Dr. Marty Pets is proud to stand by our 90-day money-back guarantee. Please email me at kat@drmartypets.com for assistance with the return process. Thank you for sharing your review. I wish you and your pup a wonderful day, and I look forward to receiving your email.

---

Amount per

By John B.

,

Illinois

,

Mar 11, 2020
Verified Reviewer

Overall Experience:

I purchased 3 jars of the ProPower Plus for my son's dog. The amount of each jar was VERY disappointing to say the least. He is a 57-pound Pit Bull Mt. Cur mix. Two scoops a day won't last long. The jars were not even quite a third full. I could have put all three jars into one. I took a picture of the jar but no way to post on here. Have not had the product long enough, but can't afford to give to him every day. So I don't know the effects yet. Why waste plastic when all three jars could have been put into one. You think you are getting a lot. I opened the first one and thinking it must have been a mistake. So I opened the second and third. No mistake, all three had less than a third to a third of the product in each. So I cannot return any. That is on me. Just wanted to warn people that if you buy 6 or 9 jars they probably could have been put into a third of the jars you buy. Like I stated before, I have not had the product long enough to see any results, just disappointed in the amount I received. I wish I could have posted a picture of the jar.

Bottom Line: No, I would not recommend this to a friend

Mar 11, 2020

Hello John. My name is Kat and I am with Dr. Marty Pets. All ProPower Plus containers are filled with 2.2 ounces of product. This product may settle during the packaging and shipment process. As each jar comes with thirty scoops, how long each jar lasts is dependent on the weight of your dog. We have posted our feeding recommendation for ProPower Plus on our official website. Dr. Marty Pets always advises our customers to consult their pet's veterinarian prior to making any changes in their daily regimen, as results may vary. Dr. Marty Pets' money-back guarantee honors all jars returned, even if they are opened and empty. If you have any questions or are dissatisfied with your purchase, I would be happy to help you. Please feel free to email me at kat@drmartypets.com. I want to thank you for your feedback. I wish you a wonderful day.

---

ProPower Plus

By Becky H.

,

Cartersville, GA

,

Dec 28, 2019
Verified Reviewer

Overall Experience:

I found Dr. Marty's presentation online one day totally by accident. After watching it, everything he spoke about resonated with the issues I had with my two small dogs. They're both old-timers, they both had bad breath and one has had surgery to remove two teeth and a loose third one was pulled. If you've ever had to have surgery to remove your pup's teeth, then you know how painful that is for them. The energy I thought they had lost due to age was another thing. One stayed bloated and the other has skin issues caused by yeast or fungus type sores. The medicine Terbinafine is dangerous to any dog's liver but was all that would help get rid of his sores along with Ketohex shampoo. Well, I immediately decided to try the ProPower Plus. It hasn't even been a month yet and already I can tell the difference.

I now have two happy, healthier dogs with energy I haven't seen in years. No more bad breath, no more listlessness, and no more bloating. I recommend this to anyone who has noticed the symptoms that Dr. Marty talks about in his presentation. ProPower Plus really works! Who knew that having gut problems would be the cause of so many things? I didn't so thank you, Dr. Marty, I'll be a customer for life!

Bottom Line: Yes, I would recommend this to a friend

---