Petlab Co. Joint Care Chews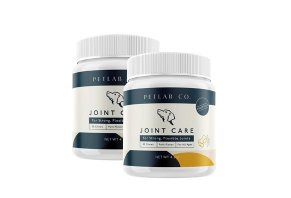 Summary
Petlab Co. Joint Care Chews dog supplement has legitimate scientific evidence backing its main ingredient but the supplement's price tag is high for a 30-tablet bottle.
Petlab Co. Joint Care Chews Review: Will It Help Your Dog?
HighYa is supported by our readers. When you buy something through a link on this page, we may earn an affiliate commission. Learn more.
Petlab Co. Joint Care Chews is a supplement for dogs that claims its mix of ingredients can ease existing joint pain and help protect your pup against future joint issues.
One in five dogs will deal with arthritis in their lifetime, the American Kennel Club notes. Because "joint pain" includes many more conditions than just arthritis, the odds are relatively high that your dog will experience joint pain at some point.
And when it happens, you'll want an effective treatment to relieve that pain. Petlab Co. says they can offer that relief through their chewable supplement.
We will analyze its claim through an in-depth review that covers how the supplement works, its ingredients and scientific efficacy, how much it costs and customer reviews.
Benefits and Dosage
Each bottle of this supplement contains 30 chews. You'll give half a chew each day to dogs 25 pounds and under, a full chew to dogs between 25 and 75 pounds, and two chews for dogs that weigh more than 75 pounds.
The supplement's label recommends that you give your dog's dosage after their meal to "reduce incidences of gastrointestinal upset."
The ingredients are claimed to help promote joint lubrication and cartilage health, strengthen connective tissue, reduce joint pain and increase joint movement and flexibility.
It means that the chews should strengthen ligaments and tendons, in addition, to lubricating joints and supporting cartilage. The result of these alleged benefits is that your dog feels less pain, has more mobility and can effortlessly exercise and play.
Analysis of Ingredients
The chews include six main ingredients:
Glucosamine: 600 mg
Green-lipped mussel: 100 mg
Salmon oil: 150 mg
Turmeric: 25 mg
Calcium fructoborate: 23 mg
To determine the efficacy of these ingredients, we reached out to Dr. Sara Ochoa, a Texas-based veterinarian, Dr. Stephanie Liff, a Manhattan-based veterinarian, as well as reliable websites like ConsumerLab.com and PetMD.
Glucosamine
Glucosamine is a prevalent chemical found in the shells of sea animals and is also derived from corn. ConsumerLab points out that its main benefit is that it can slow, "the deterioration of cartilage between joint bones...(and) may reduce associated pain."
Ochoa added that glucosamine has "been shown to help decrease joint inflammation and is a very safe option to try on your pets."
Both Ochoa and Liff agreed that glucosamine is a key ingredient for supplements that claim to promote joint health. Both of them use glucosamine-based joint-health treatments at their practice, too.
The ideal dosage for this ingredient is 500 mg for a 25-pound dog, ConsumerLab.com points out. One Joint Care Chew contains 600 mg.
Green-Lipped Mussel
These mussels are high in a particular type of fatty acid that binds to an enzyme that causes joint inflammation. For this reason, it's becoming a popular ingredient in supplements like Join Care Chews.
PetMD recommends giving 500 mg to small dogs, 750 mg to medium dogs and 1,000 mg to large dogs.
Each chew in Petlab Co. Joint Care contains 100 mg of green-lipped mussel.
Salmon Oil
Like green-lipped mussels, salmon oil contains omega-3 fatty acids that can bind up the enzymes that cause inflammation and pain.
The Colorado State University Veterinary Teaching Hospital recommends that dogs with osteoarthritis take about 310 mg of the fatty acids in salmon oil per kilogram per day.
Therefore, if you have a 50-pound dog, he or she will need to take about 3,227 mg of the fatty acids in salmon oil per day.
One chew of the supplement at hand contains 150 mg salmon oil, not the fatty acids. This means that the actual fatty-acid content in each chew is far less than what is recommended for dogs dealing with osteoarthritis.
Turmeric
While this ingredient has undergone some research on the human side to determine if it can soothe joint pain, veterinarian Dr. RuthAnn Lobos told Purina in an interview that turmeric "hasn't been studied extensively in pets."
The one study we found in the U.S. National Library of Medicine indicates that turmeric could help with pain in dogs but only when combined with collagen and green tea extract.
The study used a proper methodology to ensure accurate results (double-blind, placebo-controlled and randomized) but was funded by Royal Canin, a dog-food manufacturer. This conflict of interest undercuts the credibility of the study.
Calcium Fructoborate
Ochoa told us that this ingredient has various benefits proven in research.
"Studies show that calcium fructoborate helps decrease the physiological response to stress, including inflammation of the mucous membranes, discomfort associated with arthritis, and bone loss, and also for supporting cardiovascular health," she said.
One of those studies noted that, after 28 days of treatment, dogs who received doses between 69 mg and 127 mg, "had an improved ability to rise from a lying position compared to the placebo."
The important takeaway here is that the doses used in the study exceed what your do would get from a daily serving of Petlab Co. Joint Care Chews (a maximum of 50 mg).
Side Effects
The research and analysis we looked at indicated that your pets may experience intestinal discomfort from glucosamine.
Dogs with seafood allergies could have issues with the glucosamine because it's derived from sea life. The green-lipped mussels could pose problems, too.
Pricing and Return Policy
The company prices its supplement in two ways: one-time purchase and subscription. The following is a price list available at the time of publishing, with the one-time price first and the subscription price second:
One bottle: $42.29 or $31.72
Two bottles: $65.82 or $49.37
Three bottles: $95.24 or $71.23
Four bottles: $127 or $95.25
You can choose between a monthly, every-two-months or every-three-months subscription. You can cancel your prescription at any time by emailing contact@thepetlabco.com.
Petlab Co. also sells its supplement on Amazon.
If you'd like to return your supplement, you have 30 days to make your return. You'll have to call Petlab Co. at (941) 217-1456. The company says they can refund your money or offer you an exchange.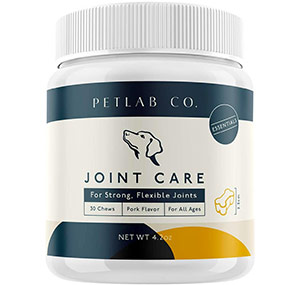 Buy Petlab Co. Joint Care Chews from Amazon:
Petlab Co. Joint Care Chews costs $32.95 for one bottle. Shipping is free. It is rated 4.2-stars based on over 1,200 customer reviews.
Takeaways from Customer Reviews
This supplement's availability on Amazon has produced more than 400 reviews for an average rating of 4.1-stars.
The majority of the reviews are positive, with many reviewers saying the chews helped their dogs become more mobile.
Many of the complaints focused on diarrhea, which matches the common side effects of this supplement's ingredients.
The Bottom Line: Is It Worth It?
The strength of this supplement is that its main ingredient is the scientifically-supported glucosamine. The dosages found in each chew exceed the suggested daily dosage for efficacy while other ingredients in the chews fall short of what's suggested for daily intake.
This ingredient is most likely why customers indicated the supplement helped improve their dog's flexibility and movement.
As for cost, Petlab Co's supplement is expensive compared to Cosequin Maximum Strength, the top-rated Amazon glucosamine supplement for dogs. Cosequin contains 132 tablets for $34.95. The per-tablet glucosamine dosage is the same as Petlab Co. Joint Care Chews.
However, Cosequin calls for three daily tablets for dogs weighing more than 60 pounds, whereas Petlab Co's supplement calls for two tablets. Despite the dosage differences, Cosequin will last nearly three times as long.
Customer Reviews
Our Promise to You
In order to safeguard you and ensure helpfulness and relevance, our compliance team manually assess every customer review before it goes live.
We have a zero-tolerance policy for fake reviews, and companies cannot control or alter any reviews at any time.