Petlab Co. Dental Formula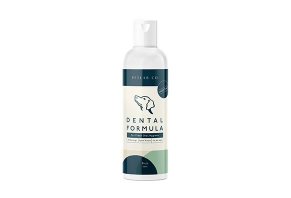 Summary
Our research indicates that Petlabs Co. Dental Formula has all the right ingredients to boost your pet's oral health. However, its high price tag will make the product cost you as much as seven times more than similar products.
Petlab Co. Dental Formula Review: How Well Does It Work?
HighYa is supported by our readers. When you buy something through a link on this page, we may earn an affiliate commission. Learn more.
About Petlab Co. Dental Formula
Petlab Co. Dental Formula is a liquid dental wash you put in your dog's water to improve his or her dental health through a combination of ingredients.
The product is one of several that Petlab sells, all of which focus on pet health. The company claims all its products are made in the United States and come with a 90-day money-back guarantee.
In our review of Petlab Co's dental wash, we'll examine how to use it, what its ingredients are and what they do, potential side effects and any evidence supporting the effectiveness of dental washes for your pup's dental health.
We'll include a few quick comparisons between this product and other dental washes that receive excellent reviews from Petco.
Pro tip: Petlab's branding of this product focuses on dogs but they say it's safe for cats, too.
How to Use Petlab Co. Dental Formula
The company directs you to use 1 teaspoon of their dental wash per 8 ounces of water once a day for your dogs. If you use one teaspoon a day, you should be able to get 48 teaspoons out of each 8-ounce dental wash bottle.
Dental Formula's Ingredients
This dental product uses three main ingredients: sodium bicarbonate, potassium sorbate and sodium benzoate. The product's main ingredient is purified water, and it also includes stabilized chlorine dioxide, tetrasodium EDTA and methyl paraben.
The three main products work together to protect your dog's teeth and gums from plaque, which can lead to periodontal disease. The America Kennel Club notes that periodontal disease is the "most common clinical condition" seen in adult dogs. The dental wash also freshens your dog's breath, the company claims.
The company also says that their dental wash can ward off microbial germs that can work their way into your dog's gums. The wash does this through EDTA.
While there isn't much research about this product as it relates to dogs, we did manage to find one study that addresses it. That study indicates that EDTA acts as a protective barrier in dogs' ears. In human uses, the ingredient puts a protective film over the teeth and protects them from germs, the study noted.
So, we believe there's some loose evidence indicating EDTA could protect your dog's teeth but we don't believe the evidence is conclusive.
Dental Formula Scientific Efficacy
While I don't have any experience using Petlab Co.'s dental wash, I can attest to the effectiveness of dental washes in freshening your pup's breath. I bought one from Target and used it on my foul-mouthed terrier, whose breath freshened with a few days of giving him a daily dose of dental wash.
That being said, the research we've done indicates there are differing opinions about how effective dental washes are in improving your dog's dental health.
For example, Danielle Mühlenberg, founder of dog training and behavior blog Pawleaks, said that dental washes can be effective.
"Dental washes do help with keeping a pet's mouth clean," she said. "They soften tartar and get rid of any plaque on the teeth to promote healthy gums. Oral ailments like gingivitis can be prevented and the breath kept fresh."
Dr. Sara Ochoa, a veterinarian and consultant for DogLab.com, told us that dental washes are effective to a certain extent.
"They help if your dog does not already have tons of heavy tartar build-up on their teeth. For dogs will very bad dental disease they will need a dental cleaning done at the vet's office just like people get," Ochoa said.
However, Joseph Braha, CEO of online pet-product marketplace Pet Life, told us that pastes and gels are far more effective in helping with your dog's dental health.
"Most of the dental washes have been saturated with water. Most of the dental washes have been saturated with water," Braha told us. "These water additives are not as effective as they claim they are. Most of them are very diluted with water."
As an alternative, Braha told us that dog owners should consider pastes, gels and dental chews.
"Dental chews get into the teeth a lot better. And, anything that's a gel (or paste) is more highly concentrated because it's not diluted in water," he said.
Customers on his site prefer gels, pastes and dental chews to dental washes, too. As for brands he recommends based on what sells best on his site and what his customers like, TropiClean is the favorite, he said.
We'll mention this brand's dental wash in our comparison section later in this review. For now, we want to address the possible side effects of using a dental wash.
Side Effects
There are specific side effects your dog may encounter when using a dental wash. For example, Mühlenberg pointed out that you have to keep a close eye on your dog the first time you use the dental wash.
"If any mouthwash is tried for the first time, start with small amounts and look out for any bad reactions," she said. "Side effects may include: mouth irritation, nausea, dry mouth, appetite loss and vomiting. Severe cases can lead to liver and kidney failure but that would be pretty rare."
Ochoa said that some pets "may vomit after using the pet dental washes" and that, if your pet does, you should stop using them and talk with your vet about a recommendation for an alternative.
Xylitol is a common ingredient in dental washes that is often cited as a danger. However, Petlab's dental wash does not use xylitol.
Dental Formula Pricing and Return Policy
At the time of publishing, you could buy the company's dental wash at two price groups: one-time and subscription.
One-time purchase
One bottle: $42.29
Two bottles: $65.82
Three bottles: $95.24
Four bottles: $127.00
Subscription
One bottle: $33.83
Two bottles: $52.66
Three bottles: $76.19
Four bottles: $101.60
The key difference here is that subscription purchases are cheaper but they require you to sign up for recurring shipments that charge your card automatically. Petlab Co. gives you the choice to sign up for their subscription and how often you get the product; they don't automatically enroll you.
All orders ship free.
As we mentioned in our introduction, all Petlab products have a 90-day, money-back guarantee. If you aren't happy with the product, you can contact the company's support desk to process your return. Their number is (941) 217-1546 and their email address is contact@thepetlabco.com.
If your bottles of dental wash arrived damage, you need to notify Petlabs within 14 days of receiving the damaged products.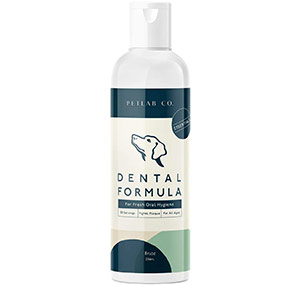 Buy Petlab Co. Dental Formula from Amazon:
Petlab Co. Dental Formula costs $32.95 for one bottle. Shipping is free. It is rated 4.0-stars based on over 1,300 customer reviews.
Comparing Petlab Co. Dental Formula to Other Dental Washes
One of the best ways to understand the value you're getting with a particular pet product is to see what competing companies charge for similar products, as well as the online feedback they get from users.
Earlier we mentioned that TropiClean is a popular brand among dental washes. We went to Chewy.com, a popular online pet-product marketplace, to find out what customers were saying about TropiClean Fresh Breath Water Additive. The product has more than 400 reviews, an average rating of 4.4 stars and 91% of reviewers would recommend it.
The product includes sodium benzoate but has a few other ingredients that are different than what the dental wash from Petlab has. Another big difference is the price of the two products.
If you buy a single bottle of Petlab Dental Wash without a subscription, you will pay $42.29 for 48 servings, which is about $0.88 per serving. TropiClean Fresh Breath Water Additive is $9.99 for 32 servings, or $0.31 per serving.
Another popular product on Chewy.com is Dental Fresh Advanced Plaque & Tartar Water Additive for Dogs. This product has more than 200 reviews, an average rating of 4.3 stars and 89% of reviews recommend the product.
It includes the same exact ingredients as Petlab's dental wash and is also made in the United States. It costs $6.99 for an 8-ounce bottle. Like Petlab's dental wash, it has 48 servings in an 8-ounce bottle, which works out to $0.14 per serving.
Based on the information we gathered in these comparisons, we believe that customers are very happy with products similar to Petlab's dental wash but at a fraction of the price.
The Bottom Line: Petlab Co. Dental Formula Pros and Cons
Based on our research of this product, we think there are some clear strengths and weaknesses that you need to consider as you make your next dental wash purchase.
First, Petlab Co. Uses ingredients that are common among dental washes. This is a good sign, because it means you aren't getting a product that claims to provide manifold benefits but doesn't have the ingredients to back up those claims.
Second, dental washes, in general, can provide legitimate benefits to your pet. As I pointed out earlier, I used a dental wash on my dog and his breath became noticeably more tolerant after a few days. Our experts confirmed this, too.
So, we think that Petlab Co. Dental Formula is well within the realm of mainstream dental washes that provide observable benefits.
The main drawback, though, is that Petlab charges a lot of money for their dental wash compared to other popular products. Its ingredients are exactly the same as the dental wash from Dental Fresh, yet it costs about seven times more per serving.
There is nothing we read on Petlab's website or heard from their customer service department that explains why their price is so high. Nor did we hear back from them regarding their claims that their product is a best-seller and recommended by vets.
Because of this, we think you may be better off finding a dental wash like Dental Fresh that has numerous consumer reviews, a reasonable price and three ingredients shown to help fight bad breath, plaque and germs.
Customer Reviews
Posted on Nov 15, 2022
Made my healthy senior dog deathly sick
After using this product for less than a month my healthy sweet 14-year-old Bichon got severely sick and died. He started vomiting and had abdominal discomfort. He then began vomiting blood and despite being treated by a vet for several days he became weaker, lethargic, and died.
I am so heartbroken to think that I did this to my beloved, loyal companion by administering this dental wash. I am angry, sad, and feeling guilty that as my pet's caregiver I did not do my research into this product. Please do not use this deadly solution!
Length of Use: Less than 3 months
Bottom Line: No, I would not recommend this to a friend
Posted on Nov 8, 2022
Petlab Co scammers
Did not help my dog's teeth at all, and WORSE, petlabco.com made unauthorized charges to me on my credit card for items I never purchased! Incredible! Scammers.
Length of Use: 3–6 months
Bottom Line: No, I would not recommend this to a friend
Pros and Cons
No "pros" were specified in this review
That they charged my credit card without any authorization
Posted on Jan 31, 2022
No way to cancel it
Their website has terrible designs, I am unable to cancel my subscriptions. I already sent an email last time about my subscriptions, but they are still sending me the unwanted products and are charging me automatically. I have no way to cancel it.
I still have two full bottles and my four doggies won't eat them. I wish I can return those to them. My dogs will not eat it at all. I don't need it anymore.
Length of Use: Less than 3 months
Bottom Line: No, I would not recommend this to a friend
Posted on Jul 28, 2021
Poison for sale
Did not know the damage this was causing to my dog until one day she stopped eating and became very ill. Pancreatitis, the vet said, after finding my 11.5-year-old Dobie dehydrated and wobbly on her feet. $2000 later, after 2 days of vet treatment (IV fluids, a battery of tests, all day stay at the doctor's, etc.), she did not get better and progressively became unable to get up, stand, or walk independently. She grew more withdrawn and lethargic. We drove two hours in a panic to get her the soonest MRI appointment available (thank you West LA VCA). We knew there had to be more going on than pancreatitis as it seemed that neurological complications were kicking in rapidly.
I am so mad at myself for not reading the label more carefully, nor the many reviews that out this product as not only useless, but TOXIC. I failed to do my usual research, trusting that this product would indeed help my dog. No, it did not. My dog became so unwell. I cannot bear to think that it is my fault that she is no longer alive. That a product, seemingly harmless, over the course of 40 days or so, affected my dog's nervous system and heart. She was a healthy senior dog, recently had her check up, and this poison, marketed so innocuously, made her sick to death. Literally. PLEASE read the label carefully.
Also, a dosage of 1 tsp per 8 oz of water makes no sense without taking into account the size/weight of your dog. Something is not right with this kind of dosing.
Lastly, within the month/month and some days of using this product (and still having almost 2 ounces left in the bottle), it is clear to me that this is what affected my dog so severely. A little additive in her water, over time, day after day, wreaked havoc on her body. I am sick about it, and now can only warn others. Please find a different, more natural product that isn't about feeding your dogs chemicals. There is no other explanation for the quick deterioration of my once vibrant and healthy fur baby. I am now $6000 in debt from hospital bills and the euthanasia/cremation process. I am sickened that the USA has such substandard laws regarding chemicals in our ingestible products. I also have learned a big lesson and feel the least I can do now is shed light on my unfortunate turn of events by reaching out to alert others. This product should NOT be available for purchase.
Length of Use: Less than 3 months
Bottom Line: No, I would not recommend this to a friend
Posted on Apr 13, 2021
Caused vomiting
I used this product for 3 months, my dog would vomit from time to time. I only gave her the recommended dosage in more than 8 ounces of water. Since I stopped using it she hasn't vomited anymore.
Length of Use: 3–6 months
Bottom Line: No, I would not recommend this to a friend
Posted on Mar 22, 2021
It helps my dog
I started giving this to my dog because of her bad breath; after a couple of weeks, it really did the work. I'm stuck with it for sure.
Length of Use: 3–6 months
Bottom Line: Yes, I would recommend this to a friend
Pros and Cons
Customer service is easy to contact
Branding is cool
Information is widely available
Product is expensive
Posted on Feb 23, 2021
Petlab Co. Dental Formula is a joke!
I brought the Petlab Co. Dental Formula thinking it would work to clean my dog's mouth but after using the product I did not see a change in my dog's teeth or breathe. Don't waste your money on this product.
Length of Use: Less than 3 months
Bottom Line: No, I would not recommend this to a friend
Posted on Feb 13, 2020
Dental product
I wasn't going to write a review at all even though I should have weeks ago. Actually I bought the dental product 3 weeks ago, my dog drunk his water for 2-3 days and then all of a sudden he stopped and he wouldn't eat either. He had a very bad case of tartar and bad teeth for years. True, in 2-3 days no bad breath. But when I took him to the vet, she found 3 loose teeth, what a coincidence to have loose teeth within 3 days of using the product. Anyhow, she had his teeth cleaned, removed tartar and pulled out bad teeth. She told me she doesn't approve the product because it has a chlorine particular chemical in it. So, of course, I wouldn't use this product anymore. My dog is just fine now. I didn't ask for my money back. But tonight I got so surprised to receive an email showing that they subtracted another payment through PayPal of $27...something, and that the product is on its way! Where did it say that this would be delivered monthly or every 3 weeks? I didn't read anything like this when I originally ordered the product. This is upsetting! At this point, I emailed them to send my money back. Ridiculous!
Bottom Line: No, I would not recommend this to a friend
Posted on Jan 3, 2020
Love the product, not the price
I'm a retired biological scientist and college professor and I always have a bent toward cynicism when purchasing products like Petlab's dental hygiene product.
My fur-faced friend was showing signs of tartar build-up when I saw Petlab's advertisement and thought I'd give it a try.
It has worked (in combination with dental chews) incredibly well. Her teeth are, after about 6 weeks, void of tarter. She had little "dog breath" and now has none. Her teeth are now bright white, too.
Based on this article, I'll be changing my supplier from Petlab to the less expensive brand that has the same ingredients.
Although my experience may be anecdotal, I am VERY pleased with the results.
Bottom Line: Yes, I would recommend this to a friend
Posted on Dec 10, 2019
Snake oil; too good to be true!
In short, this product doesn't work! I was emailed and told by Petlab that I would have immediate results on my dogs teeth. Trying to give them the benefit of the doubt, I used this product for two weeks and received absolutely no improvement! I was extremely disappointed; was hopeful that it would work. As the old adage what state? If it sounds too good to be true it probably is.
Bottom Line: No, I would not recommend this to a friend
Posted on Nov 28, 2019
This formula made my dog sick
I tried this formula on my 23 lb male mixed breed after reading some positive reviews. I gave one teaspoon in a full bowl of water, much more than 8oz, two days in a row, that was it. My dog suddenly got diarrhea real bad after those two days, super runny where he sadly ruined several rugs in my condo. After 3 days of the runs, he is just now starting to get a bit better. I wish I had read the negative reviews because something is in this formula that is making dogs sick. Please be cautious about this product, not recommended!
Bottom Line: No, I would not recommend this to a friend
Our Promise to You
In order to safeguard you and ensure helpfulness and relevance, our compliance team manually assess every customer review before it goes live.
We have a zero-tolerance policy for fake reviews, and companies cannot control or alter any reviews at any time.