Nutra Thrive
Claimed This company has claimed this profile, is getting alerted on any new customer reviews entering this page, and may engage in dialogue with its customers to address their matters.

Companies cannot pay money or provide goods in order to remove or alter customer reviews.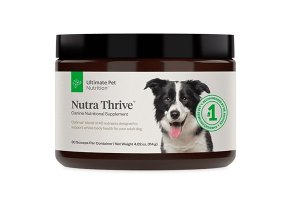 Nutra Thrive is a dog supplement that claims to offer a variety of ingredients that can help your dog fight aging, strengthen their digestive system, fortify connective tissue and have a healthy, happy life.
Nutra Thrive Review: Legit or Hype?
Nutra Thrive from Ultimate Pet Nutrition is an all-natural, superfood pet supplement you add to your dog's food that provides, the company claims, a balance between good and bad bacteria and promotes healthy digestions.
What makes the product unique is its widespread claimed effects on your dog's health, which, according to the product's website, helps your dog "live a long, happy life."
The supplement is the creation of Dr. Gary Richter, "one of America's most renowned holistic veterinarians," the site says. Richter runs Ultimate Pet Nutrition, the company behind the supplement. At the time of publishing, the company's only product was Nutra Thrive.
Richter is also the author of a book titled, "The Ultimate Pet Health Guide: Breakthrough Nutrition and Integrative Care for Dogs and Cats". At the time of publishing, the book had 57 reviews on Amazon for an average rating of 4.3 stars.
The supplement seems to have all the pedigree you'd want out of a dietary supplement for your dog. However, it's going to take some deeper analysis to understand how the product works, what's in it and what the American Kennel Club says about the possible side effects of this supplement.
We'll also discuss Nutra Thrive's pricing as well as our general thoughts about its pros and cons.
How to Use Nutra Thrive
This supplement comes in powdered form and is intended to be used at every meal. It's flavored like bacon and includes a variety of "vitamins, minerals, antioxidants, and digestive enzymes."
You simply add the proper dosage to your dog's bowl of food, pour in a bit of water into the bowl and then mix the food and supplement around until you can't see the powder anymore and it's evenly coating the food.
The website notes that you'll need to stir your dogs' food more if you can see any Nutra Thrive. If you need to add more water to finishing mixing the power in, go ahead.
Here's a quick breakdown of the dosage suggestions that Nutra Thrive provides:
0-30 lbs.: 1 scoop per meal
30-50 lbs.: 1 ½ scoop per meal
50+ lbs.: 2 scoops per meal
If your dog eats twice a day, then you give half the recommended dosage at each feeding.
This pretty much sums up how you'll give your dog this supplement on a day-to-day basis.
As for which types of dogs can use this supplement, the website notes that it's best-suited for any dogs that are suffering from conditions that "could be caused by insufficient nutrition." An example of these conditions include, but aren't limited to:
Bad smells
Flatulence
Tiredness
Abnormal stools
Achy joints
Anxiety
"Lackluster coat"
The real question is whether or not the ingredients in Nutra Thrive will work. We will address this in the next section.
Nutra Thrive's Ingredients, Their Benefits, and Possible Side Effects
Nutra Thrive has three main groups of ingredients that they call the Superfoods Blend, Super Canine Blend and their Probiotic & Enzyme Blend.
The product's website provides a photo of the back label, which allows you to see exactly which ingredients they include in each of the blends featured in the pet supplement. The following bullet points list some of the ingredients in each blend:
Superfoods Blend: Carrot, Reishi, shitake and maitake mushrooms, Methyl-sulfonylmethane , Spirulina, Chlorella
Super Canine Blend: Glutathione inactive yeast, Beef liver
Probiotic and Enzyme Blend: Lactobacillus casei, Lactobacillus plantarum
Vitamin and Mineral Blend: Kelp, Biotin, Riboflavin, Folic acid
Detailing each of the ingredients would be tedious, so we've done some research on one or two ingredients in each blend, or the blend in general.
The American Kennel Club (AKC) notes that mushrooms aren't necessary for a dogs diet but that carrots are a great alternative.
"Dogs do not need mushrooms in their diet, so play it safe and give them a different reward, like a carrot stick or slice of apple, instead," the AKC's mushrooms page says.
If you are going to give your dog mushrooms, the AKC recommends giving them to your dog plain and without spices or oils, which Nutra Thrive does.
Glutathione is an antioxidant that earns high praise from Dr. Deva Khalsa, a homeopathic vet who wrote an article in Animal Wellness magazine about the ingredient's benefits.
"Though small, glutathione is the uncontested king of antioxidants. Without it, all your dog's cells would disintegrate and die from unrestrained oxidation," Khalsa writes.
However, she goes on to say that the antioxidant is useless when ingested orally because the body digests it and excretes it before it can provide health benefits.
"Since this antioxidant is made up of three amino acids, the oral route of administration simply does not work because the glutathione is digested," she wrote. "For example, asparagus contains more available glutathione than any other food, but the GI tract digests most of it."
Probiotics are a booming industry for humans and they're becoming a big deal in the pet world, too. The AKC says that probiotics can be helpful for your dog's gastrointestinal tract, especially if they're prone to getting diarrhea when they're nervous or stressed.
However, the evidence the AKC presented about the anti-diarrheal powers of probiotics related to Bifidobacterium animalis and not the two bacteria in Nutra Thrive. They do point out, however, that Lactobacillus casei, which Nutra Thrive includes, is naturally present in your dog's gut.
The final group of ingredients is the vitamin and mineral blend and It's here where we find a few ingredients proven to be beneficial for your pup. Biotin is well-known for helping create a shiny, lustrous coat and strengthen tendons and ligaments.
"Giving your dog food with biotin can aid with healthy skin and coat for your dog as well. However, biotin also does even more for dogs. Biotin supports connective tissue within your dog's body as well," dog-walking site Wag Walking noted in a post about biotin. "Naturally found in meats, dogs with a healthy diet will get the biotin they need from their high-quality dog food."
We read a few sources that noted riboflavin can help with your dog's coat, too.
As for folic acid, Dr. Barbara Forney, a veterinary practitioner in Pennsylvania, noted in a post for Wedgewood Pharmacy (for pets) that the ingredient has some very specific uses and that its effectiveness could be altered if your dog is taking certain drugs.
"Before administering supplemental folic acid … folate levels should be established," she noted in a post about folate.
Based on our research, we believe the reputable sources we consulted indicate that some of the ingredients in Nutra Thrive will benefit your dog (biotin, for example) and some will pass through your pup's digestive system without much effect on their health (glutathione).
As for side effects, we didn't find any dangers related to the ingredients we focused on. For example, Forney noted that dogs will break down or pee out the excess folic acid they ingest.
Nutra Thrive's Pricing
At the time of publishing, Nutra Thrive sold one 114-gram jar of their supplement for $69.99. Three jars were $188.97 and six jars were $356.95. All pricing tiers include shipping. The site also offered a new-customer promotion with pricing tiers of $49.99, $134.85 and $254.70, respectively.
Each jar has 30 scoops in it, which means dogs of 0-30 pounds will need one jar a month. Dogs weighing 31-50 pounds can get 20 days out of the jar and dogs weighing more than 50 pounds will get 15 days out of the jar.
So, if you have a big dog that requires two scoops per serving, you'll need two jars to make it through the month. Over the course of one year, here's how much Nutra Thrive would cost you based on their weight, assuming you buy six jars at a time and you get the new-customer discount on your first order:
Small dog (0-30 lbs.): $611.65
Medium dog (30-50 lbs.): 968.60
Large dogs (50+ lbs.): $1,325.55
Nutra Thrive's fine print notes that it will take 10-15 days for the supplement to arrive after you order it.
If you aren't happy with the supplement, you have 90 days from the day the product was shipped to start a return in order to get a refund.
According to the fine print, you'll need to call Nutra Thrive's customer service line at 800-604-5827 to get the return started. They note that, "your refund will be processed once your returned Product(s) has arrived at our shipping facility."
How Nutra Thrive Compares to Other Dog Supplements
Nutra Thrive isn't the first dog supplement we've reviewed. ActivPhy is the other competing products we've analyzed.
ActivPhy is available on Amazon and they manufacture their bottles of chewable supplements based on your dog's size. So, for smaller dogs (0-30 lbs.), you'll get a 90-count jar and for bigger dogs (30+ lbs.) you'll get a 75-count jar.
At the time of publishing, you could buy a 75-count jar for $39.99, which means that, over the course of one year, ActivPhy is a better value than Nutra Thrive. However, ActivPhy focuses on joint health, whereas Nutra Thrive focuses on overall health.
DOGgeviti is similar to ActivPhy in that it's a far cheaper option than Nutra Thrive. For example, a year-long supply of the supplement for large dogs costs around $480. This particular supplement focuses on back, hip and joint pain, as well as anti-aging.
In general, we think that your choice of dog supplement has a lot to do with the conditions from which your dog is suffering. If he or she has joint pain, ActivPhy and DOGgeviti seem to be the better choices. If it's overall health you want and you're interested in pet probiotics, then Nutra Thrive could be the best option.
If it's only probiotics you want, online pet stores like Chewy.com have a host of probiotics they offer that are as cheap as $10.99.
Bottom Line on Nutra Thrive
After taking a few minutes to look over the analysis we did and to read through some expert sources who address supplements, we believe that Nutra Thrive has some clear strengths and weaknesses.
As for the strengths, Nutra Thrive has ingredients that can help your dog. For example, biotin is known to improve your dog's coat and help with dry skin. Lactobacillus casei is a probiotic that may be able to help your dog with digestive issues like diarrhea.
However, there are other ingredients that experts say may not have a big effect – if any – on your dog's health. For example, a vet noted that glutathione will pass through your dog's body with little effect on your dog's health. Folic acid could help your dog but you'd need to have your vet check your dog's folic acid levels before taking Nutra Thrive, another vet pointed out.
And, there's the issue of dog supplements in general. The AKC concludes that dog supplements can be helpful but there's sparse research about the long-term effects.
"Whether herbal or lab-formulated, there is some evidence to suggest that supplements can be helpful. There has been little-to-no research on long-term effects, but some studies and anecdotal evidence have shown successful results, whether in the form of a shinier coat, peppier step, better digestion, or improved cognitive function.
» Recommended Reading: Dog Supplements 101: A Detailed Beginner's Guide
---
False warranty - can't get a refund from the company

By Susan R.

,

California

,

Jul 7, 2020
Verified Reviewer

Length of Use: Less than 3 months

Overall Experience:

Other one-star responses on your website got a response from the Nutra Thrive Company from someone named Shayne, promising to make good on the refund. I tried emailing Shayne to get my refund and this is what I received:

Your message did not reach some or all of the intended recipients.

Subject: FW: Ultimate Pet Nutrition CASE4651417

Sent: 7/4/2020 8:48 AM

The following recipient(s) cannot be reached:

'Shayne@ultimatepetnutrition.com.' on 7/4/2020 8:48 AM

Server error: 'Invalid recipient'

Just wanted you to know this company is fraudulent in promising to honor their refund policy.

Pros and Cons:

No "pros" were specified in this review
Does not honor their refund policy

Bottom Line: No, I would not recommend this to a friend

---

Updated review

Update

By Kathy L.

,

Arden, NC

,

Jun 15, 2020
Verified Reviewer

Length of Use: Less than 3 months

Overall Experience:

I exchanged several emails with this company explaining the problem my dog had while taking Nutra Thrive. He had loose stools to diarrhea while on the supplement. Ultimate Pet customer service says a dog having a diarrhea response for 60 days from taking Ultra Thrive supplements is considered a NORMAL response for a dog beginning their supplement. That is not normal. Then causing the customer to spend out of pocket money, more than the return cost, to correct a problem caused by your product. My only request of Ultimate Pets was to waive the return of empty jars considering I spent that much to correct the problem the supplement caused. I rarely have the need to write a negative review, but when given the benefit of a doubt to do the right thing, this company has no sympathy for your pet's health. Three empty jars with no lids. Good grief.

Pros and Cons:

No "pros" were specified in this review
Uncompromising
Failed to understand severity of the issue
Customer bares to cost to correct issues the supplement caused

Bottom Line: No, I would not recommend this to a friend

Jun 18, 2020

We are so sorry for the frustration. Our customer service team did issue you a full refund in the amount of $144.29 on 6/6. Please allow 5-10 business days for the refund to reflect on your bank account. I hope this helps. Feel free to email me directly at Shayne@ultimatepetnutrition.com if you have any further questions, comments, or concerns.

Previous review
Jun 9, 2020

Bad breath didn't go away and poops stayed the same

This product seems like it can be beneficial for some aspects of a dog's health. My dog is very healthy anyway. Except for his bad breath. He has excellent oral health so I know the odor isn't coming from his gums or teeth being the problem. So I was thinking this product could settle his tummy and resolve the bad breath. It did not. As for his stools, they're fine anyway but was hoping that with a settled tummy the ingredients it would really firm them up. Again, it did not. Unfortunately, the opposite occurred, the stools were less firm than before and he seemed to be having more trouble pottying. I had to discontinue the product at 60 days because the stools became soft and just didn't firm back up like they were before starting the product. He was "moving" in the wrong direction. Nutra Thrive just wasn't the right product for my dog.

Jun 10, 2020

Hi Kathy, Shayne here from UPN. I'm really sorry to hear that you did not see the results you were hoping to see in your pup. We understand that NutraThrive may not work for everyone's pets but this is why we offer a 90-Day Money-Back Guarantee. I've taken a look into your account and see that you've connected with one of our agents and were issued a refund and provided a return slip. If there are any other questions, please don't hesitate to reach out to me at Shayne@ultimatepetnutrition.com. Thank you.

(

read more

read less

...)

---

Waste of money

By Mary G.

,

Canton, CT

,

Jun 9, 2020
Verified Reviewer

Length of Use: Less than 3 months

Overall Experience:

I bought this for my 16-year-old cat, followed the directions with small doses, working up to a full scoop. We never got that far. All it did was make him vomit. I stopped giving it to him after 3 days.

Pros and Cons:

No "pros" were specified in this review
Too expensive

Bottom Line: No, I would not recommend this to a friend

Jun 10, 2020

Hi Mary, thank you for sharing. I'm really sorry to hear about your dog's reaction. We do always recommend that our customers consult their primary veterinarian prior to starting their dog on any new product to ensure it's right for them. I've gone ahead and escalate your concern. Please look for an email from us within the next 3 business days with a resolution. If you have any further questions, please email me at shayne@ultimatepetnutrition.com. Thank you.

---

Good so far

By Joseph P.

,

Philadelphia, PA

,

Jun 8, 2020
Verified Reviewer

Length of Use: Less than 3 months

Overall Experience:

My dog is a black lab Rottweiler mix, female, 7 years old. She exhibits allergy symptoms year around as well as weight gain flatulence and some joint pain. I started her on Nutra Thrive close to 20 days ago and am now seeing some impact (positive) for her. My dog's gas has all but disappeared. She used to leave gas 20 times a day. My dog can now accompany me in a walk of 1.5 miles without exhibiting pain. She also climbs stairs at home quicker. Her coat is a bit shinier as it was quite dull previously. Lastly, she is no longer exhibiting the constant foot chewing and ear shaking scratching. Of note, these issues seemed to get worse in the first 2 weeks but then quickly reversed course and now are low or gone.

Bottom Line: Yes, I would recommend this to a friend

Jun 18, 2020

Hi Joseph, thank you for sharing your feedback! We are happy to hear that your dog is taking a liking to Nutra Thrive. If you have any further questions, comments, or concerns, feel free to email me at shayne@ultimatepetnutrition.com, and I would be happy to assist you. Have a great day!

---

Advertisement

---

Great product and great customer service

By M Y.

,

Saucier, MS

,

Jun 3, 2020
Verified Reviewer

Overall Experience:

My fox lab loves the taste, I sprinkle on his food twice daily. He is in excellent health and I want to keep it that way. You never know if the dog food is giving your dog enough of what they need.

Pros and Cons:

One of my shipments went missing and they replaced right away
Packaging is not cheap, always arrives in good shape
Price, but you can always get the sale price if you can wait

Bottom Line: Yes, I would recommend this to a friend

Jun 18, 2020

Thank you for sharing! We appreciate your feedback.

---

More alert

By Barb S.

,

Denver, CO

,

May 26, 2020
Verified Reviewer

Overall Experience:

My Benji is a 15-year-old Pug - Bull Mastiff mix. For the last couple of years, she spent almost all of her time sleeping, no longer alert, and also has hip problems, and trouble with stairs. Started to give her glucosamine, which helped her mobility, but as soon as she is showing signs of being more mobile, she keeps spitting it out. I figured the lack of alertness was age, but decided to see if this made a difference. I didn't give her the full scoop daily as recommended but she usually received at least 1/2 a scoop, and she has started meeting people at the door again, and is a lot more alert. Did I mention that she got to the point where she didn't even pay attention when the fridge was opened? Unheard of. Can't open it now without her being there. So between the 2 products, she is more alert and mobile. Someone else mentioned their dog having fatty tumors, Benji also has these, and this definitely has not helped with them.

Bottom Line: Yes, I would recommend this to a friend

Jun 18, 2020

Thank you for the feedback, Barb. We are happy to hear this. Have a great day!

---

Peanut

By Dana S.

,

California

,

May 24, 2020
Verified Reviewer

Overall Experience:

I have an 11-year-old min pin, I started giving her the Nutra Thrive about a month ago and she started vomits and diarrhea every time she has it in her food. This is what happens. I really tried to use your product but I don't think this is for my dog.

Bottom Line: No, I would not recommend this to a friend

May 26, 2020

Hi Dana, thank you for reaching out. I'm really sorry to hear about your dog's reaction. We do always recommend that our customers consult their primary veterinarian prior to starting their dog on any new product to ensure it's right for them. I would like to go ahead and issue you a full refund. Please e-mail me at Shayne@ultimatepetnutrition.com so I can begin the refund process. I'm sorry about this frustrating experience but I look forward to making it right.

---

Nutra Thrive's offer to reimburse cost if not satisfied is NOT TRUE. A scam.

By Richard R.

,

Florida

,

May 22, 2020
Verified Reviewer

Overall Experience:

Nutra Thrive does not honor their promise to fully reimburse their clients if they are not satisfied with the medication.

After giving their medication to our dog for 3 days, my 28-pound, 6-year-old dog started to vomit several times a day. I immediately returned the medication to the company on April 13, 2020 after taking our dog to the Veterinarian requesting full reimbursement ($114 plus $54.90).

I also included our dog's doctor bill (close to $300) to treat our dog's "new gastro" issues. It has been over a month and the company has not returned the above payment to my bank account.

BE AWARE, the company does not live up to their promise to fully return your money if you are not satisfied!

Bottom Line: No, I would not recommend this to a friend

May 26, 2020

Hi Richard, Shayne here from Ultimate Pet Nutrition. I'm really sorry to hear about your dog's experience. As with all supplements, we do understand that they may work well for some dogs and not for others but this is why we honor our 90-Day Money-Back Guarantee. In addition to this, we always recommend that our customers consult their dog's veterinarian prior to starting them on any new product to ensure it's right for them. I'd like to look into this for you right away to ensure you receive your refund for Nutra Thrive. I'm so sorry for the inconvenience but I look forward to making this right. Please e-mail me directly at Shayne@ultimatepetnutrition.com.

---

Excellent

By Jan L.

,

Port Coquitlam, British Columbia, Canada

,

May 20, 2020
Verified Reviewer

Overall Experience:

My 8-year-old lab is a new dog. She plays and runs like she did 8 years ago. It's wonderful to watch her keep up with her 2-year-old brother. My dogs will always have Nutra Thrive in their diet. Glad I watched the video.

Thank you.

Bottom Line: Yes, I would recommend this to a friend

Jun 18, 2020

That is so great to hear, Jan. Thank you for sharing!

---

Amazing product

By Kathy F.

,

Florida

,

May 13, 2020
Verified Reviewer

Overall Experience:

First time to write a review. We have had a golden retriever for five years, every spring she would start itching and would get horrible hot spots. Tried every spray, then we would have to get shots once a month. You know they have bad side effects. We have been using Nutra Thrive for 6 months, no more shots or spray. This powder is awesome. Thank you so much.

Bottom Line: Yes, I would recommend this to a friend

Jun 18, 2020

Hi Kathy, thank you for sharing! We are incredibly happy to hear that Nutra Thrive is working well for her. Have a great day!

---

Overall Experience:

I have been giving my dog Boom Nutra Thrive for about 3-4 weeks now, and have had dramatic results, his health, overall has dramatically improved. Digestion, skin, fur, and breath have also improved. I love this product and will absolutely continue giving my pets this great product. Totally satisfied with the results. On a side note, my cat also can't get enough of it, he actually knows when I go to the cabinet at feeding time. He steals the dog's food, because he loves it. I hope this is safe, but I have also noticed a dramatic improvement in his overall health. So from Chris, Boom, and Smokey the cat, we love it. Thank you!

Bottom Line: Yes, I would recommend this to a friend

---