Nutra Thrive Reviews - Is It Legit or Just Hype?
This company has claimed this profile, is getting alerted on any new customer reviews entering this page, and may engage in dialogue with its customers to address their matters.

Companies cannot pay money or provide goods in order to remove or alter customer reviews.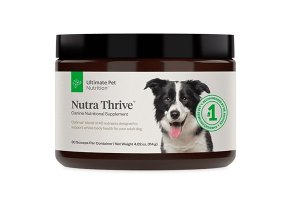 Summary
Nutra Thrive is a dog supplement that is designed to help your dog fight aging, strengthen their digestive system, fortify connective tissue, and have a healthy, happy life.
Our Full Review
Nutra Thrive from Ultimate Pet Nutrition is an all-natural pet supplement that you add to your dog's food that is claimed to provide a balance between good and bad bacteria to promote healthy digestions.
It comes in a powdered form and is intended to be used at every meal. It's flavored like bacon and includes a variety of vitamins, minerals, antioxidants, and digestive enzymes.
You simply add the proper dosage to your dog's bowl of food, pour in a bit of water, and then mix the food and supplement around until you can't see the powder anymore and it's evenly coating the food.
The dosage suggestions that Nutra Thrive provides are:
0–30 lbs: 1 scoop per meal
30–50 lbs: 1 ½ scoop per meal
50+ lbs: 2 scoops per meal
If your dog eats twice a day, then you give half the recommended dosage at each feeding.
The company notes that it's best-suited for any dogs that are suffering from conditions that "could be caused by insufficient nutrition." An example of these conditions include:
Bad smells
Flatulence
Tiredness
Abnormal stools
Achy joints
Anxiety
"Lackluster coat"
Ingredients: Benefits and Safety
Nutra Thrive has three main groups of ingredients that the company calls the Superfoods Blend, Super Canine Blend, and Probiotic and Enzyme Blend.
The product's label reveals the following list of key ingredients:
Superfoods Blend: Carrot; reishi, shiitake and maitake mushroom blend; Methyl-sulfonylmethane; Spirulina; Chlorella
Super Canine Blend: Glutathione inactive yeast; beef liver
Probiotic and Enzyme Blend: Lactobacillus casei; Lactobacillus plantarum
Vitamin and Mineral Blend: Kelp, Biotin, Riboflavin, Folic acid
Detailing each of the ingredients would be tedious, so we've researched key ingredients in each blend.
The American Kennel Club (AKC) notes that mushrooms aren't necessary for a dog's diet but that carrots are a great alternative.
"Dogs do not need mushrooms in their diet, so play it safe and give them a different reward, like a carrot stick or slice of apple, instead," the AKC states.
If you are going to give your dog mushrooms, the AKC recommends giving them to your dog plain and without spices or oils, which Nutra Thrive does.
Glutathione is an antioxidant that earns high praise from Dr. Deva Khalsa, a homeopathic vet who wrote an article in Animal Wellness magazine about the ingredient's benefits.
"Though small, glutathione is the uncontested king of antioxidants. Without it, all your dog's cells would disintegrate and die from unrestrained oxidation," Khalsa writes.
However, she goes on to say that the antioxidant is useless when ingested orally because the body digests it and excretes it before it can provide health benefits.
"Since this antioxidant is made up of three amino acids, the oral route of administration simply does not work because the glutathione is digested," she wrote. "For example, asparagus contains more available glutathione than any other food, but the GI tract digests most of it."
Probiotics are a booming industry for humans and they're becoming a big deal in the pet world, too. The AKC says that probiotics can be helpful for your dog's gastrointestinal tract, especially if they're prone to getting diarrhea when they're nervous or stressed.
However, the evidence the AKC presented about the anti-diarrheal powers of probiotics related to Bifidobacterium animalis and not the two bacteria in Nutra Thrive. They do point out, however, that Lactobacillus casei, which Nutra Thrive includes, is naturally present in your dog's gut.
The final group of ingredients is the vitamin and mineral blend and it's here where we find a few ingredients proven to be beneficial for your pup. Biotin is well-known for helping create a shiny, lustrous coat and strengthen tendons and ligaments.
We read a few sources that noted riboflavin can help with your dog's coat, too.
As for folic acid, Dr. Barbara Forney, a veterinary practitioner in Pennsylvania, said that the ingredient has some very specific uses and that its effectiveness could be altered if your dog is taking certain drugs.
"Before administering supplemental folic acid … folate levels should be established," she further noted.
To summarize, some of the ingredients in Nutra Thrive will benefit your dog (biotin, for example) and some will pass through your pup's digestive system without much effect on their health (glutathione).
The above ingredients are considered generally safe.
Pricing
Nutra Thrive is priced at:
1 jar: $69.99
3 jars: $188.97
6 jars: $356.95
The 114-gram jar has 30 scoops, which means dogs of 0–30 pounds will need one jar a month. Dogs weighing 31–50 pounds can get 20 days out of the jar, and dogs weighing more than 50 pounds will get 15 days out of the jar.
So, if you have a big dog that requires two scoops per serving, you'll need two jars to make it through the month. Over the course of one year, here's how much Nutra Thrive would cost you based on their weight, assuming you buy six jars at a time:
Small dog (0–30 lbs.): $713.90
Medium dog (30–50 lbs.): $1,070.85
Large dogs (50+ lbs.): $1,427.80
The company states that it will take 10–15 days for the supplement to arrive after you order it.
If you aren't happy with the supplement, you have 90 days from the day the product was shipped to start a return in order to get a refund.
The Bottom Line
Nutra Thrive has ingredients that can help your dog. For example, biotin is known to improve your dog's coat and help with dry skin. Lactobacillus casei is a probiotic that may be able to help your dog with digestive issues like diarrhea.
However, there are other ingredients that experts say may not have a big effect – if any – on your dog's health. For example, a vet noted that glutathione will pass through your dog's body with little effect on your dog's health. Folic acid could help your dog but you'd need to have your vet check your dog's folic acid levels before taking Nutra Thrive, another vet pointed out.
And, there's the issue of dog supplements in general. The AKC concludes that dog supplements can be helpful but there's sparse research about the long-term effects.
"Whether herbal or lab-formulated, there is some evidence to suggest that supplements can be helpful. There has been little-to-no research on long-term effects, but some studies and anecdotal evidence have shown successful results, whether in the form of a shinier coat, peppier step, better digestion, or improved cognitive function."
Customer Reviews
Posted on Oct 27, 2023
Benjamin is thriving!
I have been giving my 20lb Dachshund 1/2 a scoop in his dinner for about 6 years now. He will be 11 in 2 weeks and is full of energy and always happy. No health issues, great coat, etc. I LOVE this product for him and recommend it to everyone.
Length of Use: 2+ years
Bottom Line: Yes, I would recommend this to a friend
Pros and Cons
Great ingredients
My dog is happy and full of energy
Price could be a little lower
Posted on Oct 3, 2023
9-year-old Yorkie, homemade food
So, my Yorkie has been on homemade dog food for about 2 years, and she just recently had all her teeth removed. Vet recommended Nutra Thrive because she feared she wasn't getting enough vitamins and minerals. She only weighs 5 lbs. so I only give her a quarter of a scoop in her food. After day 3, she was constipated, bloated, wouldn't eat, and acted like her belly hurts. I decided to only give it every other day. After 2 weeks, she has diarrhea, won't eat, tremors, and acts like her belly hurts. I wish it worked for her, but I'm going to have to get refund.
Length of Use: Less than 3 months
Bottom Line: Yes, I would recommend this to a friend
Pros and Cons
Powder formula
Too many negative reactions from dog
Price
Posted on Feb 27, 2023
Dog got sick
I do not know for a fact but my dog got very sick after putting this in his food for a couple of days. Stopped eating and couldn't walk. It was horrible. The vet sounded very credible. I have my doubts.
Length of Use: Less than 3 months
Bottom Line: No, I would not recommend this to a friend
Pros and Cons
No "pros" were specified in this review
Made dog sick
Company Response from Ultimate Pet Nutrition
Mar 7, 2023
Hello Lisa. My name is Shayne, I am with Ultimate Pet Nutrition. I am very sorry to hear about your pup. We take situations like these very seriously. I would like to escalate your review to our Customer Relations Team, so that an agent may provide you with personalized care. Please email me at shayne@ultimatepetnutrition.com. I look forward to hearing from you soon. Have a nice day.
Posted on Feb 19, 2023
Tia
My dog was doing great until I tried to get my 3rd order. I ordered 3 jars of Nutra Thrive for dogs. The woman had assured me that the order had gone through. Four weeks later no Nutra Thrive so I called them to find out what happened and I was told that my order was canceled (not notified me!) because they no longer ship to Canada or Australia.
My dog now has to go through withdrawal...my poor dog!
Dr. Gary is a quack because no doctor would do this to a patient!
Length of Use: 1–2 years
Bottom Line: No, I would not recommend this to a friend
Pros and Cons
It did the job
Was able to get
Cannot order
Company Response from Ultimate Pet Nutrition
Mar 7, 2023
Hello John. My name is Shayne, I am with Ultimate Pet Nutrition. I would like to apologize on behalf of Ultimate Pet Nutrition for your customer service experience. We hold our agents to high standards and we regret that you did not receive the service you deserve. Unfortunately, we are currently unable to provide our products to certain territories. We hope to continue shipping to Canada and Australia again in the future. When we are able to, we hope you give us another shot. If you have any questions, please do not hesitate to email me at shayne@ultimatepetnutrition.com. Have a nice day.
Posted on Aug 18, 2022
Exceeded expectations
My 13-year-old border collie lab mix is a 3x Lymphoma fighting chemo champion. But after 2 knee replacement surgeries and old hips, getting up and down is more difficult and she is slowing down. TikTok made me try Nutra Thrive, and we are now lifetime supporters. After just 3 weeks, my girl jogs on her walk – a speed I haven't seen for a couple of years. She seems to have more energy and less shedding, as well as less licking in her groin and feet. In all, she appears to be more comfortable, which makes this mama's heart so happy. I know it's not the least expensive product, but you get what you invest in and this supplement is no different. The quality and the results speak for themselves. Look for sales before passing on this nutrient-rich supplement.
Length of Use: Less than 3 months
Bottom Line: Yes, I would recommend this to a friend
Pros and Cons
Adjustability of serving size
Easy application
Compact containers
Smells earthy and not overly appealing to my discerning nose
Posted on Aug 10, 2022
Years of diarrhea, gone!
We have been using Nutra Thrive for 4 years and it has made a huge difference in our 17-year-old Cocker, Benny. We fought a constant battle with diarrhea over the years. Since we have been using Nutra Thrive, he has had solid stools with only rare exceptions. His veterinarian says she can't believe he is 17 years old. At 16, he had cataract surgery, at 17, he had a leg lesion removed and came through both surgeries like a pup. Yay Nutra Thrive!
Length of Use: 2+ years
Bottom Line: Yes, I would recommend this to a friend
Pros and Cons
Lack of diarrhea
Less gas
Knowing I'm doing something good for him
No "cons" were specified in this review
Posted on Apr 23, 2022
Thank you, thank you, thank you
I thought my cat, Tigger, wouldn't see his sixteenth birthday, but thanks to you folks, he is now thriving and even playful. He was losing weight, wouldn't eat very much, runny, stinky stools, and even sometimes vomit, not even grooming himself, no fever or other signs of distress. I found your ad on Facebook and decided to give it a try (you were very prompt in sending it). We tried the powder in his food and he seemed to like it right off. I had started off with a little, twice a day. We've been on the regime for about a month and what a difference it has made in him. Thriving! Can't thank you enough for creating this product.
Length of Use: Less than 3 months
Bottom Line: Yes, I would recommend this to a friend
Pros and Cons
Ease of use
Easy instructions
Not enough product in jar
Posted on Mar 26, 2022
Lead in the product
I received a warning that consuming this product can expose "you" (which should read: Canine or Feline, or Pet") to lead, known to the State of California to cause birth defects or other reproductive harm. It also causes cancer!
This product is not regulated.
Length of Use: 1–2 years
Bottom Line: No, I would not recommend this to a friend
Pros and Cons
Seemed to give my pet more energy
False claims
Ingredient list is incomplete
Not regulated, no White Report, no toxicology report
Non transparency
Highly priced
Claims to be Veterinarian recommended
False allegations
Does not say where the "supplements" are sourced from
Irresponsibility
Company Response from Ultimate Pet Nutrition
Apr 14, 2022
Hello Gail. My name is Shayne, I am with Ultimate Pet Nutrition. I'm very sorry for any concerns caused by this label. Proposition 65 requires businesses to provide warnings to Californians about certain exposures to chemicals that can cause cancer, birth defects or other reproductive harm. Any ingredient that is plant-based may naturally have low quantities of heavy metals in them, because heavy metals are often present in the soil these plants are grown in, therefore some ingredients used in these formulas may have different quantities of certain heavy metals, such as Lead, Mercury, Cadmium, Arsenic. If you'd like to learn more, you may reference the website stated on the label. Our customers' feedback is very important to us, so I have submitted your feedback to the appropriate department. Again, I sincerely apologize for the concerns with your recent order and we thank you for your feedback. If you ever have any questions, please do not hesitate to reach out. My email is Shayne@ultimatepetnutrition.com. Have a nice day.
Posted on Feb 20, 2022
Had to make emergency trip to the vet
Bad news!
After reading all the reviews I thought I was doing a huge favor for my 90 lb fur baby. Two days later, he was lethargic, didn't want to eat, then violent vomiting, severe explosive diarrhea with blood in his stools, emergency trip to vet. Very sick boy, got severely dehydrated in just 5 hours. We've always fed him the same food and treats for 6 years. He's never allowed any treats from well-meaning neighbors.
$460.00 later, the vet says if he's not better in 24 hours he's going to have to be hospitalized, and to stop giving him the Nutra Thrive. While at the vet, he had to go and it shot out of him for 6 feet. They immediately gave him IV fluids, saying with that much fluid comming out he was dehydrated. He'd done this 7 times prior to taking him to the vet.
Colleen in customer support was super helpful and very concerned now. If he doesn't need to be hospitalized it's still going to take 13 days to get him straight. I followed the directions perfectly, after working up to 2 scoops a day gradually, after a week I reduced it to 1 scoop. My dog weighs 90 lbs. She said that some dogs simply cannot tolerate Nutra Thrive. They did blood work and tested him for pancreatitis.
Everything here that I've said is fact and all true. Colleen was super nice and honestly cared about our situation and made a full product refund immediately. I simply cannot say enough about how well she handled this, she even said that she was taking this information to corporate, as she said that they would not take this lightly and would it be OK if they contacted me. I was very very impressed by her genuinely caring about our dog and how fast she was in handling this matter!
Length of Use: Less than 3 months
Bottom Line: No, I would not recommend this to a friend
Pros and Cons
It was easy to use
I made my dog deathly ill
I feel like a bad parent and I had to watch my boy suffer because of what I had done
The most painful thing was watching him suffer, not to mention our time and money
Company Response from Ultimate Pet Nutrition
Feb 22, 2022
Hello Thomas. My name is Shayne, I am with Ultimate Pet Nutrition. I am very sorry to hear about your pup. While many of our customers see great results with our formula, we do understand it may not be for everyone. I am glad to hear that Colleen was able to assist you and provide you with a full refund. We take situations like these very seriously. If they have not already, a member from our Customer Relations team will be reaching out regarding this situation to gather more information. As always, we suggest consulting with your vet before starting your pet on a new supplement. To be sure that it is a good fit for them. If you ever have any questions, please do not hesitate to reach out. You may email me at shayne@ultimatepetnutrition.com. Have a nice day.
Posted on Jan 12, 2022
So worth the money
I am probably the most skeptic person to buy things like Nutra Thrive or any other supplement where they state it does this or that for your dog or cat. But it also said it has a guarantee on it, so I took a shot and bought one jar of Nutra Thrive for my cat and I was so surprised by what it's doing for my cat that I will be buying more for the rest of my cat's life.
Nutra Thrive is so worth the money, if you buy one you will not be disappointed by any means. After the first day and a half of using Nutra Thrive, I noticed a little change in my cat. My cat used to scratch a lot as she was getting older so I already knew my cat has sensitive skin, but I saw a difference in that I don't really see my cat scratching anymore, or at least I don't see her scratching that often. So I am now a believer in Nutra Thrive.
I've only been giving my cat Nutra Thrive for about five days now and I can't wait to see more changes with my cat for the better. Please take my word for this review as I am not fake, I am from Boston. You won't be disappointed. If I could give you my email I would, but I don't think it's safe to, so again, buy it.
Length of Use: Less than 3 months
Bottom Line: Yes, I would recommend this to a friend
Pros and Cons
Almost no more scratching as my cat has sensitive skin
My cat would always act a little funny after she eats but now she doesn't do that anymore
No "cons" were specified in this review
Posted on Nov 24, 2021
It's the best one
Nutra Thrive has the perfect blend of vitamins and goodness that Ollie needs! I am thrilled with this product and will continue to purchase this powder for her. Thank you for being true to your advertisement.
Length of Use: 2+ years
Bottom Line: Yes, I would recommend this to a friend
Pros and Cons
True advertisement
Good result
Best price and quality of product
No "cons" were specified in this review
Our Promise to You
In order to safeguard you and ensure helpfulness and relevance, our compliance team manually assess every customer review before it goes live.
We have a zero-tolerance policy for fake reviews, and companies cannot control or alter any reviews at any time.