Nutra Thrive Reviews - Is It Legit or Just Hype?
This company has claimed this profile, is getting alerted on any new customer reviews entering this page, and may engage in dialogue with its customers to address their matters.

Companies cannot pay money or provide goods in order to remove or alter customer reviews.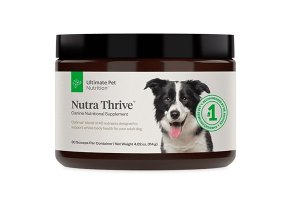 Summary
Nutra Thrive is a dog supplement that is designed to help your dog fight aging, strengthen their digestive system, fortify connective tissue, and have a healthy, happy life.
Our Full Review
Nutra Thrive from Ultimate Pet Nutrition is an all-natural pet supplement that you add to your dog's food that is claimed to provide a balance between good and bad bacteria to promote healthy digestions.
It comes in a powdered form and is intended to be used at every meal. It's flavored like bacon and includes a variety of vitamins, minerals, antioxidants, and digestive enzymes.
You simply add the proper dosage to your dog's bowl of food, pour in a bit of water, and then mix the food and supplement around until you can't see the powder anymore and it's evenly coating the food.
The dosage suggestions that Nutra Thrive provides are:
0–30 lbs: 1 scoop per meal
30–50 lbs: 1 ½ scoop per meal
50+ lbs: 2 scoops per meal
If your dog eats twice a day, then you give half the recommended dosage at each feeding.
The company notes that it's best-suited for any dogs that are suffering from conditions that "could be caused by insufficient nutrition." An example of these conditions include:
Bad smells
Flatulence
Tiredness
Abnormal stools
Achy joints
Anxiety
"Lackluster coat"
Ingredients: Benefits and Safety
Nutra Thrive has three main groups of ingredients that the company calls the Superfoods Blend, Super Canine Blend, and Probiotic and Enzyme Blend.
The product's label reveals the following list of key ingredients:
Superfoods Blend: Carrot; reishi, shiitake and maitake mushroom blend; Methyl-sulfonylmethane; Spirulina; Chlorella
Super Canine Blend: Glutathione inactive yeast; beef liver
Probiotic and Enzyme Blend: Lactobacillus casei; Lactobacillus plantarum
Vitamin and Mineral Blend: Kelp, Biotin, Riboflavin, Folic acid
Detailing each of the ingredients would be tedious, so we've researched key ingredients in each blend.
The American Kennel Club (AKC) notes that mushrooms aren't necessary for a dog's diet but that carrots are a great alternative.
"Dogs do not need mushrooms in their diet, so play it safe and give them a different reward, like a carrot stick or slice of apple, instead," the AKC states.
If you are going to give your dog mushrooms, the AKC recommends giving them to your dog plain and without spices or oils, which Nutra Thrive does.
Glutathione is an antioxidant that earns high praise from Dr. Deva Khalsa, a homeopathic vet who wrote an article in Animal Wellness magazine about the ingredient's benefits.
"Though small, glutathione is the uncontested king of antioxidants. Without it, all your dog's cells would disintegrate and die from unrestrained oxidation," Khalsa writes.
However, she goes on to say that the antioxidant is useless when ingested orally because the body digests it and excretes it before it can provide health benefits.
"Since this antioxidant is made up of three amino acids, the oral route of administration simply does not work because the glutathione is digested," she wrote. "For example, asparagus contains more available glutathione than any other food, but the GI tract digests most of it."
Probiotics are a booming industry for humans and they're becoming a big deal in the pet world, too. The AKC says that probiotics can be helpful for your dog's gastrointestinal tract, especially if they're prone to getting diarrhea when they're nervous or stressed.
However, the evidence the AKC presented about the anti-diarrheal powers of probiotics related to Bifidobacterium animalis and not the two bacteria in Nutra Thrive. They do point out, however, that Lactobacillus casei, which Nutra Thrive includes, is naturally present in your dog's gut.
The final group of ingredients is the vitamin and mineral blend and it's here where we find a few ingredients proven to be beneficial for your pup. Biotin is well-known for helping create a shiny, lustrous coat and strengthen tendons and ligaments.
We read a few sources that noted riboflavin can help with your dog's coat, too.
As for folic acid, Dr. Barbara Forney, a veterinary practitioner in Pennsylvania, said that the ingredient has some very specific uses and that its effectiveness could be altered if your dog is taking certain drugs.
"Before administering supplemental folic acid … folate levels should be established," she further noted.
To summarize, some of the ingredients in Nutra Thrive will benefit your dog (biotin, for example) and some will pass through your pup's digestive system without much effect on their health (glutathione).
The above ingredients are considered generally safe.
Pricing
Nutra Thrive is priced at:
1 jar: $69.99
3 jars: $188.97
6 jars: $356.95
The 114-gram jar has 30 scoops, which means dogs of 0–30 pounds will need one jar a month. Dogs weighing 31–50 pounds can get 20 days out of the jar, and dogs weighing more than 50 pounds will get 15 days out of the jar.
So, if you have a big dog that requires two scoops per serving, you'll need two jars to make it through the month. Over the course of one year, here's how much Nutra Thrive would cost you based on their weight, assuming you buy six jars at a time:
Small dog (0–30 lbs.): $713.90
Medium dog (30–50 lbs.): $1,070.85
Large dogs (50+ lbs.): $1,427.80
The company states that it will take 10–15 days for the supplement to arrive after you order it.
If you aren't happy with the supplement, you have 90 days from the day the product was shipped to start a return in order to get a refund.
The Bottom Line
Nutra Thrive has ingredients that can help your dog. For example, biotin is known to improve your dog's coat and help with dry skin. Lactobacillus casei is a probiotic that may be able to help your dog with digestive issues like diarrhea.
However, there are other ingredients that experts say may not have a big effect – if any – on your dog's health. For example, a vet noted that glutathione will pass through your dog's body with little effect on your dog's health. Folic acid could help your dog but you'd need to have your vet check your dog's folic acid levels before taking Nutra Thrive, another vet pointed out.
And, there's the issue of dog supplements in general. The AKC concludes that dog supplements can be helpful but there's sparse research about the long-term effects.
"Whether herbal or lab-formulated, there is some evidence to suggest that supplements can be helpful. There has been little-to-no research on long-term effects, but some studies and anecdotal evidence have shown successful results, whether in the form of a shinier coat, peppier step, better digestion, or improved cognitive function."
Customer Reviews
Posted on Jul 20, 2021
Works as advertised
I mix one scoop with a pinch of my two dogs' food, add 2 teaspoons of water, mix well and put in my dogs' treat bowls. They both love it. Chloe is a rat-Boston terrier, and Daisy is a chihuahua. It helped Chloe with diarrhea and Daisy bloomed. (Pun intended). They have been using it for over 2 years and I am reordering a case for the third time.
Length of Use: 2+ years
Bottom Line: Yes, I would recommend this to a friend
Pros and Cons
Delivered results
Dogs love it
Customer service
Hate the container - hard to open with arthritis
Price
Short shelf life
Posted on Jun 25, 2021
Great product.
My terrier/chihuahua/beagle mix has a precarious digestive system. This supplement combined with the right food is keeping her healthy, happy, and full of mischief. She is 9 lbs and 15 months old. No side effects and doesn't seem to mind the taste at all.
Length of Use: 6–12 months
Bottom Line: Yes, I would recommend this to a friend
Pros and Cons
It works.
Easy to use.
Tootsie likes it.
It is a little pricey but less so than a vet bill.
Posted on Jun 23, 2021
So far so good
I have been giving my Lil Bear Nutra Thrive for 2 months. At first she would not touch her food. So I mixed in boiled hamburger for a bit but still was fussy. I cut back on the recommended dose, put less instead of trying to put it all in at once, I feed her twice a day. So for her weight is 1 and a half scoops. No way she will eat that so I do half a scoop each meal and add hamburger boiled then top it off with a little raw steak bits and she devours it in mins wanting more. Her coat still has bald spots from alopecia, only melatonin can help that, but she had pancreatitis and was always sick before Nutra Thrive. Now her stomach seems to be good. Normal stools, not all runny like before. But she still eats grass and always wants belly rubs, I know it is working, I just don't know how well yet.
I also gave my sister's French bulldog it for 4 days, he had bad breath and was stinky and within 4 days the bad breath was gone and he did not stink of cheese anymore. I do recommend this product but if your dog is a fussy eater you will have to find a way to get him or her to eat it like I did. If I don't add the hamburger she will not touch the kibble with Nutria Thrive alone but my sister's dog did, but he eats everything and anything. Hope all who try get great results, so far Lil Bear has. Thank you Nutra Thrive.
Length of Use: Less than 3 months
Bottom Line: Yes, I would recommend this to a friend
Pros and Cons
It helped my Lil Bear's pancreatitis and she now has less stomach problems
She is more playful
Her hair is starting to grow back, I think adding the melatonin to Nutra Thrive my digs coat will be back to normal in no time
At first my dog refused to eat it
Smells yucky and dogs do notice
Posted on Jun 22, 2021
Incredible
My 13-year-old Feist has his bounce back after using this product, in one month!
Skin is fabulous now. His skin itchiness and gastric problems have been reduced to non-existence. I'm so happy that I found this supplement!
Length of Use: Less than 3 months
Bottom Line: Yes, I would recommend this to a friend
Pros and Cons
Results less than 2 weeks
In easy powder form
Any age or breed
Expensive
Posted on May 4, 2021
Amazing coat!
We've been giving Nutra Thrive to our Chi-Rat Terrier mix for a little over a year. She gets 1/2 scoop each morning. Her coat is fabulous - we definitely saw a difference after she'd been on this for a while.
We have a beagle and a blue heeler mix. They didn't respond well so we stopped giving it to them. We're guessing that they were allergic to an ingredient in it.
Length of Use: 1–2 years
Bottom Line: Yes, I would recommend this to a friend
Pros and Cons
It helps my dog's coat look fabulous! She has no skin issues (e.g., dandruff at the change of seasons) and her coat is super shiny.
It's expensive!
Posted on Apr 24, 2021
Yuck!
Tried for over a week to get my 2 dogs to eat it. My 6 lbs., 13-year-old Chihuahua has a sensitive stomach and occasionally vomits. My 15 lbs. 3-year-old Shih Tzu will eat almost anything. I have been feeding Royal Canin or Science Diet for Digestive support kibble mixed with Pedigree canned. I added the Nutra Thrive at about 1/4 of your recommendation - basically sprinkled on. They both hate it. Sounded great if it would work as advertised, but can't work if the dogs refuse to eat it. Money back guarantee sounds like it is not worth the trouble. I will keep trying for a couple more weeks and if they still don't want to eat it, I will give it to my vet or a dog rescue and they can decide if it needs to be trashed.
Length of Use: Less than 3 months
Bottom Line: No, I would not recommend this to a friend
Pros and Cons
No "pros" were specified in this review
Dogs refuse to eat it
Company Response from Ultimate Pet Nutrition
Apr 26, 2021
Hello Diane. My name is Shayne, I'm from Ultimate Pet Nutrition. I am very sorry to hear that your pups are not enjoying our formula. Some dogs may be skeptical of new smells and flavors in their food dish. They may need a little time to get used to it. Other pet owners in a similar situation have seen success with mixing in a smaller amount of powder and a little bit of chicken broth. If your dogs still will not eat it, you may return it for a full refund under our 90-day money back guarantee. If you have any questions my email is Shayne@ultimatepetnutrition.com. Please do not hesitate to reach out. Have a nice day.
Posted on Apr 18, 2021
Five stars for Nutra Thrive
I started Punk, my 15-year-old Chihuahua, on Nutra Thrive 1 month ago, and can already see a difference in his activities. He acts as though time has turned back 5 years. He still has his regular appetite, doesn't mind the taste, and even looks forward to mealtime.
Upon arrival, the container was just a little over half full. Being concerned about this, I called the company to inquire about it. With this being a powder it settles during shipment. The scoop is small so, the container is lasting longer than I had originally expected. I am happy with this supplement for my fur baby and will continue using it.
Length of Use: Less than 3 months
Bottom Line: Yes, I would recommend this to a friend
Pros and Cons
I like the affect it has on my Chihuahua
I like how easy it is to use
Even though my dog doesn't mind the taste I wish the taste could be better
Posted on Apr 18, 2021
Helped my dog with dry skin and itching
I have been giving it to my 7-year-old dog for about 2 weeks. She suffers from allergies and the shots from the vet were $120 every 3 weeks. Now with Nutra Thrive I just have to give her Benadryl twice a day and there is no more itching and scratching. Works like a charm.
Length of Use: Less than 3 months
Bottom Line: Yes, I would recommend this to a friend
Pros and Cons
Just mix into the food with water
No "cons" were specified in this review
Posted on Apr 9, 2021
Two dogs with great improvement in both
My 1 and 1/2-year-old lab has a lot of shedding, particularly when the seasons changed. I started her on this and I noticed a significant change in her coat and a lot less shedding. I also have a 14-year-old Tibetan Spaniel Mix that had a persistent cough from the trachea collapsing. With Nutra Thrive I was able to take him off steroids completely. He still does cough but now only on occasion.
Length of Use: 6–12 months
Bottom Line: Yes, I would recommend this to a friend
Pros and Cons
Less shedding
More playful elderly dob
The price
Posted on Mar 29, 2021
Save your money
This product did nothing! Customer service will refund your money, but, you'll pay the postage on the return. It's expensive and a scam! I got sucked in, but, you don't have to. Save your precious dollars!
Length of Use: Less than 3 months
Bottom Line: No, I would not recommend this to a friend
Pros and Cons
No "pros" were specified in this review
Ineffective
The high price
Poor customer service
Company Response from Ultimate Pet Nutrition
Mar 30, 2021
Hi Linda, I'm Shayne from Ultimate Pet Nutrition. I'm so sorry to hear that you did not see the results you were expecting to see in your pets. In regards to our refund policy, it is industry standard to ask for our customers to return the unwanted product. It is also stated in our Terms & Conditions that customers are responsible for any shipping charges incurred in the return of the products. I'm so sorry for the confusion but I hope this clears up some confusion. Please let me know if you have any other questions or concerns at Shayne@ultimatepetnutrition.com. Thank you!
Posted on Mar 9, 2021
Labradoodle
Started using Nutra Thrive about a year ago for my 35-pound doodle, Molly. Molly will be 9 years old in September and has had no health issues. During her last wellness check with the vet, they commented on how good her health was and her teeth. Molly is as playful as a two-year-old puppy, and I believe this supplement has helped in keeping her well and young!
Length of Use: 1–2 years
Bottom Line: Yes, I would recommend this to a friend
Pros and Cons
Easy to use
Obviously benefits
No "cons" were specified in this review
Our Promise to You
In order to safeguard you and ensure helpfulness and relevance, our compliance team manually assess every customer review before it goes live.
We have a zero-tolerance policy for fake reviews, and companies cannot control or alter any reviews at any time.