Nutra Thrive Reviews - Is It Legit or Just Hype?
This company has claimed this profile, is getting alerted on any new customer reviews entering this page, and may engage in dialogue with its customers to address their matters.

Companies cannot pay money or provide goods in order to remove or alter customer reviews.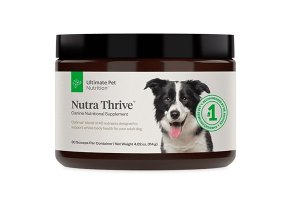 Summary
Nutra Thrive is a dog supplement that is designed to help your dog fight aging, strengthen their digestive system, fortify connective tissue, and have a healthy, happy life.
Our Full Review
Nutra Thrive from Ultimate Pet Nutrition is an all-natural pet supplement that you add to your dog's food that is claimed to provide a balance between good and bad bacteria to promote healthy digestions.
It comes in a powdered form and is intended to be used at every meal. It's flavored like bacon and includes a variety of vitamins, minerals, antioxidants, and digestive enzymes.
You simply add the proper dosage to your dog's bowl of food, pour in a bit of water, and then mix the food and supplement around until you can't see the powder anymore and it's evenly coating the food.
The dosage suggestions that Nutra Thrive provides are:
0–30 lbs: 1 scoop per meal
30–50 lbs: 1 ½ scoop per meal
50+ lbs: 2 scoops per meal
If your dog eats twice a day, then you give half the recommended dosage at each feeding.
The company notes that it's best-suited for any dogs that are suffering from conditions that "could be caused by insufficient nutrition." An example of these conditions include:
Bad smells
Flatulence
Tiredness
Abnormal stools
Achy joints
Anxiety
"Lackluster coat"
Ingredients: Benefits and Safety
Nutra Thrive has three main groups of ingredients that the company calls the Superfoods Blend, Super Canine Blend, and Probiotic and Enzyme Blend.
The product's label reveals the following list of key ingredients:
Superfoods Blend: Carrot; reishi, shiitake and maitake mushroom blend; Methyl-sulfonylmethane; Spirulina; Chlorella
Super Canine Blend: Glutathione inactive yeast; beef liver
Probiotic and Enzyme Blend: Lactobacillus casei; Lactobacillus plantarum
Vitamin and Mineral Blend: Kelp, Biotin, Riboflavin, Folic acid
Detailing each of the ingredients would be tedious, so we've researched key ingredients in each blend.
The American Kennel Club (AKC) notes that mushrooms aren't necessary for a dog's diet but that carrots are a great alternative.
"Dogs do not need mushrooms in their diet, so play it safe and give them a different reward, like a carrot stick or slice of apple, instead," the AKC states.
If you are going to give your dog mushrooms, the AKC recommends giving them to your dog plain and without spices or oils, which Nutra Thrive does.
Glutathione is an antioxidant that earns high praise from Dr. Deva Khalsa, a homeopathic vet who wrote an article in Animal Wellness magazine about the ingredient's benefits.
"Though small, glutathione is the uncontested king of antioxidants. Without it, all your dog's cells would disintegrate and die from unrestrained oxidation," Khalsa writes.
However, she goes on to say that the antioxidant is useless when ingested orally because the body digests it and excretes it before it can provide health benefits.
"Since this antioxidant is made up of three amino acids, the oral route of administration simply does not work because the glutathione is digested," she wrote. "For example, asparagus contains more available glutathione than any other food, but the GI tract digests most of it."
Probiotics are a booming industry for humans and they're becoming a big deal in the pet world, too. The AKC says that probiotics can be helpful for your dog's gastrointestinal tract, especially if they're prone to getting diarrhea when they're nervous or stressed.
However, the evidence the AKC presented about the anti-diarrheal powers of probiotics related to Bifidobacterium animalis and not the two bacteria in Nutra Thrive. They do point out, however, that Lactobacillus casei, which Nutra Thrive includes, is naturally present in your dog's gut.
The final group of ingredients is the vitamin and mineral blend and it's here where we find a few ingredients proven to be beneficial for your pup. Biotin is well-known for helping create a shiny, lustrous coat and strengthen tendons and ligaments.
We read a few sources that noted riboflavin can help with your dog's coat, too.
As for folic acid, Dr. Barbara Forney, a veterinary practitioner in Pennsylvania, said that the ingredient has some very specific uses and that its effectiveness could be altered if your dog is taking certain drugs.
"Before administering supplemental folic acid … folate levels should be established," she further noted.
To summarize, some of the ingredients in Nutra Thrive will benefit your dog (biotin, for example) and some will pass through your pup's digestive system without much effect on their health (glutathione).
The above ingredients are considered generally safe.
Pricing
Nutra Thrive is priced at:
1 jar: $69.99
3 jars: $188.97
6 jars: $356.95
The 114-gram jar has 30 scoops, which means dogs of 0–30 pounds will need one jar a month. Dogs weighing 31–50 pounds can get 20 days out of the jar, and dogs weighing more than 50 pounds will get 15 days out of the jar.
So, if you have a big dog that requires two scoops per serving, you'll need two jars to make it through the month. Over the course of one year, here's how much Nutra Thrive would cost you based on their weight, assuming you buy six jars at a time:
Small dog (0–30 lbs.): $713.90
Medium dog (30–50 lbs.): $1,070.85
Large dogs (50+ lbs.): $1,427.80
The company states that it will take 10–15 days for the supplement to arrive after you order it.
If you aren't happy with the supplement, you have 90 days from the day the product was shipped to start a return in order to get a refund.
The Bottom Line
Nutra Thrive has ingredients that can help your dog. For example, biotin is known to improve your dog's coat and help with dry skin. Lactobacillus casei is a probiotic that may be able to help your dog with digestive issues like diarrhea.
However, there are other ingredients that experts say may not have a big effect – if any – on your dog's health. For example, a vet noted that glutathione will pass through your dog's body with little effect on your dog's health. Folic acid could help your dog but you'd need to have your vet check your dog's folic acid levels before taking Nutra Thrive, another vet pointed out.
And, there's the issue of dog supplements in general. The AKC concludes that dog supplements can be helpful but there's sparse research about the long-term effects.
"Whether herbal or lab-formulated, there is some evidence to suggest that supplements can be helpful. There has been little-to-no research on long-term effects, but some studies and anecdotal evidence have shown successful results, whether in the form of a shinier coat, peppier step, better digestion, or improved cognitive function."
Our Promise to You
In order to safeguard you and ensure helpfulness and relevance, our compliance team manually assess every customer review before it goes live.
We have a zero-tolerance policy for fake reviews, and companies cannot control or alter any reviews at any time.