Dr. Marty Nature's Blend
This company has claimed this profile, is getting alerted on any new customer reviews entering this page, and may engage in dialogue with its customers to address their matters.

Companies cannot pay money or provide goods in order to remove or alter customer reviews.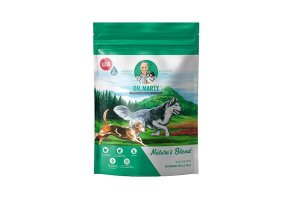 Summary
Dr. Marty Nature's Blend is a brand of dog food in which all ingredients are raw, freeze-dried, and packed with fats and proteins that can be beneficial to your dog. The ingredients are good but the price is high.
Dr. Marty Nature's Blend Review: A Detailed Look
Dr. Marty Nature's Blend is a new dog food whose only ingredients are a variety of freeze-dried meat, poultry, and fish as well as fruits and vegetables.
What makes the food unique is that it uses natural, "raw" ingredients and does not contain any filler grains that you'd find with cheaper dog food.
The freeze-dried element is a rare trait, too, as most food is cooked in factories first or is wet food out of a can.
In a time when organic, non-GMO food is a big deal for human consumers, dog food that contains freeze-dried whole foods is certainly an appealing option for dog owners.
In this review, we take a detailed look at Nature's Blend to help you decide if it is a good option for your dog.
Analysis of Ingredients and Their Benefits
Here's the list of the ingredients contained in the dog food:
Turkey
Beef
Salmon
Duck
Flax
Beef liver
Turkey hearts
Turkey liver
Sweet potato
Eggs
Pea flour
Carrots
Apples
Blueberries
Cranberries
Pumpkin seeds
Spinach
Ginger
Salt
Mixed tocopherols
Note, that this list of natural ingredients is devoid of common fillers like cornmeal.
In addition to ingredients, the food's balance of proteins, moisture, and other factors play an important role in order to provide your dog with a beneficial meal.
Here's a breakdown of these factors:
Crude protein: 37%
Crude fat: 27%
Crude fiber: 4%
Moisture: 6%
Omega-3 fatty acids: 2.5%
Protein amounts should be between 18% and 25% and the fat content of dog food should be between 10% and 15%.
The fiber content of your dog food should be between 1.4% and 3.5% and the moisture content should be between 6% and 10%.
Based on these numbers, Dr. Marty Nature's Blend is on the high side for protein and fat, right on the mark for fiber, and a little below the normal range for moisture, which is understandable because the food is freeze-dried.
The high fat is a bit of a concern because it can have negative effects on your dog's health, but only if you aren't giving your dog daily exercise.
Now, on the positive side, proteins contain amino acids that are the building blocks for your dog's muscles and, since they only produce half what they need on their own, they need to get a good amount from their food.
Fats, PetMD points out, "provide energy, as well as taste or flavor, to foods, and encourage the absorption of certain vitamins," and can help dogs "maintain healthy skin and a shiny, healthy, coat."
The company has a very specific daily feeding schedule depending on the weight of your dog:
5 lbs: ½ cup
10 lbs.: ¾ cup
20 lbs.: 1 ¼ cup
25 lbs.: 1 ½ cup
30 lbs.: 1 ¾ cups
40 lbs.: 2 cups
50 lbs.: 2 ½ cups
60 lbs.: 2 ¾ cups
70 lbs.: 3 ¼ cups
80 lbs.: 3 ½ cups
90 lbs.: 3 ¾ cups
Pricing and Return Policy
Dr. Marty bags contain 16 ounces of food and are available via the following pricing tiers:
1 bag: $59.95
3 bags: $170.85
6 bags: $323.70
One pound of dog food has about four cups of food in it, which means one bag can last a 20 lb. dog for three days.
The bigger the dog you have, the fewer the days your food will last, with 90-pound dogs consuming nearly an entire bag in one day.
With this in mind, we think that Nature's Blend pricing is considerably high, as a 20-pound dog will need about 10 bags of food to make it through a month.
You have 90 days to return your food if you don't feel it's a good fit. The company promises to refund 100% of your purchase price "if you don't' see noticeable improvements in your dog's health and happiness."
The Bottom Line
This pet food is a very interesting option – you're getting straight-up meats and vegetables along with additional vitamins.
If you're a dog owner who has a desire to give your dog raw food, then Dr. Marty Nature's Blend is a good match for you.
The second part of this, though, is whether or not you have the financial means to pay for the food.
The bigger the dog, the more expensive the endeavor when it comes to this food. However, if you're willing to pay for Nature's Blend, then your desire to provide your dog with raw, healthy food will most likely be fulfilled.
Keep in mind, though, that the fat content in this food is above the recommended amount, which means you'll need to be diligent with providing your dog consistent exercise every day to ensure he or she doesn't gain weight.
Also, keep in mind that you need to transition your dog slowly from his or her current food to this food if you choose to buy it. Dogs' digestive system can be sensitive and a sudden change from one food to a new one may cause some digestive issues.
Our Promise to You
In order to safeguard you and ensure helpfulness and relevance, our compliance team manually assess every customer review before it goes live.
We have a zero-tolerance policy for fake reviews, and companies cannot control or alter any reviews at any time.