Dr. Marty Nature's Blend
Claimed This company has claimed this profile, is getting alerted on any new customer reviews entering this page, and may engage in dialogue with its customers to address their matters.

Companies cannot pay money or provide goods in order to remove or alter customer reviews.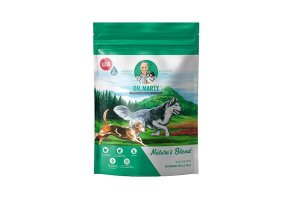 Dog owners looking for healthy food made up of natural, whole ingredients will enjoy the poultry, beef, turkey, fruits and vegetables included in a bag of Dr. Marty Nature's Blend.
Dr Marty Nature's Blend Review: Is It Legit or Just Hype?
Dr. Marty Nature's Blend is a new dog food whose only ingredients are a variety of freeze-dried meat, poultry, and fish as well as fruits and vegetables.
What makes the food unique is that it uses natural, "raw" ingredients and does not contain any filler grains that you'd find with cheaper dog food. The freeze-dried element is a rare trait, too, as most food is cooked in factories first or is wet food out of a can.
Dr. Marty is a brand named after veterinarian Dr. Martin Goldstein. According to the company's website, Goldstein is lauded as "one of the world's leading veterinarians" for more than 40 years. Goldstein is a graduate of Cornell University's College of Veterinary Medicine and authored a book titled, "The Nature of Animal Healing: The Definitive Holistic Medicine Guide to Caring for Your Dog and Cat".
In a time when organic, non-GMO food is a big deal for human consumers, dog food that contains freeze-dried whole foods is certainly an appealing option for dog owners. In this review, we'll analyze Nature's Blend, talk about what its ingredients do, what it costs, and how it compares to other similar dog foods.
At the end of our review, we'll include an opinion-based section that covers our thoughts about the general strengths and weaknesses of this product.
Nature's Blend Feeding Plan
The food's website has a very specific daily feeding schedule depending on the weight of your dog:
5 lbs: ½ cup
10 lbs.: ¾ cup
20 lbs.: 1 ¼ cup
25 lbs.: 1 ½ cup
30 lbs.: 1 ¾ cups
40 lbs.: 2 cups
50 lbs.: 2 ½ cups
60 lbs.: 2 ¾ cups
70 lbs.: 3 ¼ cups
80 lbs.: 3 ½ cups
90 lbs.: 3 ¾ cups
Dr. Marty Nature's Blend Ingredients: What They Are and Their Benefits
The defining characteristics of this dog food are its ingredients. As the food's website says, "Nature's Blend … is a nutrition-packed formula designed to give your dog a healthier, happier life. We blend a variety of (ingredients) for the balanced, complete nutrition your dog needs."
Here's the list of the ingredients contained in the dog food:
Turkey
Beef
Salmon
Duck
Flax
Beef liver
Turkey hearts
Turkey liver
Sweet potato
Eggs
Pea flour
Carrots
Apples
Blueberries
Cranberries
Pumpkin seeds
Spinach
Ginger
Salt
Mixed tocopherols
As you can see, this is a hefty list of natural ingredients devoid of the common fillers you see like cornmeal.
Now, ingredients play a big role in your dog's nutrition, but so do the food's balance of proteins, moisture, and other ingredients. There needs to be a certain balance in order to provide your dog with a beneficial meal.
Here's a breakdown of these factors:
Crude protein: 39%
Crude fat: 23%
Crude fiber: 2.5%
Moisture: 5%
Omega-3 fatty acids: 5%
We turned to PetMD's page on balanced dog foods to get an idea of where these percentages fall in terms of the recommended allowances.
PetMD says that protein amounts should be between 18% and 25% and that the fat content of dog food should be between 10% and 15%.
And, according to pet food company IAMS, the fiber content of your dog food should be between 1.4% and 3.5%.
Also, dog website This Dog's Life notes that moisture content should be between 6% and 10%.
Based on these numbers, we think that Dr. Marty Nature's Blend is on the high side for protein and fat, right on the mark for fiber and a little below the normal range for moisture, which is understandable because the food is freeze-dried.
The high fat is a bit of a concern because it can have negative effects on your dog's health only if you aren't giving your dog daily exercise.
"The problem comes in when animals are allowed to eat excessive amounts of calories (including table scraps and treats) without proportionate exercise," the site notes.
Now, on the positive side, proteins contain amino acids that are the building blocks for your dog's muscles and, since they only produce half what they need on their own, they need to get a good amount from their food.
Fats, PetMD points out, "provide energy, as well as taste or flavor, to foods, and encourage the absorption of certain vitamins."
Their article goes on to say that fat can help dogs "maintain healthy skin and a shiny, healthy, coat."
As a quick side note, This Dog's Life notes that mixed tocopherols are a vitamin E supplement and are far healthier than the alternative, a preservative called "BHA".
Dr. Marty Nature's Blend Cost and Return Policy
With so many natural ingredients packed into a bag of Dr. Marty Nature's Blend, it can, no doubt, be considered a premium dog food. As such, it demands premium prices compared to other dog food that we'll talk about after we discuss pricing and returns.
Dr. Marty bags contain 16 ounces of food and, at the time of publishing, were available via the following pricing tiers:
1 bag: $29.95
3 bags: $83.95
6 bags: $161.70
According to a 2012 article from the Washinton Post, one pound of dog food has about four cups of food in it, which means one bag can last a 20 lb. dog for three days. Basically, the bigger the dog you have, the fewer the days your food will last, with 90-pound dogs consuming nearly an entire bag in one day.
With this in mind, we think that Nature's Blend pricing is considerably high, as a 20-pound dog will need about 9.5 bags of food to make it through a 30-day month or around $275 a month for 10 bags.
Open Farm is another company who provides free-dried raw dog food. Their 13.5 oz. bags are $29.99, which ends up being more expensive than Nature's Blend because each Open Farm bag contains 2.5 fewer ounces of dog food.
As for non-freeze-dried food, Blue Wilderness, a well-known healthy dog food, costs $31.99 for an 11 lb. bag from Petco. While Blue Wilderness can't match the meats-and-vegetables-only mix of Dr. Marty Nature's blend, it does avoid grains and features a long list of fruits and vegetables along with deboned chicken as its first ingredient as opposed to fillers.
Now that we've given you a comparison of this food's pricing, we want to do a quick overview of its return policy. You have 90 days to return your food if you don't feel it's a good fit. The product's website goes as far as to say they'll refund 100% of your purchase price "if you don't' see noticeable improvements in your dog's health and happiness."
The food ships to you for free but you'll have to pay return shipping.
The Final Word: Our Overall Thoughts About Dr. Marty Nature's Blend
This pet food is a very interesting option if, for no other reason than the fact that you're getting straight-up meats and vegetables along with a vitamin E supplement.
If you're a dog owner who has a desire to give your dog raw food, then Dr. Marty Nature's Blend is a good match for you. The second part of this, though, is whether or not you have the financial means to pay for the food. The cost of Nature's Blend may be prohibitive, as monthly supplies of the food would be:
$275 for a 20-lb. dog
$407 for a 30-lb. dog
$407 for a 40-lb. dog
$515 for a 50-lb dog
The bigger the dog, the more expensive the endeavor when it comes to this food. However, if you're willing to pay for Nature's Blend, then your desire to provide your dog with raw, healthy food will most likely be fulfilled.
Keep in mind, though, that the fat content in this food is above the recommended amount, which means you'll need to be diligent with providing your dog consistent exercise every day to ensure he or she doesn't gain weight.
Also, keep in mind that you need to transition your dog slowly from his or her current food to this food if you choose to buy it. Dogs' digestive system can be sensitive and a sudden change from one food to a new one may cause some digestive issues.
» Recommended Reading: Dog Supplements 101: A Detailed Beginner's Guide
---
Love at 1st bite!

By Debra Q.

,

Cleveland Heights, OH

,

Jun 30, 2020
Verified Reviewer

Length of Use: Less than 3 months

Overall Experience:

I just received my first bag of dog food today. Ironically, I had received a message yesterday that shipping was delayed. About a month ago I watched Dr. Marty's video. I'm a librarian, so I had to do some homework before I was sold. Then I had to convince myself that the price was worth it. I liked that Dr. Marty is cognizant of that and suggested using his food as a "topper" in those instances.

Well, my 10-year-old Boxer/Bulldog rescue started showing more signs of aging. This was particularly noticeable when she encountered stairs are wanted to jump in my bed at night. I tried lifting her, she's 60+ lbs. and even she didn't want that kind of help. So I remembered Dr. Marty. I ordered one bag and some treats. I mixed 1/4 cup with her dog food, she only ate 1/2 bowl, so her breakfast was still there. She was nearly ravenous and begging for more! She's slightly overweight, so I've mixed 1:4 cups in a container for the remainder of the week. I hope to see some improvement in her mobility soon, but I know it's better for her and it's obvious, she LOVES the taste!

Pros and Cons:

Convenience - wet or dry
Packaging - easy seal bag and content labelling
Ingredients - wholesome and natural
Tasty - my dog loves it!
Cost - but I'll use it as a "topper"

Bottom Line: Yes, I would recommend this to a friend

---

From picky eater to bowl-licker!

By Edith H.

,

Pittsburgh, PA

,

Jun 20, 2020
Verified Reviewer

Length of Use: Less than 3 months

Overall Experience:

We have had Angus, a rather small Cavapoo, for almost 8 months. Like many of his breed, he is a picky eater, and I have tried every natural and commercial topping available. Only liver has worked, and sometimes he has picked it off his food.

I am using Dr. Marty for a topping, crushing the little pellets and mixing it 2-part high-quality kibble to 1-part Dr. Marty (just dry: he doesn't like gravy). He dances and barks while I am preparing it, and is now eating the daily recommended amount, licking the bowl clean every meal.

I am delighted! His fur is glossy, he has great energy, and doesn't beg for our food because he is satisfied. I would feed him straight Dr. Marty, but it is expensive. Also, I think that some of the harder kibble is better for his teeth long-term. Thank you, Dr. Marty, for this great product!

Pros and Cons:

Dog eats without coaxing
All natural
High amount of meat/fish, with innards!
Contains some good grain
Cost

Bottom Line: Yes, I would recommend this to a friend

---

Diarrhea

By LaVelle P.

,

San Diego, CA

,

Jun 10, 2020
Verified Reviewer

Length of Use: Less than 3 months

Overall Experience:

My golden doodle ate it up right away but had diarrhea all night and then this morning! So I will not be giving it to Bentley anymore!

Bottom Line: No, I would not recommend this to a friend

Jun 12, 2020

Hello LaVelle. My name is Kat and I am with Dr. Marty Pets. I am sorry to read about Bentley's reaction to our Nature's Blend. We would like more information about your pet's experience. I would also like to refund your account immediately. Please email me at kat@drmartypets.com so that I may get started on this right away. Dr. Marty Pets is committed to making this right. I wish you and your pup a wonderful day and I look forward to hearing from you soon.

---

6 lb Morkie who is very picky loves this food

By Valarie V.

,

Bloomington, IN

,

Jun 2, 2020
Verified Reviewer

Length of Use: Less than 3 months

Overall Experience:

She was a treat eater but now she goes to her food bowl. It's early but I hope it helps with her scratching from allergies and she doesn't want treats so much. It is expensive but my little girl is worth it.

Quick delivery and several options to buy (budget-friendly). Very happy with the product and service. Love the natural products it uses. I only buy natural treats so why not give natural food to my dog.

Pros and Cons:

Small size of food bits
No artificial color or smell
My dog loves it
Cost

Bottom Line: Yes, I would recommend this to a friend

---

Advertisement

---

No soggy stuff!

By Janet D.

,

Utah

,

May 29, 2020
Verified Reviewer

Length of Use: Less than 3 months

Overall Experience:

Have been feeding Dr. Marty's Nature Blend to our 5-year-old spayed toy schnauzer-pomeranian for about one month. She enjoys the dog food, but prefers it dry without soaking in water (the booklet that came in the box said this was okay).

Her gas and loose stools seem to have vanished. She has stopped eating grass and digging up the back yard to get at the grassroots. Her breath is better also.

We cut the serving to one cup daily because she is slightly overweight at 25 lbs, and she should be less than 20 lbs for her height, according to her vet.

She has grown much larger than her parents however, mother - toy schnauzer, father - pomeranian, which surprised everyone. She usually has high energy, strong white teeth, and healthy gums.

I limit her treats to one small Greenie and two Maro Dog bones daily. She drinks lots of fresh water and also has about 1/2 cup to 1 cup dry dog kibble, Whole Earth small breed, daily also. She enjoys half of a banana or sometimes about 1/2 cup of cubed tomato when available.

My challenge presently is the cost of the dog food as I am on a limited budget monthly, but I think the trade-off as she ages will be fewer vet bills and maybe a longer and happier life.

Pros and Cons:

Open about contents of the food
Savings offers
Fast service
High cost of the product, but you buy cheap, you get cheap

Bottom Line: Yes, I would recommend this to a friend

---

Question

By Joyce D.

,

Corpus Christi, TX

,

May 12, 2020
Verified Reviewer

Overall Experience:

Dr. Marty, we have a 9 lb. mixed poodle that has a heart condition, murmur, started severe coughing. Doctor said it was from a heart murmur, they put him on enalapril maleate 5 mg. and furosemide 20 mg. Now we have to totally feed him, he doesn't want to eat what we are feeding him, I am praying that ordering this will help him to get his appetite back. Thank you sir, we are waiting on our order and willing to try, they said the medicine is curving his appetite. But hopefully this will help.

Bottom Line: Yes, I would recommend this to a friend

May 12, 2020

Hi Joyce. I am Kat with Dr. Marty Pets. Dr. Marty Pets is not associated with Dr. Marty Goldstein's veterinary practice and we are unable to provide medical advice. We always advise our customers to consult their pet's veterinarian regarding their feeding regimen, as results may vary. If you have any further questions about our products, please feel free to email me at kat@drmartypets.com. I wish you and your poodle a wonderful day.

---

UNBELIEVABLE

By Donald S.

,

Sacramento, CA

,

May 9, 2020
Verified Reviewer

Overall Experience:

My wife is like the world's biggest skeptic. She'd been watching something on "The Dr. Phil Show" about a woman who had been "Scammed out of $260,000.00's"! I told her he is a vet for Martha Stewart and Oprah Winfrey. I said he has helped dogs dying of cancer. Doctor, both of our dogs eat grass; as if they were cows. She said maybe we should ask PetSmart first. We have a 12-year-old Chiweenie and a 6-year-old Border Collie. My dog just kind of walks back and forth picking at her food; and, her brother, our Chiweenie is notoriously picky! Mommy has always had to resort to playing games to get him to eat his food. NONETHELESS! We were shocked that my Border Collie was smelling the food even before I put in her bowl! When she started eating it she even kept licking the bowl! SO MUCH. She kept pushing the bowl across the kitchen floor. My wife's little Chiweenie Coco just ate non-stop. He'd pause ONLY long enough to catch his breath; but, then he just kept EATING and EATING! Even to the extent of licking his bowl clean.

My ONLY REGRET IS I wish I'd ordered BIGGER BAGS; because I don't think this food will last long. Her Chiweenie is 25 pounds and my "Little Livewire" is about 50 pounds. I just wish you had food for cats as well. Our 25-pound Tuxedo Cat is SO BIG! I told my wife if he gets ANY BIGGER you could just roll him down the hallway!

Thank you Doctor! Thank you for SUCH UNBELIEVABLE FOOD!

God bless you.

Bottom Line: Yes, I would recommend this to a friend

---

It works...but...

By Rich S.

,

Allendale, NJ

,

Apr 28, 2020
Verified Reviewer

Overall Experience:

My dog is a strong 110lb lab mix. Called Dr. Marty's and explained the cost per month would be $700 and thus, not practical. They suggested I include it as a supplement to his already highly regarded dry food. Great idea. There is no doubt it has improved his already great energy and health. So, I appreciate their understanding and advice. It's working and annually it will be within my budget.

Bottom Line: Yes, I would recommend this to a friend

---

Arthritic and old

By Nancy S.

,

Tuscola, IL

,

Apr 21, 2020
Verified Reviewer

Overall Experience:

I have only been using Dr. Marty's food for almost two weeks.

My dog is 15 and very arthritic, so much so, that most of the time I was having to lift her up by her hind end as those two legs don't work very well. After the first week, I am pleased to say that she is now getting up on her own (albeit with some struggle) at least 75% of the time. Because of the expense and her being overweight anyway, I give her one cup of Marty food in the morning and one at night along with half a can of grain-free "stew" in beef, turkey, and chicken.

I also give her the Beef Liver treats about every third time when she comes in from her duties. She loves the food and will go to her bowl and look at me as if to say "Come on Mom, I want more good food!"

Bottom Line: Yes, I would recommend this to a friend

---

Good food but very expensive for a larger dog

By Sarah B.

,

Mackinaw, IL

,

Apr 4, 2020
Verified Reviewer

Overall Experience:

My dog loves the food! She ignores any dry food I leave out as I am supplementing part of her feedings due to the cost of feeding a bigger dog. A full feeding makes 1 bag last only about a week and a half as she is approx 50 lbs. I did take advantage of the membership price but it's still an expensive option. I am only choosing to stay with it because she loves it and I do see some improvement in her. I also understand such high-quality food is expensive to produce so I understand you may not be able to offer it at an even lower price.

Bottom Line: Yes, I would recommend this to a friend

---

Ravenous dog

By David J.

,

Utah

,

Apr 2, 2020
Verified Reviewer

Overall Experience:

Our dog, Pepper, now jumps at the food bowl when it is being handed down. Have to be careful not to let it be tumbled out of our hands. She is excited to get her Nature's Blend from Dr. Marty's. We haven't put our 5-month-old puppy on it yet, as, it would be pure chaos around here.

Bottom Line: Yes, I would recommend this to a friend

---