Dr. Marty Nature's Blend
This company has claimed this profile, is getting alerted on any new customer reviews entering this page, and may engage in dialogue with its customers to address their matters.

Companies cannot pay money or provide goods in order to remove or alter customer reviews.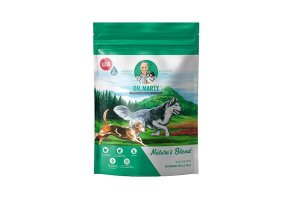 Summary
Dr. Marty Nature's Blend is a brand of dog food in which all ingredients are raw, freeze-dried, and packed with fats and proteins that can be beneficial to your dog. The ingredients are good but the price is high.
Dr. Marty Nature's Blend Review: A Detailed Look
Dr. Marty Nature's Blend is a new dog food whose only ingredients are a variety of freeze-dried meat, poultry, and fish as well as fruits and vegetables.
What makes the food unique is that it uses natural, "raw" ingredients and does not contain any filler grains that you'd find with cheaper dog food.
The freeze-dried element is a rare trait, too, as most food is cooked in factories first or is wet food out of a can.
In a time when organic, non-GMO food is a big deal for human consumers, dog food that contains freeze-dried whole foods is certainly an appealing option for dog owners.
In this review, we take a detailed look at Nature's Blend to help you decide if it is a good option for your dog.
Analysis of Ingredients and Their Benefits
Here's the list of the ingredients contained in the dog food:
Turkey
Beef
Salmon
Duck
Flax
Beef liver
Turkey hearts
Turkey liver
Sweet potato
Eggs
Pea flour
Carrots
Apples
Blueberries
Cranberries
Pumpkin seeds
Spinach
Ginger
Salt
Mixed tocopherols
Note, that this list of natural ingredients is devoid of common fillers like cornmeal.
In addition to ingredients, the food's balance of proteins, moisture, and other factors play an important role in order to provide your dog with a beneficial meal.
Here's a breakdown of these factors:
Crude protein: 37%
Crude fat: 27%
Crude fiber: 4%
Moisture: 6%
Omega-3 fatty acids: 2.5%
Protein amounts should be between 18% and 25% and the fat content of dog food should be between 10% and 15%.
The fiber content of your dog food should be between 1.4% and 3.5% and the moisture content should be between 6% and 10%.
Based on these numbers, Dr. Marty Nature's Blend is on the high side for protein and fat, right on the mark for fiber, and a little below the normal range for moisture, which is understandable because the food is freeze-dried.
The high fat is a bit of a concern because it can have negative effects on your dog's health, but only if you aren't giving your dog daily exercise.
Now, on the positive side, proteins contain amino acids that are the building blocks for your dog's muscles and, since they only produce half what they need on their own, they need to get a good amount from their food.
Fats, PetMD points out, "provide energy, as well as taste or flavor, to foods, and encourage the absorption of certain vitamins," and can help dogs "maintain healthy skin and a shiny, healthy, coat."
The company has a very specific daily feeding schedule depending on the weight of your dog:
5 lbs: ½ cup
10 lbs.: ¾ cup
20 lbs.: 1 ¼ cup
25 lbs.: 1 ½ cup
30 lbs.: 1 ¾ cups
40 lbs.: 2 cups
50 lbs.: 2 ½ cups
60 lbs.: 2 ¾ cups
70 lbs.: 3 ¼ cups
80 lbs.: 3 ½ cups
90 lbs.: 3 ¾ cups
Pricing and Return Policy
Dr. Marty bags contain 16 ounces of food and are available via the following pricing tiers:
1 bag: $59.95
3 bags: $170.85
6 bags: $323.70
One pound of dog food has about four cups of food in it, which means one bag can last a 20 lb. dog for three days.
The bigger the dog you have, the fewer the days your food will last, with 90-pound dogs consuming nearly an entire bag in one day.
With this in mind, we think that Nature's Blend pricing is considerably high, as a 20-pound dog will need about 10 bags of food to make it through a month.
You have 90 days to return your food if you don't feel it's a good fit. The company promises to refund 100% of your purchase price "if you don't' see noticeable improvements in your dog's health and happiness."
The Bottom Line
This pet food is a very interesting option – you're getting straight-up meats and vegetables along with additional vitamins.
If you're a dog owner who has a desire to give your dog raw food, then Dr. Marty Nature's Blend is a good match for you.
The second part of this, though, is whether or not you have the financial means to pay for the food.
The bigger the dog, the more expensive the endeavor when it comes to this food. However, if you're willing to pay for Nature's Blend, then your desire to provide your dog with raw, healthy food will most likely be fulfilled.
Keep in mind, though, that the fat content in this food is above the recommended amount, which means you'll need to be diligent with providing your dog consistent exercise every day to ensure he or she doesn't gain weight.
Also, keep in mind that you need to transition your dog slowly from his or her current food to this food if you choose to buy it. Dogs' digestive system can be sensitive and a sudden change from one food to a new one may cause some digestive issues.
Customer Reviews
Posted on May 17, 2021
Do not buy it, a trick
I was sent a whole box, almost $300.00 I never ordered, beware of fraudulent advertising. My German Shepherd and Shih Tzu won't touch it. The money-back guarantees are a joke, it costs so much to send back, it's not worth it. Extremely expensive to return and they tried to offer me 40% off instead of sending it back. Very poor advertising and do not buy. You can buy raw foods at many places, even start at the store, but the mixing with purified water and waiting is a joke, on top of the price. My suggestion is don't buy, your dog will hate it. Dr. Marty says you can use it as a topper over food but there are no directions on making different amounts. All I can say is I feel I was lied to. And deliberately fraudulent advertising, no cheap way to return, you'll be stuck with food your dog won't eat. I tried for weeks to mix with food or as a topper as he says, gradually introduce the dry mix.
Length of Use: Less than 3 months
Bottom Line: No, I would not recommend this to a friend
Pros and Cons
No "pros" were specified in this review
All of it
Very expensive
Fraudulent guarantee
Company Response from Dr. Marty Pets
May 21, 2021
Hello Jule. My name is Kat, I am with Dr. Marty Pets. I am very sorry to hear about your experience. While many of our customers' pets enjoy our formula, we do understand that not every pet will love it. For this reason, we stand by our 90-day money-back guarantee. As it is industry standard, we do ask that you return the products if requesting a full refund, as to ensure that you gave the product a fair trial. As an extra convenience, we offer a 40% refund to customers who do not decide to send back the product containers. I am sorry for the confusion. I would like to escalate your review to our Customer Relations Team so that an agent may provide you with personalized care and ensure you are fully refunded for this order. Please email me at kat@dr.artypets.com, so we can get you fully refunded. Thank you.
Posted on May 14, 2021
New user
My Aussie loves it...when I brought the box in and took a bag out she was very eager to have what was inside before the bag was open. She gobbles it up and gets excited now when I say, "Do you want your Dr. Marty's now." I feed her kibble in the morning and Dr. Marty's for the evening meal.
Length of Use: Less than 3 months
Bottom Line: Yes, I would recommend this to a friend
Pros and Cons
That my dog loves it
Smells good
Ingredients are excellent
Cost
Posted on Mar 10, 2021
Amazing
My dog absolutely devours this! She hates kibble and was so happy and obsessed with this food. She got used to cooked food because of how picky she was so I didn't expect her to go crazy for this but she sure did.
Length of Use: Less than 3 months
Bottom Line: Yes, I would recommend this to a friend
Pros and Cons
Smells great
Healthy
Nutrition
Took long to arrive
Posted on Feb 19, 2021
Wouldn't believe it if I didn't see it
Great dog food, the best I have ever found. My Australian Kelpie is more alert, more in tune, and his coat has a beautiful shine. We don't use only Dr. Marty's but we cut it with other dog food otherwise we want to go broke, lol.
Length of Use: 6–12 months
Bottom Line: Yes, I would recommend this to a friend
Pros and Cons
Overall happiness in our dog
Sleeps better
Less anxiety
Cost
Only available online
Awesome dog food Monopoly
Posted on Dec 8, 2020
Problems for older dog
We got this 3 days ago and have introduced slowly as a '"topping" on regular food for our 3 mini schnauzers. They loved it, even my picky eater. However, my 14-year-old dog had very soft bowel movements and then diarrhea within an hour. This is a dog who has never had an accident in the house in her life and had 3 in one night. Tried it again and the same result. I will be returning. I'm sure it is a quality product but my senior dog cannot tolerate it.
Length of Use: Less than 3 months
Bottom Line: No, I would not recommend this to a friend
Pros and Cons
Dogs love it
Diarrhea
Too expensive
Company Response from Dr. Marty Pets
Dec 18, 2020
Hi Steve, this is Kat from Dr. Marty Pets here. We sincerely apologize for your negative experience with this product. We understand that every pet is different and that our supplements are not fit for every furry friend, which is why we always recommend consulting your veterinarian to ensure that our supplements are the right fit for your pet. We always stand by our 90 Day Money Back Guarantee. Please feel free to email me at kat@drmartypets.com for more information on this!
Posted on Oct 19, 2020
Best ingredients ever!
I bought this product for my senior dog, he was beginning to put on some weight and was turning his nose up to his usual food so I began adding it as a topper. I mix it with a powdered raw food to mimic chunks and wet and he gobbled it up. I started using more Dr. Marty's and less dry kibble and now he is exclusively eating a raw/dehydrated/freeze-dried diet and thriving!
Length of Use: Less than 3 months
Bottom Line: Yes, I would recommend this to a friend
Pros and Cons
Raw
Multi sourced protein
Convenience
Price
Posted on Oct 16, 2020
My dogs love it, I've tried many
My 2 Yorkies simply love it. I've tried numerous brands with no luck. It smells good, easy to serve, and they are both in the best of health. If you can afford it, it's the way to go, you won't be disappointed!
Length of Use: 6–12 months
Bottom Line: Yes, I would recommend this to a friend
Pros and Cons
The packaging
The smell
The cost
Posted on Oct 14, 2020
Amazing improvement in old dog
We have an older Labrador Retriever who was having trouble moving about or crawling up on the couch to sit with my grandkids. My son-in-law kept referring to how we will bury her when she goes and if we might want to put her down one day. When I took the time to listen to Dr. Marty's presentation about nutrition it made sense that most dog food starts out as that which is unfit to feed a human. Then fillers bulk it up, and the whole mixture is cooked to death and dried into brown kibble. So, I thought I would at least try it to see if I might give her improved health.
To my surprise, only a few days into using ProPower Plus sprinkled on her regular food and offering the Nature's Blend food as a treat (a couple of handfuls) each day, she changed from lying down while she ate to excitedly running to her bowl and eating with enthusiasm. She also went from barely able to crawl onto the couch to jumping on the couch to happily interact with family members again. I truly believe these two products have improved and hopefully extended her life.
Length of Use: Less than 3 months
Bottom Line: Yes, I would recommend this to a friend
Pros and Cons
It has brought back her excited nature to be with the family
It's too expensive to feed a Labrador just the Nature's Blend
Posted on Oct 14, 2020
Coco's Gourmet (Doc Marty) Seasoning
Coco (my 10-month-old Yo-Chon), has honestly re-discovered her daily food. At supper time, I grab a small handful, mix it with a bit of warm water, and then mix in a bit of her regular, grain-free dry food, and she seems to thoroughly enjoy her meals again. I hope it lasts! And, since I'm a widow who can't presently work, I hope I'm able to continue to buy it. Thank you for her yummy, healthy food!
Length of Use: Less than 3 months
Bottom Line: Yes, I would recommend this to a friend
Pros and Cons
I like that I can use it as a sprinkle add-on
I like that it's easy and seems to smell good
Mostly, I love that my doggy-baby loves it
The bag that I purchased is smaller than I expected
Maybe make a variety with smaller pieces?
Make it available in pet stores!
Posted on Oct 14, 2020
Gracie Joy absolutely loves this food!
Gracie is a rescued two-year-old Havanese little girl. She's always been really picky about what she eats. Often she would wait to see what she could beg from me, didn't work by the way. When she couldn't get what I was eating she would eventually eat her food. But never eagerly or as soon as I put it down. She loves her new food! She asks me for her breakfast and her dinner, which is amazing because before she only ate her dinner, never her breakfast. We will be customers for life! Oh, and Gracie says to say thanks!
Length of Use: Less than 3 months
Bottom Line: Yes, I would recommend this to a friend
Pros and Cons
Easy to feed
My dog really loves it
Cost
Posted on Oct 14, 2020
Ginger loves Nature's Blend
My dog usually doesn't eat dog food. I feed her chicken only. I wanted to try something different, so I can have a food that can travel with us.
I liked the fact that all the ingredients are natural. When I first gave it to her, she ate the whole handful. When I gave her more she ate that too. As long as I sit and put the food in front of her she gobbles it down. I am giving it to her right from the bag. I am not adding any water to it. She loves it right from the bag. Why change anything!
I have found that she has more energy and wants to play more. I am very glad I found this product.
I have already bought three more bags.
Length of Use: Less than 3 months
Bottom Line: Yes, I would recommend this to a friend
Pros and Cons
It is all natural, no fillers
My dog will eat it and enjoys it
It is easy to carry when traveling
You do not have the normal dog food look or smell
I liked that it is made of real chicken, turkey, beef and vegetables, these are things I was regularity feeding her
The price is a little high for a 16 oz bag
Our Promise to You
In order to safeguard you and ensure helpfulness and relevance, our compliance team manually assess every customer review before it goes live.
We have a zero-tolerance policy for fake reviews, and companies cannot control or alter any reviews at any time.