The Farmer's Dog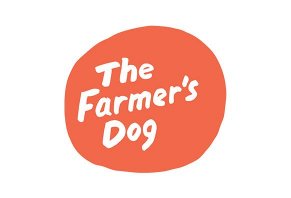 Summary
The Farmer's Dog is a dog food company that delivers fresh, human-grade meals through a subscription program.
The Farmer's Dog Review: Is It Worth It?
The Farmer's Dog is a subscription pet food company that promises to deliver fresh and healthy dog food to your home on a predetermined schedule.
The company claims that their meals are crafted with simple, human-grade ingredients chosen to ensure that your pet receives optimal nutrition without you having to deal with inconvenient trips to the store, pricy retail markups, or unnecessary preservatives.
Subscription dog food is a hot trend, but does this fresh food brand make enough sense to consider switching over from kibble? In this article, we'll help you decide.
What Distinguishes The Farmer's Dog from Other Pet Food?
The Farmer's Dog makes it clear that their target customer is the pet-owner who doesn't think his or her pets deserve lower quality food than their families. All their dog food is made with fresh ingredients and delivered on your schedule for optimal convenience.
Each Farmer's Dog recipe was designed by vets and can be optimized based on your pet's breed, age, activity level, dietary sensitivities, and more.
The company considers its food a smarter choice than kibble for picky eaters as well as for dogs who are overweight or have other health problems.
According to the company, all Farmer's Dog food is prepared in USDA-approved kitchens where it is lightly cooked at low temperatures and flash frozen before shipping.
It claims that the brand's subscription business model makes it possible to distribute pet food that is fresher than what is typically available at the grocery store, as it doesn't languish in a warehouse for months before being sold.
The company believes that this model gives consumers more control over what they feed their canine.
Ingredients
All Farmer's Dog ingredients are human-grade (never feed-grade) and comply with USDA standards. Each meal is based around one or more protein sources that are mixed with produce and supplemented with beneficial vitamins and minerals.
The company website states that each recipe is balanced to comply with the Association of Animal Feed Control Officials standards.
Below are the full ingredients within each of The Farmer's Dog meal options:
Turkey: Turkey, parsnips, chickpeas, carrot, broccoli, spinach, fish oil, vitamins, and minerals

Beef: Beef, sweet potato, lentils, carrots, USDA beef liver, water, kale, sunflower seeds, fish oil, vitamins, and minerals

Pork: USDA pork, sweet potato, green beans, cauliflower, USDA pork liver, fish oil, vitamins, and minerals
Full nutritional facts for every meal is available on the website after completing the meal plan questionnaire.
How Does a Farmer's Dog Subscription Work?
What you'll pay for The Farmer's Dog food depends on the eating requirements for your dog.
The company states that plans start at $2 per day, and you can find your exact costs by completing the online questionnaire.
This online questionnaire addresses specifics about your pet, including its age, gender, breed, weight, activity level, and current dietary requirements. Your answers will determine what size portions are recommended and how much they will cost every week.
I filled out a test account to see what the food prices would be for my 18-pound Pomeranian mix and 45-pound Australian cattle dog, both of whom are under five years old, at a good weight and moderately active.
The Farmer's Dog suggested I feed my Pomeranian meals made from turkey, beef, and pork, and totaled my weekly cost at $24.92. My cattle dog was offered the same proteins, and his food plan cost $43.57 per week.
Further research showed that the weekly cost to feed seven-pound dogs was $13.22, and ninety-pound dogs was about $92.46.
The Farmer's Dog currently ships for free across the contiguous United States. Signing up for an order enrolls you in a subscription plan for recurring deliveries that range from every two to twelve weeks.
All food will arrive chilled and in serving packs that can be placed in the refrigerator for immediate use or in the freezer for longer storage.
Once you have an online account, you can change your delivery address, rush or delay shipments, or adjust the amount of food included in each shipment.
The brand ships across the continental United States and states that their meals are delivered in eco-friendly packaging.
You can always pause or cancel your subscription without penalty.
Popular Alternatives
The Farmer's Dog is not the only dog food delivery service available. The following chart highlight some of the key differences between other popular brands.
The Farmer's Dog
Spot and Tango
Pet Plate
Ollie
Cost
7-Pound dog: $13.22/week.
90-pound dog: $92.46/week
7-pound dog: $21.56/week.
90-pound dog: $110.28/week
Cost depends on the size of the dog and delivery frequency: three weeks is the default.
7-pound dog: $17.29 to $19.89/week.
90-pound dog: $69.90 to $80.38/week
Cost Per Serving (2 per day)
7-pound dog: $0.94.
90-pound dog: $6.60.
7-pound dog: $0.71 to $0.84.
90-pound dog: $3.57 to $4.41.
Small dog: $1.25 to $2.35.
Medium dog: $3 to $4.
Large dog: $4.50 to $6.50
XL dog: $8 to $9.5
$1.32 to $5.36 per meal
Delivery Range
Ships free across 48 states.
Sold online and in pet specialty stores across Manhattan. Free shipping across 48 lower States.
Lower 48 states.
Lower 48 states.
Customization Level
Can choose between meals made from turkey, beef, and pork.
Can choose between three pre-made meals containing turkey and red quinoa, beef and millet, and lamb and brown rice. Possible to purchase "topper plan" to mix meals with regular dog food for a lower price.
Choose from meals with chicken, beef, turkey, and lamb.
Choose from beef, chicken, turkey, and lamb. For large breed dogs, it's possible to purchase full meals or choose "toppers" of 25% of their nutritional needs.
Shipping Information
Meals are shipped and billed every two to twelve weeks after a two-week taste trial, can be paused or canceled at any time.
All purchases require signing up for an auto-renewing subscription. It's possible to pause or cancel at any time.
Free shipping, deliveries sent out Monday to ensure a Wednesday or Thursday delivery.
Two-week auto-delivery that can be canceled at any time.
As you can see, the cost for feeding your pet will vary considerably depending on his or her size and the brand you choose.
Spot and Tango appear to be the most affordable option we looked at, and it wins points from us by offering a "topper plan" that lets you buy smaller amounts of fresh food to incorporate their food into your pet's standard meals and keep costs down.
While you can conceivably do this with other plans like The Farmer's Dog as well, you'll receive enough food per shipment for full meals which might lead to waste if your pet doesn't eat it fast enough.
Regarding shipping and customization, these plans are all similar. Each one ship throughout the lower 48 states and they all offer a variety of meals made from human-grade ingredients with different protein sources, though they don't provide much menu customization beyond that.
If you're unsure which to purchase, we suggest trialing a few different brands to see which your pet best responds to.
What Do Customers Think of The Farmer's Dog?
Online reviews abound for The Farmer's Dog, so we looked at several to see whether people like this pet food brand.
Popular dog website The Canine Journal scores this supplier at 4.35/5 and gives it high points for nutritional value and customization.
Some of the site's positives include that the meals are never deep-frozen before delivery, the food is free of preservatives, and that the auto-ship program offers plenty of flexibility.
The primary drawback noted is that the food arrives so fresh that it doesn't last long without spoiling. If your pet doesn't eat it within three or four days, you'll need to store it in the freezer.
Business Insider also offers insight into this brand. While reviewer Kate Barrington noted that the meals are more expensive than traditional pet food, she appreciated that the meals arrived pre-portioned and that the company was transparent about their ingredients.
The primary downside she noted was that the bags weren't resealable, and they often became messy when the same was used for multiple meals.
Opinions from other review sites seem to match these perspectives. A few other comments we noticed from customers included that they wished the company offered meals for dogs with allergies or on prescription diets.
Others noted that it took their pets a few days to adjust to the food and that they had mild digestive problems in the meantime. Overall though, The Farmer's Dog reviews seem overwhelmingly positive.
The Bottom Line
I think that The Farmer's Dog is a smart way to supply your pet with fresher dog food.
The company lets you select food based on your pet's specifications, and its subscription program offers plenty of flexibility in delivery frequency. This makes it more convenient than rushing to the store every time you're low on dog food.
You'll pay a lot more for this kind of food than traditional kibble, but The Farmer's Dog pricing is aligned with the costs of competitors.
You'll naturally pay a lot more if you have a larger dog, and it's worth considering that you'll also need more fridge and freezer space to store the food deliveries than those who have smaller pooches.
If the costs are something you are comfortable with, we think it makes sense to try out The Farmer's Dog.
We read overwhelmingly glowing reviews from people who switched their pets over, so there's a good chance that you and your pet will be satisfied if you do the same thing.
Customer Reviews
Posted on Mar 2, 2021
Wonderful!
I have three dogs on this program. Two of them are very picky eaters, and they love it! I've been using them now for about a year and a half. I had previously been cooking my own free-range chicken, grass-fed beef, and mixing it with some vegetables and dry dog food. This is so much better, and so convenient. I have always received the shipments on time, been able to easily change delivery dates if I needed something sooner or needed to delay. We have plenty of freezer space so that isn't a problem. I feel good about the ingredients and quality of the food. Customer service has always been really quick and responsive to any questions I had also. I highly recommend them! I do wish they could accommodate different diets, as I know people who would love to try it but their dog is on a special regimen.
Length of Use: 1–2 years
Bottom Line: Yes, I would recommend this to a friend
Pros and Cons
Quality
My dogs love it
Convenience
Outstanding customer service
Wish they could accommodate different diets
Posted on Oct 10, 2020
No issues but the space!
I have been using The Farmer's Dog for several months now. My 2 dogs seem to like it, no digestive issues, etc. The food arrives in great condition, no issues with delivery, etc. The downside for me is that I get the 3-weeks-of-meals plan to get maximum savings and reduce the impact of this on my budget but it takes up too much space in my freezer! That is not the company's fault but it will be what makes me search for an alternative.
Length of Use: 3–6 months
Bottom Line: Yes, I would recommend this to a friend
Pros and Cons
Fresh food
Convenience of home delivery
Package insulation can just be washed down your sink
Messy to feed from bags
Takes up too much space in my freezer
Posted on Aug 9, 2020
Can't even get the food to us
We will never know if it is good or bad because they can't get it delivered to you. The worst thing I have ever seen. They said the first order would take two weeks, here it is come and gone. One email saying the delivery was held up. If the food isn't frozen when you get it, that's alright, it's still good. What do you think, after three weeks and counting, is that food sill good? I'm not giving it to my dog. They SUCK. Taking my money was not a problem for them. Overall do not recommend.
Bottom Line: No, I would not recommend this to a friend
Pros and Cons
No "pros" were specified in this review
The whole operation
Our Promise to You
In order to safeguard you and ensure helpfulness and relevance, our compliance team manually assess every customer review before it goes live.
We have a zero-tolerance policy for fake reviews, and companies cannot control or alter any reviews at any time.